Last Updated on December 2, 2019 by Heather Hart, ACSM EP, CSCS
Confession: I'm pretty sure I pack more "stuff" to run a 100 miler than I do for a week long vacation. Packing for an ultramarathon is a learned art form, and frankly, ultras require a lot of gear. If you're facing your first 100 miler, you may be wondering what items are essential, or fearful of what items you may be forgetting. Hopefully, this 100 mile packing list will help ensure you've got everything you need for race day.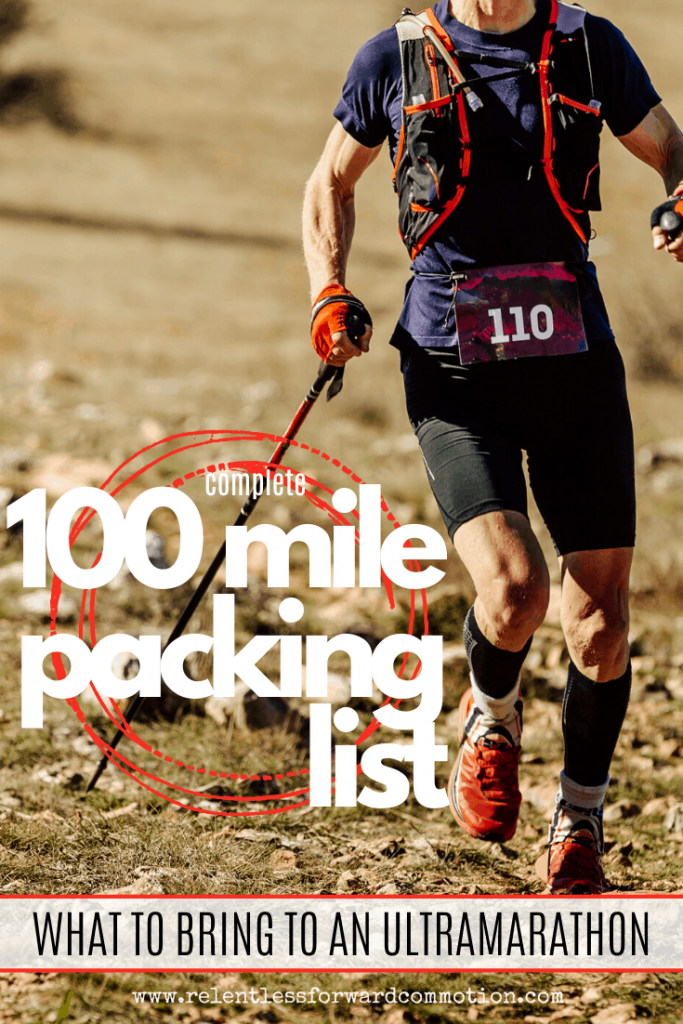 100 Mile Packing List – What to Bring to an Ultramarathon
Note: while the title says 100 miles, this list can apply to shorter or longer ultramarathons. This post will give you complete lists of the gear, clothing, nutrition, electronics, and other "stuff" you should consider bringing to your 100 miler.
For a more in-depth discussion on drop bags, please check out: The Beginners Guide to Packing an Ultramarathon Drop Bag
Amazon affiliate links are used in this post. These are items I personally use and recommend.
Clothing
Clothing is obviously going to vary greatly based on location of race and time of year of race . For example, when I run Hell Hole Hundred in Bethera, SC in June, I almost always expect the temperature to be about 100 degrees during the day, with a low of 98 degrees at night. It doesn't change.
But a race in the high desert in spring, it could be sunny and 80 degrees during the day, but windy and 30 degrees at night, especially if you factor in elevation change.
And of course, you've got to consider personal preferences when considering your 100 mile packing list. For example, you can substitute "running skirt" for "shorts", if that's your thing. And most guys probably aren't going to need to pack sports bras, but again, I'm not here to judge.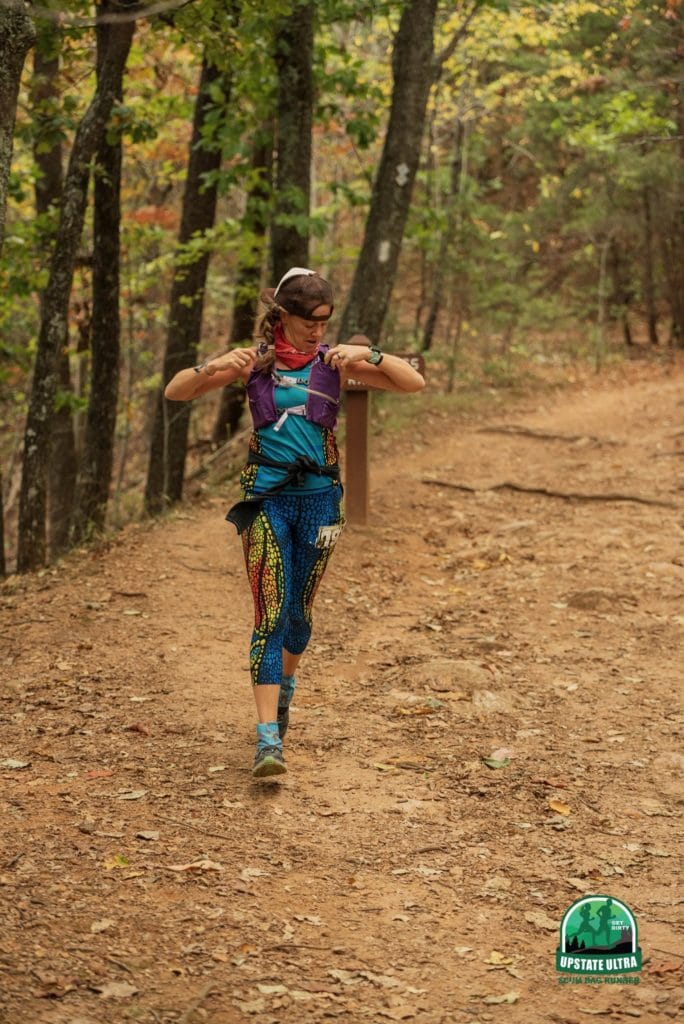 Base Layers:
I prefer to bring at least 4 base layer sets with me. I know that may seem excessive for some, but even during cold races, I sweat a lot. Keeping your base layer dry can help keep you warm, comfortable, and free from chafing.
Sports bras
Underwear (unless you are the commando type)
Tank tops or t – shirts
Long sleeve shirts (if necessary)
Shorts or pants/tights/capris (or all of the above, if it gets colder at night)
Socks – at least two more pairs than you THINK you should bring.
I sort each of these into their own giant ziplock bag (so, shorts in one bag, shirts in another, etc.) for easy access mid race. It's so much easier to see the label on the bag rather than dig through a duffel bag full of random clothes.
Additional Clothing & Accessories
Jacket/shell – thickness based on climate/time of year (simply waterproof or do I need something warmer?)
Compression sleeves / sock
Buffs (x2: great for year round racing!)
Gaiters
Hat or visor
Glove liners (winter/cold weather race)
Mittens (winter/cold weather race)
Winter hat (winter / cold weather race)
Hooded Sweatshirt
Sweatpants (do not underestimate the comfort of sweatpants post race!)
Post race clothes
Shoes
I don't always necessarily change my shoes mid race, but I like to bring a handful of pairs of shoes just in case I want or need to. Often, especially during a 100 miler, changing shoes into either a different style, or simply a fresh pair of the same shoe, can help alleviate foot fatigue and discomfort.
Race start shoes
Backup pair of shoes (at least one pair)
Post race recovery sandals/slides
Nutrition & Hydration
What food your bring to your 100 miler is going to be wildly dependent on your personal diet, what you've trained with, and what you prefer. I'm going to give general suggestions based on what works for me, but your results may vary. While the large majority of 100 mile races will have aid stations packed with food, it's a good idea to bring what you've trained with, and what you know your stomach and GI system can tolerate.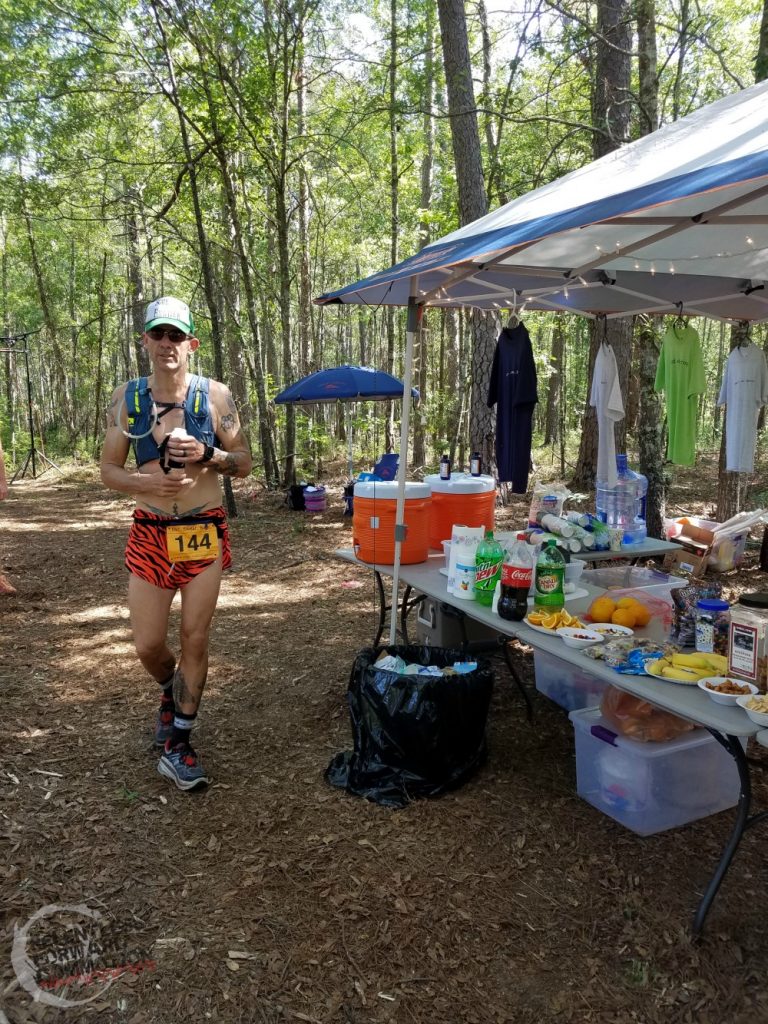 Food:
Liquid calories (such as Tailwind)
Electrolytes (Endurolytes, Nuun, etc.)
Endurance specific nutrition (gels, chews, stroopwafels)
Easy to carry "real food" snacks (chips, nuts, dried fruit, etc.)
Soup (so comforting and delicious in the overnight hours!)
Some sort of "meal" (my favorite: grilled cheese. Pre-cooked, so it can be eaten cold or re-heated)
Caffeine products (like 5 hour energy shots or RunGum)
Related post: Fueling for an Ultramarathon: A Complete Guide to Race Day Nutrition
Nutrition/Hydration Gear:
Hydration pack & bladder * OR* handheld bottles
Soft flasks (for Tailwind / liquid calories)
Reusable, collapsible cup (for aid stations)
Reusable sandwich bags, in case you want to carry snacks with you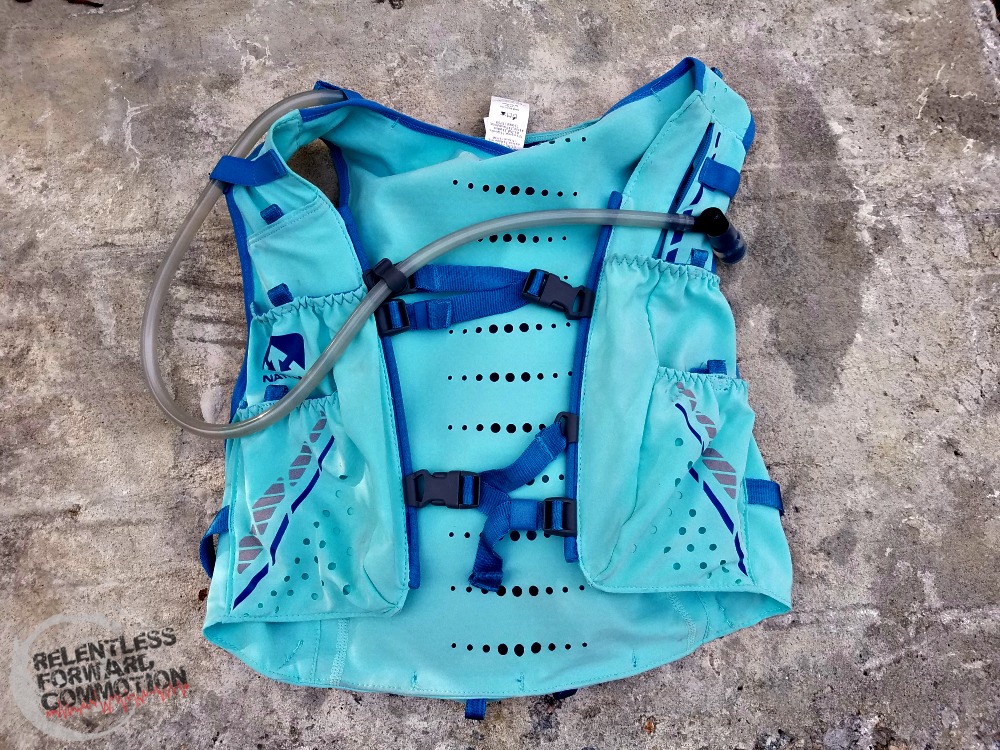 Electronics
Headlamps or other light source (I recommend at least two)
Batteries for headlamp, if applicable
Charging cord for headlamp, if applicable
Portable battery chargers (I bring at least two)
Garmin / GPS charging cord
Cell phone (in waterproof case, or a Ziplock bag)
Personal Care
Foot lubrication (RunGoo is my favorite)
Other anti-chafing product (if different than what you use on your feet)
Sunscreen
Bug spray
Deodorant
Toothbrush & toothpaste (you'd be amazed how brushing your teeth at 4 am can wake you up and keep you going!)
Baby wipes (or runner equivalent, like Nathan PowerShower wipes)
Lip Balm
Any necessary personal medications (inhaler, epi-pen, insulin, etc.)
Tampons / pads / menstruation supplies (if applicable)
Hair ties / rubber bands / headbands /etc. (if applicable)
First Aid
These are all things you hope you aren't going to need, but want to have on hand just in case. We have created a race specific first aid kit in a small container, with the following items packed in it. This prevents having to worry about packing each individual item before a race. Instead, you can just grab the kit and go .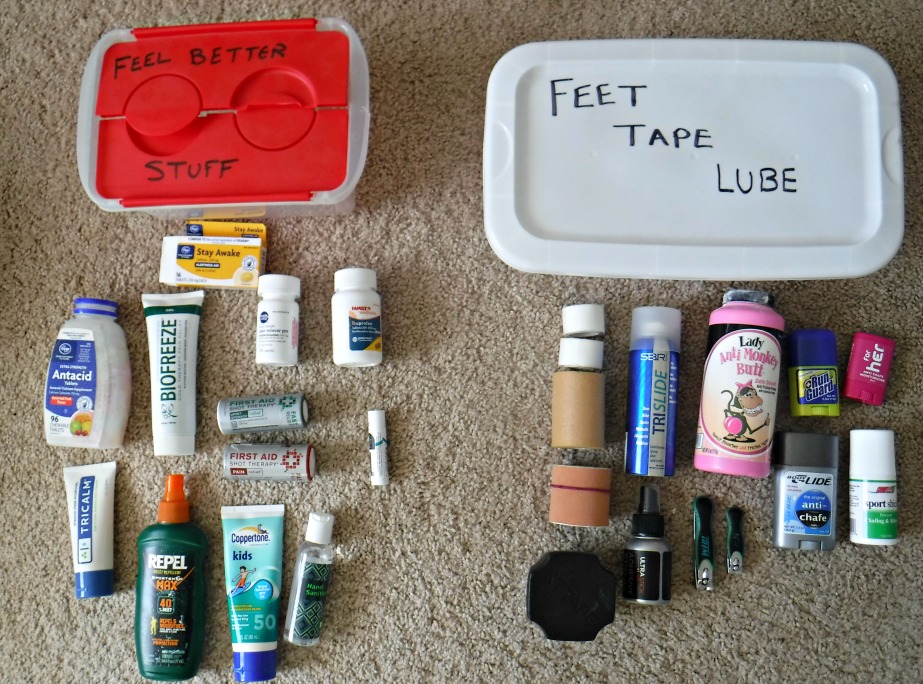 Kinesio Tape (KT Tape, RockTape, etc.)
First Aid tape (for toes, blisters, etc.)
Foam pre-wrap
Small pair of first aid scissors
Small pair of nail clippers
Antacid tablets (Rolaids, Tums, etc.)
Muscle Relief cream ( Runner's High Herbals, BioFreeze, etc.)
Eye drops
First aid/antibacterial cream (bacitracin)
Alcohol wipes
Anti itch cream (bugs, poison ivy, etc.)
Transition / Aid Station Gear
Gear required for transition / aid stations will vary greatly depending upon the style of race. If you are running a point to point, this is the sort of stuff your crew is going to need to haul from aid station to aid station. (And therefore, you aren't going to need some of the bigger items). However, if you're running a looped course, or a multiple out and back course, you may set up a stationary transition area.
Chair
Towel (for wiping off feet, legs, etc.)
Massage stick / foam roller
Pop up tent / awning (for looped or out-and-back courses where you set up transition areas)
Stove for cooking
Cooler for fresh food / cold drinks
Related Post: Preparing Your Crew for an Ultramarathon
Other:
Safety Blanket (keep in your hydration pack at all times)
Sunglasses
A tiny sandwich bag of toilet paper to shove in your hydration pack
Glowsticks
Trekking Poles
Reflective vest / belt (if needed for course)
Safety blinking lights (if needed for course)
Anything else on the "required" list, if the race director assigns one.
Whew, that's a lot of "stuff", am I right? Packing for an ultramarathon can be overwhelming at first. Especially if you are in the midst of the taper crazies (and if you are, be sure to next check out the post "7 Things to Do During a 100 Mile Ultramarathon Taper") But the more experience you gain, the more you'll know what items work for you, and which ones you can leave at home. Again, your list may vary based on personal preference, race date, and location. But hopefully, this comprehensive list has helped you feel more confident and ready for race day!
Heather Hart is an ACSM certified Exercise Physiologist, NSCA Certified Strength and Conditioning Specialist (CSCS), UESCA certified Ultrarunning Coach, RRCA certified Running Coach, co-founder of Hart Strength and Endurance Coaching, and creator of this site, Relentless Forward Commotion.   She is a mom of two teen boys, and has been running and racing distances of 5K to 100+ miles for over a decade.  Heather has been writing and encouraging others to find a love for fitness and movement since 2009.