Last Updated on November 29, 2019 by Heather Hart, ACSM EP
If your email inbox looks anything like mine, it is currently being inundated with near irresistible "Black Friday" and "Cyber Monday" deals from huge online and large chain retailers.  With the relative ease of shopping on the internet, as well as these seemingly unbelievable sales, it may seem that buying your running sneakers and gear from an online retailer might be the most efficient (and sometimes least expensive) route. While that may be true, there are numerous reasons why you should visit and shop at a locally owned running (or cycling, or outdoor) specialty store FIRST , that extend further than simply supporting locally owned businesses (which is important, but we'll get to that.)
Let's start with the obvious:
Ability to Test Shoes
The running shoe world can be incredibly intimidating when you aren't 100% sure what you are looking for…or looking at for that matter.   Neutral, support, pronate, supinate, minimal, trail shoes, cross training shoes…the options can seem endless.  Just because the online shoe selector suggested a specific pair that ideally matches your needs, doesn't mean you will truly be comfortable in that particular shoe.
Related post: 5 Running Shoe Mistakes you Could be Making Right Now
Further, sizing often varies slightly between brands, and sometimes even styles of the same brand of running sneakers. Visiting a locally owned running store will give you the ability to try on multiple pairs of shoes to find the perfect fit. Many stores also allow you to take the sneakers on a trial run, either on an in store treadmill, or out in the parking lot, to make extra sure they fit correctly. Finding the perfect fit before purchasing your shoes prevents the hassle, and often long wait, of having to deal with return shipping to an online store.
Gait and Foot Analysis
Just like a set of fingerprints, no two runners have the same foot. Some runners pronate, while others supinate, or maybe even have a natural running gait. Some runners land on their mid to fore foot, while other runners predominately heel strike. The majority of athletes are not knowledgeable in this aspect of biomechanics and exercise physiology, and may not know how this affects their running. Running specialty stores often offer free gait analysis to help a runner determine their running biomechanics, and can then suggest the appropriate sneakers for that particular athlete.
Access to Professional Advice
Training for your first full marathon, and are unsure of what type of shoe you will need for your increased weekly training mileage?  Or maybe you are looking to do your first sprint triathlon, and want to find a shoe that will be lightweight and easy to put on during transition?  New to town, and want to connect with a running coach, or even just find the local trails?  Most running specialty store employees are not only well versed in the products they sell, but are also experienced athletes themselves. The professional advice that they provide is a service that is simply unavailable when scrolling through pages of shoes on an impersonal website.
Support your Local Running Community
Many running specialty stores host a number of events in addition to simply being retail shops. Events such as running and nutrition clinics, races, and training groups are just a few examples of amenities often offered to the running community by a running specialty store. These stores are often the first to help sponsor local teams, local running clubs, local races or event series.  Supporting your local running specialty store by shopping with them helps ensure these types of programs continue, and therefore foster your local running community.
Return Policy
Despite trying on shoes and taking them for a short run, sometimes runners find that after a few training runs, their new shoes simply aren't what they were looking for. Many running specialty stores understand this issue, and offer generous return policies, despite the shoes having been worn and run in. Further, a running store employee may be able to help you determine why the sneaker didn't work for you, and suggest an alternative.
No Shipping!
This aspect seems obvious, but it is SUCH an added benefit.  Sure you may save a few dollars shopping online, only to turn around and spend that money on shipping and handling costs.  And if you need the item sooner rather than later, you end up paying even MORE for priority or over night shipping . Shopping at a locally owned running store saves you this hassle and expense. Get everything you need at once instantly, without paying extra for shipping.
Support Local
You knew this one was coming!   The reasons to shop at locally owned shops in general are endless, from reducing environmental impact, to creating more jobs, to investing in yourself.   Studies show that money spent locally is more likely to stay local, and be spent again within the community, helping to foster the growth and economic stability of your local community.  And of course, choosing to spend your money at a local running specialty will help grow and foster the local running community as well.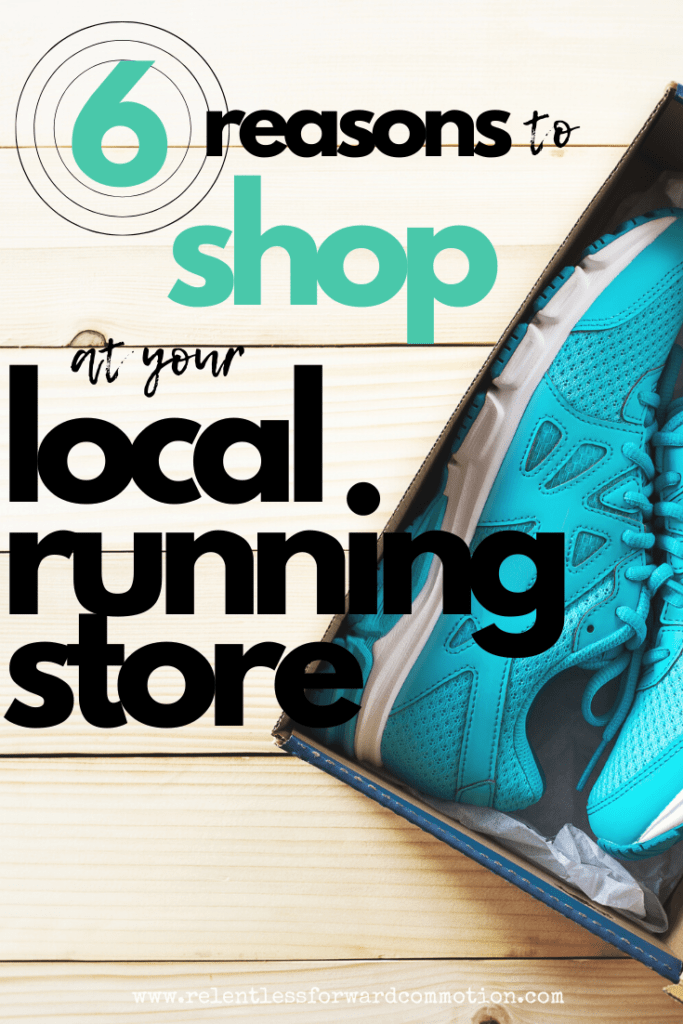 When you head out to make your holiday purchases this year, consider visiting your locally owned running store.  Sometimes, you may end up spending slightly more money buying locally, but the advice and support from the running store employees is an invaluable service that simply isn't available when shopping online.  Plus you'll get good running karma, and just maybe take a few minutes off of your next race PR*
*not guaranteed.  But worth a try.