Last Updated on March 28, 2017 by Heather Hart, ACSM EP, CSCS
Fun fact: according to a 2012 study by Runners World, Everyday Health, approximately half of one percent (0.05%) of the US population have run a marathon.  I see this statistic thrown around social media, typically in the form of some sort of motivational picture, and I often find it hard to believe that the number is truly that small.   Likely because in my world, I would guess that approximately 75% of my acquaintances have run a marathon.
But then again, I am surrounded by runners, all day, everyday. I might need to consider adding more athletic diversity (and other hobbies) to my inner circle.  But I digress.
If this statistic is true, that only 0.05% of our population have run 26.2 miles, then the number of people who have run or continue to participate in ULTRA marathons (typically 50K distance or longer) must be even smaller.   Further, the number of people who have completed a 100 mile foot race must be miniscule, comparatively.
When I first started to truly dabble in the "further than 26.2" world, I always assumed that the reason why I had a hard time finding blogs about ultra training and racing is because this particular group of runners represents very meager percentage of the population.   But now that I'm actually in the midst of ultra madness, I realize the reason why there are so few ultra running blogs isn't because of a statistical rarity.
It's because there isn't enough time.
Ultra marathon training is inherently selfish.   I will be the first to admit it.  Hell, just the other day I spent nearly 6 hours on one single run, and that doesn't include the prep time, the time to drive to the trail, and the time to drive home.  I started before the sun rose, ran for 30 miles, and made it home just in time to shower, shovel some left over Chipotle in my mouth, and get to the school to pick up my kids as soon as the dismissal bell rang.
And I've got to do it again on Wednesday.
Then another 20 miles on Thursday.
Please don't get me wrong, I consider myself incredibly fortunate that I'm able to put in my miles between clients and work shifts, while the kids are at school, and while Geoff is working.  My family, my friends, and my employers are wildly supportive of my ridiculous endeavors.   None the less, the training consumes my life.  Those 6+ hours could have been spent doing a million other things that society deems responsible adults do.
Since I brought it up, the truth is I cannot remember the last time all of my laundry was clean AND put away.  Currently, there is a drying rack full of shorts, rouge socks, sports bras, and buffs sitting in the middle of our living room.   Shirts are hanging to dry in almost every doorway, and it appears there was a mini-tornado contained to the location of only my closet.   The washing machine and the dish washer are running at this very moment.  There are shoes everywhere.  I mean, EVERYWHERE.   There are also random water bottles, stroopwafels, chews, gus, hydration packs, and trucker hats littering my apartment.  I've got overdue product reviews, stacks of books and mail still left unread, and an inbox full of messages to return.   Blog? What blog? I still have to file my 2016 taxes, and I'm pretty sure my husband forgets what I look like when I'm NOT rushing around from one place to the next.
For all intents and purposes, this is the wrong time in my life to be training for such an event.
But then again…when is the time ever right?
I still can't pinpoint why I'm compelled to spend a huge portion of my life training to run and finish a 100 mile footrace.  I'm certainly not winning these races.  And it's not about bragging rights, or the buckle.   I've actually decided that it's simply a part of who I am, and nothing that ever actually needs to be explained or justified.  Again, I'm wildly grateful for loved ones who don't question, and simply support and love me all the same.  Regardless, the drive is undeniable and gets stronger by the day.  In 35 years this is the most focused I've ever been on a goal.  The last 24 hour race put me so close, I could practically feel that buckle in my hands.
Despite the chaos and feeling as though I'm forever playing catch up, I'm content.  No, I'm more than content…I'm genuinely happy.   I've come to realize that the world won't end if my clean laundry never actually makes it back into my drawer before being worn again.   My husband might get annoyed, but hopefully won't love me any less if the dirty dishes stay in the sink a little longer than they should.  (Though he might throw my shoes out the window if I keep leaving them everywhere).   This blog? I may lose out on reviews and travel opportunities, but it's not going to go anywhere.
On the other hand, the ridiculous desire and intense motivation to train at this level might be fleeting.  I've spent nearly a decade searching for it, and honestly couldn't tell you how I found it.  But here it is.  So for now I'll continue to run.  And the adventures and experience running brings me?  They are priceless.
Maybe one day, after finish lines have been crossed, things will settle down and return to normal in my world,  and I'll have a really cool story to tell.
Or maybe they never will.
Maybe my "normal" will never be a perfectly manicured lawn, regularly updated blog, a sparkling and well organized kitchen,  or carefully curated Instagram feed.   Maybe I'll never be a wife who prepares Pinterest worthy dinners every night of the week, or a mom shows up early to the school pick up line looking classy and put together with *gasp* brushed hair and perfectly applied makeup.  (I can't remember the last time I brushed my hair…)  Maybe I'll always be the sweaty, messy, chaotic woman brandishing body glide instead of lipstick, and questionably old bottles of tailwind rather than lattes from Starbucks.
And if so, that's OK too.  Because then I'll certainly have more than one story to tell.  An ultra blog.  All of the chaos and scrambling and trying to keep up will be worth it, because my life will never have been dull.  And I know that I'll never sit around one day wondering what I could have been capable of.
Always relentless.  Always moving forward.  Never without chaos and commotion.   Thanks for sticking by me.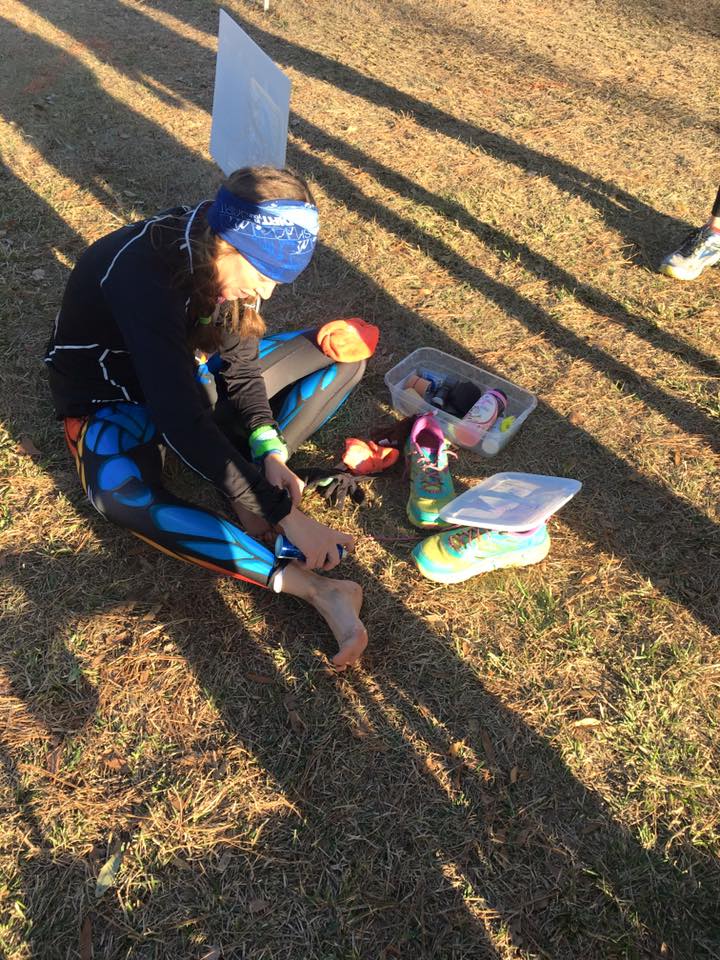 Heather Hart is an ACSM certified Exercise Physiologist, NSCA Certified Strength and Conditioning Specialist (CSCS), UESCA certified Ultrarunning Coach, RRCA certified Running Coach, co-founder of Hart Strength and Endurance Coaching, and creator of this site, Relentless Forward Commotion.   She is a mom of two teen boys, and has been running and racing distances of 5K to 100+ miles for over a decade.  Heather has been writing and encouraging others to find a love for fitness and movement since 2009.