Last Updated on August 24, 2016 by Heather Hart, ACSM EP, CSCS
Kahtoola Stage 4: Nova Guides at Camp Hale to Red Cliff
14.5 miles / 2,800 feet elevation gain
Incase you missed them:
TransRockies Run Preface
TRR Stage One Recap
TRR Stage Two Recap
TRR Stage Three Recap
"Go confidently in the direction of your dreams.  Live the life you've imagined. "
– Henry David Thoreau
Friday morning, stage 4.  As to be expected, Geoff and I woke up shivering.  By this point in the game I've learned to suck it up, knowing that the sun would rise soon, and the frosty tents would be but a passing memory.
Seriously, there was frost on the tents.
But the breakfast tent had giant heaters in it, so I bellied up for my obligatory two pancakes, huge serving of scrambled eggs, and fruit salad.  After breakfast we got dressed for the day and then found Jen back in the heated breakfast tent, where we decided to stay until the very possible last minute.   My legs were absolutely destroyed.  In retrospect, I think the previous day's recovery boot massage was probably a bad idea.  My current version of walking was just a sliver away from being classified as a limp. Everything hurt.   But I took solace in the fact that this was only a 14.5 mile stage.
"Only".  Ha! What's happened to me?
Though I could have stayed in the warm tent for at least another hour, it was eventually time to head to the corral, show off our required gear in order to gain admittance, and get ready to go.  This particular stage would be starting at Nova Guides (where we were camping), and would end in the neighboring town of Red Cliff.  However, we would be shuttled back to Nova Guides at the end of the stage, spending a second night here.  It made the logistics of the morning significantly easier, as we didn't have to pack up our tent or any bags.
By now you know the drill: "Highway to Hell", and GO.
Stage 4 begins the same way stage 3 ended: back up the dirt road out of Nova Guides and into Camp Hale.  Only this time we took a left at a fork in the road, and continued on dirt/gravel roads for about two miles into Mcallister Gulch.  The climb was gradual, and it was beautiful watching the sun slowly climb up and over the mountain peaks.
But the beauty and relaxing climb was short lived, for seemingly in the blink of an eye the climb turns into a brutal, beat up, steep, rocky jeep road up Hornsilver Mountain.  And how do I put this gently…
This climb made me cry.
Not immediately of course, but we'll get to that. Essentially, nearly all of that stage's 2,800 feet of climbing was done over the course of that one three mile climb. It was so painfully steep, and my lungs still hadn't acclimated, as it was early in the morning (I found they would calm down and cooperate after about 8 miles into each stage).   I almost immediately found myself in a deep, dark place of physical hurt and mental suck.  I knew everyone else around me was in that same dark hole, there was no denying that this climb was vicious.  But for some reason, I had myself convinced that I was suffering far worse than the others.
It was too early to blame anything on a nutritional "bonk".  It was too early to blame anything on anything at all, really.  It was simply a combination of high altitude teasing my lungs (we started the day at 9,206 ft) , painfully sore legs from the previous 60 miles and three days of running, and a really harsh climb I was trying to make my way up, all bearing down on me at once.  And it felt defeating, like there was nothing I could do to ease any of it, no matter how hard I tried.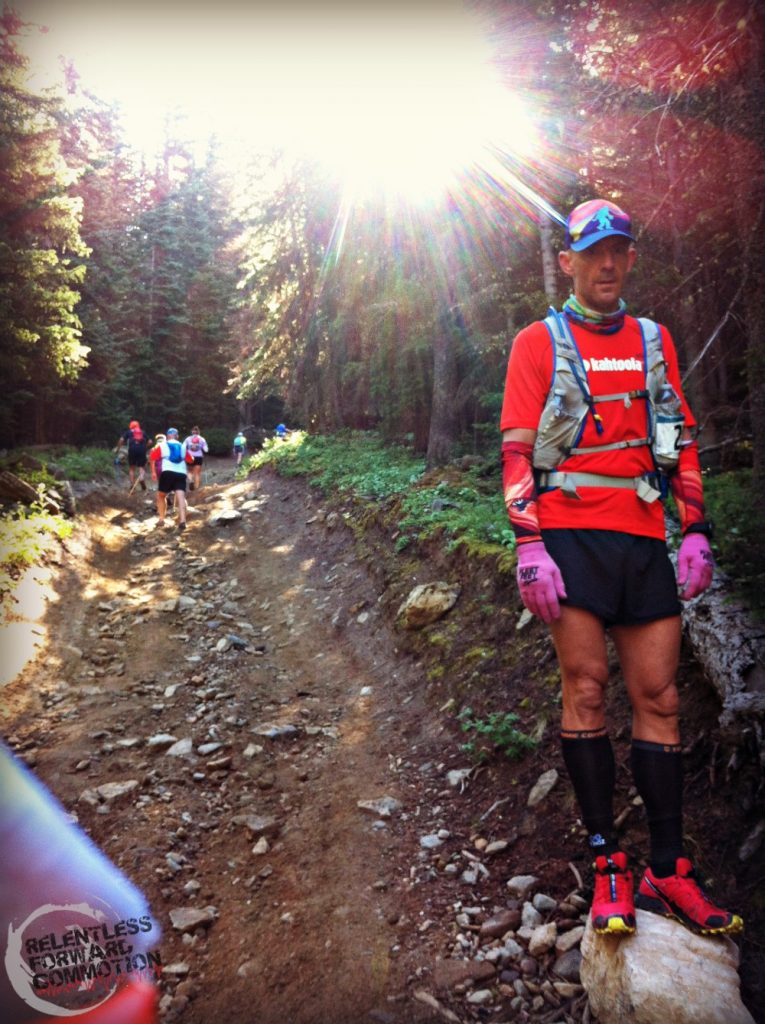 The climbing itself hurt, sure, but I had been there before.  Hell, after my years of traversing up and down double black diamond trails in the quest for Spartan glory, my body was no stranger to steep grades requiring the use of both hands and feet.    It was more the fact that my heart felt like it was beating out of my chest, and that my lungs couldn't catch a full, deep breath that did me in.  Not only is that feeling exhausting, but it can be somewhat terrifying as well.  I think the fear is what got into my head the most.
I desperately wanted to stop.  I wanted to tap into that casual pace where we took few steps, stopped, laughed at the ridiculousness of the situation, and trudged on, slowly repeating the cycle until we hit the summit.   But there was no time for that, hell, we were moving at the pace of a snail to begin with.  Everyone was.  In fact, a few people who were able to muster up the lung capacity to even talk were discussing how even the elites, the very front runners, claimed they couldn't actually run up this climb.
And so we climbed.  It's all we could do.
Physically, I hung on to Geoff's hand, as he helped tow me up the mountain.   Emotionally, I dug deep for something, anything to grab on to that would help me get out of my own head and get through this part of the race.  There are times during moments like these where I yell at myself to push harder, dig deeper, shut the f*#k up and go.  But today wasn't one of those days, I needed more than drill sergeant Heather to get me through this.
Out of the blue a Henry David Thoreau quote popped into my head.
"Go confidently in the direction of your dreams.  Live the life you've imagined. "
Here I was, in Colorado, 60+ miles into a world-renowned stage race.   The girl who has busted her ass to overcome so many personal and training obstacles over the years.   One who has slowly metamorphosed from a physically and emotionally weak wanna-be that occasionally got lucky enough to podium at local 5K's, to a now dedicated and strong runner who recently finished her first 100K.  The girl plagued with wanderlust, who constantly daydreams of leaving her sheltered East Coast life for a lifetime of adventure that will hopefully span the country and eventually the globe.
At that moment, that very difficult, legs and lungs screaming moment, I was traversing the Colorado Rockies, doing what I love to do the most with the one person in the world that I love the most, in the midst of one of the toughest and most adventurous events I've participated in to date.   An opportunity I was given because of all of the hard work I've put in, the relationships I've made, the lives I've helped change.  I WAS living the life I've always imagined.  Right here. Right now.  This suck? It was a part of that life, that glorious life that I'm so freaking lucky to be able to be living.
Go Heather.  Climb on. Revel in this suffer-fest, because it's everything you've ever wanted out of life.
Writing it now feels a little cheesy, but at the moment, that realization was priceless. It was what I needed to get me around the next corner, where I saw a figure perched at the top of another climb.  It was Michael "Fitzy" Fitzpatrick, TRR staff previously appearing as the Yeti in yesterday's stage, today dressed as Super Mario, cheering us on and alerting us to the fact that we were *almost* done climbing.   At first I didn't believe him.  What do you mean "almost" done?  What about the hands-on-trail inclines we were warned about?  I'm pretty sure I said all of that out loud, because I faintly remembered someone saying "no, that WAS the hands on trail climbing, you did it".   And that's when I said to Super Fitzy Mario "You better not be lying about almost being done, because right now I'm so happy I could cry.."
And then I cried.
We rounded another corner past Fitzy to a clearing that exposed absolutely incredible views.  We stopped for a few pictures, and I realized how cloudy my head was.  I was emotionally and physically drained…and sitting at about 11,683 feet above sea level.  But there was no time to stop yet, as we still had a little bit more to climb before we hit the first aid station/check point of the day.
I don't remember getting from the first clearing to the check point. I was not in a good place, physically, I think mostly due to the altitude.  What I do remember is getting to the check point and immediately and instinctively sitting down on the ground, catching the eye of a medic while I did so who continued to keep staring back over me like a hawk for the next few minutes.  I mentally told myself to get my sh*t together.  In my moment of altitude delirium, I was convinced that they would pull me out of the race if anyone knew how dizzy I was, so I couldn't let them see me struggling.
Oh, oxygen deprivation. It's so funny how it didn't bother me at 12.5K feet two days prior, but this day was destroying me physically.
I got a stroople into my gut and willed myself to stand back up for a picture.  There was a hilarious shark picture frame to pose with, and I told the volunteer that we have PLENTY of sharks back in Myrtle Beach.  What we don't have is mountains, so I wanted a picture with that instead.   And of course, this guy:
And then we took off. Walking at first, while I continued to get my head on straight, but then gradually running across an incredible ridgeline.  Everywhere I looked there were mountains.  On the right were rugged, dark, gnarly looking mountains.  On the left were sweeping, snow covered peaks.  It was simply breathtaking.
And then this happened.  Clearly I was starting to feel a lot better.   I bet Raven Eye Photography had no idea they'd be doing an impromptu engagement photo session.  But this shot couldn't be a more perfect representation of our relationship.   I adore it so much, and am so grateful to the amazing friend who purchased the digital print as an engagement gift.  Thank you 🙂
We ran downhill for quite awhile, and randomly began discussing the upcoming wedding.  Geoff took the time to ask if I was serious about my response to his proposal, now that we were a few thousand feet lower than Hope Pass, and in theory, there was more oxygen flowing to my brain.  I find his concern absolutely hilarious and adorable, all at the same time.  I say yes, again, and he responds "Good, then I won't ask you a third time."
The miles ticked by quickly.  We took them very conservatively and casually, figuring this was a short stage, and we had two 20+ mile days coming up, so it wouldn't hurt us to "rest "a little.  We met a woman named Betsy, who told us she was testing out trekking poles for the first time in preparation for an upcoming 100 miler.  When asking her how the trekking poles were working out for her, she laughed and said "not so good!".  I love the brutal honesty of people countless miles into a long course.   Check out her amazing and emotional TransRockies blog post (click here).  Betsy, it was a pleasure running with you!
At the bottom of the descent we came across the Wearyman Creek, which we would run through for about a half a mile.
There was absolutely no way to keep your feet dry on this part of the adventure, so I didn't even try.  The water was icy cold, which felt amazing for the first few minutes.  Then it got a little painful as my feet started to freeze.  Once they were thoroughly numb, my brain was convinced that my feet had grown two sizes and no longer fit in my shoes.  That's when things got interesting, as I became really unsure of my footing.  You know, since I couldn't feel my (giant) feet.   Needless to say it was an interesting and beautiful half mile. I wish I had taken more pictures, but knowing how clumsy I can be, I had already secured my phone/camera into a waterproof bag in my hydration pack.   Every now and then I get this "adulting" thing right.
Eventually we come out of the creek and almost immediately hit check point #2. I was thrilled to give my feet a chance to thaw out, while stuffing food in my face, of course.  I love aid stations.  Now, you may have noticed a trend appearing, in that the last checkpoint of every stage offers some sort of whiskey.  Today was no exception.  And for the first time during the race, when I was offered a shot of fireball, my freezing cold feet told me to NOT turn that one down.  (Don't worry, they filled the cups maybe a centimeter high, it was far from an actual full shot, and we were well hydrated).
We were told it was just under a 5K to the finish line.  On, you guessed it, a long dirt road!   But this one, instead of being exposed and somewhat barren, followed a beautiful stream down into the town of Red Cliff.  Being mostly downhill, we were able to run nearly the entire thing.   Slowly, of course, but running none the less.
Red Cliff was unlike anything I've ever seen in my entire life.  It almost felt like the set of some sort of old-time mountain western film.  Now, I grew up in the backwoods of Vermont.  The town I spent my most formidable years had less than a thousand residents, and zero stop lights.  I am no stranger to tiny towns.  But Red Cliff was even smaller than that.  It is the type of town that makes you wonder how people even live there, what do they all do, where do they all work, how do they get in and out in the winter?  I never found out the answer, but I will tell you: Red Cliff was simply gorgeous.  These two pictures are pretty much the extent of "downtown".
The advertised highlight of stage 4 (besides of course, the amazing views, the hellish climb, and the run as a whole) was the finish line *at* Mango's Mountain Bar and Grill, where it was apparently tradition to drink a margarita with your fellow runners.  Twist my arm.
The bartender made our drinks on the stiff side, and that combined with the altitude (about 8,650 at Mangos, a "low" point for us) left me sheepishly and quietly impaired.   Too tired to be full on "drunk", but needless to say I was glad someone else was driving me home.   We met an amazing couple that was there running and celebrating their wedding anniversary, and they shared their taco tickets with us, as they had purchased more than they could eat.  So Geoff and I proceeded to feast on veggie tacos, and nacho chips with the disgusting artificial cheese sauce that tastes like the greatest food on earth immediately after a race. It was absolutely delicious.   Thank you Ben and Rebecca, it was wonderful meeting you!
Eventually we boarded the shuttle to take us back to Nova Guides and our camp from the previous night. It was a real treat to not have to get our bags and find a new tent, but instead crawl back into our cozy tent already full of our (smelly) gear.   After a shower in the shower truck, of course.
Day 4 would be the first day that caused me to succumb to a pre-dinner nap.  I never take naps, my body seems to protest sleep when the sun is up.  But I was beat.  And I still had 46.5 miles to go…
____________________________________________________________
Check back tomorrow for the tales of stage 5.  A massive THANK YOU to Kahtoola, INC. for sponsoring our journey to the 2016 TransRockies Run.   Also a huge shoutout to INKnBURN  for our amazing outfits.!
Heather Hart is an ACSM certified Exercise Physiologist, NSCA Certified Strength and Conditioning Specialist (CSCS), UESCA certified Ultrarunning Coach, RRCA certified Running Coach, co-founder of Hart Strength and Endurance Coaching, and creator of this site, Relentless Forward Commotion.   She is a mom of two teen boys, and has been running and racing distances of 5K to 100+ miles for over a decade.  Heather has been writing and encouraging others to find a love for fitness and movement since 2009.