Last Updated on February 6, 2022 by Heather Hart, ACSM EP, CSCS
In the endurance training world, I often hear athletes refer to both overtraining and overreaching as a synonymous term for experiencing" training burnout".
But the truth is overreaching and overtraining in runners (or any athlete) are not the same. 
One is a serious medical condition that can affect an athlete for years, while the other is a temporary response to intense training, and sometimes is even purposefully planned into a training cycle, and if done right, is temporary. 
Understanding the difference between the two is important for endurance athletes. If done incorrectly or not purposefully, overreaching CAN lead to overtraining, and then you're really in the true running burnout territory no runner wants to find themselves in.
In this post, we'll dive deeper into the idea of running burnout, the difference between functional and nonfunctional overtraining, and what overtraining syndrome really entails. And hopefully, I'll leave you with enough information that you can successfully avoid two of the three.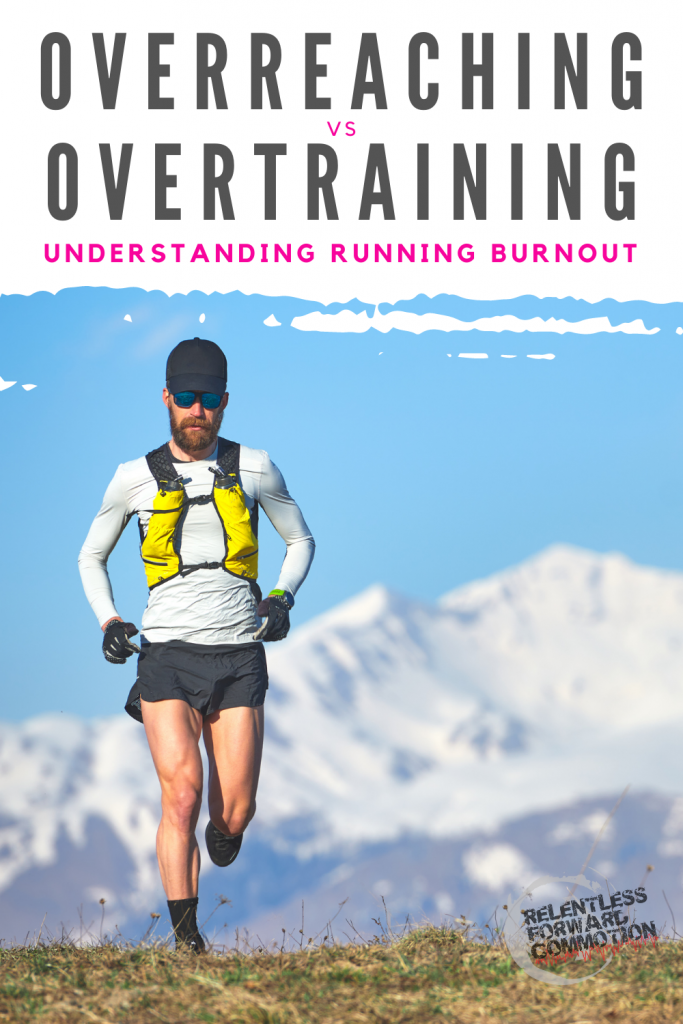 What Is Running Burnout?
"Running Burnout" is a generic term used in the running community without a true medical or scientific diagnosis or definition.
Typically runner's report feeling burnt out when they are experiencing high levels of physical and emotional stress, fatigue, and maybe even a plateau or decrease in their running ability, and attribute it to their training.
I've been there. I've even written blog posts about my own experiences with ultramarathon burnout.
But what's really going on, on a physiological level, when a runner says they are experiencing burnout? Well, chances are one of the following are to blame:
Acute fatigue
Functional overreaching
Nonfunctional overreaching
Overtraining syndrome
Relative Energy Deficiency in Sport (RED-S)
Something completely unrelated to running.
Understanding the difference between all of the above may help a runner resolve feelings of burnout sooner, if not avoid these feelings altogether.
Acute Fatigue is Normal in Runners
Let's get this one out of the way: normal, healthy training volumes and intensities can still leave you feeling tired. That's a common symptom, and kind of the point, isn't it?
Physical adaptations to training happen when we expose our bodies to a stress greater than what it is already used to. So for example, when you're training for your first ever marathon, you're going to slowly increase your exposure to longer and longer distances in the form of incrementally increasing long runs over the period of your training cycle.
The longest you've run before is 13 miles. So the next weekend you run 15. Guess what? It's kind of hard. It might leave you a little sore, and probably pretty tired. But you rest and recover, and in doing so, your body adapts to that level of stress. As a result, the next weekend you can safely and hopefully comfortably run 15 miles, because your body has adapted to the 13 mile distance. 
Of course, it's more complex than that. But the point is, we get better at running by purposefully and incrementally exposing our bodies to greater stress – be it distance, pace, hills, whatever. We tear our bodies down ever so slightly in order for them to build back up even stronger.
And that can leave us feeling things like:
Fatigue
Muscle soreness (DOMS)
Maybe slight mood changes
But these symptoms are acute (meaning, short term/temporary, you'll see me use this word over and over in this post), are a normal part of training, and will quickly go away with a couple of days of recovery, or sometimes, a full cutback week.
Functional Overreaching in Training 
Now, let's take a step beyond normal, acute fatigue and talk about a concept known as overreaching.
Overreaching in training means that you are training at a much higher volume or intensity than normal, AND higher volume or intensity that is not immediately matched with adequate rest.
Initially, that sounds like a bad thing.
But when done properly, the outcome of overreaching is that the adaptation to that higher volume or intensity will result in greater sport (in this case, running) performance. This is known as functional overreaching, and is a common strategy among advanced and elite runners.
Think of week long training camps, with multiple hard training days in a row.
Technically speaking, functional overreaching is defined as: a purposeful, systematic attempt to intentionally overstress the body, allowing the body to adapt to the training stimulus above and beyond adaptation attained during a period of acute overload.  
The key takeaway here is that functional overreaching is done on purpose.
Is Functional Overreaching a Good Thing?
When done purposefully and appropriately, yes, functional overreaching can be a good thing, as it can result in adaptations to training stressors greater than what an athlete is used to, making them stronger/faster/etc. 
However, functional overreaching should be done very carefully, and is not a recommended approach for beginner or less experienced runners.
Functional vs. Nonfunctional Overreaching
Nonfunctional overreaching from an acute training overload happens when you push too hard (either in volume, intensity, or both), resulting in an extended period of decreased performance, and takes more than a few days to recover from. 
Nonfunctional overreaching may be the result of attempted functional overreaching gone too far, OR it is more likely and more commonly the result of a runner pushing to the extreme for no apparent reason, or simply not knowing their limits. 
The whole "beast mode" with no purposeful methodology to back it up.
Nonfunctional overreaching typically does NOT result in improvements in training, but rather, ends up with either a plateau in running performance, OR may actually cause a runner to lose fitness.
When recognized and rectified with appropriate rest, recovery, and a backing down on training, a runner can recover from nonfunctional overreaching. If ignored, it can possibly lead to the medical condition known as Overtraining Syndrome (more on that below).
7 Overreaching Symptoms in Runners
Overreaching symptoms are going to be more severe than your normal physical and emotional responses to training. Overreaching symptoms include:
More extreme mood swings – that black hole feeling where you find yourself wondering if this is even worth it, or if you should just quit running altogether. 
Exhaustion – not just directly from your workout, but seemingly all day.
Muscle soreness that doesn't seem to go away.
Decrease in running performance at all intensities. Due to a decrease in heart rate, a decrease in cardiac output (2), and a decrease in lactate production (5)
Impaired immunity (you may notice frequent colds, viruses, etc.) (7)
Decreased sex drive
Increased resting heart rate.
How to Recover From Overreaching
The best thing you can do to recover from overreaching – both functional and nonfunctional – is to prioritize rest and recovery. Cut back significantly on volume and intensity of training, if not take complete rest periods from running altogether.
While full rest may be best, experts also recognize that movement can have a positive effect on mental health. If stress, depression, and/or anxiety are increased with full rest, relative rest with well-defined expectations , supervised by a professional, is recommended. (4)
In addition to cutting back on running and training volumes, focus on other aspects of recovery, such as nutrition, hydration, sleep, and overall stress management (discussed further below). 
How Long Does it Take to Recover From Overreaching?
Functional Overreaching is typically resolved after a brief rest period of cutting back on volume and/or intensity in training. And if the functional overreaching was done right, you'll come back not only feeling better, but stronger than before.
Nonfunctional overreaching may require a longer recovery period. However, with appropriate rest (weeks to sometimes months), a runner can typically recover from nonfunctional overreaching.
Understand that, especially in the case of nonfunctional overtraining, multiple weeks of complete rest may be necessary for adequate recovery. Do not rush the process.
Overtraining Syndrome (OTS)
Now, we're moving on to a more serious, medical condition.
Overtraining Syndrome (OTS) is a chronic condition brought on by overtraining (doing more "work" than your body can physically tolerate), and is characterized by performance decrements and an overall breakdown in physiological function. 
Technically speaking, OTS is defined as: prolonged maladaptation of not only the athlete, but several biological, neurochemical and hormonal regulation mechanisms. (6)
In short: your body starts to quit on you.
Overtraining Syndrome is actually relatively rare, especially compared to the number of runners you may have heard say that they are "overtraining". (Myself included, I am guilty of this in the past)
According to research, overreaching is common among athletes, with an incidence ranging from 5-60%, whereas OTS is much less prevalent (4).  
Is overtraining more serious than overreaching?
Yes. While overreaching is typically acute (short term), overtraining syndrome can have a chronic effect, with symptoms that may affect your life outside of running and training.
The decline of both running performance and physiological function can last anywhere from months, to years. 
11+ Symptoms of Overtraining Syndrome in Runners: 
According to much of the research and studies I read, symptoms and signs of overtraining in runners can vary wildly from athlete to athlete. Some of the frequently mentioned symptoms include:
Unexplainable under or poor performance
Persistent fatigue
Psychological disturbances (irritability, depression, agitation, loss of motivation, lack of concentration, anxiety)
Cardiac issues (bradycardia, tachycardia, hypertension, etc.)
Depleted energy stores
Increased sense of effort in training 
Sleep disorders (insomnia, waking up feeling unrested)
Hormonal changes and disruptions (with a net increase in catabolic hormones)
Chronic dehydration
Neural fatigue within the central nervous system
Weight loss / lack of appetite / loss of appetite
This is not an exhaustive list. Again, because OTS is often highly individual and still not completely understood, symptoms may vary from athlete to athlete.
Is it Overtraining, or is it Something Else?
In the 2012 Joint Consensus Statement on Overtraining, the following diseases are listed under exclusion criteria (meaning, these could be confused for overtraining syndrome in undiagnosed athletes): 
Anemia
Epstein Barr virus
Other infectious diseases
Muscle damage (high CK)
Lyme disease 
Endocrinological diseases (diabetes, thyroid, adrenal gland, …)
Major disorders of feeding behavior
Biological abnormalities (increased SR, increased CRP, creatinine, ferritin, increased liver enzymes, …) 
Injury (musculoskeletal system)
Cardiological symptoms
 Adult-onset asthma 
Allergies
Runners who suspect they are suffering from OTS should seek medical advice to rule out any of these other possibilities
How to Recover from Overtraining Syndrome
Because of the complexity of overtraining syndrome, it is recommended that you seek the care and guidance of medical professionals to recover from overtraining syndrome.
How Long Does it Take to Recover from Overtraining?
True overtraining syndrome may take months or even years to recover from. Many experts note that overtraining syndrome can quite possibly be the end of an athletic career for an individual. This is obviously a huge blow for elite athletes, but can be heart breaking for runners of all abilities.
How to Prevent Nonfunctional Overreaching and Overtraining in Runners
The good news is that many runners experiencing training "burnout" are experiencing nonfunctional overreaching, and haven't fully progressed into developing overtraining syndrome.
The bad news is that, if left unchecked, nonfunctional overreaching can lead to overtraining syndrome. Here's what runners need to know in order to avoid.
Because the exact cause of overtraining syndrome still isn't fully understand, there isn't an exact protocol to preventing it. However, the following quote from the article "Diagnosis and prevention of overtraining syndrome: an opinion on education strategies" sums it up well:
"As we have seen, the diagnosis of OTS is a complicated clinical endeavor. Therefore, much of the prevention of OTS is simply education of risk factors and ways to prevent excessive stress in the setting of excessive exercise without adequate recovery. One must acknowledge that every individual athlete has a different tipping point for functional OR, nonfunctional OR, and OTS, which may be related to an athlete's stress capacity" (4)
In simpler terms: never forget that your body may or may not respond the same as another runners. Just because another runner can safely handle and adequately recover from a certain weekly training volume, or running a 100 miler every month, doesn't mean yours will.
Here are some other things you can do in order to hopefully prevent nonfunctional overreaching or overtraining syndrome:
Avoid Training Errors
If you're a runner who prefers to "wing it" over following a sound training program, you might be setting yourself up for risk of overreaching or overtraining.   
Further, beginner runners attempting to follow a training schedule that is beyond their current fitness level may wind up with an excessive training load that their body isn't ready to handle.
Avoid significant jumps in running volume
While the 10% increase in volume of training rule does not necessarily apply to every runner (some athletes can handle greater increases, some need smaller ones), it's a great reference point to start with. 
Avoid significant increases in the number of training sessions
If you've regularly trained only 2 days at a time between rest days, quickly jumping up to 5 or 6 workouts before having a rest day might be too much. Slowly increase the number of workouts you perform between rest days, and assess how your body tolerates the increase over time.
Avoid Increasing intensity too rapidly
If you're used to a lot of long, slow, aerobic effort workouts, rapidly adding in a bunch of tempo runs or interval workouts is probably a bad idea. Again, slowly increase intensity duration AND volume over longer periods of time, to see how your body adapts. 
Avoid training monotony
In this case, I don't mean monotony as in "boring", but rather, repetitive.  Make sure your training has variety, appropriately balancing harder runs with easy runs, and including enough rest days within your training mesocycle.
In the bigger picture, you training mesocycle should safely balance periods of hard training with periods of easier recovery or base building.
Include recovery days in your training. They matter.
Manage Physical Stress
Remember, our bodies do not differentiate sources of stress. You may be following a great training plan appropriately, but what other activities are contributing to physical stress besides running?
Consider things like:
Other sports you may participate in 
Group exercise classes
Physical stress from work or life, such as spending a ton of time on your feet, lifting heavy loads, etc.
In periods of higher or intense training volume, you may have to make sacrifices in other areas in order to avoid placing too much stress on your body.
Manage Mental/Emotional Stress
Know that mental and emotional stress has a direct impact on your physical well being in addition to physical stress.
Family/relationship/at home stress
Work or school (or both) stress
Social stress
Training monotony 
Excessive expectations
Competitive stress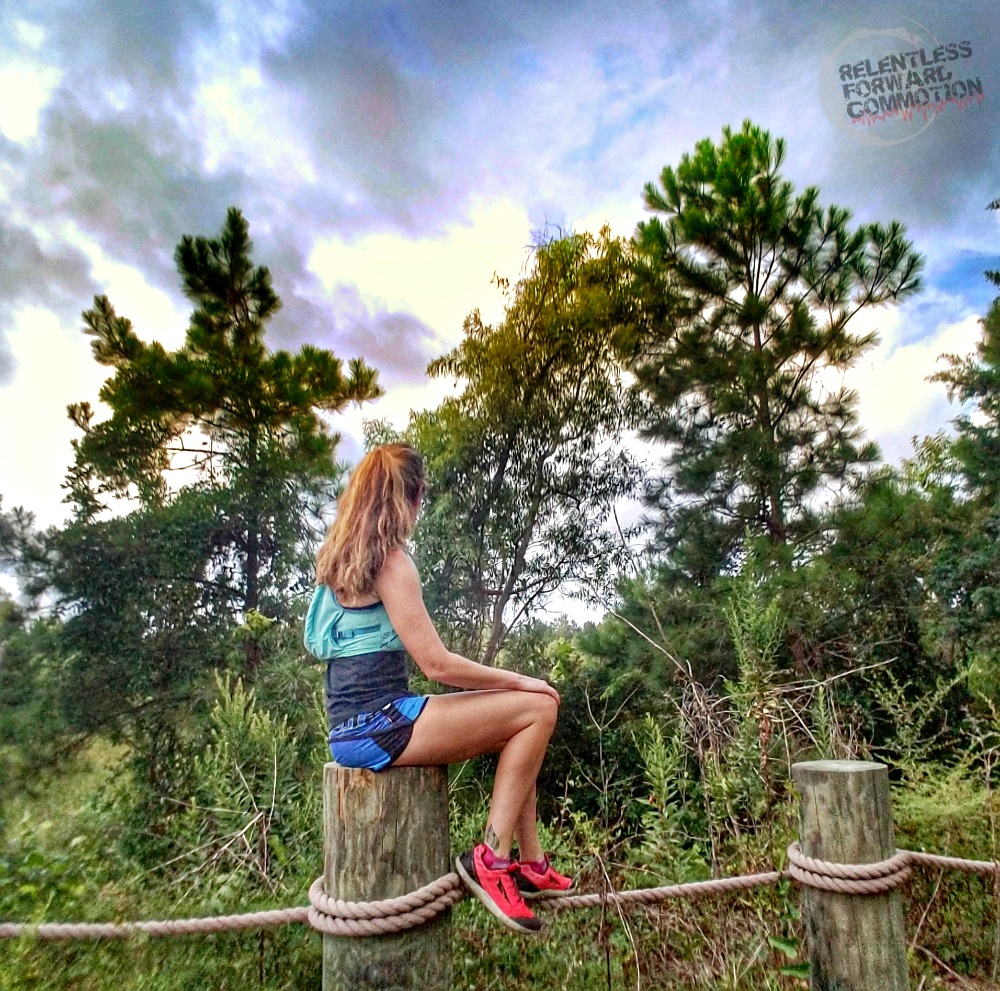 Too much stress is too much stress, regardless of where it comes from. Make sure you are balancing your physical stress from all sources appropriately.
Fuel Your Body Properly
If you've heard it once, you've heard it a million times: food is fuel. But more than that, food directly aids in your body's ability to recover from exercise.
Our bodies use the food we eat to repair and rebuild the normal tissue damage that occurs during running and training.  Further, adequate caloric intake relative to energy expenditure helps contribute to things like proper hormonal regulation, body temperature regulation, a healthy immune system, and more.  
Proper nutrition is an integral piece of the running puzzle. Make sure you are eating enough calories both before, during, and after your runs in order to sustain your training. Also make sure that your nutrition is well balanced, and not lacking in any macronutrients (i.e. get plenty of carbs, fats, and protein).
Relative Energy Deficiency in Sport (RED-S)
You may have heard of a condition called Relative Energy Deficiency in Sport (RED-S) before. RED-S results from insufficient caloric intake and/or excessive energy expenditure.
Symptoms of RED-S include low energy availability, amenorrhea (lack of menstrual periods in females, possibly due to iron deficiency), low bone mineral density, and suppression of resting metabolic rate (meaning that runners may often gain weight despite taking in less calories than they expend).
RED-S and Overtraining Syndrome share a number of overlapping symptoms and pathways, but are not the same condition (8)
Get Enough Sleep
Your body works best at healing itself while you are sleeping. .
Human growth hormone (HGH) is a complex protein produced by the pituitary gland in the brain, and is one of the primary compounds that allows our muscles to recover, rebuild, and grow.
Our bodies need HGH to use the amino acids – the literal building blocks of muscle – we take from protein sources we eat to help repair damaged muscle tissue.
  Up to 75% of HGH is released in the body at night while you are sleeping. Inconsistent sleep patterns and a lack of sleep can affect adequate release of HGH. Further research shows that a lack of adequate sleep can actually cause muscle mass to decrease (3).  
Therefore, besides ensuring that your body and mind are both well rested, sleep is absolutely imperative for healing your body from the damage of training, as well as making that body stronger.
How much sleep do you need? It definitely varies person to person, but experts agree that adults need a minimum of 7-8 hours nightly, and athletes aim for closer to 8-10 hours.
Allow Proper Recovery Between Races
Say NO to the FOMO.
Listen, I get it, races are fun, medals and buckles are cool, and the atmosphere before/during/and after a race cannot be beat.
But, racing too frequently, especially without sufficient time to properly train AND properly recover between races, can be a recipe for disaster.  
The cumulative fatigue of this approach might not be noticed until you are already well into the depths of nonfunctional overreaching, or worse.
Final Thoughts:
Runners and endurance athletes in general tend to be a stubborn bunch, so it's no wonder they (we) tend to push ourselves too hard, too often.
While acute fatigue and soreness is absolutely part of the running and training territory, it's important to know that chronic exhaustion and pain is not.
Continuously pushing beyond the stressors of what your body is capable of recovering from simply won't make you stronger, and isn't worth the risks.
Resources
Aubry, A., Hausswirth, C., Louis, J., Coutts, A. J., & LE Meur, Y. (2014). Functional overreaching: the key to peak performance during the taper?. Medicine and science in sports and exercise, 46(9), 1769–1777. https://doi.org/10.1249/MSS.0000000000000301
Coates, A. M., Millar, P. J., & Burr, J. F. (2018). Blunted Cardiac Output from Overtraining Is Related to Increased Arterial Stiffness. Medicine and science in sports and exercise, 50(12), 2459–2464. https://doi.org/10.1249/MSS.0000000000001725
Dattilo, M., Antunes, H. K., Medeiros, A., Mônico Neto, M., Souza, H. S., Tufik, S., & de Mello, M. T. (2011). Sleep and muscle recovery: endocrinological and molecular basis for a new and promising hypothesis. Medical hypotheses, 77(2), 220–222. https://doi.org/10.1016/j.mehy.2011.04.017
Kreher, J. B., & Schwartz, J. B. (2012). Overtraining syndrome: a practical guide. Sports health, 4(2), 128–138. https://doi.org/10.1177/1941738111434406
Le Meur, Y., Hausswirth, C., Natta, F., Couturier, A., Bignet, F., & Vidal, P. P. (2013). A multidisciplinary approach to overreaching detection in endurance trained athletes. Journal of applied physiology (Bethesda, Md. : 1985), 114(3), 411–420. https://doi.org/10.1152/japplphysiol.01254.2012
Meeusen, R., Duclos, M., Foster, C., Fry, A., Gleeson, M., Nieman, D., Raglin, J., Rietjens, G., Steinacker, J., Urhausen, A., European College of Sport Science, & American College of Sports Medicine (2013). Prevention, diagnosis, and treatment of the overtraining syndrome: joint consensus statement of the European College of Sport Science and the American College of Sports Medicine. Medicine and science in sports and exercise, 45(1), 186–205. https://doi.org/10.1249/MSS.0b013e318279a10a
Peake, J. M., Neubauer, O., Walsh, N. P., & Simpson, R. J. (2017). Recovery of the immune system after exercise. Journal of applied physiology (Bethesda, Md. : 1985), 122(5), 1077–1087. https://doi.org/10.1152/japplphysiol.00622.2016
Stellingwerff, T., Heikura, I. A., Meeusen, R., Bermon, S., Seiler, S., Mountjoy, M. L., & Burke, L. M. (2021). Overtraining Syndrome (OTS) and Relative Energy Deficiency in Sport (RED-S): Shared Pathways, Symptoms and Complexities. Sports medicine (Auckland, N.Z.), 51(11), 2251–2280. https://doi.org/10.1007/s40279-021-01491-0