Last Updated on March 5, 2019 by Heather Hart, ACSM EP, CSCS
"On the first loop, don't be stupid.   On the second loop, don't be a wimp."
It was a chilly, foggy Saturday morning, and I was huddled at the top of a paved hill with about 30 other runners, getting ready to start the 2019 "Foothills 50K", a part of the "Conquer the Rock" race weekend.   For whatever reason, I was a nervous wreck, which isn't like me at all.  Especially for an event that was supposed to simply be a training race – a fun one at that.  It was my 37th birthday, I was in the mountains – my favorite – surrounded by friends and loved ones, and the race director even had the entire field of runners sing "Happy Birthday" to me.   Yet I couldn't shake the feeling from the get go that this wasn't my day.  In fact, I was so uneasy that morning, that my husband asked me multiple times what was bothering me.
I wasn't exactly sure.
The past few weeks I hadn't been feeling like myself.  An overall feeling of fatigue, inability to sleep well,  an increased heart rate during efforts that should normally feel easy (for example, I've been redlining teaching spin class, which never happens), and that lingering "am I coming down with a cold, or not?" feeling has been plaguing me.  Maybe it's overtraining.  Maybe it's allergies, that awful yellow pollen is back already.  Let's be real, it's likely overtraining.  And I know better than to have jumped right back into insane training so quickly after a 100 miler, but I felt good, and after a really successful training cycle and race, I was feeling a bit invincible.
I knew that could bite me in the ass, but I didn't expect the bite to be delayed by nearly two months.
But back to the race.  The group in question is getting ready to tackle 31 miles through Table Rock State Park in Pickens, South Carolina.  Fun fact: did you know that there are TWO Table Rocks, one in South Carolina and one in North Carolina? Neither did I until last September, when I almost went to the SC one for a completely different race in NC.  The Foothills 50K would consist of two 15ish mile loops in the South Carolina Table Rock State Park, and would summit Pinnacle Mountain (the second highest peak in South Carolina) as well as Table Rock during each loop, with a total of about 10,000 feet of elevation change per loop (20K for the whole race).
Race director Matt gives us a final bit of advice: "On the first loop, don't be stupid.   On the second loop, don't be a wimp."  He starts the ten second countdown, and we are off.  I am running with my friend Raquel, and the two of us are silently scoffing at the fact that nearly the entire pack is seemingly sprinting up these massive paved hills that wind through part of the park's campground.  Of course, "massive hills" is a relative term, I'm sure this is nothing to the locals.  To us Myrtle Beach flatlanders? They feel like mountains.   My heart rate is already up, and we're practically at the back of the pack, throwing down a 9:20 first mile mostly uphill.
These upstate runners are no joke.
We leave the campground and head down (and up) more paved roads until we reach the nature center and the trailhead.
I'm grateful that the day before, Geoff, my friend Felicia, and I had taken a hike on this very same trail, because it's absolutely breathtaking, and I don't have time during the race to stop and take pictures.
The day before the race (and the day before that) the trail received some significant rainfall, and as such, it's still slippery.  The pack of runners carefully runs across a number of slippery rock faces and mud holes. We cover a few short water crossings, and then we begin to climb.
And climb, and climb, and climb. For about two hours, we wind our way up the mountain, through the fog, past waterfalls, under incredible rock formations. I'm actually feeling really good: I can tell all of the time I've spent on the treadmill hiking away at a 15% incline has paid off.
We hit the first of two out-and-back sections, where we have to hole punch our bib to prove we had completed the out-and-back.  Of course, it's next to a gorgeous waterfall.  This course is unbelievably beautiful, even in the fog.
At some point, we come across one of many stream crossings where you are able to easily hop across rocks to keep your feet dry.  I somehow miscalculate a step, and fall backwards, landing my left foot shin deep in the water.  Any trail runner who has ever done this knows the immediate feeling of disappointment that comes along with that "splash", before you even feel the water touching your skin.  From behind me, I hear another runner say "well at least you got that out of the way for all of us" and I laugh.
You've done much worse than run a 50K with wet feet, Heather.  Keep climbing.
Raquel asks me to confirm a couple of random questions about the course, and it was at that point that I realized I had absolutely no idea where we were going.   I don't mean to say that we were lost, rather, that I didn't read the course description.  I was completely unfamiliar with this park anyway, so it wouldn't make much sense if I had bothered to read the directions.  For being a nearly 12 year veteran of running and racing, I really do some dumb things.  I just kept following the people in front of me as well as the course markings, and waited to see what was in store.  It was an adventure.
Around 90 minutes into the race, the trees open up and I realize we are some sort of summit.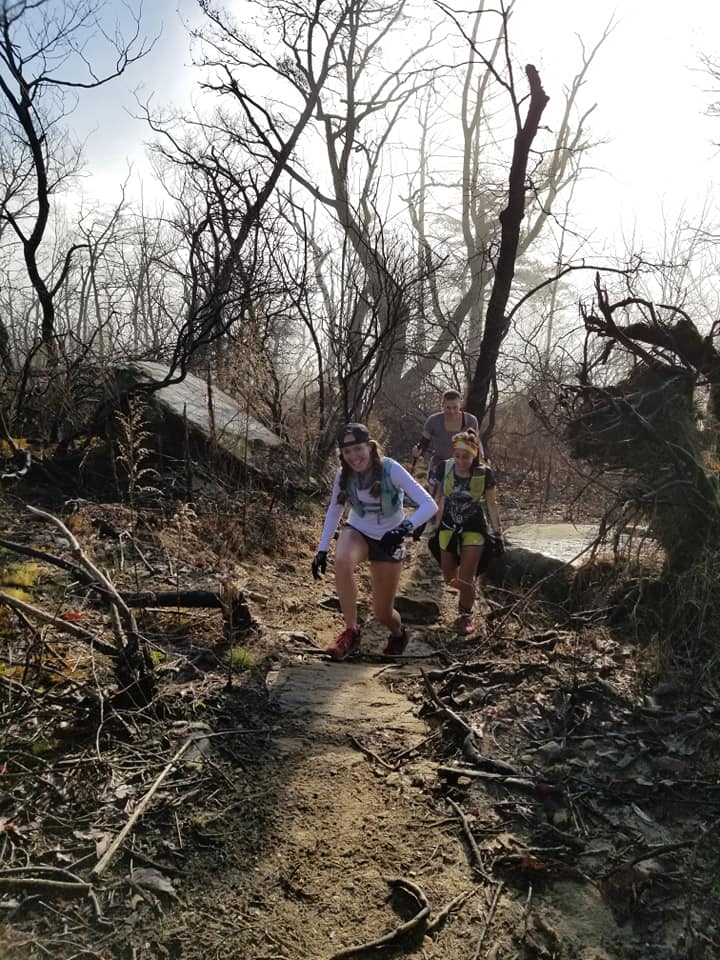 Only, it's so foggy, you can't even see off of the edge of the rock cliff.  Turns out this was a lower peak called "Bald Knob" and people actually have fallen off of this edge.  It was eerie, to say the least. I took a photo, but not too close to the edge, and turned around to hit the trail again.
And that's where the REAL climbing started.
The trail takes a turn and we're now in a conga-line of people slowly crawling up a now very steep trail. The "hands on rocks and trees to help pull you up the mountain" kind of trail.  The "don't lean back or you tumble and take out two dozen runners behind you" type of trail. In just another minute or two, we are actually above the cloud line, which is a magical experience.  The sun is up, the sky is blue, but everything below you is covered in a layer of clouds.  I'm suddenly significantly overdressed, the combination of the sunshine and increased effort has caused my body temperature to skyrocket.    Fortunately, we're not climbing for terribly long (15, 20 minutes?) before we reach a summit:  Pinnacle mountain.
Raquel and I catch up to a local Myrtle Beach runner who is out there doing his first ever trail 50K.  He makes some sort of comment along the lines of "wow, you don't really do a lot of running in these things, do you?" to which I laughed, and replied "welcome to mountain ultra running!"   We pose for a picture, I take off a few layers and down a Huma gel.  Raquel is rearranging some of her gear, and I tell her I'm taking off – I'm already getting cold from the damp, March air.  Besides, I know she'll catch me.
I take off down the trail, which is now winding down a ridgeline on the backside of the mountain.  Immediately I'm regretting my shoe choice.  I'm in my ol' reliables: a pair of Hoka Challenger ATR's that should have been replaced a long time ago. There are holes on the medial side of the metatarsal head (think: bunion spot) which I've grown to LOVE for flatter distance courses, since I do, indeed, have bunions.  However, now I'm running on a very narrow and angled single track trail, on the edge of a ridgeline.  My shoes are sloppy on my wet (remember I fell into the stream?) feet, and I almost feel like I'm running on the side of the shoe.  This course definitely called for something more narrow and aggressive.  But, the Hoka's are the shoes on my feet, so I have to suck it up.  I tiptoe down the trail, the exact way I had earlier told Raquel not to run downhills, when she asked about downhill form.   I'm suddenly wishing for another climb.
Fortunately, I only have to wait a couple of miles.
We come to an intersection on the trail where we find two volunteers, two 5 gallon jugs of water, and a couple of bags of potato chips.  The volunteers tell us to head up the trail for another mile and a half out -and-back section.  This is the summit to Table Rock, and I'm looking forward to seeing what it's all about.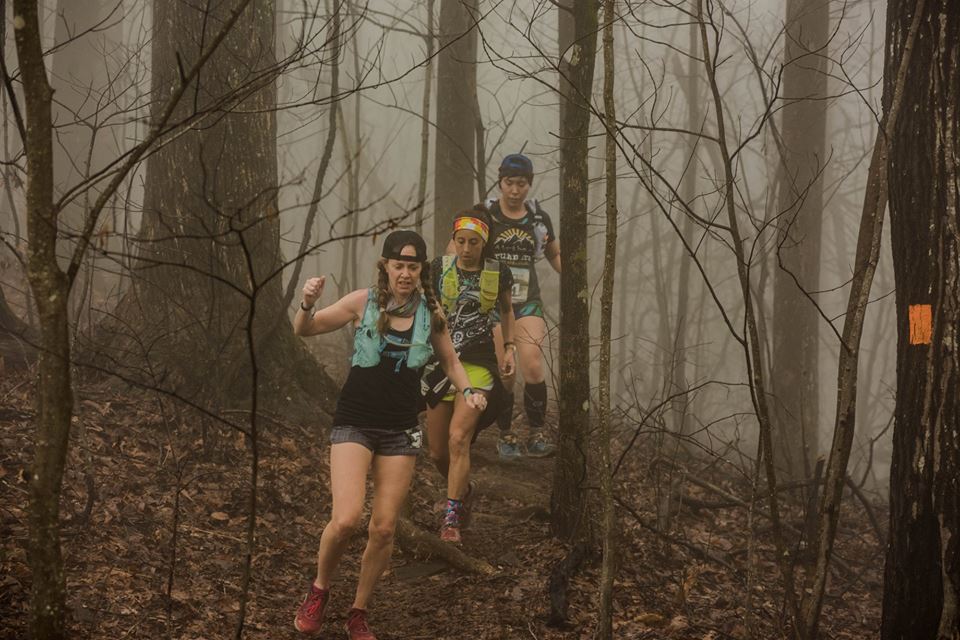 We run a short stretch of actual, flat, wide, runnable trail.  My legs almost forget what to do during this section.  And then, we hit the rocks.   Soaking wet rocks that remind me of home – New England, not Myrtle Beach.   The kind of rock face that you need to carefully scramble with your hands and feet, and pray that your shoes have enough grip to not send you careening off a cliff.   I'm reminded of all of my ascents up Monadnock, and an involuntary smile spreads across my face.
This is the stuff I love.

We're above the cloud line again, and eventually we hit the Table Rock summit, followed by our second out-and-back bib hole punch to prove that we indeed covered the out-and-back.

The climbing is officially over for this loop, the hard part is done, right?
WRONG!
This flatlander would like to assure you that descending 2,500 ish feet of vert over just a few miles is, in my opinion, significantly harder than climbing it.
|


The trail we took descending back down to the trail head was chock full of steep stairs, helpful for the countless hikers/tourists/boyscouts that were now hiking up the trail, but horribly hard to actually run down.  My knees were aching with every step, this is what I've been unable to train for here at the beach.  Not to mention, I was still hating my shoe choice, but what can you do?
As we get closer to the trail head, I begin to recognize some stream crossings from our adventure the day before.  It was at this point Raquel said to me "I've never been this close to a cutoff in a race before."
Wait, what?  There's a cutoff? And we're close to it?  (Remember who forgot to read the pre-race instructions.)  She tells me that we have to finish the first loop by noon, and it's 11:20.
F*ck.
This trail has already humbled me.  We are nowhere near last, there are still plenty of people behind us, but we are that close to the cutoff?

Eventually we hit the pavement outside of the trailhead and run back towards the start.  I begin to do race math in my head, which as any runner can tell you, is a hilarious thing to attempt.  I'm convinced that the first thing that your body does when running is shunt blood away from the part of your brain responsible for addition and subtraction in order to provide more oxygen rich blood to your heart and lungs.    This loop alone has taken us nearly 4.5 hours.   My knees hurt, and for whatever reason, my heart rate will not come down, even though we spent at least the last 75 minutes descending.   There's an 11 hour cutoff, and we're definitely going to slow down the next loop.  We'd likely spend the rest of our day chasing that cutoff.
As we cross the start/finish line to check in, without skipping a beat, I tell race director Matt that I'm done.  It's not necessarily a decision that I stressed over, and I have no "woe is me" tale to go along with it.  I also have no regrets.  I simply realized in that moment that I haven't taken enough recovery time between events lately, and my big race – the Georgia Death Race – is in less than a month.  Pushing through one more loop would only add to that physical stress on my body, and in the moment (and now, 48 hours later) it simply didn't seem worth it.
I had a great time in the mountains, and enjoyed a beautiful and challenging 25K course.  I was content.
Matt didn't seem to be phased either – apparently I wasn't the only one dropping down to the 25K distance, and reports coming back from course veterans confirmed that this year's course was significantly harder than prior years.
So I ate some pancakes and called it a day.

Despite a technical DNF, I had an incredible birthday weekend with some amazing friends and my wonderful husband.  I left this weekend without any regrets, but instead, with a full heart – and a bit of an eye opener on what sort of recovery my body needs.  But more on that in another blog post to come.
THE SHORT VERSION:
The course was wildly challenging (definitely harder than the NC Table Rock 50K) and absolutely stunning.
The curse was well marked, I never questioned where I was going.
The views were stunning.
The pancakes were good.
The swag was awesome (socks, a hat – your choice of trucker or winter, and a finishers patch).
The camping, if you are into that, was awesome. We stayed three nights at the Table Rock State Park and enjoyed every second of it.
A+, would recommend, will be going back next year (I already registered).
Heather Hart is an ACSM certified Exercise Physiologist, NSCA Certified Strength and Conditioning Specialist (CSCS), UESCA certified Ultrarunning Coach, RRCA certified Running Coach, co-founder of Hart Strength and Endurance Coaching, and creator of this site, Relentless Forward Commotion.   She is a mom of two teen boys, and has been running and racing distances of 5K to 100+ miles for over a decade.  Heather has been writing and encouraging others to find a love for fitness and movement since 2009.