Last Updated on June 17, 2016 by Heather Hart, ACSM EP, CSCS
Shoe reviews have become quite interesting over here in the Relentless Forward Commotion household as of late.  Gearing up for our last race, I was experiencing some rouge lower leg pain that I attributed (and I still think, rightfully so) to my shoe rotation, or truthfully, lack of rotation, at the time.   I was able to fix the issue, thankfully, but became incredibly wary of trying anything new until after our race was over.
Now, we've got a small window before I need to be obsessive over my shoes again prior to the Trans-Rockies Run, so I've got a ton of shoe reviews to work on and throw in your direction.   Today, we'll be talking about the Saucony Peregrine 6.  Named "Gear of the Year" in Outside magazine's 2016 Summer Buyer's Guide, as well as "Editors Choice" from Runners World, the Peregrine 6 is Saucony's most recent update of their successful Peregrine trail shoe.
(In case you were wondering, a Peregrine  is a type of falcon, and it is the fastest animal on the planet, reaching speeds of up to 200 mph.   If only these shoes could make me half as fast…)
According to Saucony:
 The new Peregrine 6 with a protected upper, heel and forefoot rock plates, and a new PWRTRAC outsole gives runners the means to conquer any terrain. EVERUN in the heel delivers shock-dampening cushioning by distributing propulsion force over more area and reducing local peak pressures, all while returning 83% of the energy absorbed, according to research in the Saucony Human Performance and Innovation Lab.
SPECS:
Shoe Category: Neutral
Pronation: Neutral
Cushion: Responsive
Surface: Trail, Grass
Arch: Normal (Mid)
Water Resistant: No
Waterproof: No
Offset: 4mm Heel Stack Height: 21.5mm
Forefoot Stack Height: 17.5mm
Weight: 9.4 oz (mens)/8.5 oz (womens)
MSRP: $120
REVIEW:
The first thing I noticed when I opened the box was that these were a sharp looking pair of shoes.  Aesthetics are never a deal breaker for me, but I'd be lying if I didn't immediately think that the color scheme on this particular pair (sky/blue/pink) was incredibly eye catching.  The colors almost give the illusion of the upper being formed out of some sort of waterproof or Gore-Tex material, when it reality, the upper is composed of a light weight mesh, surrounded by Saucony's "Flex Film", a firm, lightweight, seamless material that allows the shoe to be comprised of fewer layers.
Speaking of aesthetics, the heel of the Peregrine has a set of GPS coordinates printed on the back.  Using the handy google, I pinpointed the location, excepting to find some elusive trail or amazing mountain, because after all, these are trail shoes.  But instead it led me to an address in Kutztown, Pennsylvania, that appears to be a residential neighborhood.  Confused, I headed back to google, to find that this location was the site of the original Saucony factory in 1898.   Really cool touch, Saucony.
As my regular readers know, the first thing I do when a new pair of shoes shows up is to immediately sit down in the middle of my living room floor like an excited little kid on their birthday, and put the shoes on.   The Peregrines were no exception.   Immediate thoughts: relatively stiff sole, very cushy heel cuff.  I did notice what felt like more than normal pressure under my heel, and wonder if it was my feet noticing the EVERRUN in the heel. Truth be told, I'm almost always barefoot when not running or working, so my feet can be very sensitive to such things.
The EVERUN, according to Saucony, provides a smoother landing in the heel and reduces pressure in the forefoot.  The EVERUN is supposed to be 3x more durable than standard cushioning with greater energy return.
Sizing feels "true to size".
The Run:
I'll get right to the point: my favorite feature about these shoes is the tread.  It is incredibly aggressive, with grip, durability, and protection against the elements.   The tread itself feels durable, yet the rubber "tacky" enough to stick to wet surfaces, and not become slippery as I've seen other tread made from harder plastics do.  The aforementioned "stiffness" of the sole, combined with the EBO rock plate in the forefoot makes this the kind of shoe I wouldn't hesitate to use an a very technical trail, such as the sharp and unforgiving basalt rocks on the 7 Sisters.   (Sorry folks, East Coast trails are sadly my only reference).  That said, the stiffness wasn't nearly as uncomfortable or distracting as I expected it to be while running.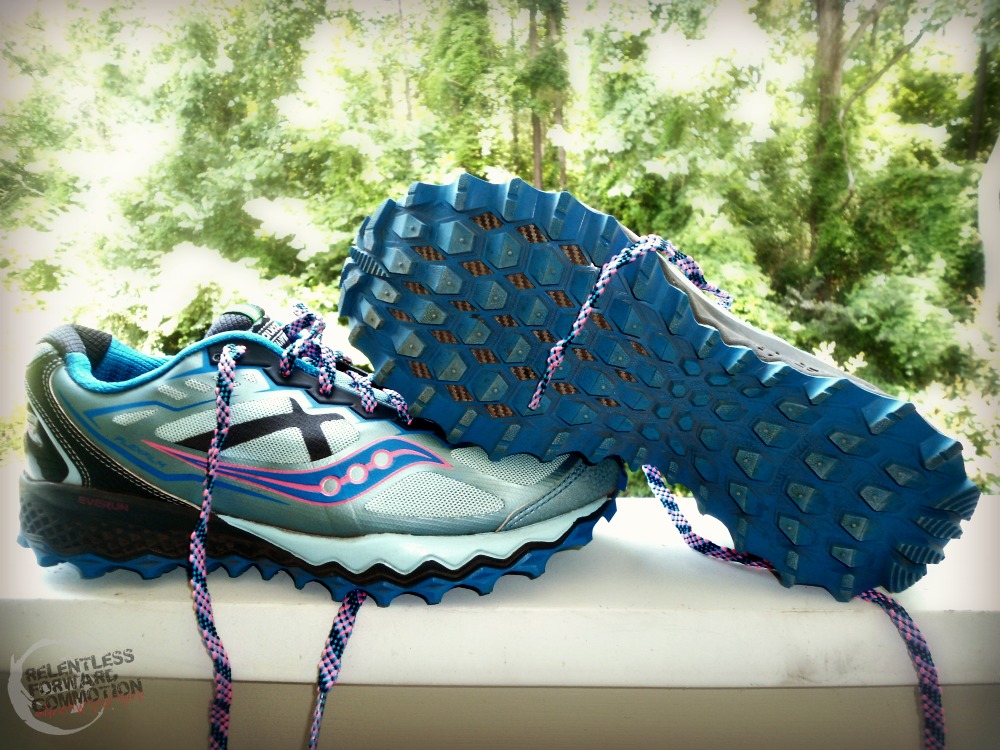 The upper felt snug and secure, though not uncomfortably so, the entire time.  And while this may be a nitpicky preference, I need to mention that I appreciate that the laces did not loosen or untie at any point during my runs.  Certain shoe brands and models have the strangest laces that seem almost slippery, and don't stay tied without an aggressive double or triple not.  This was not the case with the Peregrines. So thanks for that, Saucony.
Speaking of laces: there is a built in loop for a gaiter attachment.
I personally experienced no hot spots, chafing, or discomfort from the build of the shoe.  This however, often tends to vary person to person based upon foot shape, as you will notice if you check out any string of shoe reviews online.
A trend you may notice in all of my shoe reviews going forward is that I've become spoiled with the wide (or "natural" as they often prefer it to be called) forefoot of a number of newer shoe brands.  While the Saucony Peregrine 6's were not uncomfortably tight or narrow, I did feel that about 20+ miles into a long run, they might become a bit uncomfortable in the toe/forefoot area.  Again, this is a personal preference, but one worth noting in my opinion.
To be 100% transparent, I haven't put enough miles on this shoe yet to claim whether or not they will be a regular part of my trail arsenal.  That said, there isn't a single fault yet that leaves me not wanting to take them out for further testing.  The ruggedness of the sole leaves me currently recommending this shoe for anyone who runs technical trails full of rocks or roots that can cause discomfort under foot, or trail surfaces that prove to be slippery.
Have any questions about the Saucony Peregrine 6?  Feel free to comment below!
Disclaimer: Saucony provided this pair of shoes to me at no cost, however, all opinions stated are my own.
Heather Hart is an ACSM certified Exercise Physiologist, NSCA Certified Strength and Conditioning Specialist (CSCS), UESCA certified Ultrarunning Coach, RRCA certified Running Coach, co-founder of Hart Strength and Endurance Coaching, and creator of this site, Relentless Forward Commotion.   She is a mom of two teen boys, and has been running and racing distances of 5K to 100+ miles for over a decade.  Heather has been writing and encouraging others to find a love for fitness and movement since 2009.