Last Updated on November 7, 2022 by Heather Hart, ACSM EP, CSCS
It started the same way as most of the ridiculous things I do in life start: with a friend saying "hey, you should sign up for this!"
In this case, "this" was a Spartan DEKA Strong event, and the friend was a long time Hart Strength & Endurance Coaching client who was organizing the event.
Those of you who have been around for a long time know that Spartan Race and I have history. I ran my first Spartan race in 2011. I applied for, was accepted to, and ran the very first Spartan Ultra Beast in Killington, Vermont in 2012 (yes, back then you had to apply to race). I worked/was on staff for the summer Death Race of 2012, 2013, & 2014. And there are a bunch of other finish lines, trifecta medals, and stories to tell.
But in 2015, I fell head over heels in love with ultrarunning, hung up my Reebok All-Terrains, and haven't thought much about the sport since, other than when my husband complains about how much he misses OCR.
Point being: I haven't really stayed up to date with what Spartan is doing these days.
Fast forward to last month: our friend/client tells us that he's helping bring a Spartan DEKA Strong event to Myrtle Beach. While I still (and probably always will) identify as an endurance athlete, my resistance training had increased majorly the course of the year, and so has my strength, and I feel like this is something I could do.
I took a quick peak at some DEKA Strong videos on YouTube, said something foolish like "this doesn't look so bad", commented out loud that the $39 registration fee felt reasonable, and hit the registration button without much thought.
I was completely unaware that I was about to get my ass handed to me in a "new to me" sport.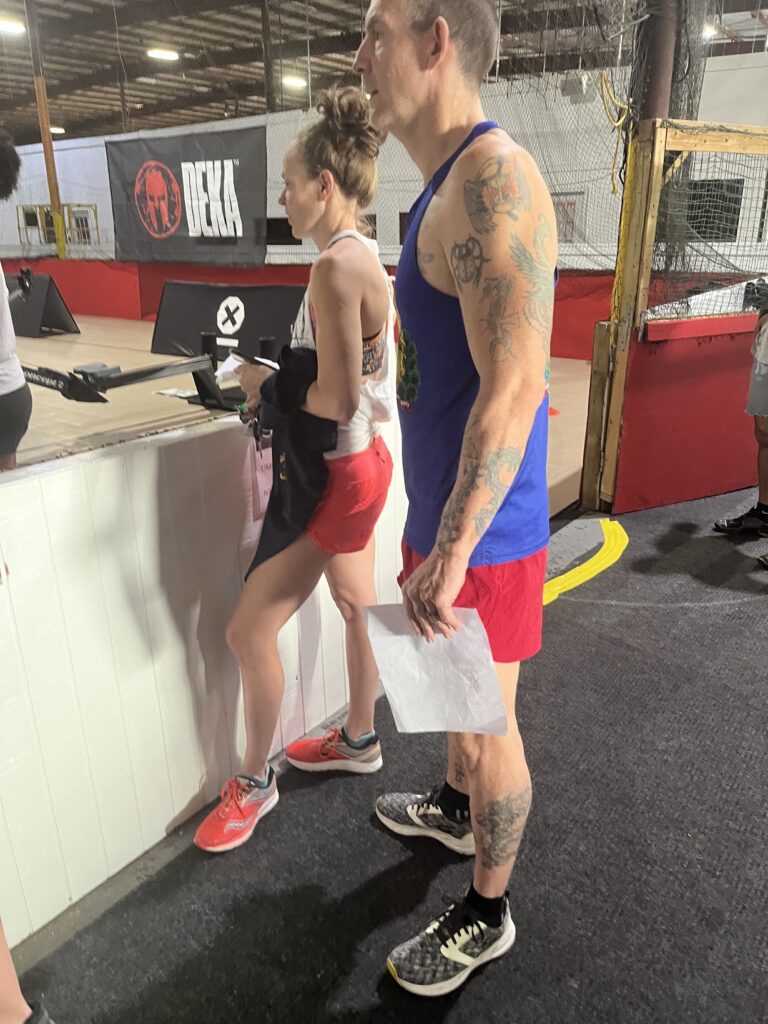 What Are Spartan DEKA Events?
Spartan DEKA events are modern day functional fitness decathlon style competitions for participants of all fitness levels. Basically, it's a gauntlet of the type of exercises that appeal to the likes of CrossFitters and their Functional Fitness brethren.
You know, the kind of exercises that make you want to puke.
According to Spartan themselves, DEKA, which stands for the Decathlon of Functional Fitness, events are designed to be "basic, simple, and utilitarian".
Note: I'm going to go ahead and remind you readers that "simple" and "not difficult" are not at all the same.
There are three types of DEKA events: DEKA Strong, DEKA Mile, and DEKA Fit. While they are put on by the Spartan Race company, they are in no way, shape, or form a Spartan obstacle course race.
(Similar to the fact that Adventure Racing and OCR are not the same thing at all. But that's a rant for another blog post.)
What is a Spartan DEKA Strong?
A Spartan DEKA Strong is an event designed as a fitness assessment, held specifically in gyms and fitness studios, and features the standard 10 DEKA Zones (or, exercises. More on these below).
Participants move from one Zone to the next as quickly as possible, with zero running in between. The lack of running is what differentiates a DEKA Strong from a DEKA Fit or DEKA Mile.
It's basically 12-30 minutes of pure, anaerobic, hell.
And if you ask me, I would have LOVED to have taken some "running rest breaks".
How Does a DEKA Strong Event Work?
Depending on the size of the event, there are multiple "lanes" of the aforementioned gauntlet. When it's your turn to go, you have a judge follow you from Zone to Zone to make sure you complete each repetition to standard, and complete all of the necessary repetitions before moving on to the next exercise.
You are timed to see how long it takes you to run through all ten DEKA Zones. This is what they refer to as your "DEKA Mark".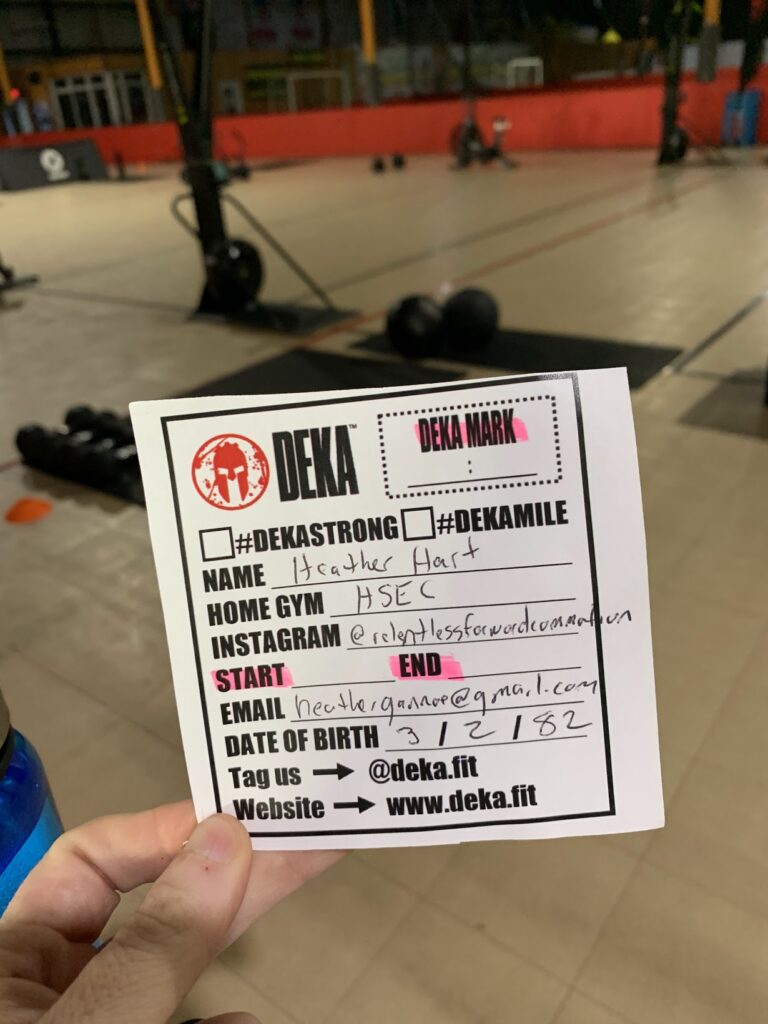 The Ten DEKA Strong Zones & Weights Used:
The DEKA Zones are the same from event to event. Here's what my DEKA Strong event entailed, along with play-by-play commentary, because this is a blog after all:
1. 30 RAM Weighted Alternating Reverse Lunge
The first zone involves performing 30 alternating reverse lunges, holding a Spartan RAM (Women: 33 lbs / Men: 55 lbs).
What the heck is a Spartan RAM? I'm glad you asked (because I had to Google this one myself before the event). Imagine you took a foam roller, hollowed it out so it was more of a tube, but made it heavy. Voila: you've got a Spartan RAM.
Heather's RAM Alt Reverse Lunges:
I'm going to go ahead and be honest, I feared the lunges the most. Why? Well because I was misinformed, and thought I had to use 44lbs for the lunges. Therefore, I practiced this Zone at the gym using a 45lb Olympic bar, which usually left my quads screaming by rep 15.
I knew I could do 30 weighted lunges, I just also knew it was going to a) hurt, and b) require a break or two before I finished all 30 reps.
So, imagine my surprise when I walked up to the start and saw a 33lb RAM. A weight 12 lbs lighter (more than 25% lighter) made a world of difference, and I breezed through all 30 unbroken.
I got yelled at once to stand up taller at the top of each rep. Note: standards for Zone 1 include your reverse knee touching the ground at the bottom of the lunge, and your hips and knees locked out at the top of the lunge. No half-lunges allowed.
2. 500-Meter Row
Hop on a Concept2 Rower, at any damper setting, and row for 500 meters. There is no male/female differentiation in this Zone.
Heather's 500 Meter Row
I am no stranger to the Concept2 Rower. I don't necessarily love rowing, and only hop on the Concept2 rowers at our gym maybe 2 or 3 times a year (only to remember quickly that I don't really love rowing).
Nevertheless, I learned very quickly during the 2013 Spartan Stadium Sprint at Citi Field event, when I first experienced rowing as a part of competition, that you can- and will- go anaerobic fast if you aren't careful.
So in classic ultrarunner fashion, I took my sweet ass time.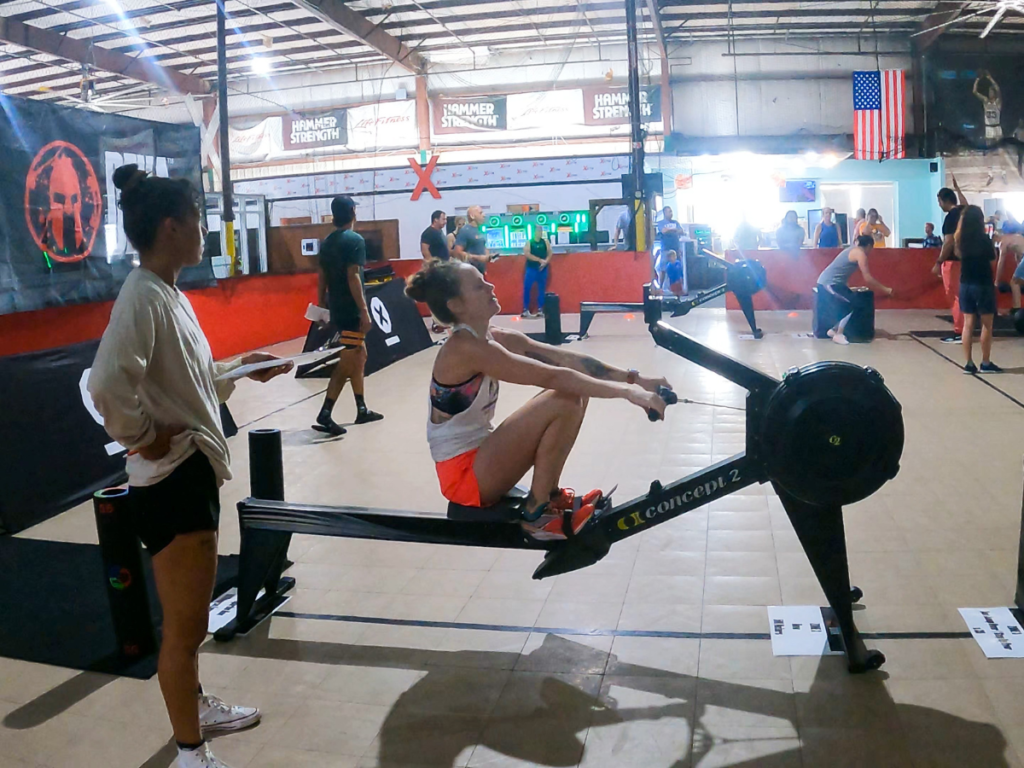 It took me eleven full seconds to get my feet into the straps (even though I had adjusted them before I started) and another 2:15 of rowing, while simultaneously cat calling my husband who had started his race a few minutes prior to me.
3. 20 Box Jump Step Over/Jump Overs
Step up onto a 24″ plyo box, and back off the other side for one rep. Both feet must touch the top of the box at the same time, and both feet must touch the floor at the same time. You can step OR jump, but let's be honest, plyo box jumps take WAY MORE ENERGY than stepping for most of us mere mortals.
Again, there is no differentiation in height of the box for male or female competitors.
Heather's Box Step Overs:
I'm 5'7″ and a lot of leg. A 24″ plyo box shouldn't be that bad, but I'm slowly starting to feel like a newborn baby giraffe. I'm having a hard time getting into any sort of rhythm, especially since we are using soft plyo boxes which are a little wobbly.
Basically, I'm just bumbling up and over the box…while still talking.
I'm not feeling wildly competitive (for once in my life), but I'm also not really struggling. Yet.
4. 25 Med Ball Sit-Up Throws
Lay on the ground (on a mat) and grab a medicine ball (one of the larger, squishy, "wall ball" type of balls. ) 14 lbs for females, 20 lbs for males. With knees bent, extend your arms and the ball over your head until the ball touches the floor. Then, sit up, bringing the ball with you, and touch the ball to the floor between your ankles. (That's one rep). Repeat for 25 reps.
Heather's Med Ball Sit-Ups
I'm a two-time-umbilical hernia surgery patient, and was just recently released from pelvic floor therapy for prolapse issues less than a month ago. Full sit-ups are pretty much a cardinal sin when you have either of these issues.
Weighted full sit-ups? Straight up blasphemous.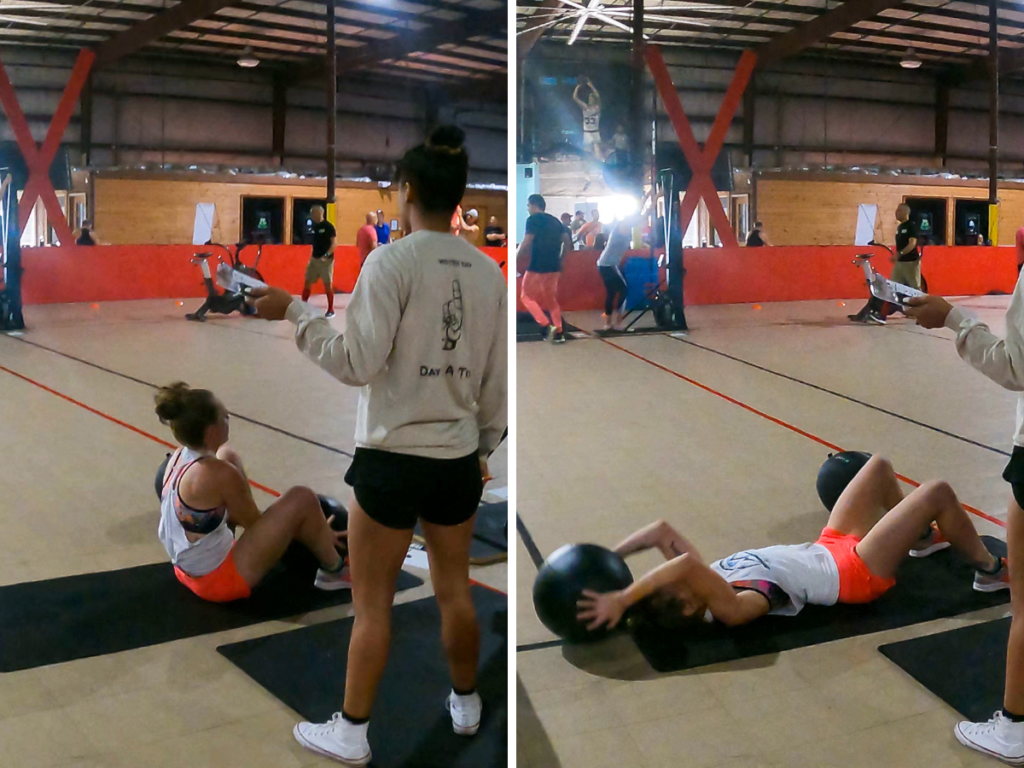 But, I practiced these sit-ups at home to make sure I could properly brace AND breathe my way through this Zone without causing any further damage.
So, that's what I do. Slowly and purposefully, and I come out unscathed.
5. 500-Meter Ski Erg
Zone 5 involves rowing (do you call it rowing?) 500 meters on a Concept2 SkiErg. Unless you hang out in a CrossFit box, you may have not come across a ski ergometer before. Basically, it's like a rowing machine in that it uses a resistance fly wheel. But instead of rowing, you are standing and working through a movement pattern that is akin to planting and pushing through poles while cross country skiing.
Heather's 500 Meter Ski Erg
I've never once used a ski erg. I also haven't cross country skied since a field trip in 7th grade, over 26 years ago. And even then, I'm pretty sure I opted to wear jeans instead of snow pants because I thought they looked cool. So I'm fairly certain I hadn't nailed down any sort of efficient form back then either.
Marissa (my judge) was super helpful in giving me tips on how to use the ski erg. I'm not really sure if judges giving competitors performance tips is allowed, but I'm fairly certain by this point she knew I stood no chance at a podium spot.
Spoiler alert: 500 meters on the ski erg is significantly harder than 500 meters on the rowing machine
6. 100-Meter Farmer's Carry
Pick up a set of dumbbells (40 lbs per hand for women, 60 lbs per hand for men). Walk, jog, run, 10 meters. Cross the line, turn around, and come back. Repeat 5 times for a total of 100 meters.
Heather's 100 Meter Farmer Carry:
When reading up on the zones prior to the DEKA Strong event, I misinterpreted the weights on the Farmer Carry. But unlike the reverse lunges, the misinterpretation was not in my favor.
I thought 40 lbs was the TOTAL weight, meaning it would be a 20 lb dumbbell in each hand. But no, it was 40 lbs per hand.
This certainly wasn't impossible, but it was certainly difficult – especially 3/5ths of the way through this event.
And thus, my friends, the Farmers Carry was the point where I began to suffer.
I made it down and back twice (40 meters) before having to set my dumbbells down. This was allowed by the rules, I simply had to pick up the weights and continue moving from exactly where they were dropped. So, my farmer carry was: 40 meters/rest a few seconds/20 meters/rest/20meters/rest/20 meters.
It wasn't necessarily my grip strength that caused me to suffer. The combo of carrying kayaks around frequently for the last year, as well as incorporating Olympic lifts into my workouts have really helped with that.
Rather, it was the fact that I had simply reached that not-so-magical threshold where my body could no longer clear lactate as quickly as it was producing it.
In other words: things were about to fall apart.
7. 25-Calorie Air Bike
Complete 25 calories on an air bike (sometimes called an assault bike). There is no differentiation between mens and women bikes.
An air bike, for those unfamiliar, is a miserable piece of fitness equipment that combines the pedaling of a stationary bike, the arm movements of an elliptical, and the air-resistance-fly-wheel of a rowing machine.
And just like the rowing machine, he harder you pedal your feet or push your arms, the greater the resistance that pushes back against you.
Heather's Air Bike Adventure:
I've never been on an air bike before. I naively assumed this would be an opportunity for recovery, because I ride my mountain bike and/or spin bike all of the time.
I could not have been more wrong.
Now, before the event started we were told by officials that someone else had to set up the seat positioning of the bike for us. And for whatever reason, I was under the impression that once you started pedaling, you couldn't hop off and readjust the seat.
So, I used the air bike in the warm up area to find my seat adjustments. I told them to my brother-in-law Jim who then set the bike up for me. But as it turns out, the competition bikes and the warm up bike were different brands, and therefore, the seat adjustments were off.
So there I am with my giraffe legs on a seat that is far too low and too close to the handles, trying to get any sort of power out of my legs, all while feeling like I might simultaneously barf and/or pass out.
It feels like five different people are yelling instructions at me, while I'm just trying to keep the contents of my breakfast within the confines of my body, and not fall off of the back of the bike.
25 calories felt like it took 25 minutes. The air bike is pure evil.
8. 20 Dead Ball Over Shoulders
Pick up a "dead ball" (a.k.a. a slam ball), lift it up to and over your shoulder, letting it drop behind you. Repeat 20 times. Women's ball: 40 lbs, Men's ball: 60 lbs.
Heather's Dead Ball Over Shoulders
This exercise is not inherently terribly difficult. I have zero issues lifting a 40 lb ball and rolling it over my shoulder.
However, lifting a 40lb ball up and over my shoulder 20 times in a row, while I'm already pushing max heart rate and my body is screaming "YOU'RE AN ULTRARUNNER, WHY THE HELL ARE WE SPENDING SO MUCH TIME REDLINING?" is a whole different story.
I take multiple breaks in the "hands on knees / please don't puke" position, but I get it done.
9. 100-Meter Tank Push/Pull
Push a Torque Tank 10 meters, then pull it 10 meters back to the start. Repeat 5 times, for a total of 100 meters. Women are on resistance level 2, Men on resistance level 3.
I (once again naively) assumed the "tank" was just a standard, weighted sled. No, no, my friends. The Torque tank is another one of those torture devices in that the faster you push it, the harder the resistance becomes.
Of course it is.
Heather's Tank Push/Pull
The tank is significantly harder to push than I anticipated. However, I'm pleasantly surprised to find that the forward-lean-position I put myself in to push this beast is actually quite the lovely recovery position. Sure, I'm working, but I'm also kind of resting.
The pull, however, isn't quite as easy. Unless you are my husband, who is having casual conversations with the DEKA Fit staff while pulling the tank during his competition.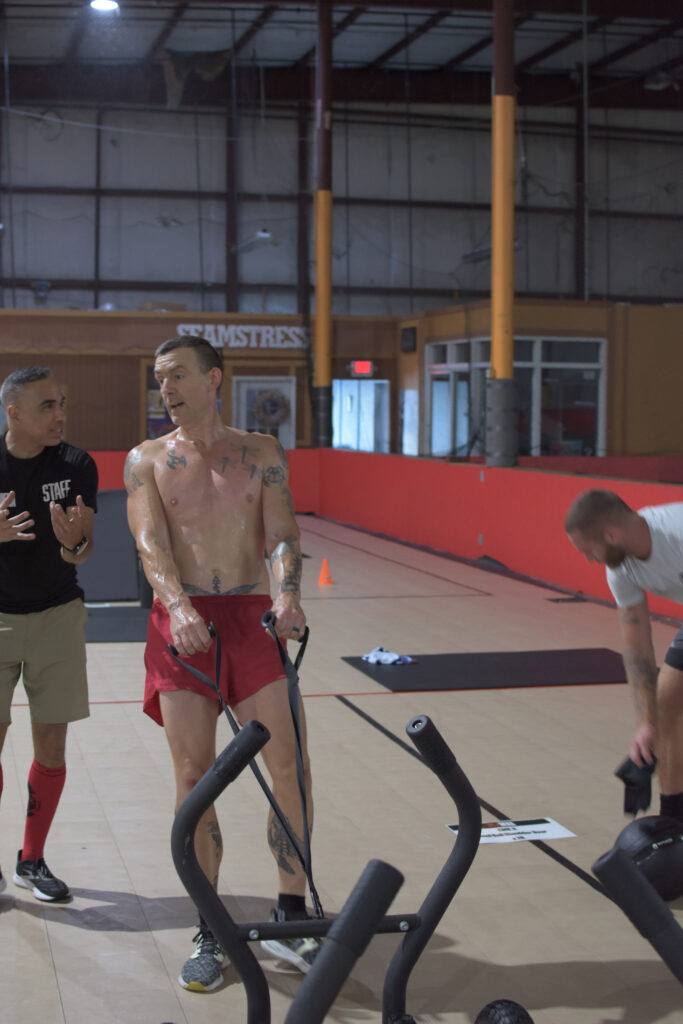 It takes me about 3 minutes to push/pull this thing 100 yards. But I'm almost done.
10. 20 RAM Weighted Burpees
Twenty weighted burpees with the Spartan RAM: 22lbs for women, 44lbs for men. Your chest must touch the weight at the bottom of the burpee, and the weight must come over your head at the top of the burpee, high enough to where space can be seen between the bottom of the weight and the top of the head.
Heather's Weighted Burpees:
I used to have a t-shirt that said "Burpees Don't Really Like You Either". It's long gone, along with the t-shirt I apparently earned for being among the top 300 Spartan ranked athletes in the world, back when I think there were only about 325 of us.
But I digress.
I first walk up to the burpee station and lay completely down, putting my face on the floor as if I'm going to take a nap. I'm half joking, half serious. Mentally and physically I am DONE, but in reality, I've got 20 freaking burpees left to do.
Burpees 1-5 happen pretty smoothly.
Burpees 6-15 resemble something that looks like a senior citizen who has fallen over, is now on their hands and knees, and it slowly and carefully trying to stand back up.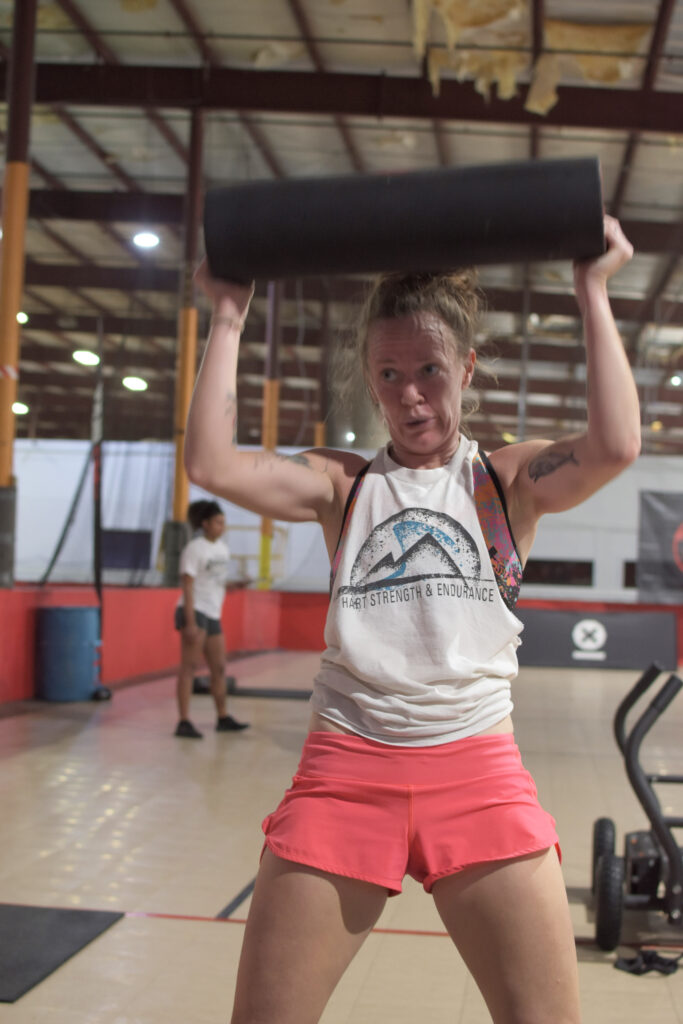 A traditional burpee is usually a 4 count movement from start to finish. I've managed to turn it into a 17 count movement.
I rest more than once, feeling pretty bad for my poor judge who is likely very bored at this point.
But eventually, I hear her count "16" and realize I can (hopefully) knock out this last 4 as quickly as possible, then crawl into a corner and and praise the Type 2 Gods for letting this finally be over.
Which is pretty much what I did.
Final Time – 21:57
3rd pace Female 40-44
13/30 Female
38/68 Overall
What is a Good Time for a DEKA Strong?
According to the Spartan DEKA leaderboard, a "good" time for a DEKA Strong event is between 11-15 minutes. Currently, the top male on the leaderboard has a time of 11:31, while the top female has a time of 12:56.
For what it's worth, I checked my age group (Females, 40-44) and the top 100 times range from 13:39 – 18:40. So you know, I've got some work to do (hypothetically. If I ever decided this sport was my thing.).
POST DEKA STRONG THOUGHTS:
I laid on the floor for probably a solid 5 minutes, reveling in the fact that I'm a huge believer in "specificity", and NONE of my training was specific to this event.
That's the super exercise science nerdy way of saying I was in no way, shape, or form prepared for this nonsense.
Once I was coherent enough to stand up, I brought my time card to the front where I was given a medal and a shirt.
I spent some time talking to other, more experienced participants who assured me that you immediately take a minute or two off of your time the next time you give a DEKA Strong a try, simply from a better understanding of how the event works, and better understanding of the techniques required for each zone.
I can absolutely see that. Having had ZERO practice on a ski erg or that beefy tank, and having never once laid my hands on a RAM, I can imagine a few practice sessions to work on technique would increase my speed, even without any fitness gains.
So, would I do another Spartan DEKA Strong? Yes. In fact, I'd love to try a DEKA Fit or DEKA Mile, because, you know, I kind of love running.
Will I become a hardcore DEKA competitor, traveling from competition to competition? No. Sorry Spartan, I'm forever on team aerobic endurance.
Am I glad I stepped out of my comfort zone and gave something new a try? Absolutely.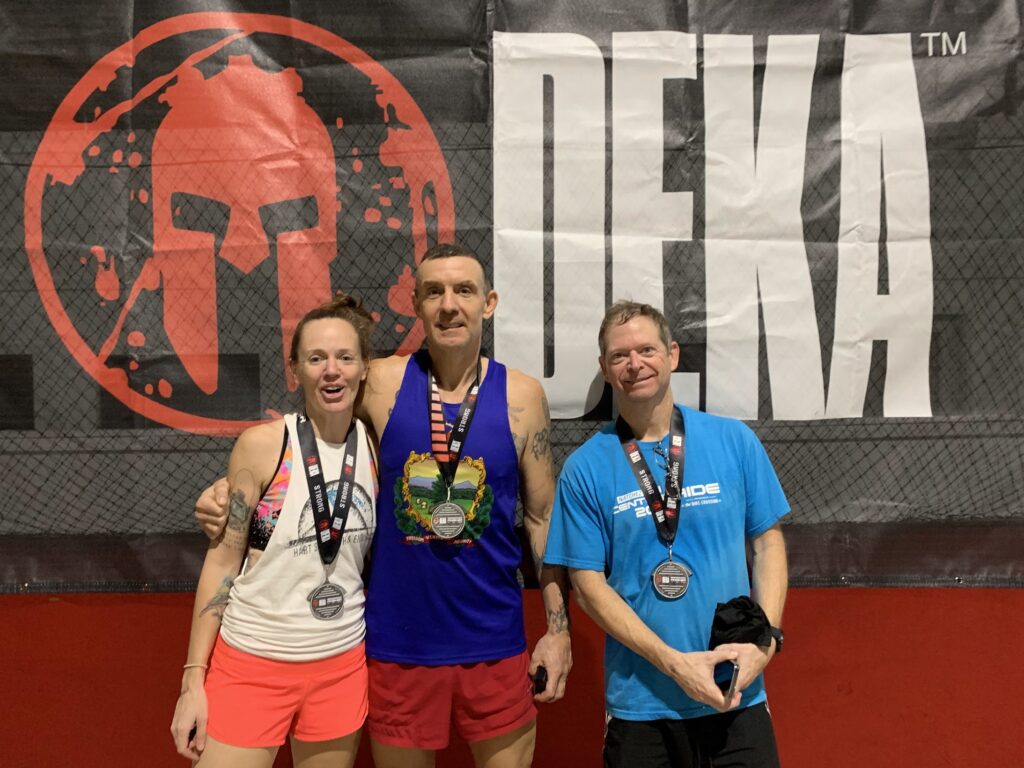 Heather Hart is an ACSM certified Exercise Physiologist, NSCA Certified Strength and Conditioning Specialist (CSCS), UESCA certified Ultrarunning Coach, RRCA certified Running Coach, co-founder of Hart Strength and Endurance Coaching, and creator of this site, Relentless Forward Commotion.   She is a mom of two teen boys, and has been running and racing distances of 5K to 100+ miles for over a decade.  Heather has been writing and encouraging others to find a love for fitness and movement since 2009.