Last Updated on June 2, 2022 by Heather Hart, ACSM EP, CSCS
Does running in the heat and humidity leave you feeling frustrated? Does it feel like summer running miles are significantly harder, your paces are slower, and everything about it is a struggle?
You aren't alone.
I'll never forget my first run after moving back to Myrtle Beach from Vermont. After spending days unpacking, we found a new friend to help us navigate the local trail that we had hoped to check out. It was early June, and having just finished my very first ultramarathon a few weeks prior (54 miles at Infinitus), I was quite confident in my ability to run an easy 5 miler.
It was early evening when we set off on the trail, the sun had begun to set and the temperature was dropping. Despite our pace being well within the "easy" zone…I barely made it a half mile before I thought I was going to die. The heat, the humidity, it was all a stark contrast from the "still 50 degrees at night" temperatures back in Vermont.
And so began the most humbling experience of my life: my first summer running in the extreme heat and humidity of the Southeast.
Why is Running in the Heat so Hard?
When you run in increasingly warmer weather, your body has to work increasingly harder to cool itself off. Your body does this by directing more blood flow toward the surface of your skin to help dissipate heat.
When this happens, less blood is flowing to your muscles, and therefore, less oxygen is available to create energy for those working muscles.
Therefore your heart has to work harder in order to try and accomplish both cooling AND running at the same time. This results in an increased heart rate, which in turn affects your rate of perceived exertion (i.e. makes the effort seem that much harder) and causes you to slow down.
How Your Body Cools Itself When Running:
Let's dive just a little deeper into how thermoregulation while running in warmer temperatures works. Your body is a well oiled machine that works hard to maintain an optimal environment for all bodily functions to occur. Part of that optimal environment is a core body temperature somewhere between 96°F to 100°F (36°C to 39°C). 
The hypothalamus (think of this as your body's internal thermostat, located in your brain) responds to thermoreceptors located throughout the body and makes physiological adjustments to maintain a constant core temperature.
Continuous exercise causes an increase in core body temperature. This is because only around 20 – 25% of the energy produced in contracting your muscles is actually used for muscle contraction.  The other 75-80% is converted to heat energy, which causes an increase in muscle temperature. The heat is distributed to the body by the circulatory system, and therefore increases body temperatures. 
Exercising in hot weather intensifies the rate at which your core body temperature begins to rise.  
Heat Loss Through Radiation:
When your core body temperature increases beyond the upper safe limit of around 100°F (39° C), the hypothalamus directs this warmer blood toward the surface of the skin and away from the center of your body.
At the surface of the skin, heat is released to the surrounding air according to the thermal gradient between the skin and the air (a process known as non-evaporative heat dissipation).
If the air outside of your body is cool, this transfer of heat through radiation happens readily. However, in hot environments where the air temperature is higher than skin temperature, this method of cooling the body becomes less effective, and may even become completely ineffective, resulting in further increasing core body temperature.
Heat Loss Through Sweat:
Your body also lowers it's core temperature through sweating. When the hypothalamus directs increased blood flow to the surface of the skin, it also stimulates sweat glands (such as the eccrine sweat glands, which are located within the dermis/subcutis of your skin, and are located all over your body) to release sweat through their ducts to the surface of your skin.
(Fun fact: the average human has 2.6 million sweat glands, and eccrine glands specifically are most dense on the palms of your hands and soles of your feet, with up to 600-700 glands per square centimeter).
The excess body heat that has been brought to your skin through increased blood flow now heats up sweat droplets on the surface of your skin.  This process will convert the water in your sweat from a liquid to a vapor, causing it to evaporate off of the surface of your skin. This is an exothermic reaction that has a cooling effect.
Does Humidity Make Running Harder?
Relative humidity refers to the percent of saturation of moisture in the air at a given temperature. Higher concentrations of water vapor molecules suspended in the air limits sweat evaporation, and therefore heat loss from your body. In humid climates, your body has to work EVEN HARDER to try and stay cool, as sweat is not evaporating off of the surface of your skin as readily.
The two terms that describe humidity are "relative humidity" and "dew point." Relative humidity is measured as a percentage and the dew point is given as a temperature.
Relative humidity is the percent of saturation of moisture in the air at a given temperature. As air is heated, its ability to hold water vapor increases.
The dew point temperature tells us the absolute quantity of moisture that is in the air, thereby indicating how humid it will feel outside to our bodies.
Dew point is the temperature at which the air becomes saturated (100 percent relative humidity). Anytime the dew point is equal to the air temperature, 100% relative humidity is achieved.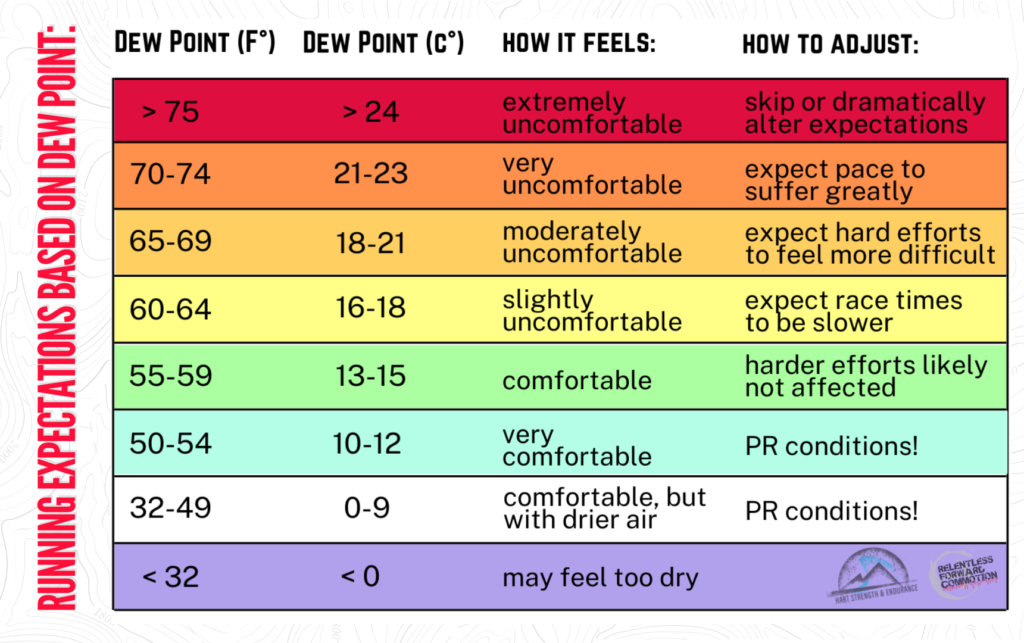 Unlike humidity, dew point is an absolute measure, not relative. Air with a lower dew point is drier than air with a higher dew point. Therefore, considering dew point when running makes more sense.
What is the Ideal Running Temperature?
Various studies have shown that the ideal running temperature for optimal performance ranges between 32-59 °F (0-15 °C), with women performing better in temperatures between 32-44 °F (0-7 °C), and men performing better in temperatures between 46-59 °F (8-15 °C). (Knechtle, et al. 2019)
However, as discussed above, performance begins to degrade when both the temperature and the dewpoint begins to rise.
How to Adjust Your Running Pace to the Heat and Humidity
How much the heat and humidity will slow your running pace certainly varies from person to person. Research suggests that heat may have less of an effect on faster runners, showing that runners averaging 5:45/mile pace or faster slowed approximately 1 second per mile for each 1° C (1.8° F) increase in temperature, whereas runners who averaged 7:25 to 10:00/mile slowed between 4 and 4.5 seconds per mile for each 1° C (1.8° F) higher than 59° F. (El Helou, et al. 2012)
The likely explanation for this is that faster runners are spending less time exposed to the hotter atmosphere when running than less speedy runners.
There are a number of charts available demonstrating actual decrements of pace by time when running in the heat (such as the Tinman's Heat Index and Running Performance Chart). However, as I work mainly with trail and ultrarunners, I find that understanding what percentage your overall running effort is likely to be affected is a much more useful approach to adjusting your running pace.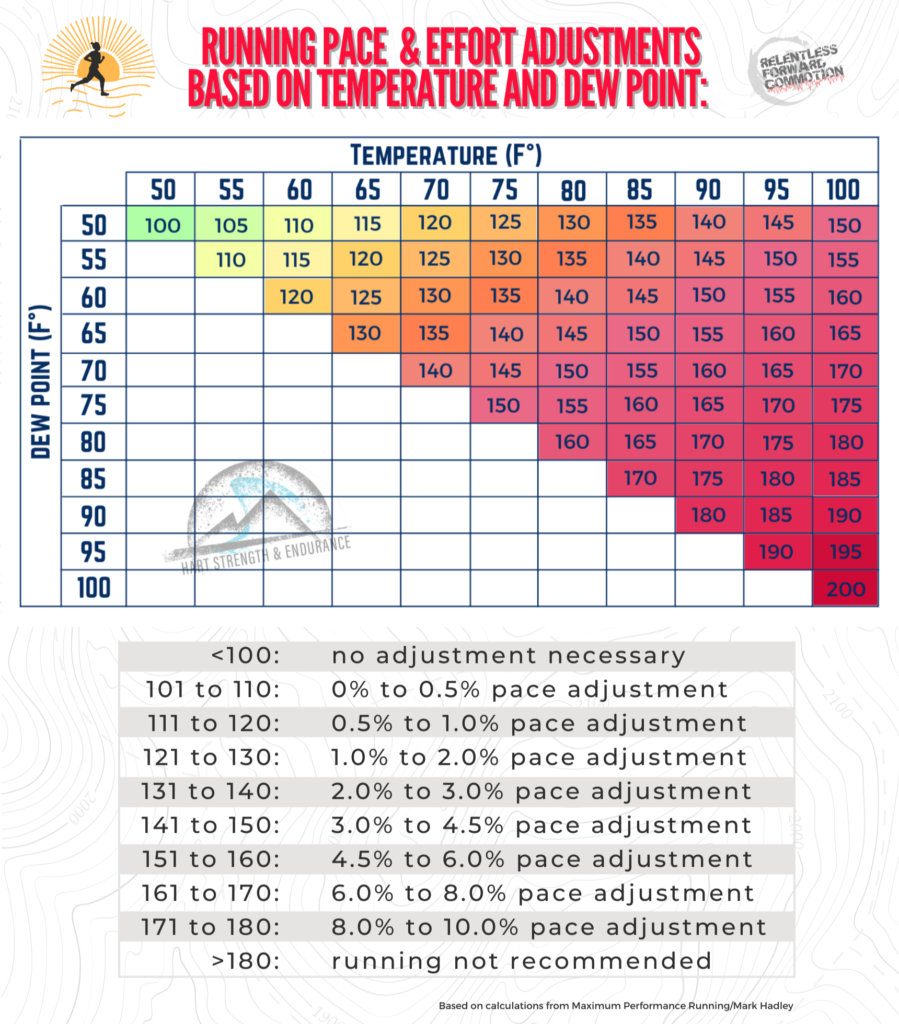 Can You Adapt to Summer Running?
To an extent, yes, you can absolutely adapt to summer running. There are extreme limits where the body begins to focus all of it's energy on keep you cool, and trying to run can prove to be downright dangerous – or even deadly. So it's important, as you run in the heat, that you are aware of the signs of heat stroke
Signs of Heat Stroke Include:
(but are not limited to)
Dark-colored urine or cessation of urinating
Confusion
Dizziness
Fainting
Fatigue
Headache
Muscle or abdominal cramps
Nausea, vomiting, or diarrhea
Profuse sweating
Chills
Pale skin
If you experience any of these signs or symptoms while running in the heat, stop immediately, and seek help.
That said, in more moderate heat the body can adapt, and will learn to better dissipate heat, as well as control its core temperature. I can confirm this fact, now with 5 summers of running in the South Carolina heat and humidity under my belt. I've acclimated, and you can too. Here's how to do it:
10 Tips for Running in Heat & Humidity
1. Ditch Your Watch, Run by Effort
Or at least, don't stress about what the watch tells you. As already mentioned, the heat and the humidity WILL slow you down…or at least make your "normal" effort seem much more difficult. Try running by perceived effort instead. If it's a recovery run, stay in what I call the "conversational" zone – a pace where you can easily carry on a conversation. If you're scheduled for a more intense effort, then pick up the pace to reflect that effort. But again, don't stress about what the actual pace on your watch says.
2. Stay Hydrated
This tip may seem obvious when running in the heat, but it's definitely worth mentioning. Your body cools itself by sweating. The more you sweat, the greater the chances of becoming dehydrated. So, you've got to replace the water that your body expels.
But exactly how much water should you drink?
Well, unfortunately the answer isn't a simple one. The amount of fluid that you should drink during a run depends on how much fluid you have lost, and how quickly fluid empties from your stomach. And this "sweat rate" not only varies from person to person, it can vary from run to run.
You can determine your own sweat rate by weighing yourself before and after an hour of exercise, while keeping track of how many fluid ounces you consumed during that hour. For every pound you lose, that equates to 16 ounces of fluid that you lost.
Personally I find that sipping water in regular intervals, rather than stopping to ingest large quantities at once, helps keep me from feeling excess fluid sloshing in my stomach.
Related post: How to Choose the Right Running Hydration Vest
3. Don't Forget About Electrolytes / Salts
Balance out that fluid intake. Yes, too much water can indeed be a bad thing. Keep your electrolyte balance in check to avoid dangerous – and potentially deadly – conditions like hyponatremia (decreased concentration of sodium in the blood). Typically, hyponatremia isn't a concern, but hot weather can cause runners to instinctively ingest copious amounts of water.
According to the American College of Sports Medicine, inclusion of sodium (0.5-0.7 grams of sodium per liter of fluid) in the rehydration solution ingested during exercise lasting longer than one hour is recommended.
I'm personally a fan of products like Tailwind and Hammer endurolytes, but there are plenty of options out there to help keep your sodium and electrolyte levels up.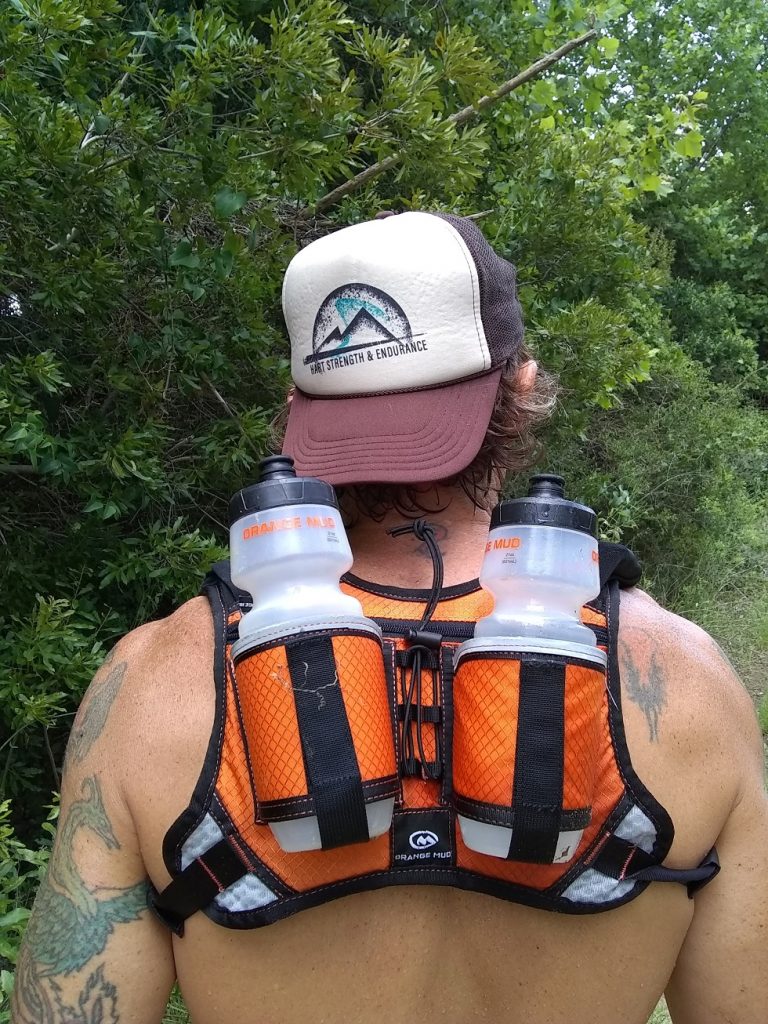 4. Dress for the Weather
Now is the time to find that fine balance between keeping cool and protecting your skin. Remember how we talked about humidity making it harder for sweat to evaporate from your skin? Imagine how hard it is when you're weighed down by a heavy cotton t-shirt or thick shorts.
Lightweight, sweat wicking material is your friend. Further, lighter colors tend to reflect the heat, helping you keep cooler.
A lightweight hat or visor may also provide a little shade and keep your head cool. And lastly, do not forget your sunscreen!
5. Avoid Midday Runs
This may seem obvious, but for the sake of the "oh I didn't even think about that!' crowd, it's still worth mentioning. The middle of the day is going to be the hottest part of the day in most areas. Naturally, it's best to avoid running in the mid day sun.
Early morning typically tends to be the coolest part of the day. Later in the evening is also an option, after the sun begins to set. But, from experience I can tell you that the pavement tends to hold on to heat, making the early evening hour runs "feel" relatively hot still.
6. Take Walk Breaks
So many runners I've talked to/worked with/run with seem to have this fear of walk breaks, this ridiculous notion that walking will make you less of a runner. I scoff now because I was once one of them.
The truth is, taking walk breaks in the summer heat and humidity actually allows your body to work at a lower overall effort. In turn, this may allow you to get in more distance, rather than burning up and burning out trying to run the entire time. Personally, since distance is what I'm typically training for these days, I'd rather get in higher weekly mileage at a slow, sometimes walking pace, rather than low distance at a faster pace. But that's just me. See again point 1: lower your expectations.
7. Keep your Body Temperature Down
Use whatever means possible to keep your body temperature down. I've found from experience it is worth the extra time and effort to back off early and KEEP your temperature down, rather than to overheat and try to bring your temps BACK down again. In order to keep your body cool:
Run in as little clothing as possible (toss that shame aside, ladies and gents)
Use ice or cold water in bandanas or buffs on your head or neck
Take rest breaks in the shade
Take walk breaks (see above)
Cool off in a swimming hole, sprinkler, etc!
8. Recover Well
After your run, focus on recovery. Re-hydrate. Eat healthy foods to help replenish your body with nutrients lost, and nutrients that will encourage healing. Realize that running in this heat will leave you feeling much more exhausted and REST accordingly.
9. Change Your Outlook
You already know that running in the summer is harder. And, you also now know that your paces are going to reflect the heat. So, instead of getting frustrated: change your outlook. Know that you are definitely not alone when it comes to struggling through hot, humid runs: this affects all of us.
Personally, I choose to celebrate every mile that I do log during the summer, rather than dwell on the miles I didn't get to because it was too damn hot. Change your outlook. Simply accept that not every run is going to feel good, and move on.
10. Get Back Out There!
If your goal is to adapt to running in the heat, then you've got to keep getting back out there, even when it might feel frustrating. Give yourself time to adapt, by gradually increasing the time you spend running outdoors. Listen to your body, and react accordingly, as overexposure to the heat truly can be detrimental. But also fight the urge to want to quit simply because the heat is uncomfortable.
Trust me when I say: it gets easier.
Heather Hart is an ACSM certified Exercise Physiologist, NSCA Certified Strength and Conditioning Specialist (CSCS), UESCA certified Ultrarunning Coach, RRCA certified Running Coach, co-founder of Hart Strength and Endurance Coaching, and creator of this site, Relentless Forward Commotion.   She is a mom of two teen boys, and has been running and racing distances of 5K to 100+ miles for over a decade.  Heather has been writing and encouraging others to find a love for fitness and movement since 2009.