Last Updated on December 26, 2021 by Heather Hart, ACSM EP, CSCS
If running lingo is a language of it's own, then ultramarathon terminology is akin to a very specific dialect only spoken in remote village on the side of an obscure mountain you've never heard of.
You know, someplace wild like Silverton or Wartburg.
Like any niche within a niche, ultrarunners truly have a language of their own. We have specific running words and acronyms that leave even the most seasoned road runners scratching their head, asking "what are you talking about?"
Ultramarathon Terminology: Understanding Long Distance Lingo
I'm going to break this post up in subcategories of common (and maybe not so common) ultramarathon terminology, with corresponding topics grouped together. I initially started with the alphabetical approach, but then I realized that "Golden Ticket" came WAY before "Western States", and that just didn't make sense. So, if you are here looking for a specific definition to figure what the heck your ultra friend just said, please reference this table of contents (or click the word to take you straight to the definition:
For general running terminology – such as the definitions of supination, fartlek, and snot rocket – visit the post: Runner Lingo: 50+ Definitions of Common Running Terms & Acronyms
Ultras, Distances, & Race Types
Let's start with the most obvious, shall we? An ultramarathon, or an ultra for short, is technically any race longer than a marathon, or 26.2 miles. That said, most people will tell you that an official "ultra" starts at the 50K mark. So that 26.7 mile marathon – because you didn't run the tangents -doesn't count for ultra status.
I'm sorry. I don't make the rules.
Common ultramarathon distances include:
50K
31 miles. The "baby" ultra, but still downright terrifying when you remember how hard a full 26.2 marathon can be. Personally, I'll argue that a 50K on trail is significantly easier than a marathon on the pavement, but that just may be my dirt loving bias.
50 Miler
50 mile race. Or, 80.47 kilometers, which it is actually never referred to as, at least not here in the United States. I honestly can't begin to explain why some races are referred to in kilometers, others in miles. We like round numbers, I guess.
100K
62 miles. Long enough to be an insane accomplishment, but short enough to leave you with the terrifying realization of "I'd still have to run ANOTHER 38 miles if this was a hundred miler".
100 Miler
The "I don't even like to drive this far" distance. In the ultra world, the 100 miler is akin to the marathon for brand new runners. It's a seemingly out of reach, crazy, "I could never do that" distance…but secretly deep down you DO want to see if you could actually do it. Plus, when you finish you get a kickass belt buckle (more on that later).
200 Miler
Yes. People actually run this far. In fact, day by day it seems that the 200 miler is becoming the new 100 miler (and the 100 miler is the new marathon) as far as popularity goes. I foresee more and more of these popping up in the future. Maybe even one in my future (don't tell my husband).
6/12/24/72 Hour Race
The goal of a timed race is to run as far as you can in a given time frame. These are typically held on a shorter looped course, anywhere from a 400 meter track to a 5 mile (ish) trail, and are usually given some name that references how monotonous loops can get (like Hallucination, or Delirium.) The runner that covers the most distance in the assigned time frame, wins.
Point to Point Course
A point to point ultra starts in one place, and ends in an entirely different place. Often refereed to as an "A to B" course, on a point to point you typically do not retrace your steps at any time during the race. While this prevents boredom, it's also a task in logistics trying to get back to your car after a race.
Out and Back Course
An out and back course does exactly what it says: goes out, and comes back. This can be repeated once (50 miles out, 50 miles back for a 100 miler) or multiple times (25 miles out, 25 back, 25 out, 25 back for a 100 miler). The perks of these races are being able to see fellow runners as you head in opposite directions. The downside of out and backs can be the monotony, especially if there is a particularly miserable part of the course.
Looped Course
While almost all timed races (6/12/24 hour , etc) are heled on looped courses, not all looped courses are bound by time. You can still find specific distances (50K, 50 miler, etc) on a looped course. The loop may be complete once or many times, depending on the race distance and the distance of the loop. But the point is, you start, and finish, in the exact same location.
Last Man Standing
Last man standing courses are like the demolition derby of the ultramarathon world. The premise is this: there is a distance and a time limit that is repeated until you can't do it any longer, then you're out of the race. For example let's say, 4 miles, and 1 hour. Every hour, you must complete the 4 miles, and do whatever else you need to do – eat some food, change your shoes, use the bathroom. At the top of the hour, you must begin the 4 mile run again. Anyone who cannot complete the distance AND restart the next run at the specified time is out. This continues until there is only one person left. These are often referred to as "Backyard" ultras, in reference to Big Dog's Backyard Ultra (more on that later).
Ultrasignup
The website "ultrasignup.com" is the number one enabler in all of the above distances and race types. I'd guess that 80%, if not more, ultramarathon race directors use ultrasignup as their registration platform. It is also used to display athlete's past results, and assigns them a ranking compared to other athletes.
Have you ever seen that meme about "drunk shopping" on Amazon? And waking up to packages the next morning that you don't recall ordering? Yeah well, this is our equivalent. Many bad – and amazing – decisions happen on ultrasignup.
Race Day Lingo
The following ultramarathon terminology includes words you'll hear at or in reference to a race:
Aid Station
An aid station is almost exactly what it sounds like: a spot in the race where you receive aid. Or more specifically: food and water. Unlike an aid station in a road marathon, where your options are typically limited to Gatorade, water, and maybe an orange slice or two if you are lucky, ultra running aid stations are usually more like the"all you can eat" buffet of your childhood dreams. Cookies, PB&J's, candy, soda, watermelon, grilled cheese sandwiches, you name it. And the sweet relief of seeing smiling volunteers while you are suffering, 60,70, 80+ miles in, is almost an indescribable feeling.
Bonk
A "bonk" typically occurs when you don't fuel up on enough of that aid station goodness, and your blood sugar crashes. Typical responses include: legs that feel like cement blocks, tears, contemplation of the meaning of life, unnecessary attitude and/or drama towards your crew and/or pacers. A bonk can typically be cured by fixing the caloric deficiency (i.e. eating), but it's often an uphill battle, which is why avoiding the bonk with proper race day nutrition is so important.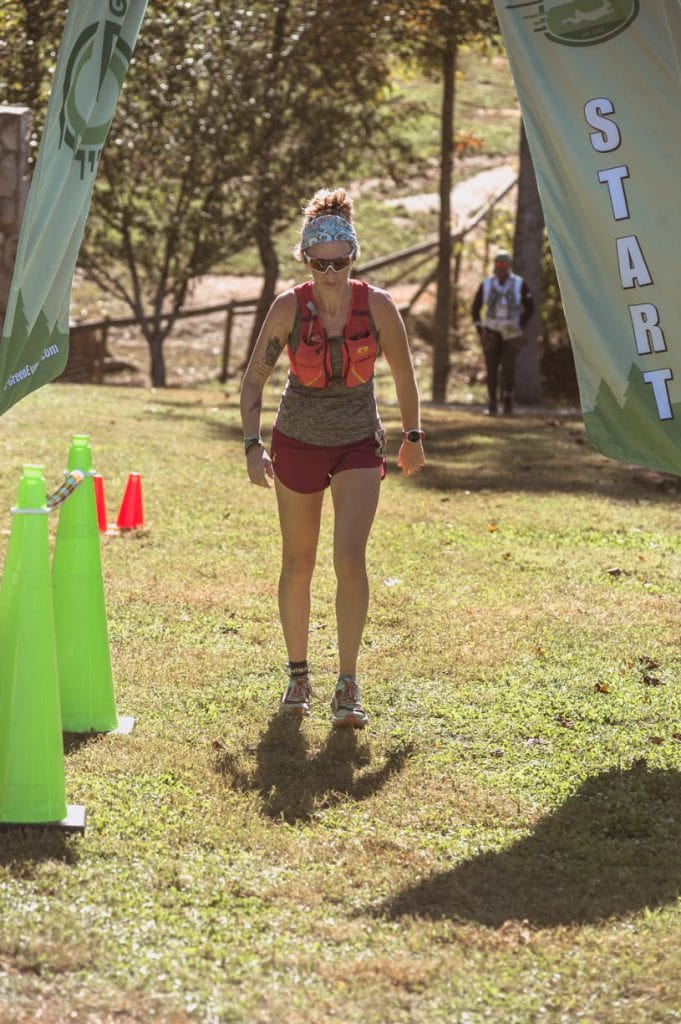 Buckle
A typical finishers award for distances of 100 miles or more, rather than a medal, is a belt buckle. This tradition stems from when 100 mile distances were covered by riders on horses (see: "Western States" and "Gordy" below.) Clearly, cowboys have no use for medals, a belt buckle is far more functional. To "buckle" essentially means to finish the 100 mile race within the given race time limitations.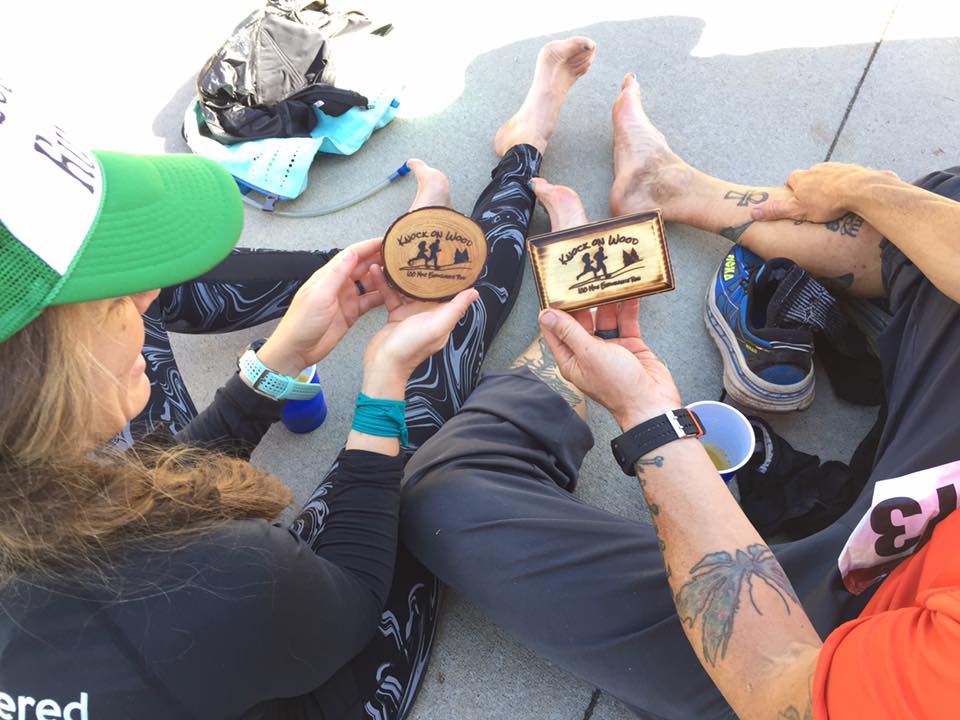 Chäir
The dreaded chair, or "chäir" as it was coined by the popular Instagram account Ultrarunning Memes, refers to the idea that a single, innocent, folding chair can absolutely ruin your race if you dare sit on it. A chair will remind you of how uncomfortable you currently are, but how comfortable you could be…if you just quit. A chair will tempt you with things like sleep , warm food, and the comfort of having other people around, versus the loneliness of the dark woods. Time in a chair passes much faster than while on foot. While you think you may have only been sitting for a few minutes, the reality is you may have been sitting for a half an hour or more.
Avoid the chair at all costs.
Crew
Your "crew" are the people you drag along to your ultra with you, to do the following:
Make sure you eat and don't bonk.
Tie your shoes for you when you can no longer reach them.
Remind you of cutoffs, goal paces, etc…because math is hard when you are running for multiple hours on end.
Kick you out of your chair when you waste too much time at an aid station.
Tell you that you look great, even though you look like death.
Essentially, your crew is there to help you reach the finish line.  Some people prefer to run without crews, and some races absolutely require crews as a part of the rules.   Check out: "The benefits of having a crew when running an ultra" to learn more.
Cutoffs
Because of the nature of ultras – typically covering long distances, a lot of time, and often gnarly terrain – race directors may establish multiple cutoffs throughout the race. The cutoff will typically be specific distances (usually at aid stations) by specific times; if you don't reach that distance by that time, you are out of the race.
Drop Bags
The purpose of a drop bag is to allow runners access to items they need during a race, but do not want to (or simply may not be able to) haul around in their hydration pack for the entire race.   Think: warm clothes, change of shoes, extra food, etc.   It gives you an opportunity to refuel with your own specific nutrition, or even change attire based on varying trail or weather conditions, without having to carry it. See: The Beginners Guide to Packing an Ultramarathon Drop Bag
DNF
DNF stands for "did not finish". You started the race, but you did not finish the race. Maybe you missed a cutoff. Maybe you got injured. Maybe someone promised you a grilled cheese at mile 52, but didn't show up, and you were so mad you quit. I don't know.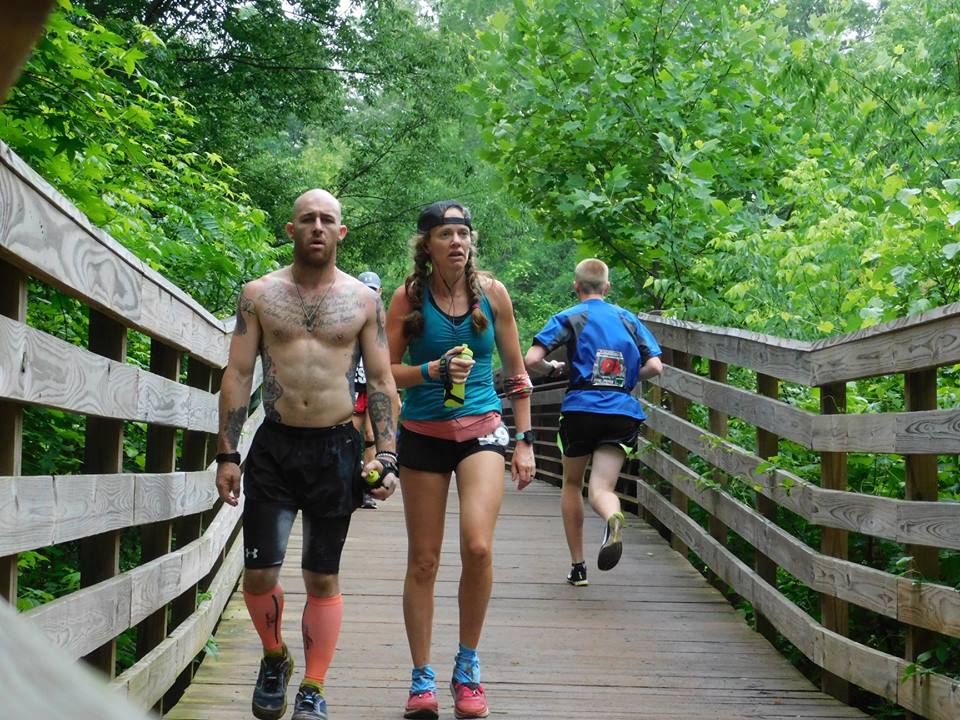 DNS
DNS stands for "did not start". This typically means you were actually wise enough to know that you weren't prepared for the race at hand, and instead of suffering until the inevitable DNF, you simply didn't show up at the start line. Other times, a DNS happens because of flat tires or hurricanes, babies that didn't sleep or alarm clocks that didn't go off. The possibilities are endless!
DFL
Dead f*cking last. Yet still, an official finisher, and that should be celebrated!
Golden Hour
The last hour of a race, typically a 24 hour race or 100 miler, before the cutoff.
Grocery Hole
Your mouth, the anatomical part of your body that accepts calories. As in "when is the last time you shoved some food down your grocery hole?"
Pacer
A pacer is a member of your crew that actually runs with you for a portion of the race. For an elite, a pacer may do exactly what it sounds like – help keep the runner on a specific pace. But for the mid to back of the pack mere-mortals, pacers do more important things like:
Make sure you don't get lost and/or fall off of a cliff.
Explain away your hallucinations
Make sure you don't curl up in a ball in the forest and take a nap.
Continue force feeding you food when you no longer want to eat.
Do math (see "crew" above)
And yes, sometimes, keep you on pace.
Some races allow pacers, some do not, and some have certain distances that must be met before a pacer can join you on course.
Pocket Snacks
Food (calories) kept in random pockets (shorts, hydration pack, waist pouch, etc.) to shove in the grocery hole at various intervals. Perfect for suppressing an oncoming bonk.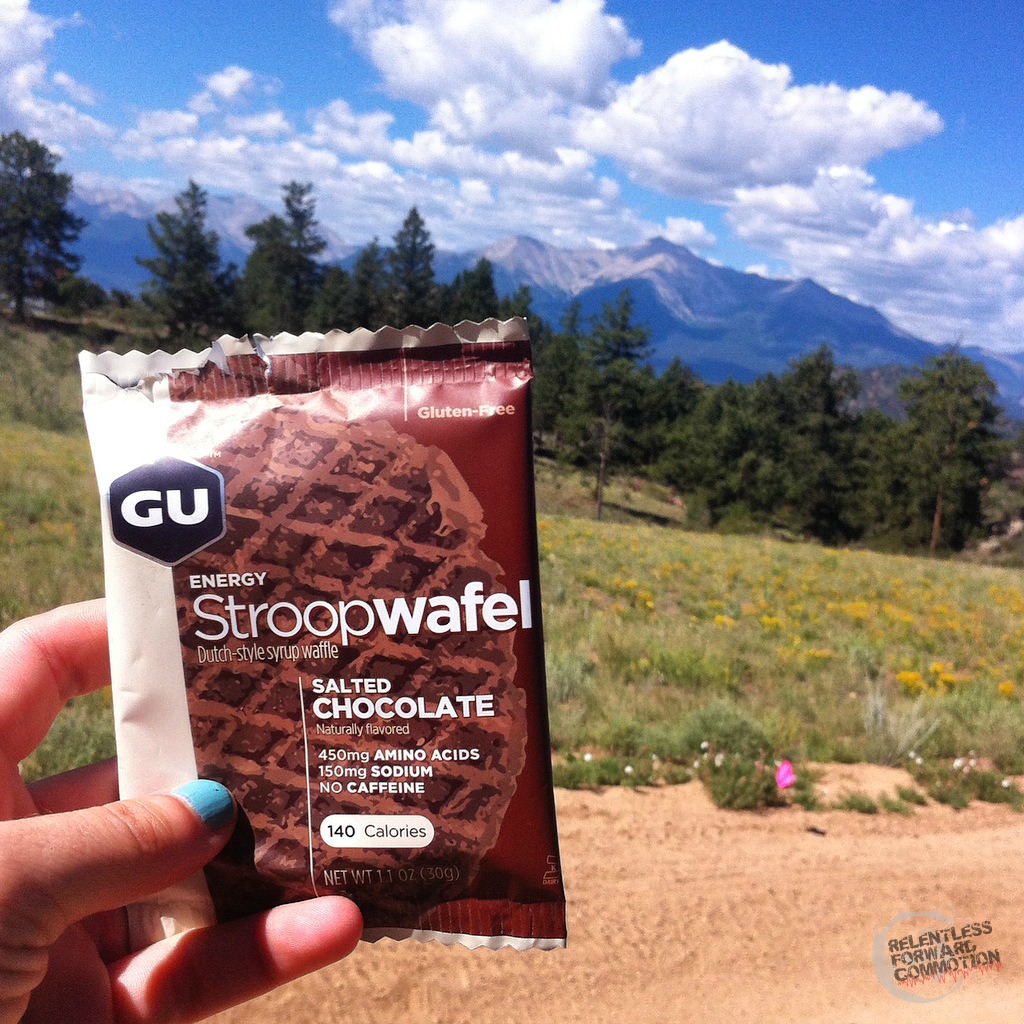 Salt (Salt Tabs)
Almost as important as nutrition and hydration is keeping electrolyte levels balanced. Sweat depletes the body of electrolytes- namely, sodium (salt). Hyponatremia is a condition where your sodium levels are too low, and hypernatremia is a condition where your sodium levels are too high. Both can be dangerous -potentially even deadly – to runners. An easy way to balance out sodium levels is to take an electrolyte supplement. These are often referred to as "salt tabs" by runners. They are literally pills – or chews – taken during long runs or races.
Sub 24
When I ran my very first marathon – which happened to be the Marine Corps Marathon, the commonly referenced "goal" for all runners was to "beat Oprah". In 1994, talk show host and otherwise super famous woman Oprah Winfrey ran the MCM in 4:29.20. In the 100 mile world, a finishing time in under 24 hours is kind of the ultra version of beating Oprah. It's nowhere near world record 100 mile times (which is currently somewhere in the eleven to twelve hour range), but it's a cool goal for us mere mortals to strive for.
Ultra Training & Gear Terminology
Back to Back Long Run
The back to back long run is the cornerstone of ultra training – for most.  The idea is that you run a long run on one day, and another long run on the next day.  This teaches your body – and mind – to run on tired, exhausted legs.  It also helps you cover a lot of mileage in a short period of time, without having  to run, say, 40 miles in a single training run, which may cause more physical stress to your body.
Bladder / Hydration Pack
I'm totally going to call out an acquaintance who may or may not read this blog, but here goes: when inquiring about his first ultra, he asked a mutual friend what the deal was with "bladders" everyone talked about. "Can't I just pee behind a bush?" he wondered? I'm sorry- I really did laugh out loud at that one. I guess I can understand the confusion.
A bladder -and the hydration pack it goes in – is a "back pack" designed to carry water for runners. This is particularly helpful in ultra running, as you may cover really long distances between water sources on remote trails. The water goes in the bladder, which has an attached straw, meaning you can drink the water on the run. Typically the hydration pack also had a ton of pockets, allowing you to carry your plethora of snacks and other ultra necessities wherever you go.
Buff
A common ultra accessory is the  simple tube of fabric frequently referred to as a "Buff".  Buff is a brand name, but like a BandAid or a Kleenex, "Buff" is the most commonly referenced name for this item.  This cool little piece of fabric can be used in seemingly a million different ways, to help keep you warm, cold, keep the dust out of your face or the sweat out of your eyes.  I even once used a buff to keep a hernia in place (true story).  It's incredibly versatile, and is often given out as a freebie at races or other events
Trucker Hat
Not just for truck drivers, the trucker hat has become the official/unofficial uniform of all trail and ultra runners. They are typically not sweat wicking or made with any sort of performance material whatsoever. But they look cool.
Vert
The vertical gain, loss, or change that occurs over the course of a run or race.   People who live in mountainous areas often ignore this stat.  People (like me) who live in flat areas tend to obsess about how get vert.  People like Ultrarunningmemes believe vert isn't real.
Western States & Other Popular Events
Let's throw down a little ultra history, shall we?
Western States Endurance Run
Western States (WSER) is akin to the "Boston Marathon" of the ultra world: everyone wants to run this race. Some people seem to think WSER was the "first" 100 miler, but it wasn't (check out this awesome post on the facts, myths, and history of WSER: https://www.ultrarunninghistory.com/28-western-states-myths). It does, however, have a cool story…
Gordy
Gordon Ainsleigh is a runner and horseback rider who competed in WSER a number of times – on horse. In 1973 his horse became lame during the race, and he (and the horse) DNF'd the race. So in 1974, he ran the entire race on foot. Contrary to popular belief, he was NOT the first to cover WSER on foot, he was actually the 8th person. He was, however, the first to cover it in under 24 hours.
WSER Qualifier
Because of it's popularity, you now have to enter a lottery in order to hopefully gain a spot to run Western States. And in order to get into the lottery, you have to earn your "lottery ticket" by completing a qualifying race within the races time limit. For a full list of qualifying races, visit: https://www.wser.org/qualifying-races/
Golden Ticket
Finishing a Western States qualifying race gets you a lottery ticket into the impossible to get in Western States Endurance Run.  But WINNING (actually, top 2) one of those qualifying & designated "golden ticket" races gets you a "golden ticket", bypassing the lottery and automatically entering you into WSER.  Don't forget to bring Grandpa Joe.
The Barkley Marathons
The Barkley Marathons is – well, was – an underground extreme endurance event held every spring in Frozen Head State Park, TN. While infamous race director Gary Cantrell , aka "Laz" claims the race to be a 100 miler, it's actually closer to 120-ish miles. Runners must complete loops on the unmarked course, collecting book pages along the way. Only 15 runners have completed the event since it's inception in 1986. Registration is still a mystery to most, and only 40 people are allowed to run each year.
In 2015, a doccumentary titled "The Barkley Marathons: The Race that Eats It's Young" was released on Netflix, causing a huge surge in popularity of the race.  Yet still, only 40 people per year are allowed to compet
Fun Run
A Barkley "Fun Run" is exactly three loops of the Barkley Marathons course. Many would argue that this shortened distance is still not necessarily "fun".
Big's
Big's, or "Big Dog's Backyard Ultra" is the original Backyard Ultra, created by the same Gary "Laz" Cantrell of The Barkley's fame. Participants run a 4.167-mile loop every hour, and are eliminated if they fail to complete a loop in an hour. The path of the loop is on a trail during the day and along a road after dark. The distance of each loop is equal to 100 divided by 24, so that a competitor runs 100 miles for a full day of competition. There is no predefined finish. The winner is the competitor who completes a loop that no other competitors complete. If no competitor outlasts every other competitor, there is no winner. The current record? Harvey Lewis ran 85 loops over 85 hours, for a total of 354.195 miles in 2021.
UTMB
The Ultra-Trail du Mont-Blanc (UTMB) is a single-stage mountain ultramarathon that starts and finishes in Chamonix, France, and follows the route of the Tour du Mont Blanc through France, Italy and Switzerland. It has a distance of approximately 106 miles (171K), and a total elevation gain of around 32,940 ft (10,040 m). It is widely regarded as one of the most difficult foot races in the world, and one of the largest with more than 2,500 starters.
R2R2R
Because ultra runners love to run really long distances, a popular "bucket list" running item is to run from one side of the Grand Canyon to the other…and then run back again. "R2R2R" stands for "rim to rim to rim", and is approximately 48.3 miles long, and gains and looses about 10,919 feet (about 21,838 feet of change)

FKT
FKT, or "fastest known time", refers to the current speed record for a given trail that is not an official race. For example, competitive ultra runners strive to set FKT's for things like the Appalacian Trail, Pacific Coast Trail, R2R2R, etc. Check out: https://fastestknowntime.com/ for more information, and to check out some of these FKT records.
Have any ultramarathon terminology to add? Comment below, with your definition, and I'll add them to the post!
Heather Hart is an ACSM certified Exercise Physiologist, NSCA Certified Strength and Conditioning Specialist (CSCS), UESCA certified Ultrarunning Coach, RRCA certified Running Coach, co-founder of Hart Strength and Endurance Coaching, and creator of this site, Relentless Forward Commotion.   She is a mom of two teen boys, and has been running and racing distances of 5K to 100+ miles for over a decade.  Heather has been writing and encouraging others to find a love for fitness and movement since 2009.