Last Updated on September 27, 2019 by Heather Hart, ACSM EP, CSCS
Thanks to GNC for sponsoring today's post, and allowing me to try the new PUREDGE products.  All opinions stated, as always, are my own.  
The New Year is coming, and whether you are ready or not, you are about to be bombarded with fitness, health, and nutrition tips and products.   A massive contradiction among the fitness and health population is the frequency in which people are very mindful to eating a healthy diet, yet turn around and consume pre and post workout supplements that are full of artificial and questionable ingredients.  I am certainly guilty of this oversight myself.   One of the great perks of being a fitness blogger is that I'm often sent supplements such as pre-workouts and protein powders to try from various companies.  And Geoff and I, being total gym rats, consume these products down in vast quantities.  Some of them are great, made with the health conscious person in mind.  Others?  Well let's just say that we sacrifice health and what we put in our body for the sake of a killer pump (in short, they are horrible for you).  Needless to say, paying closer attention to what foods and ingredients I put into my body is a New Years Resolution of my own.
Recently, GNC released a new line called PUREDGE.    Setting a new standard for quality whole-food-based nutrition, the GNC PUREDGE line contains no preservatives, no GMO1-added ingredients, no wheat, yeast, fish or egg, no sugar alcohols, no artificial additives, colors or sweeteners, and no gluten-added ingredients.  These products are tested by an independent third party lab for genetically modified material and test below a 0.9% threshold.  For those of you in competitive scenarios, it's important to know that the GNC PUREDGE line also contains no banned substances* (you'd be surprised how many over the counter supplements contain "questionable" ingredients).
GNC was kind enough to send me a sampling of the new PUREDGE line to try out.  Because it's never too early to start your (in this case, my) New Years resolution, I didn't hesitate to start incorporating the PUREDGE products into my daily routine.  Now, my biggest guilty pleasure, that I've mentioned around here no short of a hundred times, is caffeine. Pre-workouts are unfortunately my favorite, and I've been known to even start my day with one.  Yes, pre-workout for breakfast.   My guilt levels immediately decreased when I read the ingredients list on the GNC PUREDGE Daily Energy Performance Energizer (full ingredients list can be found on the GNC PUREDGE page).  I was not only able to pronounce everything, but I actually knew what each ingredient was.   According to GNC, the powdered formula combines quality carbohydrates with clinically studied ingredients, potent herbal teas and fruit and vegetable extracts to provide immediate energy.
The taste of the Cherry Limeade flavor was very natural tasting, and relatively subtle compared to what I expected.  So many of these products have an in-your-face overpowering (and often too sweet) flavor.   As for the energy level, it was exactly what I look for.    When one scoop is mixed with 8 oz of water or less and immediately consumed, I did get that "pre-workout-fingers-tingle-buzz", though not overwhelmingly so.  However, when I mixed one scoop with 20 oz of water or more and consumed the daily energy slowly, it gave me the gradual and gentle energizing boost that I need in the morning.  I've already put in a request to Santa for a backup supply on this product.
Protip: a lot of supplements contain unnatural ingredients that help the product blend and dissolve smoothly.  Because the PUREDGE line doesn't contain these artificial ingredients, I found the daily energy to separate pretty quickly if it was not consumed immediately after shaking.  Also, if you don't shake well, it remains slightly chunky.
The other largely consumed supplement in our house is protein powder.   Though we try to get protein mainly through diet, my hectic gym work and workout schedule doesn't always make immediate post-workout protein consumption by way of food possible.   About GNC PUREDGE Complete Protein powdered formula (from GNC):
Supports vital, core body systems responsible for maintaining muscle health, while supplying daily nutritional needs and functional antioxidant protection.
 The whole-food-based, 20g protein blend provides one full serving of fruits and vegetables to help meet daily nutritional requirements
 Delivers over 5g of amino acids including the branched chain amino acids (BCAA) leucine, isoleucine and valine, essential for protecting, repairing and fueling muscle

The GNC PUREDGE Complete Protein powder, similar to the Daily Energy, did not have an overwhelming flavor or taste, allowing me to mix it with just water or into a smoothie.  Here's one of my favorite post workout, or even breakfast smoothies is incredibly easy to make and near impossible to mess up:
One scoop of GNC PUREDGE Complete Protein powder, chocolate flavor
One handful of frozen berries
One handful of greens (baby spinach or mixed)
water to taste: I like just a little splash so my smoothie is more of a soft-serve ice cream consistency.  But to make it easier to drink (and not require a spoon), add more water.
blend.
The GNC PUREDGE line also includes a vegan protein powder, an amino acid muscle replenishment powder, complete protein whole food based chia and flax bars, and powdered peanut butter (I know some of you are total fanatics about the peanut butter).  So, if you too are looking to subtract the "questionable" ingredients from your diet in the New Year, yet rely on nutritional supplements to fuel your athletic and fitness endeavors, I would definitely consider giving the GNC PUREDGE line a try.   The product can be purchased online or in GNC stores nationwide.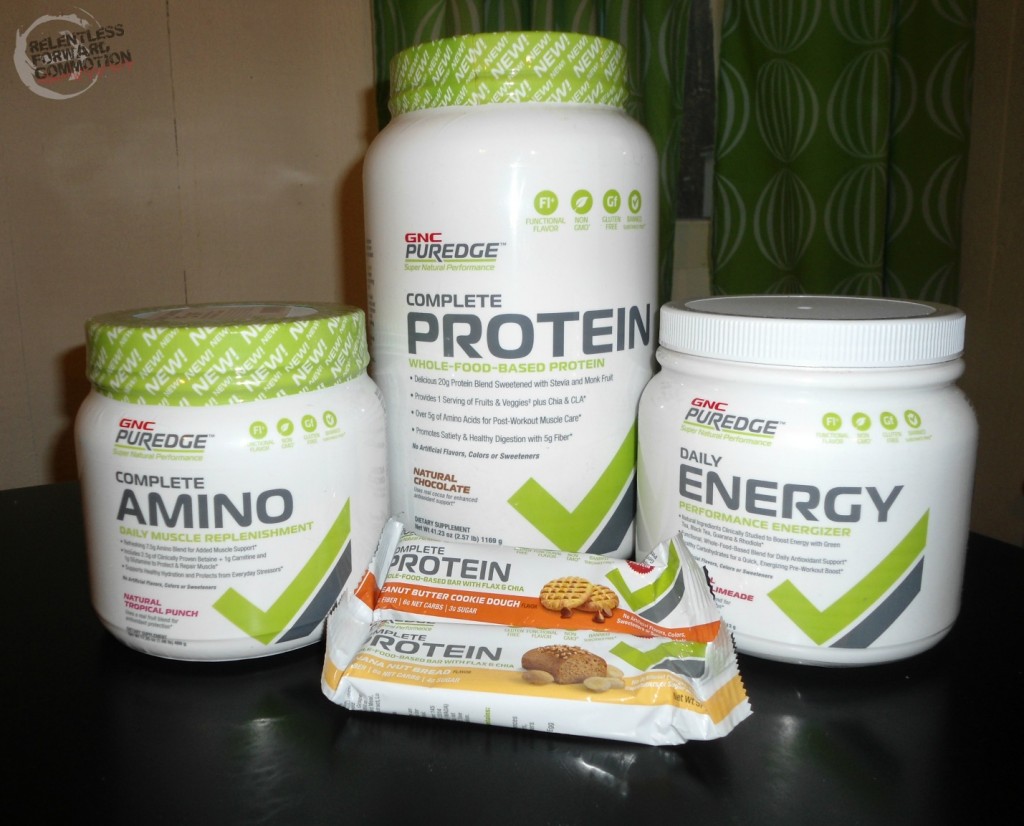 Discussion:  Be honest, do you read the labels of your supplements? (I won't judge!) Do you base your purchasing decisions on those ingredients, or are there other factors that are more important?
*These products have been tested by HFL Sport Science, a world-class anti-doping lab, for over 145 banned substances on the 2013 World Anti-Doping Agency (WADA) prohibited list via HFL skip lot testing protocol #ICP0307 and have been certified banned substance free.
Authors note: While I am an ACSM certified Health Fitness Specialist, all opinions expressed in this post about my experience with these products are my own, and are not a recommendation or endorsement.  PLEASE consult a physician before beginning any supplementation program of your own.
Heather Hart is an ACSM certified Exercise Physiologist, NSCA Certified Strength and Conditioning Specialist (CSCS), UESCA certified Ultrarunning Coach, RRCA certified Running Coach, co-founder of Hart Strength and Endurance Coaching, and creator of this site, Relentless Forward Commotion.   She is a mom of two teen boys, and has been running and racing distances of 5K to 100+ miles for over a decade.  Heather has been writing and encouraging others to find a love for fitness and movement since 2009.