Last Updated on January 22, 2022 by Heather Hart, ACSM EP
How many times do you have to participate in an annual event before it official becomes deemed a family tradition?  I'm going to go ahead and say three, therefore making our annual trek down to Eagle Endurance's Dirt Dash now a family tradition.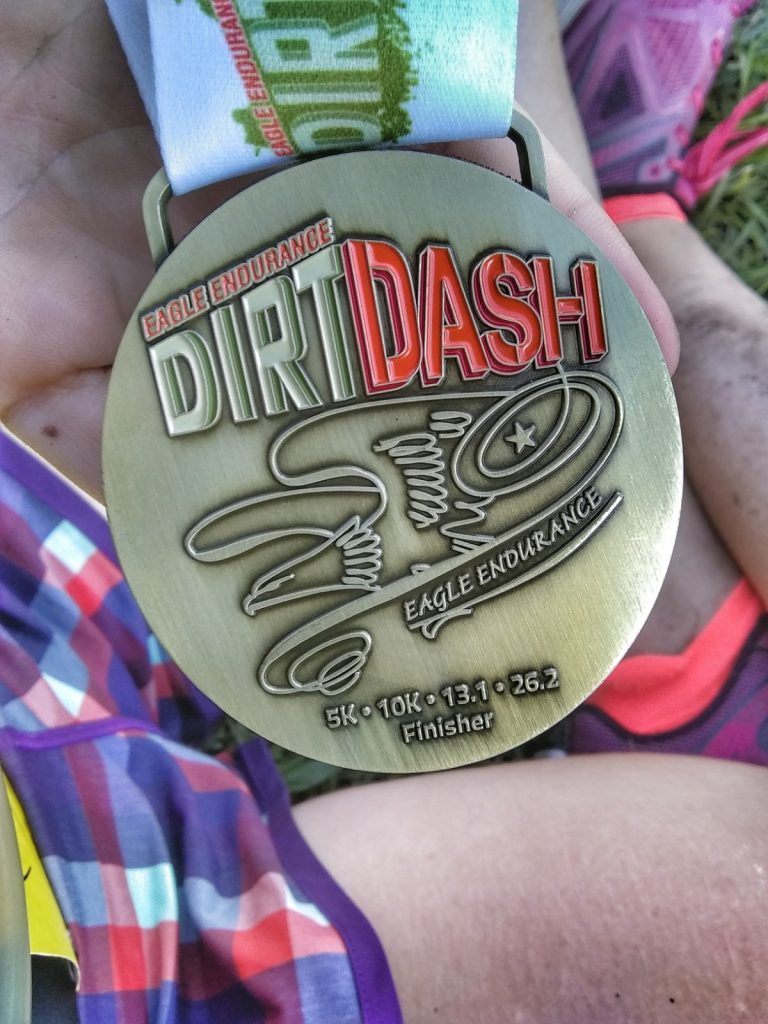 In 2015, shortly after we moved back to the beach, Geoff was given an entry to a race down in the Francis Marion National Forest: the Dirt Dash (read his 2015 recap here) .  It was our first introduction to Low Country running and the Eagle Endurance community, but certainly wouldn't be our last.
(because we're now in the $30 club and run ALL of the EE races, whether it's a good idea or not…)
In 2017 Dirt Dash was held at Middleton Place in Charleston, SC.  The course was sopping wet and a tad bit long (I clocked 29.6 miles for the marathon) but it was a ton of fun, as all of Eagle Endurance races are.
This year, the course once again moved, this time to Mullet Hall Equestrian Center on Johns Island, just south of Charleston, SC.  Course options included a 5K, 10K, half marathon, and full marathon.  Originally I was signed up for the full marathon.  I have this awful habit of  signing up for the longest possible distance available at all Eagle Endurance events.  When I realized that this race was the weekend before the Barkley Fall Classic, I reached out to Eagle Endurance race direction Chad Haffa, and requested he drop me back to the half, as I should be tapering.  He gave me hell, as he does in the best sort of "why are you chickening out on me" race director way, but then obliged.   Geoff would also be running the half, and the boys would run the 5K.
We drove down to Johns Island Friday afternoon after picking up the boys from school.  Chad has been incredible at offering camping the night before his races, which makes the 2 hour drive much more appealing for the Myrtle Beach crew.  We arrived and set up camp with our friends James, Jessica, Dinah, and Brian.   James, being our Boy Scout leader extraordinaire, made us an incredible pineapple upside down cake in a Dutch oven.  We spent time laughing around our "campfire" (it was actually two citronella candles), marveled over the plethora of little green tree frogs, and headed to bed relatively early.
The next morning we woke up to a rainstorm, which put my littlest runner into a panic. I reminded him that running in the rain, in the summer, was actually really fun, and shouldn't be something he considers "ruining" his race.  I talked him down from that ledge, only for mother nature to change her fickle mind.  The rain stopped, the clouds cleared, and the insane heat and humidity turned on like a light switch.
We headed over to the race start so that I could fill up my many hydration sources. I was planning on using this race as a final "test run" for my Barkley Fall Classic setup.  I'm sure bystanders thought I was overdoing it for a half marathon, as I filled my hydration pack bladder to the top, then filled two soft flasks to jam in the front pockets.  Hydrate or die, am I right?
I went through a brief moment of mom panic as I listened to Chad give race directions.  The kids would be running the 5K, which was a completely different loop than the half marathon/marathon loop. I reiterated the directions to them multiple times, even though they had already heard the instructions themselves, and gave them the "if you get lost, just sit down, don't try to find your way out!" speech, as I pictured them woefully lost in the forest.  Now, don't get me wrong: these kids have grown up on trails, these trails were more "cart roads" and clearly marked,  and there were a few hundred other people around.  I knew they'd be fine or I'd never let them run alone.  But: mom panic is very real. I'm sure I'll still have it when they are in their 40's.  But I digress.
I promised myself I wouldn't "race".  This is taper week. I have huge (HUGE) goals next weekend.  As such, I instinctively let any and all "competition" go right from the start.  Instead of running when Chad said go, I stayed back to film the controlled (and executed without a flaw) chaos that was the 5K and 10K running in one direction, and the half marathon and marathon running 90 degrees in a different direction.
(It wasn't chaos. It just looked like it)
The 10K runners would run two loops of the 5K course, the half marathoners 2 loops of the half marathon course, and the full marathoners 4 loops of the half marathon course.  It might sound confusing, but it really wasn't. To gain extra distance, the half and full marathoners started off running the perimeter of a big field.  Now this was the Eagle Endurance course I was used to: running in wet grass.
It wasn't for long, however.  We soon met back up with the 5K/10K runners and headed out onto what I would call a double wide dirt horse trail.  Maybe even cart road. I'm not sure what technically defines cart road.  Anyway, it was flat, wide, and dirt. Definitely not technical and definitely very runnable.
Geoff and I have been in a very odd spot lately, as running partners.  Those of you who know us "in real life" and those who have been readers for a long time know that we almost always race together.  Well, over the last 6 months or so, my training has gone really well.  His, for whatever reason, hasn't.  Suddenly, I'm a much stronger runner than he is (believe me, this has flip flopped over the years, and probably will again)…at least in longer distances.  He swears he would still "own me" in a 5K…but not a 6K.  His words, not mine, haha.
We started Dirt Dash together however, and went back and forth about our current pace.  He kept saying "don't let me hold you back", to which I would reply "I'm not racing, and you're going too fast anyway."  I kept trying to slow him down, as he was admittedly running a 10K pace and not a half marathon pace.  It only took about 3 or 4 miles before I realized my happy, effortless zone was causing him to struggle a little bit, but I kept holding back.
I. Wasn't. Racing. (I kept telling myself)
The course alternated between the cart roads and mowed fields.  Elevation change over the entire course was probably no more than 2 feet.  Yet these flat courses can be deceivingly difficult: shuffling through ankle high grass in the brutal heat gives zero reprieve, and little chance to truly open up and run.
Imagine my surprise when we came around to finish the first loop and my GPS actually read 6.45 miles.  A Chad Haffa course that was nearly accurate, if not just a tad bit short? Say it isn't so!  I was fully expecting the first loop to be at least 7 or 8 miles long.   When we came through the start/finish line for our first loop, I was stoked to see my boys standing there proudly wearing their finishers medals, instead of being lost in the woods.    I hugged them as they cheered me on, and waited as Geoff refilled his waterbottle.
We took back off around the field.  We barely made it 100 yards before Geoff said "OK honey, go ahead on, have a great race!"  I turned and looked at him and said "I told you, I'm not racing, I don't mind slowing down."
To which he replied "No.  I'm going to walk now."
"Oh.  OK.  Love you! " and I took off.
At this point I'm feeling strong, though the heat is just brutal.  I remind myself to really reel it in and listen to my body. I'm trying to avoid looking at my watch, as I need as much practice as possible NOT running with that thing (they aren't allowed at Barkley Fall Classic.)  I am slowly picking off runners one by one, finding myself equal parts grateful that I started off conservatively, and trained my ass off in the summer heat.   My mile splits are slowly creeping up, and my mind starts to wonder where I stand in overall placement.  There's a decent sized field for the half marathon, and I really haven't paid attention to how many women were in front of me…until I start passing more and more.
As it would turn out, the overall winner of the entire race was a female, and she knocked out a 1:40 trail half marathon.  So you know, I didn't stand a chance at winning (my half PR of a 1:40 was on pavement, 6 years ago…) but not knowing that at the time didn't stop me from picking it up every time another female would show up in my sights.  But with each person passed, I'd mentally scold myself because THIS WAS JUST A TAPER RUN and immediately slow my pace back down.
I met a guy named Chad (not to be confused with the race director) who was running the marathon.  He told me he had gotten into the Georgia Death Race Lottery.  I told him I had just gotten in last week (more on this in a future blog post, but for now, check THIS out).  We chatted for a few minutes, and he took off.  I love meeting new people in races!
I passed running friend Nathan who was in for the full marathon as well.  We briefly discussed his upcoming Yeti 100 and my upcoming BFC. He gave me some encouraging words, and I took off. I was ready to be done and back with my kids at this point.
The last mile got a little rough.  It always does, when you know you are almost done.  At that point the temperature was quickly approaching the high of 90 that day, and the humidity was brutal.  I gave one last solid push to pass a woman in the final quarter mile (though, turns out she was running the full marathon, so it didn't mater) and finished with a clock time of 2:06:37.  I was handed an awesome finishers medal, and hit up the aid station for plenty of snacks.
I placed 7th female, and 16th out of 68 overall for the half marathon.  Now, I can sit here and tell you all day that I'm not racing, but the competitive voice inside of me never actually fully shuts up.  And of course, she had to start rearing her ugly head, reminding me that had I not goofed off for the first few miles, or taken my sweet time at transition, I probably would have gone sub 2 hours and made top 5.
But…TAPERING. Shut up Heather's awful inner competitive voice.
Regardless, I was quite pleased with my time.  I sat down to enjoy an orange and drink the rest of my tailwind waiting to cheer Geoff in to the finish.
After he showed up, we headed back to our campsite, only to find that we had acquired a horse.  It's always an adventure with these people!
We spent the rest of the morning enjoying time with our friends while we cheered more runners in.
In short: this race was very cut and dry (though, the humidity in the air was far from dry.)  The course was flat and relatively fast, and incredibly well marked.  Even I couldn't get lost.  The aid station that we hit twice during the 6 mile loop was well staffed with local ROTC kids, who were incredibly polite and enthusiastic. The medal is awesome, and the crowd welcoming and encouraging.
One thing I've come to love about Eagle Endurance events is the sense of community.  You can't go to one of Chad's races without seeing a ton of familiar faces, or meeting new ones.  Each race feels like a welcoming family reunion…assuming your family is fond of sweat, dirt, bugs, and trail running.  The 2018 Dirt Dash was no exception.  I have no exciting stories to tell, no feats of courage, strength, no tales of outrunning giant snakes or wading through knee deep swamps.  It was simply an incredibly fun, relaxing day in the sunshine and the woods. I couldn't have asked for more.
(Check out the list of upcoming Eagle Endurance events, and join us for the next one!  http://www.eagle-endurance.com/trail-events.html )