Last Updated on January 27, 2022 by Heather Hart, ACSM EP, CSCS
It all started as a joke.
Or at least, I think it was supposed to be a joke.  Someone in our local running club posted a registration link in our Facebook group for a naked 5K, to be held about a half hour north at a Nudist Resort.  The wisecracks immediately started flying, comments about how much chafing might occur, body parts uncomfortably bouncing around, etc.   The consensus among the group seemed to be "no way in hell would I do such a thing".
I, on the other hand, couldn't sign up fast enough.
The truth is, the idea of running a naked 5K had never previously crossed my mind.   I think I might have heard Bart Yasso once tell a story about running a naked 5K, but that story was quickly trumped and replaced in my memory by the story of him running a race with a borrowed and ornery burro named Taco Bell.  But I digress.   While a naked race wasn't previously on my bucket list, as soon as the opportunity presented itself for me to run one, I knew it HAD to be added to the list. I ran the idea by Geoff, who is scarily a clone of me in a slightly older male form, and he said "register us!" without skipping a beat.
So I did.  We were in.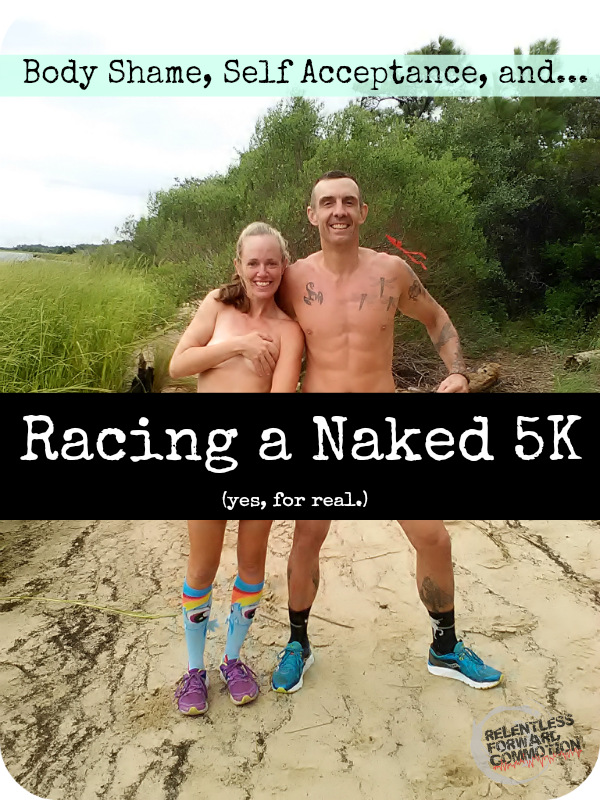 A quick note on the photo above (and the unedited one at the end):  cameras are prohibited on the Resort property, understandably so. Therefore I didn't get any actual race pictures.    Yesterday, however, was also a celebration of life for one of my dear friends.  10 years ago yesterday she gave birth to a beautiful baby girl who tragically never got to take her first breath.  My friend asked her friends to choose to MOVE yesterday, to move for Faye.  I wanted to send Jane a picture of Geoff and I to show her our support and love…and I knew she would get a kick out of it!  So with the help of some friends on a trail run later that day, we recreated the picture  (thus, this pic is NOT on resort property).   I wanted to clarify out of respect for our hosts and fellow racers yesterday.
_______________________________________________________
Self perceived body image is a fascinating and scary topic.  While there is no doubt in my mind that "body shaming" is an issue in our society, I think we are most guilty of shaming our OWN bodies, far, FAR more frequently than we pass judgment on others.   The saying "we are our own worst critics" rings so very true when it comes to appearances. Every little difference between our body and that of a Photoshopped model in a magazine is considered a flaw in our minds, magnified greatly, and perceived to be FAR worse than it actually is (if even bad in the first place).
I will be the first to admit that I  am absolutely no exception to this quandary.
As a fitness professional, I am surrounded by the idea that fitness pros are women with rock hard abs, perky breasts, and flawless skin.   Sign onto Pinterest, or open a fitness magazine, and tell me that isn't what you also see.   While I am strong, fit, and fully capable of doing my job, in the back of my mind I am always aware of the fact that the skin on my stomach sags to the point that it garners stares from strangers, and my boobs have shrunk to nearly nothing thanks to a combination of motherhood, a combined 2 years of breastfeeding my children, and distance running.  I'm painfully conscious of the fact that my smile is dulled by discolored teeth from genetically weak enamel.  I'm fully aware that I will never be rocking my hard earned, sometimes there depending on what I ate or drank that week, ab muscles in a sports bra on the cover of a magazine.   I am NOT what "media" portrays the poster girl of "fitness" to be.
But do you know what? The majority of us aren't.  And while I consciously know this, sometimes my insecurities still get the best of me.
Confession: when the week of the naked 5K arrived,  the thought entered my mind that maybe, just maybe, I should cut back on carbs and try to lean out a bit before the race.  Because after all complete strangers were going to see me naked, and I couldn't hide anything behind a loose fitting tank top.   Almost immediately I told myself to shut the fuck up.  Excuse the language, but I had to give my self a reality check and quite frankly, a slap across the face.  Because feeling I wasn't good enough at that very moment only perpetuates and encourages the negative self talk and the personal body shaming that I try so hard to encourage my clients to fight…the same negative talk I tell my own self to ignore.
_______________________________________________________
Saturday morning we headed up to Whispering Pines Nudist Resort in Ocean Isle, NC.   As soon as we pulled into the gates and into the park, I noticed people everywhere in running shoes and absolutely nothing else.  Earlier I had told myself that I refused to be ashamed of my body or embarrassed that day.  Because after all, this entire park was founded by people who also refused to be ashamed or embarrassed of their bodies.   So as soon as I put my car in park and took the keys out of the ignition, I opened my door, got out of my car, and took everything off.  While my shirt was barely over my head, and older gentleman walking by introduced himself as the race director and started talking about, of all things, Vermont.  His complete and utter casualness while we all stood around naked (me still stripping down) was the final reassurance I needed.   These were good people, and I was in a safe place.
We checked in at the registration table, were given adorable little towels instead of t-shirts (fun fact: at a nudist resort it is proper etiquette to always sit on a towel instead of parking your naked butt on a public bench, chair, etc.).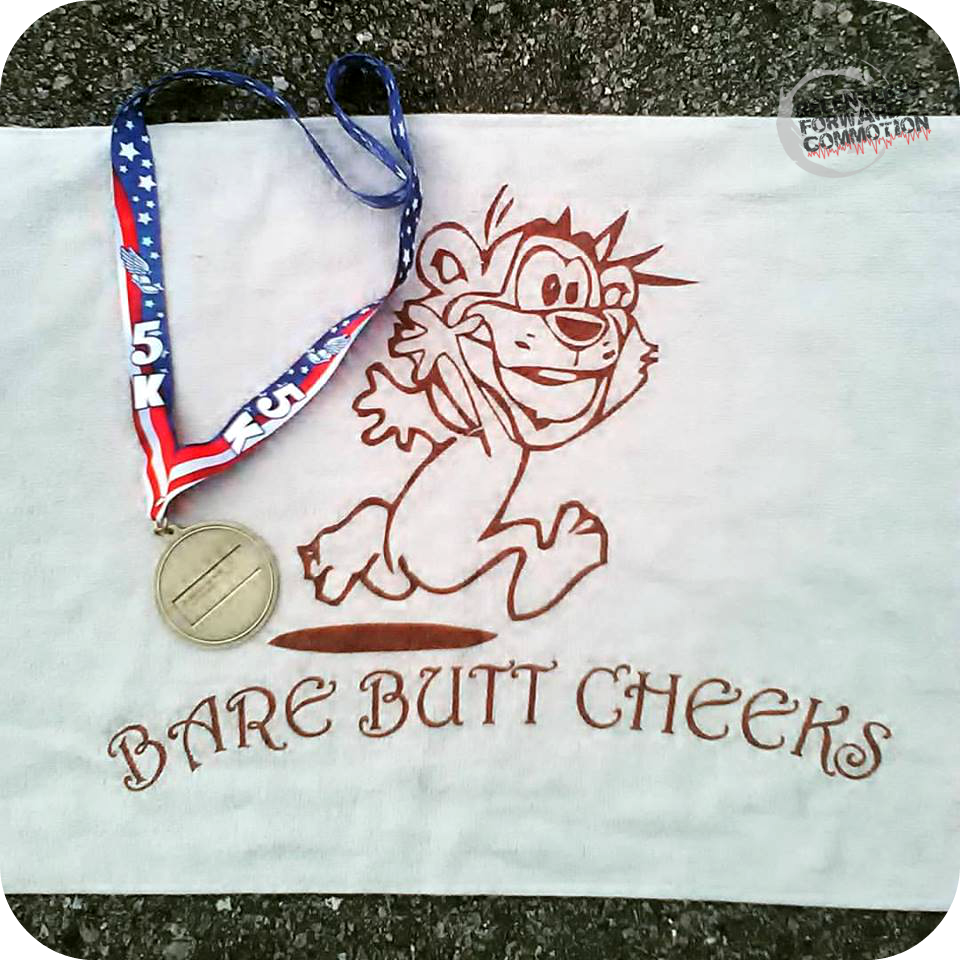 One by one, people of all different ages, shapes, and sizes pulled up and hopped out of their cars wearing athletic/running gear.  And one by one every single one of them stripped down to nothing but sneakers and GPS watches.  To be quite honest, I was truly shocked at the variety of people there.  I had foolishly assumed that nudist resorts cater to more of the "retirement" generation, but there were indeed many athletic 20, 30, & 40 something's there.  (As well as older and non athletic people.  Like I said, very wide variety).
The race staff, resort members, and fellow racers were all so friendly and welcoming.  Not a single person was giving condescending looks or side glances, nor were there whispers to friends about "check out that guy and his cellulite" or "look at that chick's wrinkles."  Everyone was just happy to be in the company of other runners, spending their morning doing what we all love to do: run.  Never once was I made to feel uncomfortable by someone else's actions or words.  In fact, after a few minutes, the whole "naked" thing felt completely natural.  You really become pretty immune to it, both with your own nudity and that of everyone around you.    The warm summer air on my bare skin felt freaking fantastic.  We hadn't even started the race yet, and I told Geoff that I could get used to this feeling of freedom.   The race director was also acting as the race emcee, and was doing a fantastic job at it.  Every now and then he'd throw in some nudist jokes such as "don't forget to put your keys in your pocket…" or, when it started raining, telling people to be careful not to let their clothes get wet.
Now, my second biggest concern once we got the whole "naked" part out of the way, was the concern of running without a sports bra.  I mean, we wear these things for a specific reason, am I right?  Geoff and I decided to take a warm up jog, and sure enough, even my tiny "girls" bounced to the point of discomfort.  I contemplated putting on a sports bra, but then decided not to because I wanted the full experience.   I'd suck up the pain for 20 or so minutes.
In addition to checking this experience off of my proverbial bucket list, I also actually wanted to race…as in try to win.  I eyeballed what I assumed to be my competition up and down.  It was actually a pretty interesting thing to do.   Often times at traditional races, you can judge the seriousness of a runner based on their outfit, shoes, and tech gear.   It's not an exact science, but it's often safe to assume someone in a tech marathon shirt is going to be a better runner than someone in an oversized cotton t shirt.   But take the apparel out of the equation, and you are left to guess based on things like who has a GPS watch, and who is actually warming up before the race.  Geoff kept telling me I had the race in the bag, but I'm never quick to be so cocky (pun NOT intended in this case.  Sorry I couldn't resist that one, haha).   But literally LAST minute, a girl frantically pulled up in her car, hopped out and quickly ran to the registration table.  Everything about her screamed "serious runner", from the fitness tracker AND GPS watch, to the tech hat, marathon tank top, and muscular tanned legs.  I knew, instantly, it was going to be a race.
Except it wasn't.
Because as soon as the race director lined us up (probably about 50 runners? Everyone 100% nude!), described the course, gave us the countdown and said "GO", the aforementioned girl took off.   I didn't even try to catch nor keep up with her.  After just a hundred yards I looked down to see a 6:50 pace on  my GPS and thought, yeah, no, you go on ahead.  Because one of two things would happen: a) she would get tired from going out too fast and I'd pass her, or b) I would get tired from going out too fast and never catch her.   I'm not one to give up easily, or immediately in this case, but I've also learned a lot over my years of racing, and I've made the "sprint the first half mile of a 5K" mistake more times than a care to count.
The course was essentially three loops around the outside of the resort campground.  The bottom of the loop contained a few twists and turns, but the race director had it down to exactly one mile per loop (my GPS buzzed just steps away from the mile marker sign).   The course was a combination of dirt road and grassy field. I had no idea what we were running on that day, but was pleasantly surprised that it was NOT pavement.
It took all of 2 minutes to forget I was running naked.  As soon as my heart rate picked up and I started approaching that ever familiar and all too uncomfortable lactic threshold, the only thing I could think about was my breathing and pace.  The discomfort of my heavy breathing was enough to distract me from the discomfort of my chest and it's lack of sports bra, or even the thought of what my saggy stomach must look like in motion.
Mile one consisted of me trying to maintain an even pace, while taking in all of the course, as I would have to run it two more times.  As it would turn out, the bottom of the loop with all of the twists and turns would be my least favorite section, as it seriously slowed down my pace and momentum.   My favorite part would be the long straight away down the wooded dirt path, as I could zone completely out and focus on slowing down  my breathing while picking up my pace.   There were (naked) spectators cheering us on all along the race. One of the resort residents had a hose set to a fine mist and would offer to cool us down when we ran by .  Another couple had a table set up with cups of water.  They were all so friendly and encouraging.
Lap/mile 2 was the worst.  It hurts, and you know that you still have a whole nother mile to go AFTER this one.  I decided during mile 2 yesterday that I really, truly dislike 5K's.  I really do.   I'd rather run 50+ casual but strong miles than suck wind and fight against my body's natural reaction to want to slow down (or stop!) during the 20+ minutes of a 5K.  They are so hard.   I posted this on facebook last night, and a friend asked "well then, why run so hard?" and the answer is simply: I have to.  In my crazy competitive mind, I have drawn a line in the sand.  Anything over double digit mileage is a race against myself, a push to see what I am capable of.  Everything else is a race against everyone else.  Why? I'm not sure. I suppose because I can.   Because while I am by no means "fast" in the big picture,  for some reason I can run fast enough to hold my own in local small races.
So I do.
Anyway, lap #3 was pretty uneventful.  About halfway through the lap I had lost sight of the women behind me, so I told myself to put my head down and gut it out.   At the finish line we were handed an index card with our place number on it.  We took it to a race staff member at a nearby table who recorded our name and place.  In case you were wondering, there were no bibs (no where to put them, ha!)
Somehow I managed to run pretty consistent splits, which is a shocker because I haven't worked on speed nor tempo work in a very long time.  The lack of speed specific training showed in my final time, as it certainly wasn't my best 5K, despite a flat, straight, fast course.
A final time of 23:14 (7:28/mile avg) on a near impeccably marked, exact 5K course.  Either the race director is really good or really lucky, haha.   This gave me second place female and first in  my age group.  The earlier mentioned girl?  She crushed the race with a 21:04 (I think that's what I heard the RD announce).  She certainy earned it and I was stoked I got to congratulate her after I crossed the finish line.
At the finish line we all stood around and cheered in every last runner, while we enjoyed snacks, water, and "Southern Kool-Aid" (what the race director called beer, haha). When everyone was finished, awards were handed out.  I won a very cute little medal for my AG finish.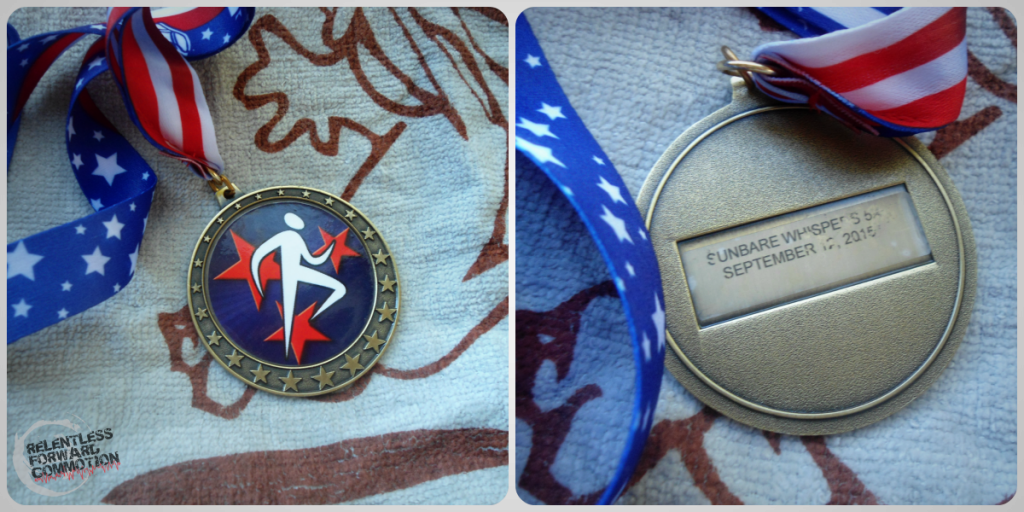 But truth be told, I won so much more than that.  I won something that is so much greater than any material object…
I won a reminder that my body kicks ass.  It is strong, it is fast, and it is capable of amazing things, from creating human life to running really far.  I won freedom from ridiculous self imposed body shame.  I won the feeling of fresh air and warmth (and let's face it, a ton of Southern humidity) on my bare skin, just as nature intended.  And I won an experience that proved to me once again that we are so very much more than physical appearances.
I ended the post I wrote about stretch marks a few months back the exact same way I want to end this post.   You see, yesterday after the race yesterday, I posted a few status updates about my finish and was met with a ton of  comments like: "I wish I could do that, but first I need to lose weight", or "I'd scare people, no one wants to see this" or "I'm too embarrassed" etc.
Here's the thing you guys: a naked race *isn't* for everyone.
If you have moral convictions, religious beliefs, or simply prefer to be modest, then rock on, I totally understand and respect your choice to NOT participate in something like this.  I also get that some people have a hard time differentiating nudity and sexuality, and may even be shocked that I not only wrote about this race, but posted a pretty revealing picture of myself on the world wide web.  I am NOT one of those people, as you may have gathered by now, but can respect others who would choose to not do the same. (Alternately, I will not subject myself to shame for my choices.  It's a naked body. We all have them. Anything "sexual" about that picture is on your conscious, not mine.)
However…
If you are one of the "I would love to do something like this, but…" crowd, go ahead and drop the "but".   Instead say "I would love to do something like this!" and DO IT!   I promise it is an experience you will NOT regret.
Remember: you ARE good enough. You are an amazing unique person that is so much more than outward appearances.  And you ARE capable of making the conscious choice to NOT be ashamed of your body.  Push yourself to be better every day, but also love yourself for exactly who you are in that very moment.  Nothing is more badass and beautiful than self love. 
Thank you to Butts A'runnin Race Enterprises (B.A.R.E.) and Whispering Pines for such a fantastic, incredibly experience.  Geoff and I WILL be back again!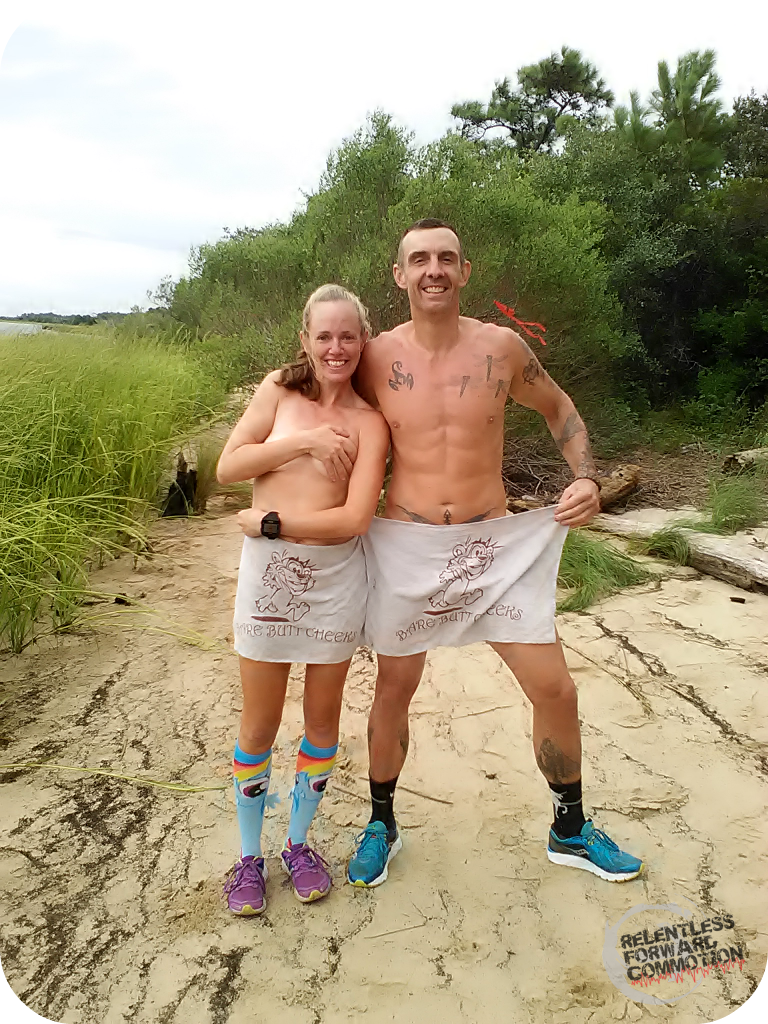 Heather Hart is an ACSM certified Exercise Physiologist, NSCA Certified Strength and Conditioning Specialist (CSCS), UESCA certified Ultrarunning Coach, RRCA certified Running Coach, co-founder of Hart Strength and Endurance Coaching, and creator of this site, Relentless Forward Commotion.   She is a mom of two teen boys, and has been running and racing distances of 5K to 100+ miles for over a decade.  Heather has been writing and encouraging others to find a love for fitness and movement since 2009.