Running is inherently good for our bodies.  Running helps improve cardiovascular health, can reduce the risk of cancers and metabolic diseases, helps improve mental well-being, and believe it or not, can actually be good for your joints. (So you can tell Aunt Jan at the Thanksgiving dinner table that, no, running won't in fact ruin your knees.)  That said, there is a laundry list of minor maladies that may pop up from time to time, leaving new runners wondering what the heck is happening to their bodies.  Among the list of unexpected concerns I often hear from newer runners is "why do my hands swell when I run"?
Puffy fingers and swollen hands are not that uncommon in runners, especially those running longer distances.  The reason for swelling could be something as simple as increased blood flow, or the swelling could be indicative of something much more serious.
Why do my hands swell when I run?
Like many things in the world of science, the answer here isn't 100% clear.  In other words: scientists, medical, and running professionals aren't exactly sure why your hands swell when you run.  But there are a number of really good theories, and I'm going to present the main ones to you.
Increased blood flow
When you run, your body naturally diverts blood flow to the more important systems required for running (heart, lungs, and muscles) and away from the less important systems.  This is one of the reason why digestion slows down drastically when you are running: your stomach function simply isn't as important to the body.    As blood flow is diverted away from your fingers (because let's face it, your fingers don't really contribute to the act of running) the blood vessels in your hands respond by opening up wider to try and maintain original blood flow and volume.   The widening of those vessels can cause swelling.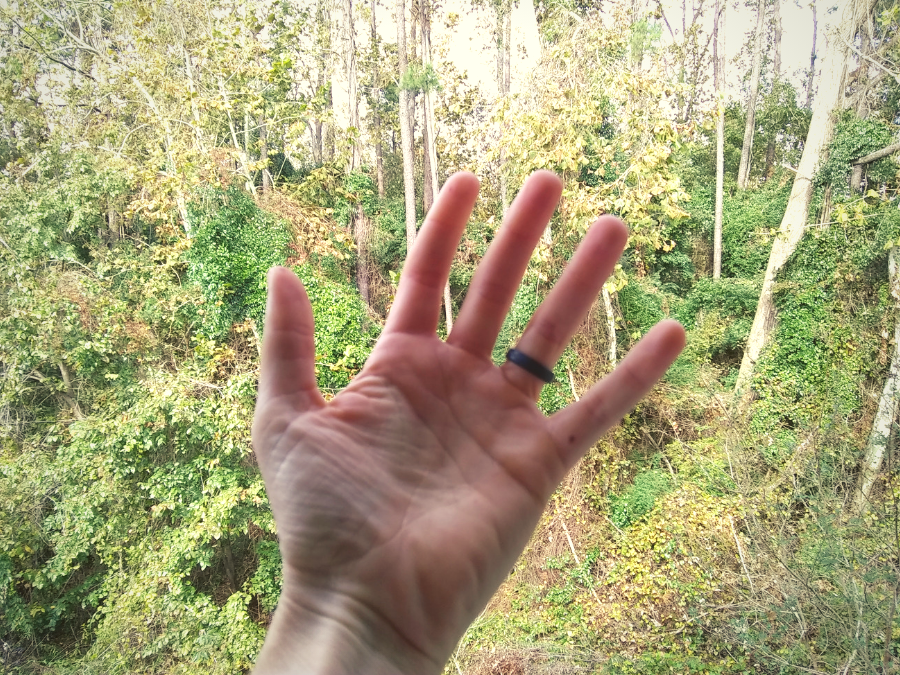 Excess Fluid
With the increased blood flow mentioned above, there is an increase in the amount of fluids leaking between blood vessels and capillaries into the soft tissue, including that of your hands and fingers. This is very normal.   Further, the swinging of your arms,  or even the act of your arms hanging for long periods of time (if you are really efficient and not wasting your energy on the arm swing) can cause pooling of fluids in your hands due to gravity.  Again, very normal.
These fluids will be reabsorbed by the lymph system, however, that process is also slowed down during exercise.  Typically you will see faster reabsorption within an hour after you finish running.
Heat response 
When your body temperature increases, the body responds by pushing blood to the vessels closest to the surface of your body, to dissipate heat.  These blood vessels swell, and voila, you have swollen hands.  This is why you may notice your hands swelling more while running in the heat versus cooler weather.
Hyponatremia
This is the least common – but potentially most dangerous – reason why your hands may swell when running.  Hyponatremia occurs when the sodium levels in your blood drop to a dangerously low level.  This can happen if you're diluting your sodium levels by drinking too much water, or if you're not taking in enough electrolytes to offset the salt you're losing through your sweat.  Symptoms of hyponatremia including swelling of the cells, which can cause your hands to swell.  Other symptoms of hyponatremia include: nausea, vomiting, confusion, dizziness, loss of energy, and muscle spasms.  Hyponatremia is considered a medical emergency, so if you suspect your fingers are swelling due to hyponatremia, seek medical attention immediately.
Edema from something more serious
Swelling of the hands, feet or ankles can be caused by kidney failure, liver cirrhosis, heart failure or even sunburn.  These are clearly very serious situations (yes even the sunburn).  If your hands (and feet, and ankles) remain swollen for more than an hour after your run, it's time to call your doctor to make sure the swelling is not a sign of something more serious.
How do I prevent my hands from swelling when I run?
Now that you know why your hands swell when you run, what can you do to prevent it?
– During your run, occasionally move your arms in a completely different pattern than the normal running arm swing.  Bring your arms up over your head, put them out to the side and perform a few arm circles, or any other exaggerated movement that will encourage fluid that is pooling to move.
– Stretch your fingers wide and/or make fists occasionally to help encourage movement of fluid in the hand
– If your hands tend to swell a lot, consider taking rings off before your run to allow the fluid to move more freely in your fingers.
– Make sure your hydration and electrolyte intake is adequate for your workout and for the current temperature
IN SHORT…swollen hands from running can be obnoxious and potentially even a bit uncomfortable, but most likely it's not dangerous.   If the swelling in your hands becomes problematic or downright painful, please consult your physician to make sure the swelling is not a symptom of something more serious.