Last Updated on March 31, 2022 by Heather Hart, ACSM EP, CSCS
Running is inherently good for our bodies. Running helps improve cardiovascular health, can reduce the risk of cancers and metabolic diseases, helps improve mental well-being, and believe it or not, can actually be good for your joints.
(So you can tell Aunt Jan at the Thanksgiving dinner table that, no, running won't in fact ruin your knees.)
That said, there is a laundry list of minor maladies and strange bodily reactions that may pop up from time to time, leaving new runners wondering what the heck is happening to their bodies. Among the list of unexpected concerns I often hear from newer runners is "why do my hands swell when I run"?
Is it Normal For Hands to Swell During Exercise?
Puffy fingers and swollen hands due to fluid retention are not that uncommon in runners or walkers, especially those running longer distances or who are walking/hiking for a long time. The reason for swelling could be something as simple as increased blood flow, an imbalance of electrolytes, or natural pooling of fluids.
The swelling in your hands can be asymptomatic (you don't even notice until you look at your hands), or it may be accompanied by numbness, pain, itching, tingling, or heat/warmth.
It is important to be aware that the swelling could be indicative of something much more serious, especially if swelling doesn't reduce within a few hours after you finish exercising.
7 Reasons Why Runner's Hands Swell:
The explanation behind why your hands swell while running or walking is most likely due to one of the following possible causes:
1. Increased Blood Flow
When you run, your body naturally diverts blood flow to the more important systems required for running (heart, lungs, and muscles) and away from the less important systems. This is one of the reason why digestion slows down drastically and nausea may occur when you are running: your stomach function simply isn't as important to the body.
As blood flow is diverted away from your fingers (because let's face it, your fingers don't really contribute to the act of running) the blood vessels in your hands respond by opening up wider to try and maintain original blood flow and volume. The widening of those vessels can cause swelling, leaving you with puffy hands.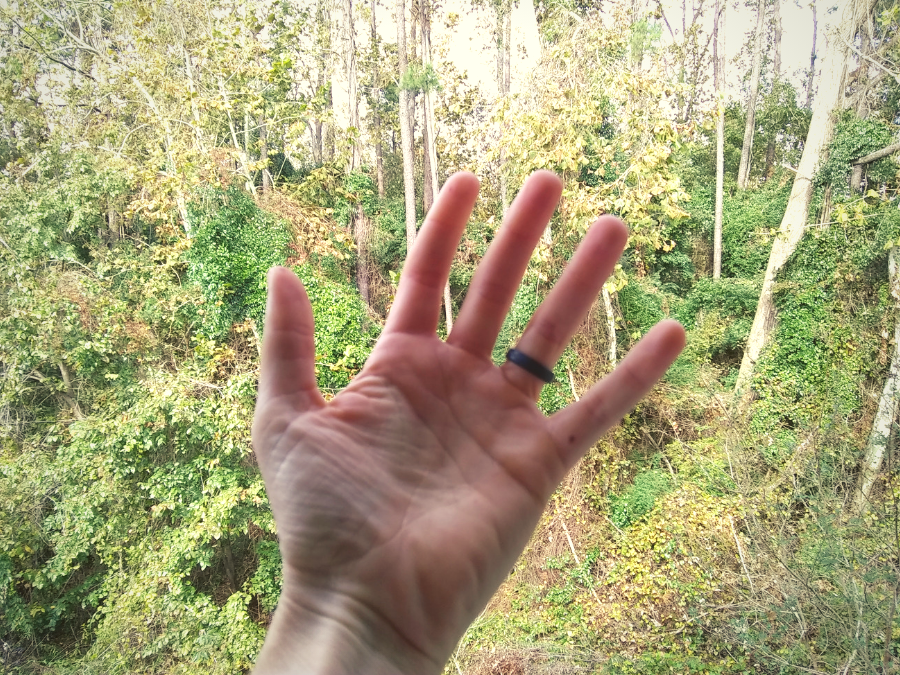 2. Pooling of Excess Fluids
With the increased blood flow mentioned above, there is an increase in the amount of fluids leaking between blood vessels and capillaries into the soft tissue, including that of your hands and fingers. This is very normal.
Further, the swinging of your arms, or even the act of your arms hanging for long periods of time (if you are really efficient and not wasting your energy on the arm swing) can cause pooling of fluids in your hands and surrounding tissue due to gravity. Again, very normal.
These fluids will be reabsorbed by the lymph system, however, that process is also slowed down during exercise. Typically you will see faster reabsorption within an hour after you finish running.
3. Heat Response
When your body temperature increases, the body responds by pushing blood to the vessels closest to the surface of your body, to dissipate heat. These blood vessels swell, and voila, you have swollen hands.
This is why you may notice your hands swelling more while running in hot weather versus cooler temperatures.
4. Hyponatremia
Hyponatremia is a very uncommon – but potentially most dangerous – reason why your hands may swell when running. Hyponatremia occurs when the sodium levels in your blood drop to a dangerously low level.
This can happen if you're diluting your sodium levels by drinking too much water or excess fluid in the form of a sports drink, or if you're not taking in enough electrolytes to offset the salt you're losing through your sweat.
Symptoms of hyponatremia including swelling of the cells, which can cause your hands to swell.
Other signs of hyponatremia include: nausea, vomiting, confusion, dizziness, loss of energy, and muscle spasms. Hyponatremia is considered a medical emergency, so if you suspect your swollen fingers or hands are a sign of hyponatremia, seek medical attention immediately.
5. Allergic Reaction
Swelling of your hands could be a sign of an allergic reaction. It could be due to contact dermatitis (you touched something that is irritating your skin, such as poison ivy), a reaction to a bug bite (such as a mosquito or spider), or something you consumed that you are allergic to.
While the reaction may be minor, it could be an indication of anaphylaxis, a severe allergic reaction, which can be incredibly serious. If you have any reason to believe it may be anaphylaxis (for example, you are allergic to bee stings, peanuts, shellfish, etc. and may have come into contact with those) seek immediate medical attention.
6. Edema Signaling A More Serious Condition
Swelling of the hands, feet or ankles can be caused by kidney failure or kidney disease, liver cirrhosis or liver disease, heart disease, congestive heart failure, or even sunburn. These are clearly very serious situations (yes even the sunburn).
Further, swelling could be a symptom of chronic health conditions, such as high blood pressure, psoriatic arthritis, rheumatoid arthritis, or other health problems involving blood circulation and the vascular system.
While these adverse conditions are rarely the culprit for swollen hands in endurance athletes, it's important to mention them. If you find your hands (and feet, and ankles) remain swollen for more than an hour after your run, it's time to call your doctor and rule out any serious conditions.
7. Post Ambulatory Swollen Hands (POTASH)
Lastly, you may have what doctors and scientists refer to as "post ambulatory swollen hands" (POTASH), which refers to the onset of the asymptomatic hand swelling occurring after the start of, and during participation in, hiking, running, or walking.
Like many things in the world of science, the answer behind why ambulatory hand swelling happens isn't 100% clear. Nevertheless, it's considered not dangerous, and the hand swelling resolves spontaneously, usually within one to two hours, after hiking, running, or walking has been discontinued (source)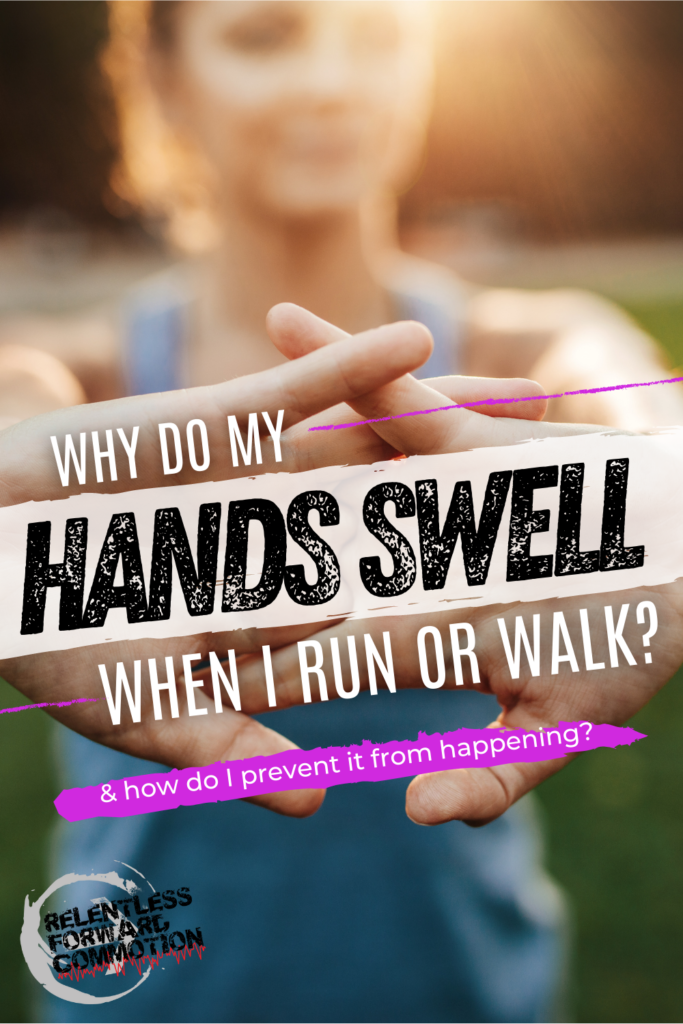 How Do I Stop My Hands From Swelling When I Run or Walk?
Now that you know why your hands swell when you run, what can you do to prevent it?
Move Your Arms. During your run, occasionally move your arms in a completely different pattern than the normal running arm swing. Bring your arms up over your head, put them out to the side and perform a few arm circles, or any other exaggerated movement that will encourage fluid that is pooling to move.
Stretch your hands. Stretch your fingers wide and/or make fists occasionally to help encourage movement of fluid in the hand.
Remove rings. If your hands tend to swell a lot, consider taking rings off before your run to allow the fluid to move more freely in your fingers.
Monitor hydration and electrolyte levels. Make sure your hydration and electrolyte intake is adequate for your workout and for the current temperature
How Do I Get Rid Of Fluid Build Up in My Hands?
Swelling in your hands should resolve on it's own within an hour or two after running, walking, or hiking. You can help speed up that process by doing the same things you would to prevent swelling in the first place:
Move your fingers, hands. Wiggle your fingers, open and close your hand into fists, rotate your hands at your wrists.
Raise your arms above your head, or perform arm circles to stimulate fluid movement.
Remove any rings or jewelry that may be inhibiting fluid movement.
Make sure you are hydrated, and if you've had a long run or race, that you are replacing lost electrolytes through food or an electrolyte supplement.
Final Thoughts:
Swollen hands from running or walking can be obnoxious and potentially even a bit uncomfortable, but most likely not dangerous.
If the swelling in your hands becomes problematic, downright painful, or doesn't go away within a few hours after physical activity,, please consult your physician to make sure the swelling is not a symptom of something more serious.
Related Running Posts:

10 Tips for Treatment & Prevention of Shin Splints

How to Avoid Side Stitches When Running: The Myths & Science Behind Side Stitches

Epsom Salt Baths for Post Run Soreness: Do They Really Work?
Heather Hart is an ACSM certified Exercise Physiologist, NSCA Certified Strength and Conditioning Specialist (CSCS), UESCA certified Ultrarunning Coach, RRCA certified Running Coach, co-founder of Hart Strength and Endurance Coaching, and creator of this site, Relentless Forward Commotion.   She is a mom of two teen boys, and has been running and racing distances of 5K to 100+ miles for over a decade.  Heather has been writing and encouraging others to find a love for fitness and movement since 2009.