Wondering how to train for an Adventure Race? Team Hart is here to help. Our methods may be…unconventional. Messy and chaotic, even. And we're certainly far from experts in this field. But our training approach works for us (in the best/worst kind of way), so I'm happy to share.
With the recent release of the latest Eco-Challenge series featuring Bear Grylls has come a slew of newbies who want to join the wonderful world of Adventure Racing. I can't say that I blame them. My introduction to the world of Adventure Racing came in November of 2019, when I finally gave in to the years worth of relentless nagging from my husband to find a break long enough in my ultra training and racing calendar to give the sport a try.
And long story short, I fell in love. (Thus, the nagging has been forgiven.)
I fell in love with the idea that you could go into an event with very little idea of what to expect. Which if you ask me, is what truly makes it an adventure. You see, with an ultramarathon, I almost always know what I'm up against. I know the distance – even if it's approximate, because ultra RD's don't like to be exact (100 miles, 103 miles, same thing). The terrain and elevation is almost always spelled out on the race website, and if not, a quick google search of past participants reviews will cue you in to what to expect.
But an Adventure Race really is akin to "choose your own adventure" to an extent. You usually know what some of the disciplines will be: trekking, cycling, paddling of some kind. But WHAT the course will look like? And how will you be getting from point A to point B (and C, D, E, etc)? And exactly how many miles will you end up covering? It's often a mystery.
(And it often depends on how well you…or your navigator… can read a map, but I digress.)
How to Train for an Adventure Race:
So, how to we prepare for this crazy, often unknown sport?
Well to start, my husband Geoff and I are avid endurance athletes, having competed in everything from ultramarathons, to road cycling, to triathlons, obstacle course racing, and more. Our weekly training routine typically involves around 4 to 5 strength training sessions, and just as many (if not more) running and/or mountain biking sessions. Oh, and we throw in some morning paddle sessions just because we can (long live work-from-home schedules!)
But at least once a week, we like to "go adventuring". And this singular workout, if you will (if you can call it that), is the crux of our Adventure Race training. It typically involves exploring places we've never been before, no real plan, getting partially lost, angry bike chains and gears full of mud, and carrying a slew of stuff – just because we can. The idea is that this mostly unplanned workout is the missing ingredient to our endurance and strength training that keeps us mentally prepared for Adventure Racing. And if we're being honest – keeps us comfortable with being UNcomfortable. Here's how we do it:
Find Yourself Somewhere To Get Lost
Find a piece of land you are unfamiliar with. Sure, you could hit up your normal trail, but it's far more fun to be in a location that makes you say "wait…have we been here before? That tree looks super familiar. ARE WE GOING IN CIRCLES?"
Make sure the land is either open to the public, OR is private property that you have permission to be on. Don't trespass. Not only is that a jerk move, but you could end up in legal trouble (especially if it's posted).
Once you find this magical plot of undiscovered land: dive in. Become comfortable with reading the land, and recognizing landmarks, rather than relying on traditional trail markers, etc.
Choose the Path of MOST Resistance
Let me preface this section with the following disclaimer: you need to be respectful of the environment in which you train. Don't go traipsing through protected areas, fragile ecosystems, etc.
But that said: bushwacking and bikewacking are certainly one of the highlights of adventure racing, so you should probably get used to it.
Flooded fire road? Go through it! Get used to wet socks and shoes, they are inevitable.
Downed tree across the trail? Don't let this road block force you to turn around, get over it (literally and figuratively) instead.
Field full of thick undergrowth, including prickers, stinging nettles, and other things that want to tear your skin to shreds? You know what to do!
You know you've truly adventured when your hair and/or pack gets hopelessly caught in a tree branch, forcing your training partner to come rescue you. Or when you've lost just one shoe in an unexpected puddle of shin deep mud.
Added bonus: Make Sure Something Breaks
Loose a kayak paddle. Drop your chain 27 times in a row. Make sure your sneaker blows out. You get the idea. Hell, just today we dropped a kayak OFF the roof of our Subaru, and it took out the passengers side mirror on it's way down. A snafu in your adventure not only tests your ability to overcome unexpected difficulties…it also tests your ability to not strangle your adventure partner. I assure you, this is an important racing skill.
Bring a map
If you can access a map to the land you're adventuring on – bring it. Obviously, it's a good idea in case you get lost (which, mentioned above, is encouraged) . But for the sake of Adventure Race training, you can learn to become familiar with comparing topography lines on a map and the real life topography of the land. Personally, I'm a visual learner, so seeing what a spur or reentrant looks like on a map AND then seeing what it looks like "in person" helps me better understand a lot of these terms and features.
Resist the urge to use your phone or GPS. That is, until you get really, REALLY lost. Then…well no one will blame you.
Bonus: Practice Folding that Map!
Learning how to correctly fold a map that is almost bigger than me every time I need to change the view of the map in my waterproof case is one of the most frustrating parts of Adventure Racing for me. OK maybe I'm exaggerating a little. But seriously, practice folding the damn map so that you can see what you want to see while it's in the case. It's such a tiny detail, but you won't regret it.
Be Undisciplined With Disciplines
Adventure Racing really is a "Jack of all trades, master of none" kind of sport. You don't have to be exceptionally GOOD at all of the disciplines. But you should be comfortable with most – if not all – of them. Believe me when I tell you that if you hop into a tandem kayak on race day with little to no tandem experience, you and your partner are going to get irritated with each other REALLY FAST (ask me how I know…). The same goes for your most intimate bits on a bike saddle – you may know how to ride, but if you haven't spent a lot of time riding recently, you're going to be miserable. So what should you do?
Practice ALL of it.
Paddle. Ride. Bushwack. Swim with sneakers on. Learn to read a map while running. Hell, practice climbing ropes, ladders, trees, and even those crazy tyrolean traverses, because chances are, you'll eventually come across one. And then when you do, you won't be looking at your husband going "I have no idea how to even begin to get to the top of this".
Exhibit A: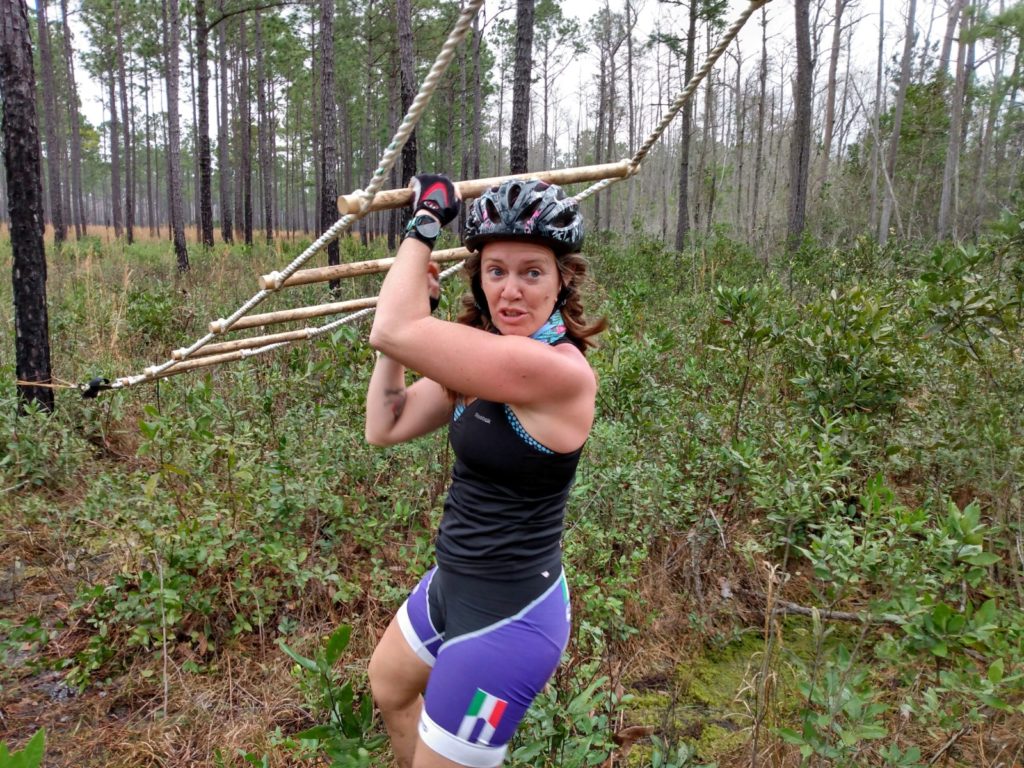 We have no rhyme or reason to what discipline we do on any given day. And for us: that works. Constantly vary your training, because in a race you may have no idea what you may be up against…or when.
Bricks & Transitions
Now, this is where the professional coaching side of me comes out. You COULD follow a very specific training plan, akin to triathlon. But in a triathlon you know what order things are going in: you swim, you bike, and then you run.
In an Adventure Race? There is no standard order. You may start on your bike, then get on a boat, then run a bit, then get back on your bike. Or maybe you'll get back on the boat. And then you'll run with soaking wet feet through an O-course. Who knows!
There is definitely an advantage to practicing bricks with various disciplines. Ride your bike out into the woods, chain it to a tree, then go for a run (this is one of our favorites). Paddle your kayak out to an island, and portage/bushwack it across to the other side. The possibilities are endless.
Constantly Vary Your Adventure Hours
Training in the morning or early evening seems to be standard among the endurance community. It makes sense: most of us have 9-5 jobs we have to show up at, and thus, training has to happen before or after work.
(Oh, responsibilities!)
But there's a ton of benefit to varying your adventure training hours, when and if you can.
If you're running a 12 hour race, you better get used to being out in the midday sun. 24 hour race? Hope you're comfortable with headlamps and night trekking (riding, paddling, etc.) Most experts agree that you can't train your body specifically for sleep deprivation. But you CAN train your mental attitude regarding being sleep deprived. Meaning: you can learn what it feels like to push through that exhausted feeling, and remind yourself that you are capable of it.
So, we like to head to throw workouts and adventures into the most random times of the day possible. Sunset bike rides? Yep! Overnight trail runs? I'd rather be sleeping, but OK!
In short, be safe, but get out there during the "less favorable" times of day. You'll be glad you did.
Have FUN
Above all else, just go out there and have fun. Seriously, there isn't much on earth that is more fun than exploring the wilderness and feeling like a kid again. So go out there. Get lost. Push your limits. And hopefully, find yourself again.
And cheers, to wherever your adventures may bring you.