Last Updated on April 13, 2022 by Heather Hart, ACSM EP, CSCS
I was up fifteen minutes before the 6:00 am alarm clock, and my roommate Jen, a mom of two young kids AND a school teacher, was already up too.   I don't know about Jen, but I was too excited to sleep.  Not only would this be our first full day of the Runner's World Half & Festival weekend, but it would be chock full of trail running.  Yes, trails at the #RWHalf.  You KNOW I was excited.
(For a recap of day #1, click HERE)
We dressed quickly, and thankfully Jen brought some extra warm clothes for yours truly, the perpetually cold runner.  You would think, having lived in Vermont for a huge part of my life, that I'd be accustomed to the cold.  Alas, the third  hottest summer on record in South Carolina…plus the fact that I left most of my winter gear in VT with the intention of getting it later…meant that I was super unprepared.  So grateful again, Jen, that you saved my day!
Our hotel had a great continental breakfast, so we grabbed some food (a cinnamon bun and an English muffin for me, you know this girl runs on carbs) and then hopped in two vans to head just outside of town to the trails at South Mountain.  Bart Yasso was going to give us a quick preview of the inaugural Altra/REI  3.8 mile trail race that was a new addition to the Runner's World half weekend.
When we go there our Altra friends were waiting to give us a quick talk on trail running and a few pointers.  At simply the sight of trails I instantly felt relaxed and at home, but 99% of my fellow blogger friends were strict road runners. In fact, a few had never set foot on trail.  (Then, of course, there was Amy, who had run 70 miles at a trail ultra the weekend before!)
Eventually (but not all too soon, it was very cold!) Bart took off up the mountain, and we followed closely behind.
Coming from New England, and having spent the better part of the last few years racing ridiculous things like 7 Sisters, and climbing double black diamond ski faces for fun in races like O2X mountain racing series and the Spartan World Championships, my mind has kind of warped when it comes to "hills".  When someone mentions "hills",  I tend to expect hands on knees type of climbing, or the type of downhills that genuinely make you fear for your intact femurs.
(*note: the same does not apply to road racing.  On the road, I see an overpass and groan a little. )
Thankfully, this was not the case with the South Mountain trails.  Needless to say, this trail was just perfect when it came to hills and technical footing. I was a happy, happy girl.
We stopped every so often to discuss the trail, the hills ("blueberries in a relatively flat pancake" as Bart called them) and some upcoming Altra product that I absolutely need to get my hands on and test!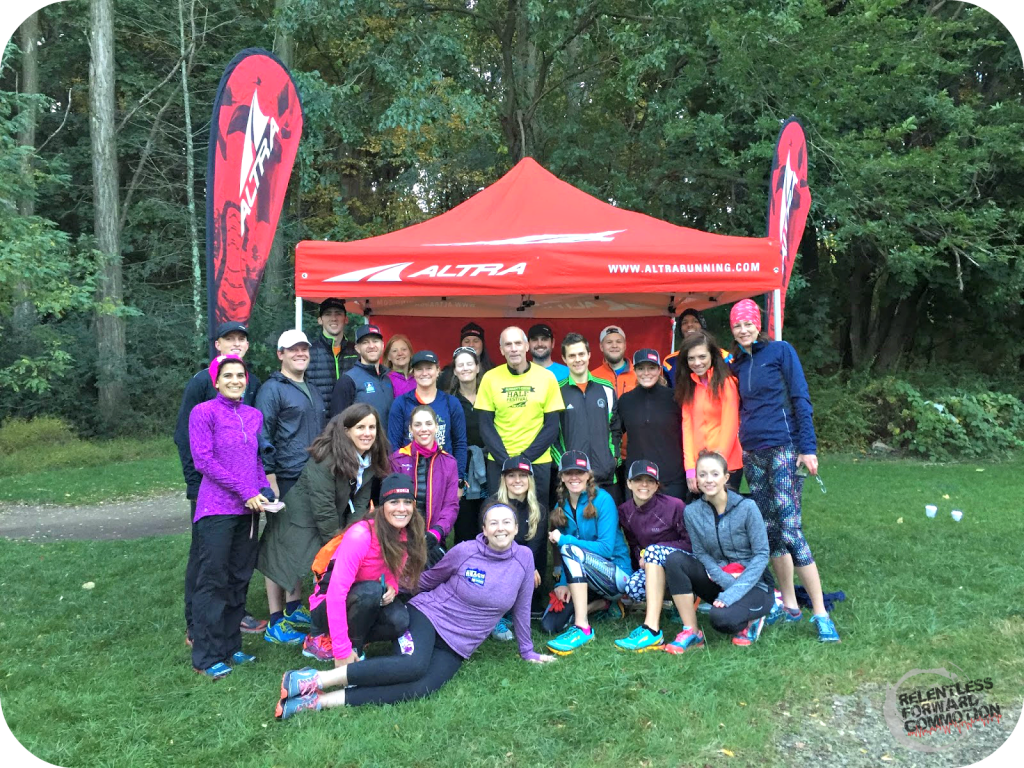 We finished our trail much sooner than anticipated, likely because it was really cold, so we decided to use our extra hour by taking the long way home.  First we stopped at Starbucks…
…then Bart Yasso brought us to his house.
In one of those "my life has taken some very strange twists and turns" moments, we found ourselves in front of Bart's house.   And then inside of it, for an impromptu tour.  Just like his office at Rodale, it was chock full of running memories from around the world.   But among the framed race pictures, medals, and plaques, was a full sized leg lamp, a-la my favorite movie ever, A Christmas Story.
And that is when Bart Yasso officially became one of my favorite people.
Shenanigans aside,  next we headed back to the Arts Quest building, headquarters for the race weekend (and the expo, packet pickup, etc.) for an Altra Running demonstration.    Much more on these shoes in a coming post, but needless to say, even though I've been running in Altra for a while now, Golden Harper completely sold me on the brand this weekend.  So stay tuned for more info.
Budd Coates gave a quick lecture about proper breathing.  There was much discussion on how we use unnecessary energy by breathing from our chest instead of our diaphragm.  It made perfect sense, but in practice must take a lot of …well…practice.  Counting steps per breath goes completely out the window the second I start pushing for time.  But I suppose I can put this on my "to do" list.  For more information, Check out Budd's book "Running on Air".
Lunch was an amazing spread directly out of the new cookbook, "Runner's World Meals on the Run: 150 energy-packed recipes in 30 minutes or less
" (affiliate link).  While shoveling avocado pasta into my face, we were honored with the presence and story telling of Deena Kastor.  For those of you who might not know, Deena is an Olympic bronze medalist in the marathon, and also holds the title of the only American female to run a sub 2:20 marathon.  Just two weeks ago she set the female WORLD masters record with a 2:27:47 marathon in Chicago.  That said, she was an amazingly motivating, down to earth woman who candidly discussed her love for her nightly glass of wine, and cried (actually, made us all cry) when talking about the "mom guilt" she feels when it comes to her daughter and running.
After lunch, it was time to head back to the hotel to get ready for the trail race. My stomach was full of pasta and my legs were ready to GO.  Stay tuned for the first race report, coming up next…
Disclaimer: Runner's World invited me on this amazing trip as their guest. However, all opinions expressed are always my own.
Heather Hart is an ACSM certified Exercise Physiologist, NSCA Certified Strength and Conditioning Specialist (CSCS), UESCA certified Ultrarunning Coach, RRCA certified Running Coach, co-founder of Hart Strength and Endurance Coaching, and creator of this site, Relentless Forward Commotion.   She is a mom of two teen boys, and has been running and racing distances of 5K to 100+ miles for over a decade.  Heather has been writing and encouraging others to find a love for fitness and movement since 2009.