Last Updated on August 12, 2023 by Heather Hart, ACSM EP, CSCS
Are you hoping to run a trail marathon, and want a detailed training plan that combines both running and strength training? I've got you covered.
Hi, I'm Heather Hart, and I personally wrote this comprehensive 20 week trail marathon training plan. I have a BS in Exercise & Sport Science, and I am certified as an Exercise Physiologist (ACSM EP), as well as a Certified Strength & Conditioning Specialist (NSCA CSCS). I've been coaching runners since 2015, and I hold both the RRCA Run Coaching certification, and the UESCA Ultrarunning Coach certification.
Together with my husband, I created Hart Strength & Endurance Coaching in 2017. We have helped hundreds of athletes reach their training and racing goals, from first 5K's to first 200 milers and beyond.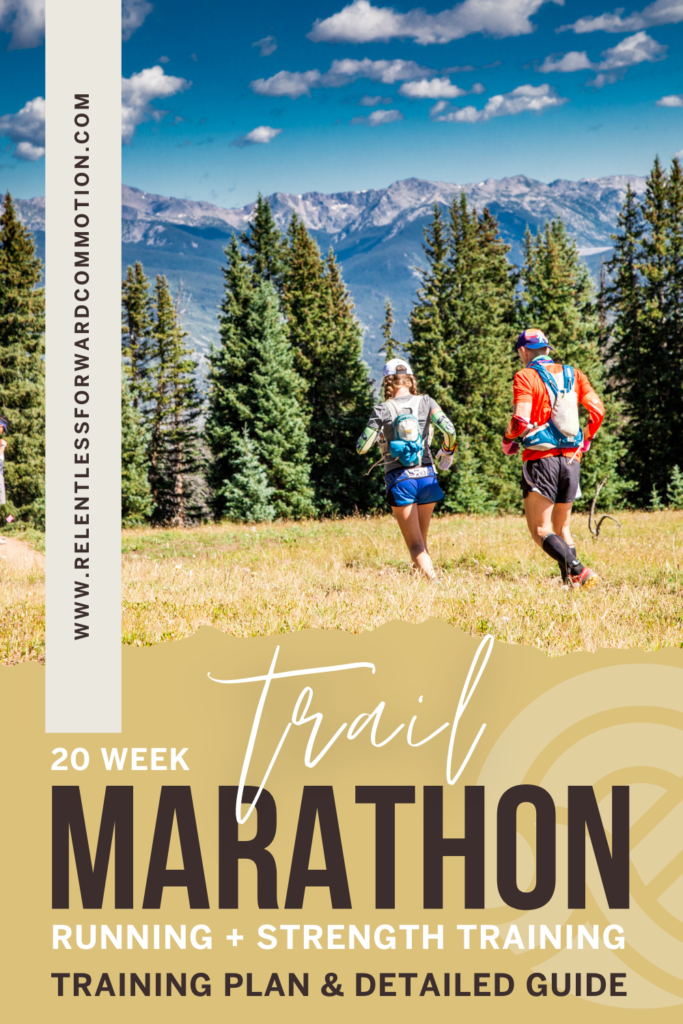 And as a runner, I've run fast road 5K's (well, fast for me) to trail 100 milers, and pretty much everything in between. I was exclusively a road runner for around 4 years at the start of my running journey, before falling in love with trail running.
Whether or not you're a long time road runner looking to transition to the trails, or a newer runner who decided to dive right in with a trail marathon, it is my hope that this training plan and guide will help you reach the finish line.
In this post we'll cover:
What makes this training plan different from the others?
Who is this trail marathon training plan for?
How is training for a trail marathon different from a road marathon?
10 expert tips for your trail marathon training journey
Details about this training plan, including workout explanations
Downloadable trail marathon training plan PDF
What Makes this Trail Marathon Training Plan Different?
There are dozens of other trail marathon training plans floating around on the internet, so what makes this one different?
This plan combines both running and resistance training programming to progressively build both your endurance and strength, to help you successfully finish a trail marathon.
While this plan isn't individualized to a specific athlete, it's far more specific than a simple plan with increasingly longer runs.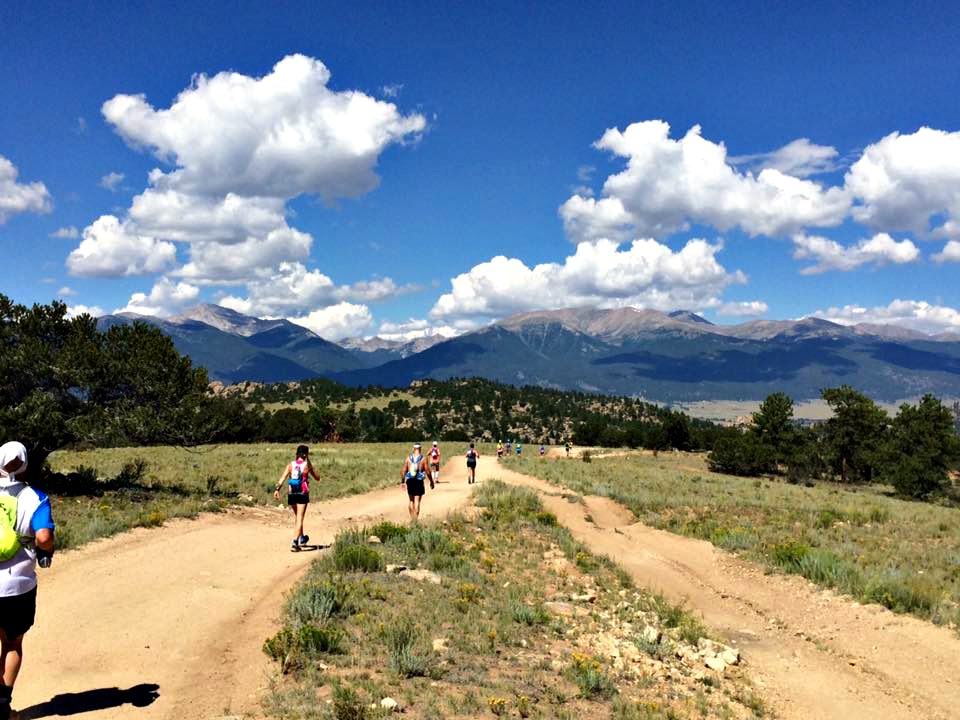 Who is this Trail Marathon Training Plan For?
This trail marathon training plan was written with the beginner to intermediate runners in mind. It is ideal for:
First time marathon runners
Those who have run a marathon, but are looking to run their first trail marathon
Those who have run a trail marathon, but would like more structured training to improve their finishing time.
Ideal Baseline Fitness Before Beginning this Training Plan:
Before beginning this trail marathon training plan, runners should be able to comfortably cover a 6-8 mile long run on trails, as well as covering at minimum, 15-20 miles per week for multiple weeks, while remaining injury free.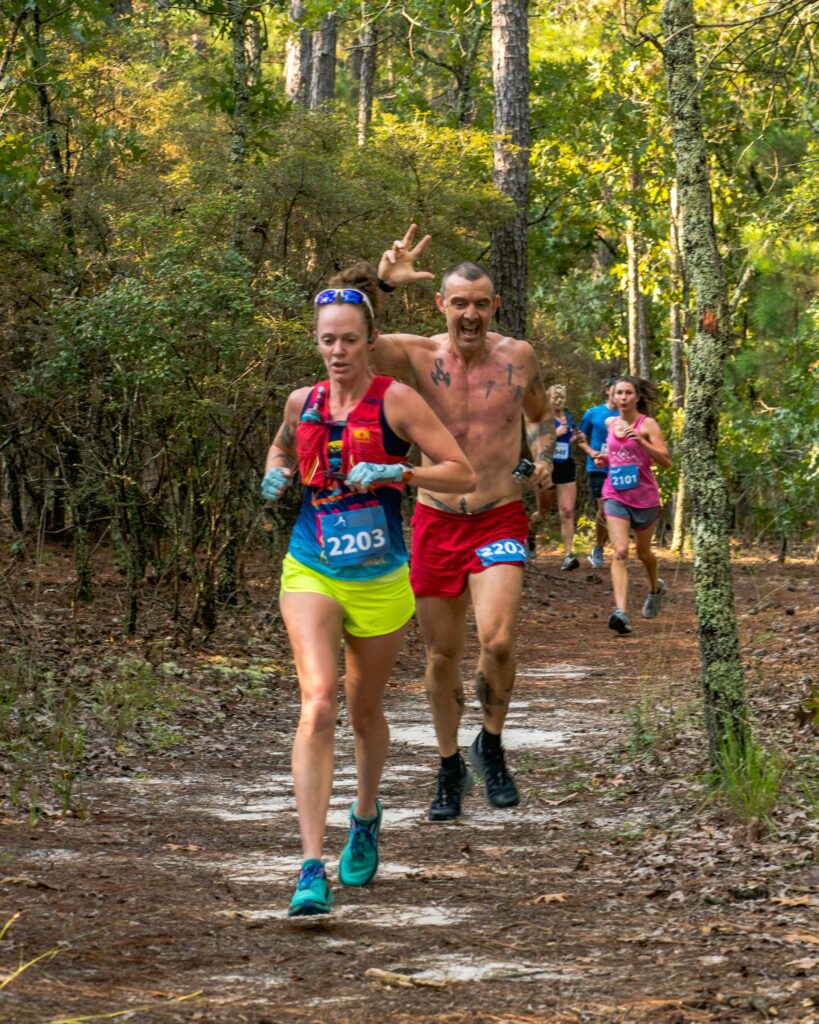 Should You Complete a Road Marathon First?
There are absolutely ZERO rules that say you have to complete a road marathon before training for or attempting a trail marathon! As long as you put in the specific training effort to run 26.2 miles on trails, your first official marathon can certainly be off-road.
Should You Complete a Half Marathon First?
You do not necessarily have to complete an official half marathon race before deciding to train for your first trail marathon. You will, however, be covering the 13.1 mile distance (and then some!) in this training plan.
So, if you want to incorporate an official half marathon race into your marathon training, you are welcome to do so!
However, as mentioned above I do recommend that you are successfully logging 15-20 miles per week regularly, for at least the last few months, before attempting to train for a full marathon.
If you feel as though you aren't quite ready to train for a trail marathon, consider starting with our 12 week Trail Half Marathon Training Plan for Beginners
Should I Work With a Coach or Use a Training Plan?
Running coaches are not reserved only for elite athletes – any runner, with any running background or experience, can benefit from working with a running coach
However, there are also a number of reasons why a runner may prefer to use a training plan, rather than work one-on-one with a coach.
Ultimately, the decision to work with a coach or follow a training plan (like this one) is up to you. If you aren't sure, I highly suggest reading the post "Need A Running Coach? 25+ Expert Tips To Find Your Perfect Coach".
Alternatively, feel free to reach out to us at Hart Strength and Endurance Coaching to see if working with one of our experienced trail running coaches might be a good fit for you.
How is Training for a Trail Marathon Different from a Road Marathon?
The major difference between training for a trail marathon compared to a road marathon is that you will need to do some of your training runs on trails.
In this plan, I have designated specific days to run on the trail. It's important that you become comfortable with the nuances of trail running, such as learning how to not trip on rocks, or how to duck last minute under spider webs.
What Type of Trails Should I Train On?
Here's a few things to consider when choosing the trails you train on:
Race Course Specificity:  Not all trails are created equal.  To set yourself up for race day success, you definitely want to spend time on trails that mimic the terrain of your goal race course.  So, if your trail marathon is on gnarly, root covered single track, but you've spent most of your time on dirt covered cart path, you're going to want to seek out similar race terrain to train on. 
Trail Experience: Newer trail runners are going to need to spend more time training on trails than a more experienced trail runner. The more experience you have running on trails, the higher developed your sense of proprioception (balance, equilibrium, etc) and general trail running skills will be. This comes with time – more experienced trail runners can afford to spend less time training on trails IF necessary.
How Often Should I Run on Trails?
In general, I tell my runners to aim for about 30% of their weekly mileage on the trail. If you're running a 40 mile week, that equates to about 12 miles on trail.
Again, specificity matters: more trail running is better, if you can make it happen.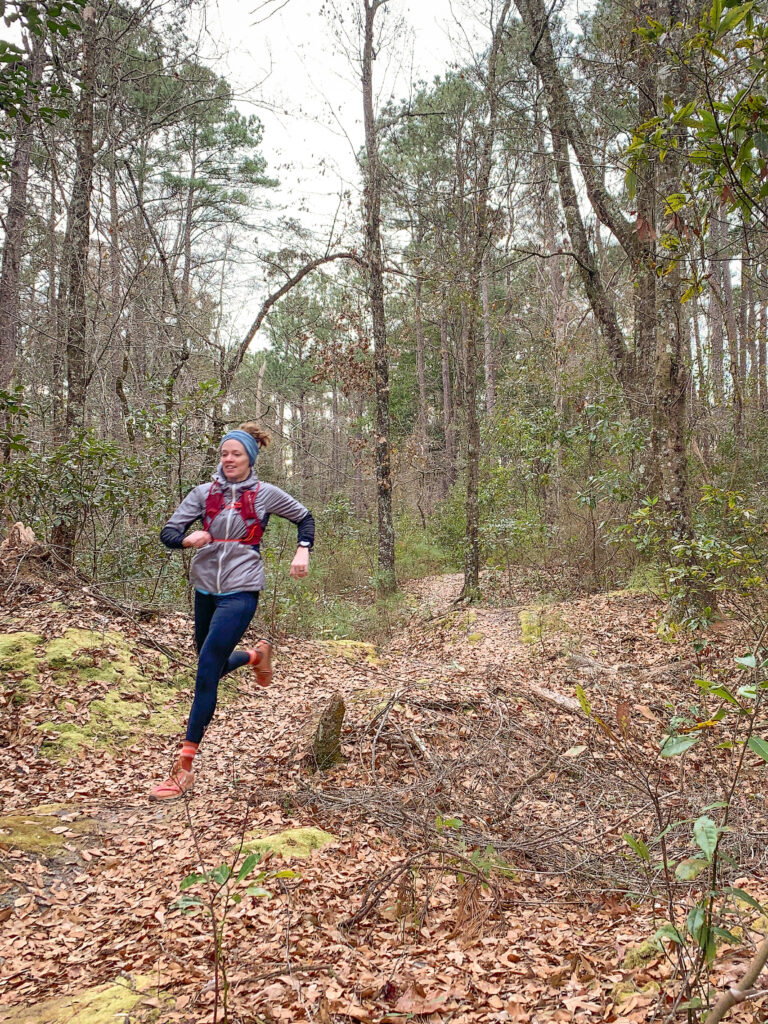 Is Trail Running Harder than Road Running?
In many ways, trail running may initially feel harder than road running. This is because:
Dirt, sand, and gravel trails absorb more force and provide less rebound compared to pavement or concrete, your muscles (such as the quadriceps, hip flexors and gluteus muscles) are forced to work harder in order to run at the same pace.
The terrain of many trails tends to vary greatly compared to that of road running – especially if you are running on a trail that also serves as a mountain biking trail (lots of switchbacks and short, punchy hills!)
Speaking of the terrain, trails tend to have more obstacles in your way that you have to maneuver over, around, or even under. Rocks, roots, downed trees, and even streams will keep you on your toes, making trail running a mentally more stimulating (or difficult, depending on how you choose to view it!) task compared to road running.
What if I Can't Run on Trails?
Now, I realize that not everyone has easily accessible trails to run on. If that is the case, do your best to incorporate trails or off road running as much as you possibly can, but don't stress if you can't do every trail workout ON the trails.
Remember: logging miles on ANY surface is going to improve your cardiovascular endurance.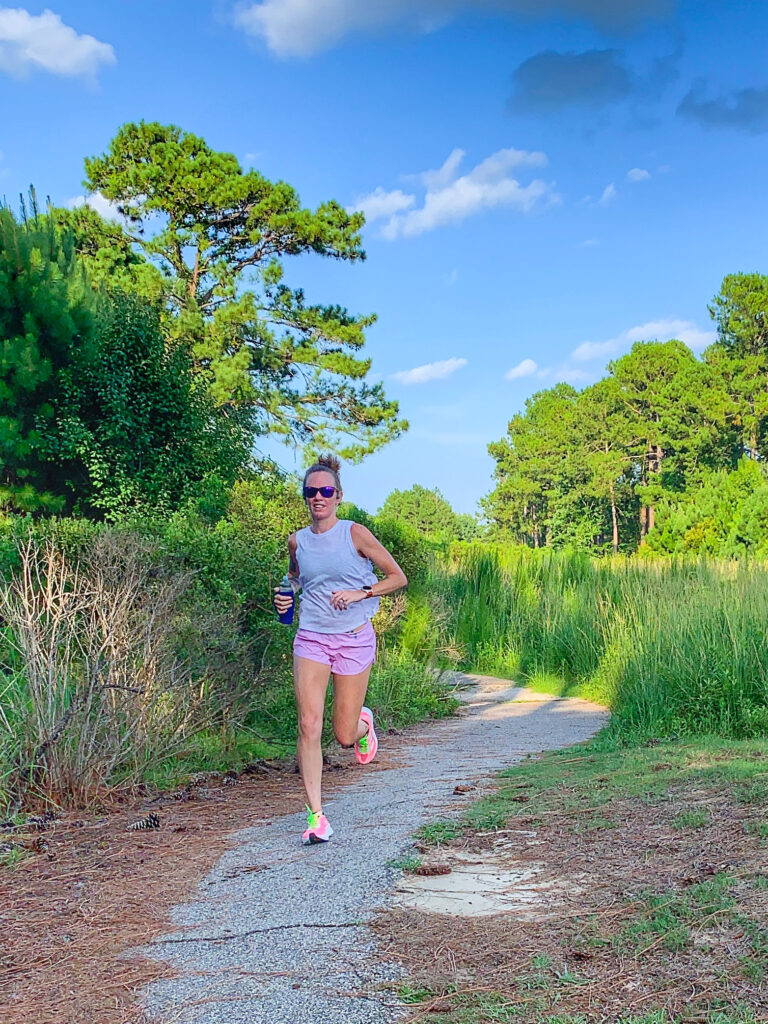 Running speed or interval workouts on the road or treadmill, where these smooth surfaces can challenge your body to practice an even faster pace, as well as cadence/turnover, without obstacles slowing you down, can help make you a faster and stronger runner. You can also practice hill repeats and climbing on these surfaces as well
7 Expert Tips for Your Trail Marathon Training Journey:
Before diving into your trail marathon training journey, here are ten important tips to keep in mind:
1. You Need to Run on Trails (some of the time)
I know I'm beginning to sound like a broken record here, but as mentioned above, you should practice running on trails similar to that of your race terrain, at least some of the time.
This will help your body get used to the nuances of trails, from both a physical and neuromuscular point of view. Trail running – especially on more technical terrain – does not always come as naturally as one might expect. Having a few training sessions on the trail before race day will make a world of difference in your comfort level during your trail marathon.
2. Get the Right Shoes
Take the time to get fitted for the right pair of shoes for you and your body, if you haven't already. You are about to put a significant amount of mileage on your body – and your feet – over the next 20 weeks. Starting this trail marathon training plan with a fresh pair of well fitting shoes will potentially ward off any pain or discomfort due to common shoe running issues.
Related posts:
3. Don't Compare Your Trail Pace to Your Road Pace
Chances are your trail running pace is going to be slightly – if not significantly (depending on terrain) slower than that of your road running pace. And there's a number of reasons for this.
First of all, as mentioned above, the terrain of a trail is typically much softer, and will absorb more force and provide less rebound compared to pavement or concrete. This forces your muscles to work harder in order to run at the same pace.
Second, the terrain, such as hills, rocks, or even sharp corners can slow your momentum.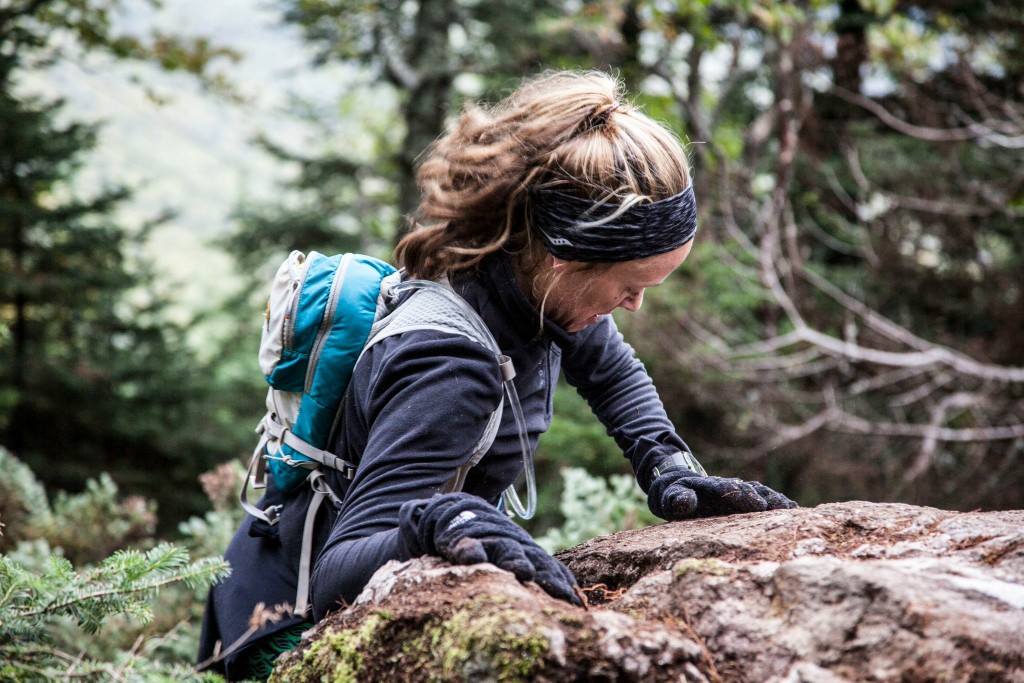 Lastly, no two trails are the same. So you might run a 1:45 half marathon on a flat, wide open trail….but it takes you 3 hours to cover the same distance on a course that ascends a few mountain peaks.
4. Pick Up Your Feet!
The secret to avoiding falls in the first place? Pick up your feet! I think this is one of the hardest transition factors for many road runners. On the road you only have to look out for the occasional pothole.
On the treadmill? Nothing should get in your way, you can shuffle all day, even as your legs get tired, with nary a worry but potentially scuffing the tread on your sneakers.
If you shuffle on the trail, however, you are going to fall. So practice looking ahead at the trail in front of you, and really picking up your feet.
Related posts:
5. Train With Your Gear
Practice with the gear you intend to use during your trail marathon. Race day should not be the first time you try on your hydration vest, or bust out your trekking poles (if you choose to use either one).
While you certainly don't need to practice with these during every workout, incorporating them into some of your workouts will ensure you are able to comfortably and efficiently use them on race day.
Related Posts:
6. Learn Trail Running Etiquette
Following basic trail running etiquette ensures an enjoyable experience for all trail users, as well as ensuring the integrity of the trail for future users.
Follow all trail markings, and heed to signs
Stay on trail
Stay to the right, pass on the left
Yield to slower traffic
Leave no trace: carry out what you carry in
Leave wildlife alone
If you use music, keep it low
For a more in-depth explanation on trail etiquette – and why it's so important – please check out the post Trail Running Etiquette Tips.
7. Know How to Stay Safe on Trails
Let's be honest, almost everything fun and exciting in life is somewhat inherently risky. Trail running is no different. There are indeed a number of things that could go wrong when running on trails, from simply tripping over a root, to getting caught above the tree line in a storm.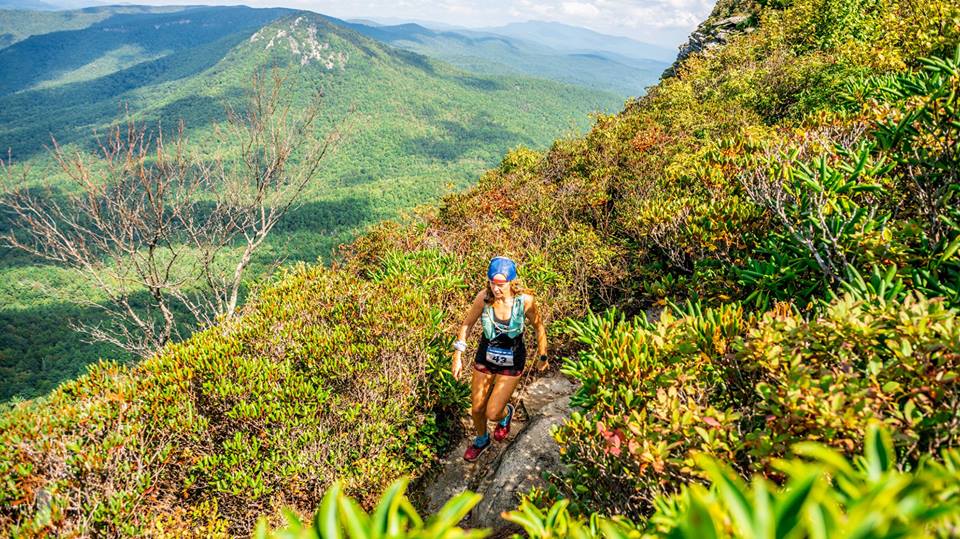 Visit the post 8 Trail Running Safety Tips Every Runner Needs To Know to learn basic trail running safety tips to help minimize the risks of danger while trail running.
About This 20 Week Trail Marathon Training Plan:
Here are the nitty gritty details of the time commitment, training structure, and types of workouts included in this 20 week trail marathon training plan
The Time Commitment:
This training plan includes 6 suggested days of workouts a week, over the course of 20 weeks. Breaking that down even more, each week includes:
4 running specific workouts
2 strength training workouts
1 active recovery day
1 full rest day.
The plan starts with a weekly total of 15 miles, plus 3 hours of cross training. At the peak of training, you will cover approximately 42 miles plus 3:15 of cross training in a week.
DISCLAIMER:
The following training plan is designed for educational purposes, and is not a prescribed training plan for any particular individual. While I am a certified exercise physiologist and RRCA running coach, and have designed this training plan with safety in mind, you should understand that when participating in a trail marathon training program, there is the possibility of physical injury.

If you engage in this training plan you agree that you do so at your own risk, are voluntarily participating in these activities, and assume all risk of injury to yourself. You should consult your physician or other health care professional before starting this or any other fitness program to determine if it is right for your needs.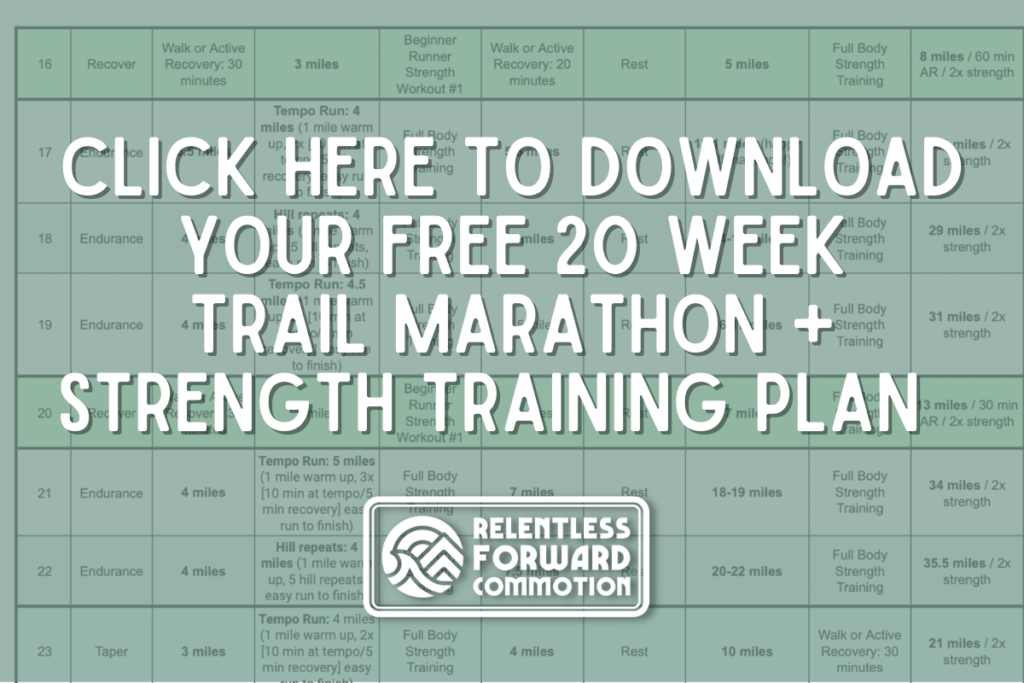 Phase 1: Base Building, Weeks 1-4
The goal of phase 1 is to slowly start building up your base fitness, while getting used to following a training plan.
You will follow three weeks of building, both in running and strength training, followed by a cutback week, to allow your body to rest and make physical and neurological adaptations to your training.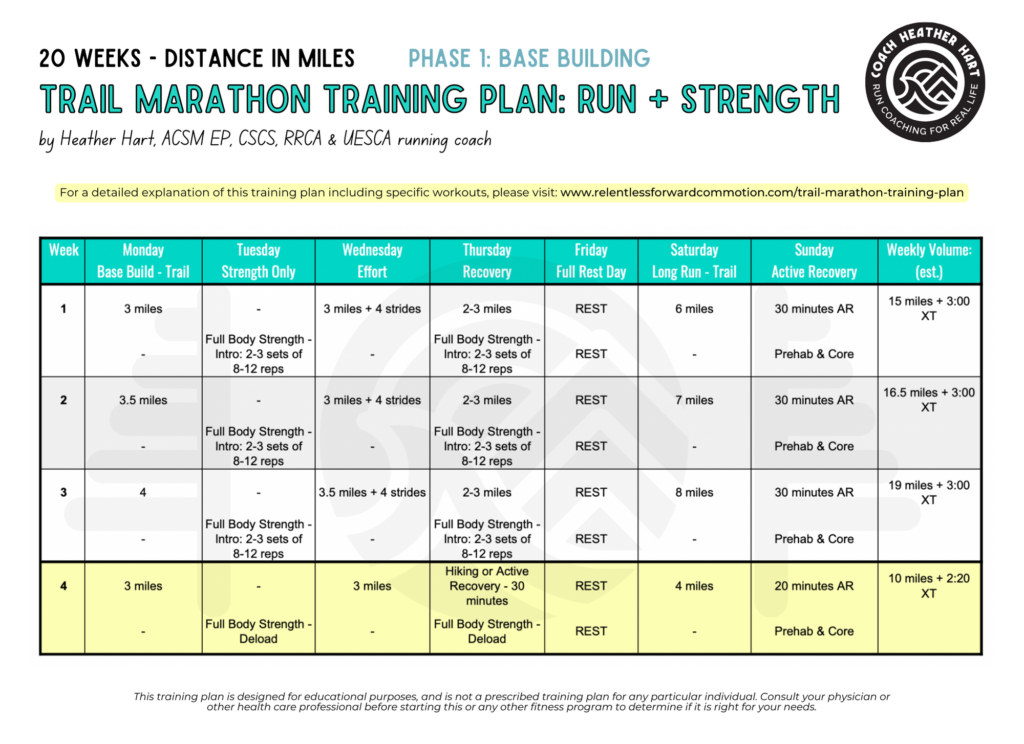 Phase 2: Aerobic Capacity, Weeks 5-8
Now that you've got a solid base under your trail running belt, it's time to work on building aerobic capacity, and focusing on hypertrophying muscle tissue.
This will be done by incorporating VO2 max specific running workouts, and changing your reps/sets/rest scheme during your strength training to a hypertrophy focus.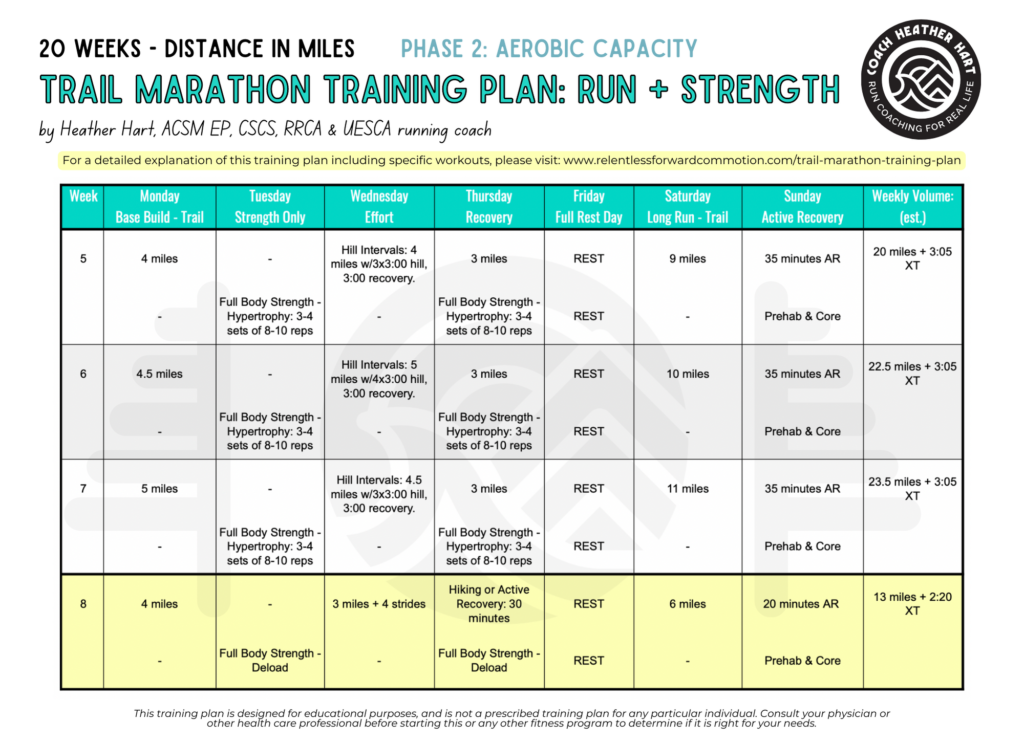 Phase 3: Lactate Threshold, Weeks 9-12
Now that you've improved your aerobic capacity, we're going to continue to increase your fitness by focusing on increasing your lactate threshold.
On the strength training end, we'll be moving onto to a strength building focus.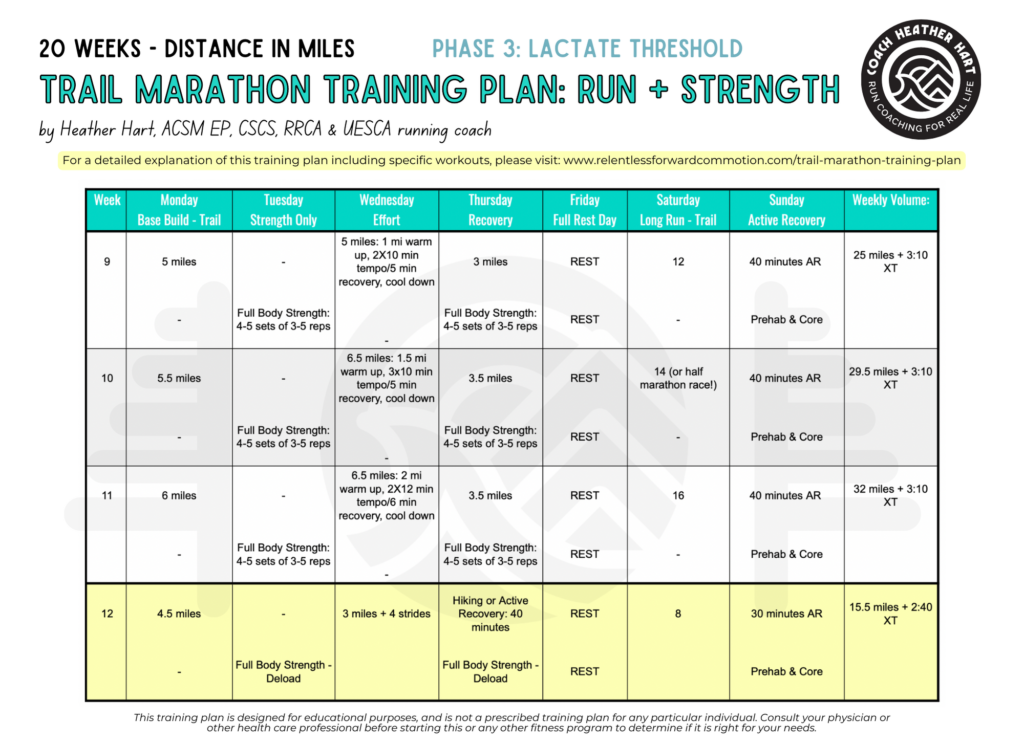 Phase 4: Endurance + Specificity, Weeks 13-16
Now, it's time to get into the specifics of your trail marathon training! Let's build endurance with longer running workouts. This is now the time to really focus on including trail runs that mimic the terrain of your trail race, if possible.
From a strength training perspective, we're switching to a power focus. To make this simple for those who don't have a lot of strength training experience, we'll incorporate plyometrics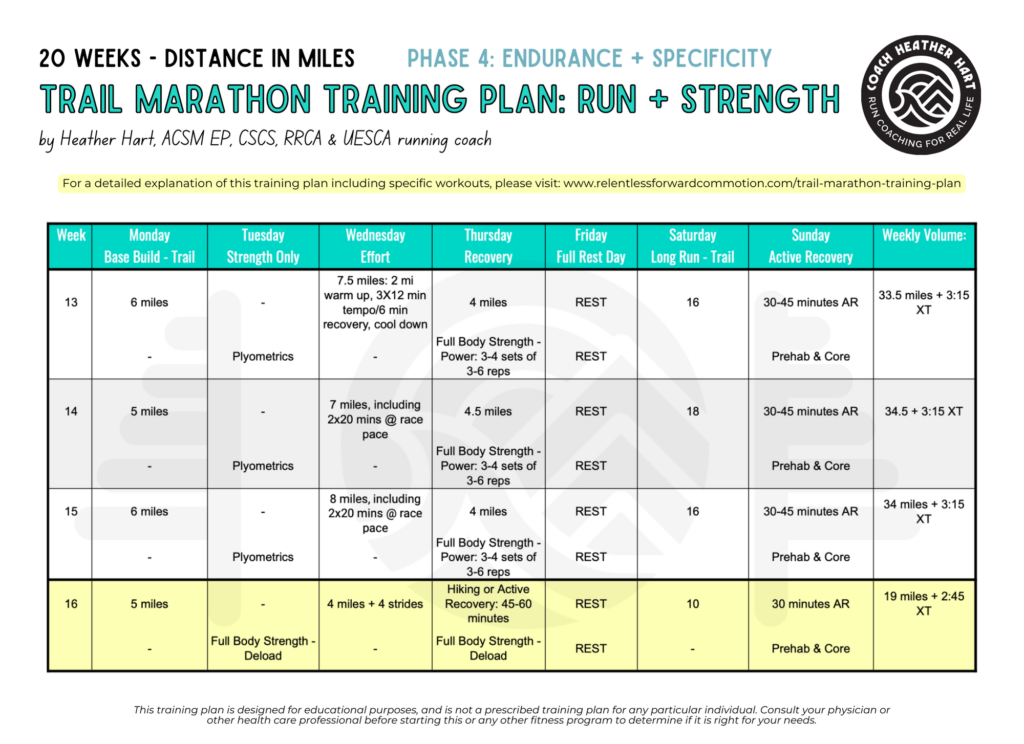 Phase 5: Peak to Taper, Weeks 17-20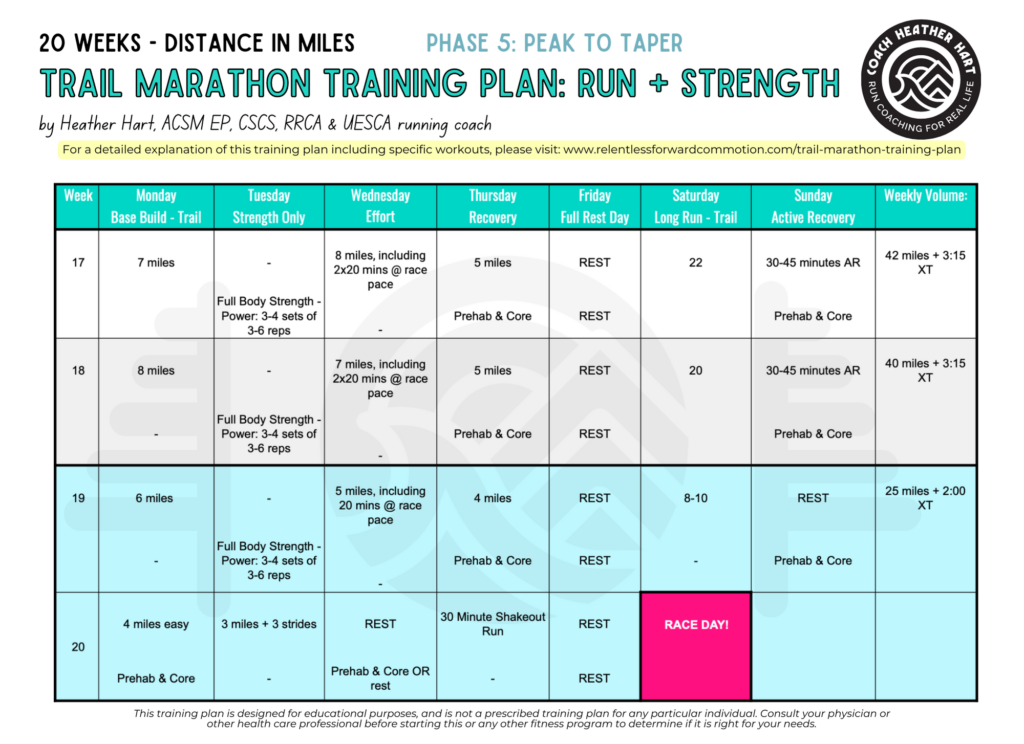 The Workouts:
Below are descriptions of the types of workouts included in this training plan:
Base Building Runs
The majority of your runs will be base building runs, and should be done at an easy, aerobic pace. I tell my clients that they should run these at a "conversational pace". In other words, a pace where you could easily carry on a conversation with a running partner, without feeling as though you are gasping for breath or struggling to speak.
Keeping the majority of your runs at this lower intensity will help prevent injury and burnout as you begin to push the larger weekly mileage volumes, and the longer distance long runs, both required of trail marathon training.
The aerobic zone also encourages fat oxidization (using stored fat for fuel), capillary building, and building a solid endurance base. This is essentially where you become better at running slow miles for a long time.
Strides
Strides are a running drill where an athlete progressively increases their speed from an easy jog to about 80-95% of maximum speed, then gradually slows down to a stop, all over the course of about 20-30 seconds.
Rest after each effort for HR to come back down. When doing strides, concentrate on form and posture.
Related post: Running Strides: A Simple Drill With Serious Results
Interval Runs
Interval running workouts are exactly what they sound like – workouts that alternate intervals of running at varying intensities or speeds. Typically a harder effort interval will be paired with a recovery interval, at varying durations.
The purpose of running intervals is to maximize the body's exposure to stress at a given intensity. Because harder intensities can only be sustained for a short amount of time, repeating the intervals gives us the opportunity to log a larger combined total time at the desired intensity. And that accumulated stress, when done properly, results in physical adaptations.
For more instructions on how to complete this workout, please visit the post VO2 Max Interval Running Workouts For Ultrarunners: Why & How To Incorporate Intervals Into Your Training
(Note: while that post was written with ultrarunners in mind, the workout still applies to trail marathon training!)
Tempo Runs
Tempo running workouts or "tempo runs" are workouts done at an intensity just below or at your lactate threshold, with the purpose of improving your lactate threshold.
For more information on tempo workouts, and how to incorporate them into this plan, visit: Tempo Running Workouts: Why & How To Add Tempo Runs To Your Training
Long Runs
Long runs are truly where your body adapts to running for long periods of time, physically and mentally, and are a cornerstone of marathon training. Just like base building runs, long runs should be done at an easy effort pace.
Further, long runs are the perfect "dress rehearsal" for your race. Long runs give you an opportunity to experiment with – and perfect – nutrition and hydration plans, anti chafing products, new shoes or shorts…you get the idea.
Strength Training
Strength training is imperative for injury prevention, and building an all around strong, balanced athlete.
In this plan, I give suggestions of strength training phases you should follow along with your trail marathon run training. However, because access to equipment, as well as strength training experience can vary SO greatly from one individual to the next, I have no programmed exact exercises.
For more information on how to put together your own strength training plan, please visit the post Simplifying Strength Training For Ultrarunners: 7 Moves To Balance Lifting & Running (again, this fully applies to all runners, not just ultrarunnes.)
Prehab & Core
Prehab & Core includes all of those "not necessarily easy, but not terribly difficult" maintenance exercises runners seem to enjoy, such as planks, clamshells, and monster walks.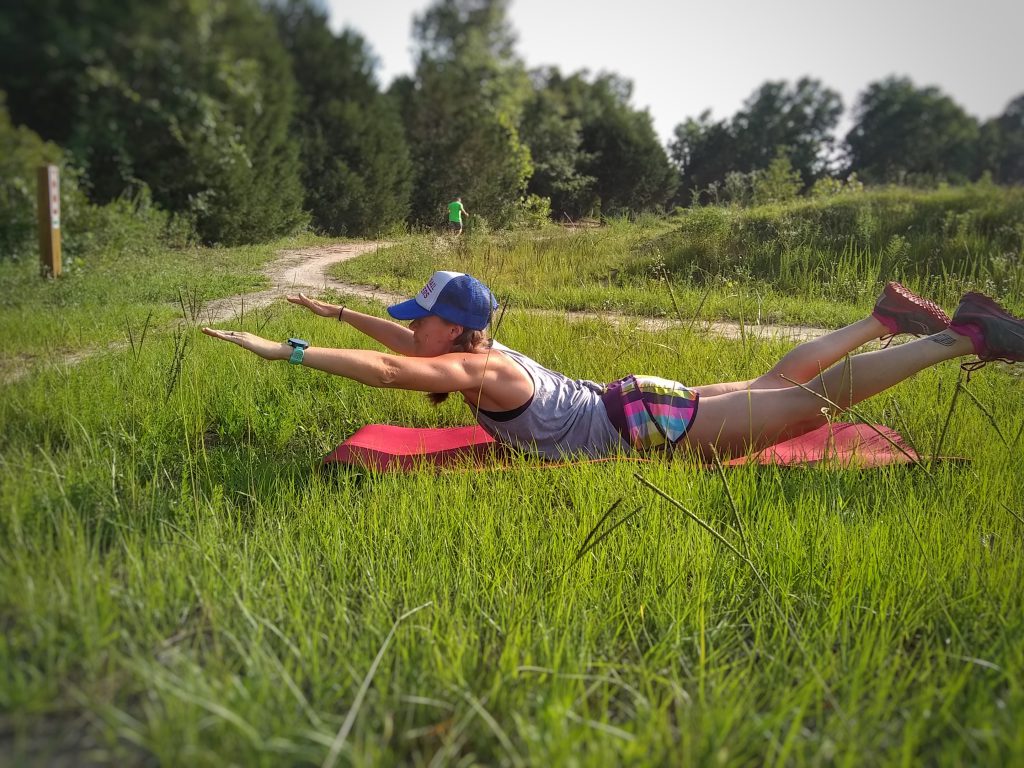 For an example of some exercises you can include during this workout, visit the post: 8 Core Strengthening Exercises For Trail Runners (No Equipment Necessary)
Plyometrics
Plyometrics are quick, powerful movements that typically involve very short periods of ground contact, and high force production (meaning: how quickly your muscles can exert force).
Some examples of plyometrics exercises that most people are familiar with include jump squats or box jumps.
Plyometrics train the muscles, connective tissue and nervous system to effectively carry out the stretch-shortening cycle, and can improve performance in most competitive sports .
For more information, and for examples of plyometrics workouts to include in this trail marathon training plan, visit the post Plyometric Exercises For Runners: 20 Best Plyo Moves To Add To Your Workout.
Active Recovery (AR)
Active recovery workouts are designed to help promote blood flow, encourage healing, stimulate cardiovascular endurance, but remain low impact. Workouts like: swimming, biking, hiking, yoga, elliptical, etc. are all great options. Keep the effort on the lighter end.
Alternatively, if you are feeling tired, or simply feel your body is in need of another rest day, you can substitute AR days with a rest day.
Rest Days
Rest days are the day in which you will abstain 100% from training.
A common misconception among many runners is that more running = stronger runner, and therefore, many runners loathe rest days for fear that time off will make them lose progress. This couldn't be further from the truth.
Rest days are an integral part of the training process. During rest days, your body recovers from the physical stress of workouts, rebuilds damaged tissue, and becomes stronger.
Where Can I Find More Training Info?
I'm glad you asked! I have been writing and maintaining this site since 2009, and it is chock full of running, racing, and training advice. To start, check out the "Running Tips" page, as well as the "Trail Running" specific section.
If you have a question that hasn't been covered, feel free to leave a comment below, and I will get back to you ASAP!
Further, if you've used this plan and enjoyed it, I'd love to hear your success stories!
Heather Hart is an ACSM certified Exercise Physiologist, NSCA Certified Strength and Conditioning Specialist (CSCS), UESCA certified Ultrarunning Coach, RRCA certified Running Coach, co-founder of Hart Strength and Endurance Coaching, and creator of this site, Relentless Forward Commotion.   She is a mom of two teen boys, and has been running and racing distances of 5K to 100+ miles for over a decade.  Heather has been writing and encouraging others to find a love for fitness and movement since 2009.