Last Updated on January 22, 2022 by Heather Hart, ACSM EP, CSCS
After months of ongoing issues with my feet, I finally made the realization that I needed to vary my running footwear from its then current routine.  But as I stood staring into the abyss that is my running shoe closet, I realized that I had what felt like hundreds of road and gym shoes, but only three pairs of trail shoes.  One pair was not nearly enough "shoe" for long distance, and the other two were the shoes I believed to be guilty of giving me the issues in the first place.
I realize that sounds utterly ridiculous to you non-runners, but trust me when I say this is completely normal, especially those of us who "run for a living" albeit in my case, it's in a very round about way (I'm not winning races. Just writing about them.)  It would be akin to opening your closet full of clothes and declaring you have "nothing to wear".   I mean, technically, you have plenty to wear…but nothing that fits your specific needs for that day.  The running shoe struggle is real.
So here I was in a predicament where I needed some new shoes, and I needed them fast.  It was time to dig out the debit card and head to my local running shop (Black Dog Running Company, if you are ever in town, you should stop by and check them out!)
As I walked into the store I declared boldly with the authority of a blogger who reviews shoes often and seemingly knows her stuff "I need new trail shoes. I DO NOT want HOKAs.  Anything but HOKAs." BDRC had become notorious for putting local runners in HOKAs…or local runners had become notorious for heading to BDRC specifically seeking out HOKAs, I'm not sure. But seemingly half of our local running group was suddenly sporting HOKAs, and for good reason, of course, they truly do work for people.   Heck, the owner even named his new puppy, a black lab of course, Hoka.  Isn't she cute?
But I hadn't had the most positive experience with HOKAs in the past, and I didn't want to go down that road again.  Daniel Brass, the owner of BDRC, had me try on a few other pairs of shoes, none of which I was completely sold on, before suggesting that maybe I just *try on* a pair of HOKA Challenger ATR 2's.   After all, a quick jaunt around the parking lot wouldn't hurt anything, right?
Long story short, I bought the HOKAs.  Proverbial foot in mouth.   And I surprisingly really, truly enjoy them. Borderline love, but not quite.  Let me tell you about it.
SPECS:
Neutral Shoe
Weight: 7.8 oz (based on Women's size 9)
Offset: 5 mm (Forefoot: 23 mm/Heel: 28 mm)

Closed Air Mesh Upper Provides Added Protection on the Trail
Seamless No-Sew Midfoot Support
Ortholite® Insole
Early Stage Meta-Rocker
Oversize EVA Midsole Provides Lightweight Cushioning
4mm Lugs Provide All-Terrain Traction
Podular Outsole Design Provides Stability on Uneven Terrain
Also: comes with a box, quite popular with cats.
FIT:
If you recall my last HOKA review (the original Cliftons) I had huge issues with sizing.  The HOKA Challenger ATR 2's fit true to size…I think.  I won't lie, I've worn size 10's for my entire adult life.  Though over the last year it seems my feet have grown about a half a size…but I'm only having difficulty fitting into certain brands.  Regardless, the Challenger ATR2 size 10 fits me perfectly, thus I'm leaning towards saying that this model fits "true to size".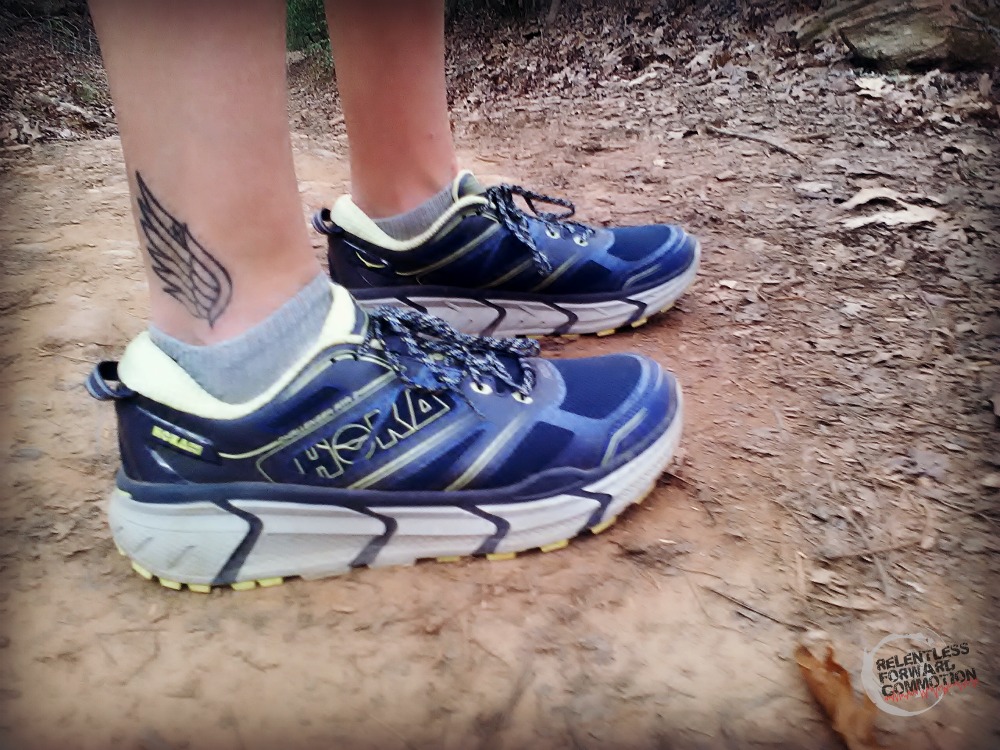 REVIEW:
The most interesting thing to me about HOKA's is that they do not feel anything like they appear.  I often hear people say "oh I would trip all over the trail in a shoe with a sole that tall"  And it's no wonder people have that misconception, these "maximal" shoes do indeed look like they are some sort of sneaker version of a platform shoe.   But for me, they don't actually feel like a platform shoe. I find no difference in my gait, or more specifically, how high I have to lift my feet off the ground to avoid tripping over rocks and roots.  Perhaps that is simply the result of being used to lifting my feet (and not shuffling) as an almost full time trail runner these days.  Regardless, the "platform" is not an issue for me.
The heel area and tongue are both well padded, which is something I had an issue with in the Clifton (the tongue being super thin).  Neither caused any slippage, chafing, or other irritation in the Challenger ATR 2.

The run is incredibly smooth.  I do not notice the "rocker" shape the sole as much as I did in the Clifton.  The 5 mm drop is enough to keep my posterior tibial tendon happy, but minimal enough to keep the rest of my body happy.  The tread, while not overly aggressive, has not left me sliding nor wishing I had something more.  That said, I have spend 100% of my Challenger ATR 2 miles on Carolina sand/dirt trails…nothing overly technical.
I've put in a few hundred miles on these shoes in a very short time, as well as one 50K race, and truly do enjoy them, and they are an integral part of my current trail shoe rotation.   The maximal cushion, while not my preference for EVERY run, truly does feel awesome on my tired feet 20+ miles into a training run or race.  And the cushion is soft and flexible, not stiff, as other highly cushioned shoes tend to be.
No rips, tears, or other obvious wear, other than the fact that the white soles are incredibly dirty.  But that just means they've been well loved…
My only complaint about the HOKA Challenger ATR 2 is that it's not wide enough.  I will admit this is most likely a preference I've developed after running in Altras for the majority of the last year.  My toes have splayed, and happily so…and now they demand more room.  I consistently get a blister at the base of my big toe (top of the metatarsal area) on the medial side.
I know this is running shoe taboo, but I'd be the happiest girl on earth if HOKA and Altra would join forces and make a super shoe.
In short: I'm glad I have HOKA a second chance, because I truly do enjoy these shoes. I'm still not in the "these are the greatest shoes EVER" camp, as many of my friends are, but they seem to provide the right amount of cushion for much longer distances, and I appreciate that.
I even convince Geoff to give them a whirl….
Have any questions about my experience with the HOKA Challenger ATR 2 's, or HOKA in general?  Please comment below, and I will do my best to answer!
*Amazon affiliate links used in this post.
Heather Hart is an ACSM certified Exercise Physiologist, NSCA Certified Strength and Conditioning Specialist (CSCS), UESCA certified Ultrarunning Coach, RRCA certified Running Coach, co-founder of Hart Strength and Endurance Coaching, and creator of this site, Relentless Forward Commotion.   She is a mom of two teen boys, and has been running and racing distances of 5K to 100+ miles for over a decade.  Heather has been writing and encouraging others to find a love for fitness and movement since 2009.