Last Updated on January 16, 2023 by Heather Hart, ACSM EP, CSCS
Training for and running a marathon is an incredible, life changing experience. And, even though 99% of the world may not agree, I believe training for and running a marathon is something that everyone should experience at least once in their lifetime.
But, if you don't currently consider yourself a "runner", or feel like your baseline fitness level is, well, almost non-existent, you might be wondering if training for a marathon is even a possibility for you.
Which is exactly why you are looking for a couch to marathon training plan to begin with.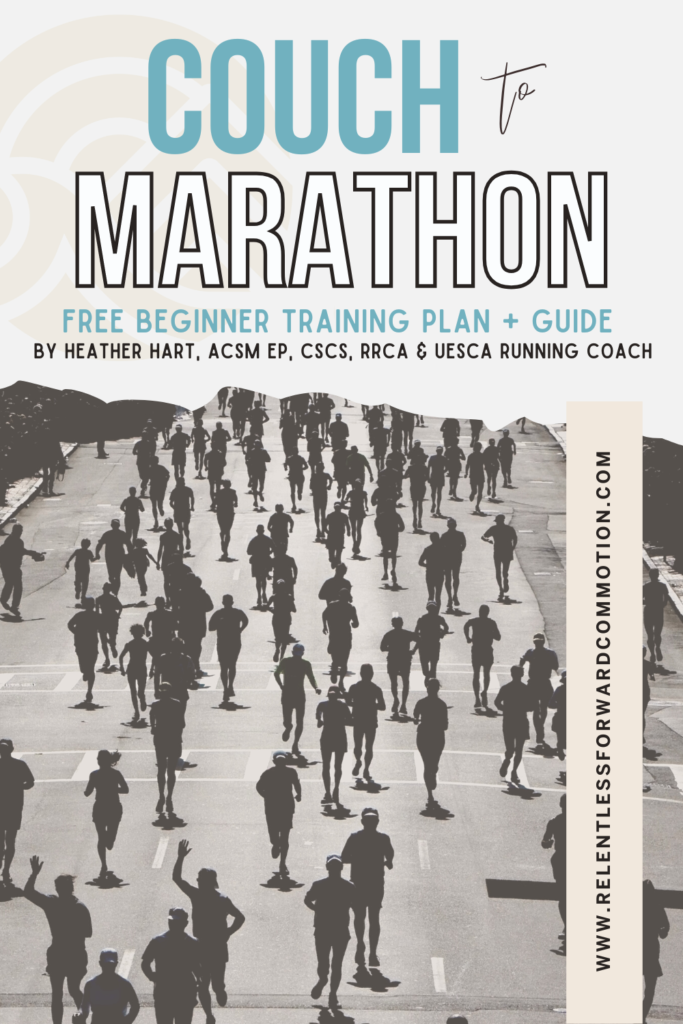 My name is Heather Hart, and I have a ton of experience helping other people reach their running goals. I've been coaching runners since 2015, and I hold a bunch of credentials in the industry, including a BS in Exercise & Sport Science, Certified Exercise Physiologist (ACSM EP), Certified Strength & Conditioning Specialist (NSCA CSCS), RRCA Level 1 Running Coach, and UESCA Ultrarunning Coach.
And as a runner myself, I started from struggling through my very first mile (one that made me puke and gave me a giant blister, because I had no idea what I was doing) to an accomplished ultrarunner, who has covered hundreds of foot races from the 1 mile distance to over 100 miles (yes, all at once).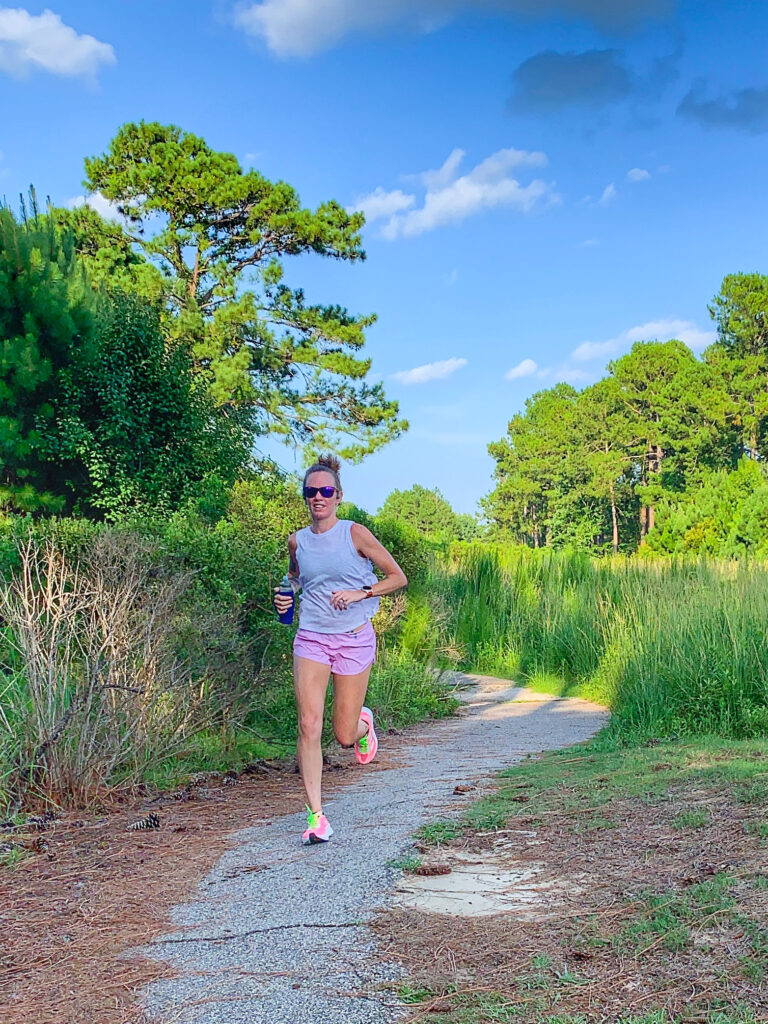 I wrote this training couch to marathon training plan for new runners, first-time marathon runners, or experienced runners who have had to take a long time away from running, and are looking for a way to rebuild their fitness.
While I cannot guarantee that this plan will get you from couch potato to the marathon finish line (you still have to put in the work!), I can assure you that it was designed using current evidence based, proven training methods, and is designed in a way to encourage safe progression in endurance, strength, and speed.
Note: this post is long, because it has to be. I want to ensure I cover all of the necessary information to help you successfully reach your couch to marathon goal. If you don't feel like reading it all, use these links to jump ahead:
Is this Couch to Marathon Training Plan Legit?
Yes – to an extent. It's important to remember that the term "couch", when referring to individuals who consider themselves "out of shape", is a bit deceiving.
Truly under active or sedentary people need to become more comfortable with regular movement before following a race focused training plan. Trying to start with too much, too soon, or making drastic jumps in volume, can leave a runner frustrated, or worse, injured.
Rather, "couch" status should be considered as those who aren't currently comfortable running, but have no underlying issues that would prevent them from safely training for a marathon.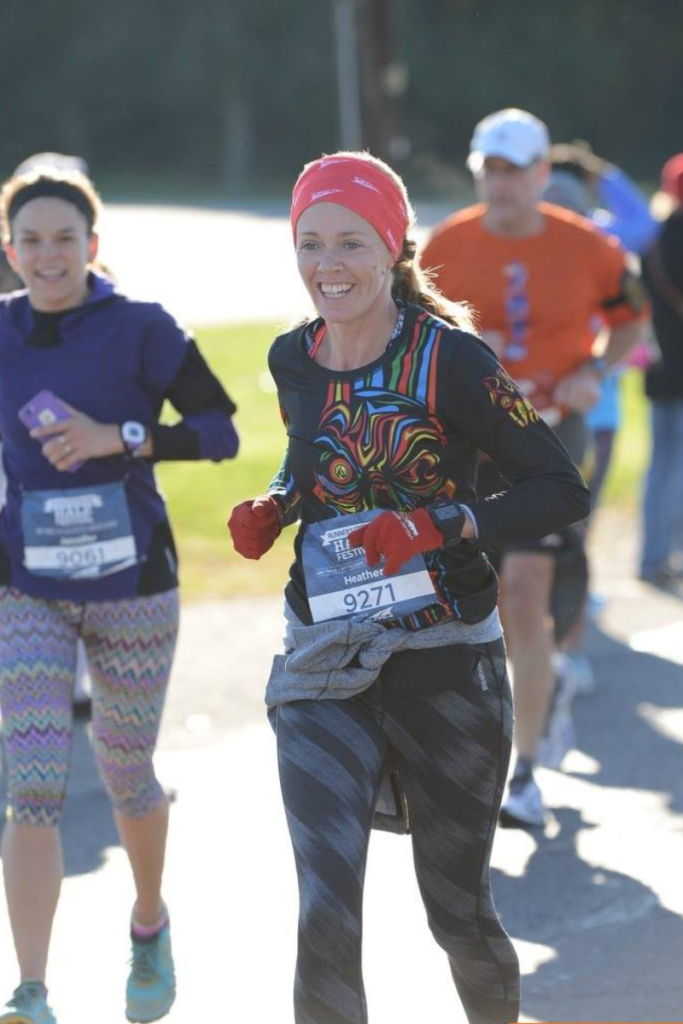 So, Who is this Training Plan Designed For?
All of the above said, this training plan is going to work best for individuals who:
Are healthy, injury free, and cleared by their physician to train for a marathon.
Are looking to cross the finish line of a marathon distance running event (whether it's their first marathon or they've completed one before) feeling confident and prepared, but are NOT concerned with finishing time or running pace.
Can currently maintain forward movement (running, jogging, or walking at any pace) and time on their feet for at least 30 minutes.
Have patience, are willing to trust the process, and will follow the plan.
Can I Walk this Couch to Marathon Training Plan?
This training plan can completed by running, walking, or a combination of the two
In fact, I highly recommend a run/walk approach for those who are hoping to go from couch to marathon, as it will allow you to improve your endurance in a less physically stressful manner.
Is Going from Couch Potato to a Marathon Runner Even Possible?
Yes, it is absolutely possible to go from a non-exercising "couch potato" to a completing a marathon.
If you think about it, every marathon runner had to start somewhere. And as a long time running coach, I can assure you that the majority of every-day marathon runners were not lifelong athletes. Rather, they decided to take up distance running as adults, and essentially worked their way from couch to marathon (or beyond).
The catch (because there always is one) is having a very open mind about how long it may take you to safely progress from a couch potato to a marathon runner.
How Long Does it Take to go from Couch to Marathon?
This is where the practical coaching side of me is going to be the buzzkill on this party and say "it depends".
There are a number of factors that come into play when determining how quickly an individual is going to adapt to the physical (and let's be honest, mental) stresses of training for a marathon.
In other words, your results may vary.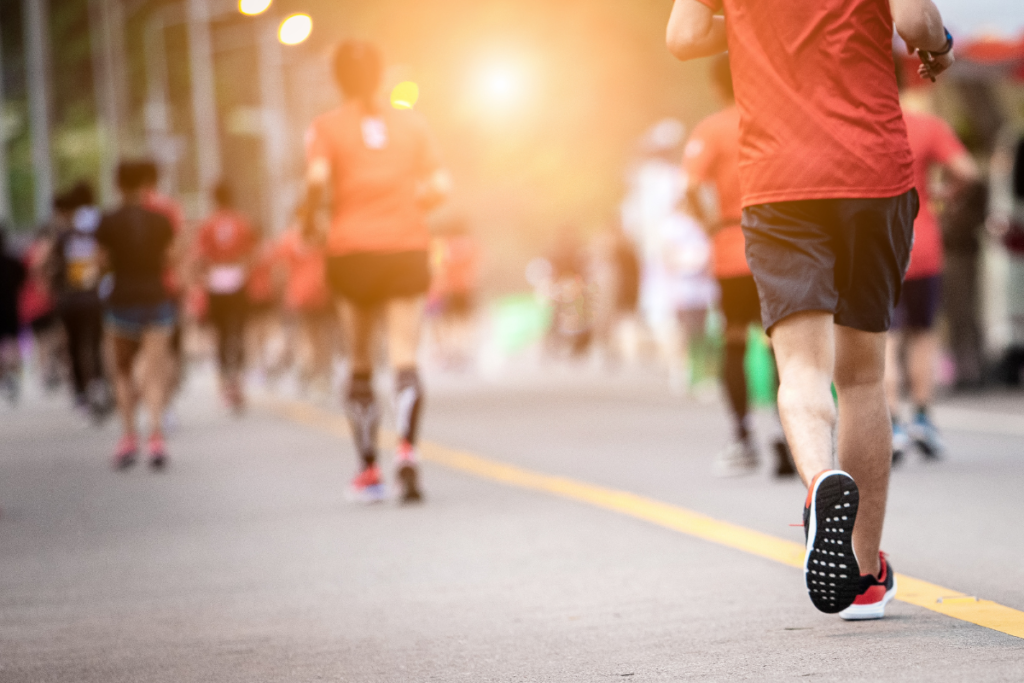 Factors to Consider:
Training history – Have you been active during previous phases of life? Have you ever trained for a running event before? Those with previous training history tend to regain fitness faster than those starting from scratch.
Physical adaptations to training stress – How well will your body react and respond to training? This will vary from runner to runner based on a number of factors, such as genetics, health, nutrition, and even sleep status.
Ability to comply to training – Training for a marathon is a process. Fitness gains do not happen in one single training run, but rather, occur as the result of a cumulation of weeks of training. Your ability to comply to and be consistent with your training over the long haul will have a huge impact on your results.
The "unknowns" – An unfortunate reality of training for an event that is 6 months or more away, is that it leaves a lot of room for situations out of your control to affect or even derail your training.

You may catch a virus that knocks you out of training for a week or two. You may tear your hamstring waterskiing (this unfortunately happened to a client of mine!). Your work situation and responsibilities may change, and you have less time to commit to training. And so on.
10 Expert Tips for Your Couch to Marathon Training
As a long time running coach and even longer runner myself, here are 10 tips that I feel are imperative to successfully completing a marathon training program, and making it to the finish line:
1. Get Cleared by Your Physician
I know I'm going to sound like a mother hen here, but I highly recommend the very first thing you do is visit your physician and get medical clearance to begin your couch to marathon journey.
This will give you the peace of mind knowing that your body is both healthy enough to withstand the rigors of a marathon training plan, and that there aren't any underlying conditions that may derail your training.
2. Set Realistic Expectations
Be realistic when it comes to your performance expectations for this training plan and your marathon goals on race day.
Ideally, a runner works their way up to a marathon distance race over a period of years, not 6 months. That's not to say that you cannot go from couch to marathon in 24 weeks, but rather, you're probably not going to see the same sort of results you would have after years of focused, dedicated training.
Save the big time goals for future marathons, when you have more training experience and you're ready to tackle a more in depth training plan.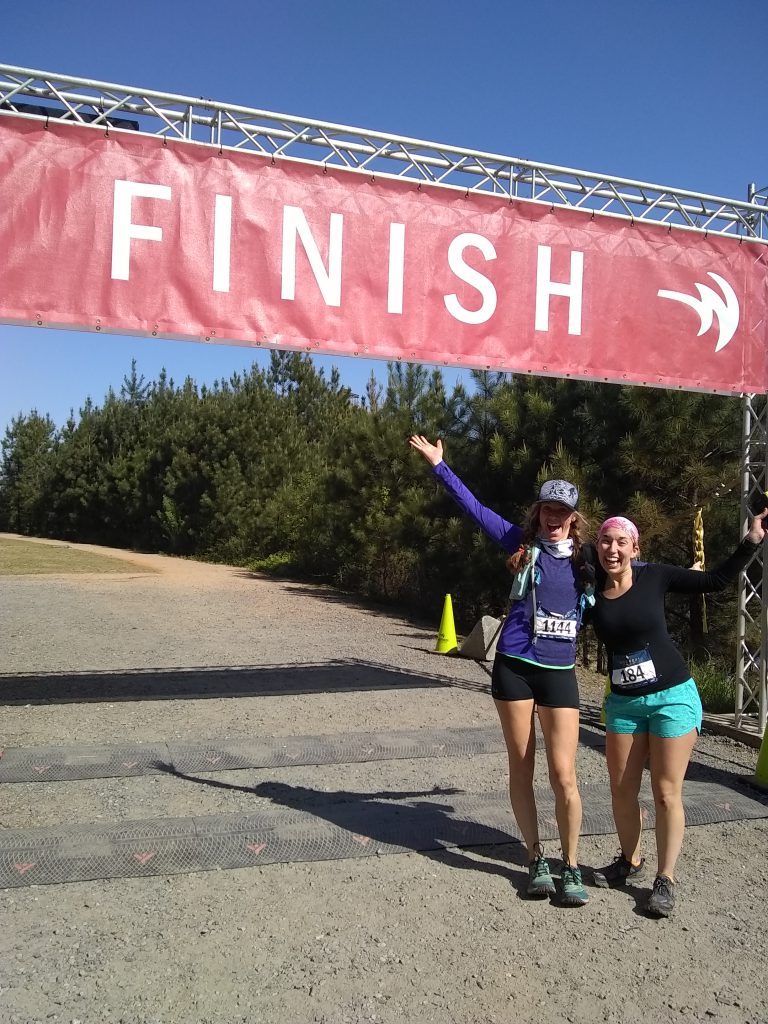 3. Get Fitted for Shoes
Before you even start this training plan, I highly suggest you head to your local running store and get fitted for a pair of running shoes.
While you may be tempted to wear whatever shoes you have laying around, the reality is that not all running shoes are created equally. You will need to consider factors such as:
Heel to toe differential (drop)
Shoe size, including length and width (and even toe box width)
Whether or not you overpronate to the extent of needing stability shoes
Cushion preference
Unfortunately, running in low quality shoes, or shoes that do not meet your specific needs, can lead to everything from discomfort, to pain, to injury.
An experienced running store employee will be able to help you find the shoe that will work best for you. Trust me when I tell you that the expense will be worth the investment in the long run (pun absolutely intended).
Related post: 5 Running Shoe Mistakes You Could Be Making Right Now.
4. Get the Right Gear
You do not need to go out and buy thousands of dollars worth of running gear, but starting your running journey with a handful of the essentials will be worth the investment.
In addition to properly fitting running shoes, I recommend:
Sweat wicking clothing in various layers
A handheld waterbottle (or hydration pack, depending on your preference)
Some sort of zippered pouch or pocket to carry your phone, keys, and ID.
You do not need to invest in expensive, high end gear from the start. It may take a while to find your personal preferences and what works best for you, so don't be afraid to shop the clearance rack, or chain department stores (the C9 line of activewear at Target is pretty decent!) for less expensive options.
Related post: How to Start Running – A True Guide for Beginners
5. Find Accountability Partners
Find an accountability partner, or even a group, to help keep you motivated during your couch to marathon training process.
I won't lie: 24 weeks is a long time, and there will be periods where you are no longer feeling motivated to train. Having an accountability partner will help keep you going through those lulls.
If you can't find a local friend to train with, or running group to join, a virtual partner or group that you check in with can still be incredibly useful!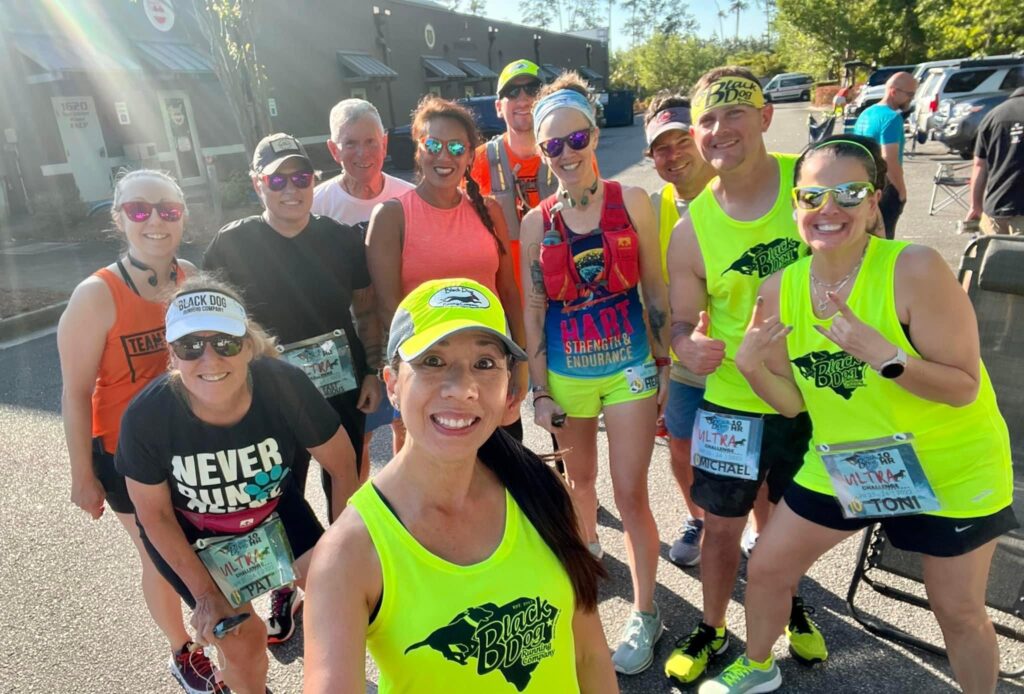 6. Trust the Process
One of the biggest mistakes I see as a coach, especially in newer runners, is that people want to rush the training process. They often fear they are not doing enough, and begin to stray from the training plan.
A true, effective training plan is going to feel repetitive and boring at times. But, trying to rush the process puts you at greater risk for overuse injuries, or even training burnout.
Related post: Overreaching vs. Overtraining in Runners – Running Burnout Explained
7. Strength Train
This couch to marathon training plan includes weekly strength training, and I'm highly encouraging you to complete these workouts.
It can be easy to think that the running matters more than the strength workouts. But the reality is, regular strength training will not only help keep your body strong to help ward off potential running injuries, but it will also help improve running economy (meaning, running becomes easier).
Plus, looking at the big picture of your overall health, strength training is absolutely essential. So don't skip it. (There's that mother hen voice again!)
Related post: 10 Awesome Benefits of Strength Training for Runners – Why You Should Pick Up That Weight
8. Fuel Your Running
Another common mistake I see in many runners is that they try to focus too heavily on weight loss while simultaneously training for something like a marathon or even an ultramarathon. They end up not eating enough to sustain their training, and their energy levels plummet.
The reality is, you have to fuel your body, both before, during, and after a workout. This will not only help you perform your best during the workout, but will help speed up recovery so your body can adapt to training, and continue improving.
Related post: Top 7 Everyday Nutrition Mistakes Runners Make
9. Prioritize Recovery
Say it with me now: adaptations to training do not happen during workouts, they happen during recovery.
It's true, your body goes to work both repairing damaged tissue and building new tissue to help make you stronger during periods of rest (and specifically, during sleep).
I cannot stress this enough: your workouts and training are futile if you do not prioritize post workout recovery, rest days, cutback weeks, and sleep. These are all just as important as the workouts themselves.
10. Be Willing to Adapt
Finally, be ready to adapt to whatever "life" may throw your way during training. I tell my clients all of the time that rarely does an athlete complete a training cycle from start to finish, nailing 100% of the workouts as prescribed.
There are going to be bumps in the road. There are going to be days where you don't feel strong. And more than likely, there are going to be missed workouts.
It's OK. Do what you can, pick up where you left off, and do not stress about what didn't go 100% to plan.
24 Week Couch to Marathon Training Plan PDF Download
DISCLAIMER:
This Couch to Marathon training plan is designed for educational purposes, and is not a prescribed training plan for any particular individual. While I am a certified exercise physiologist and running coach, and have designed this training plan with safety in mind, you should understand that when participating in a marathon training program, there is the possibility of physical injury.

If you engage in this training plan you agree that you do so at your own risk, are voluntarily participating in these activities, and assume all risk of injury to yourself. You should consult your physician or other health care professional before starting this or any other fitness program to determine if it is right for your needs.
Couch to Marathon Training Plan Details
In this section, we'll cover everything you need to know about this particular training plan.
The Time Commitment:
Training for a marathon can be pretty time consuming. However, because this couch to marathon training plan was designed around the minimal volume necessary to get you safely to the finish line, the time commitment will be minimal compared to other plans.
The exact amount of time you'll spend training per week will vary based on your overall running pace.
Here are some quick stats to give you an idea of what this plan entails:
24 weeks of training (6 full months)
6 training sessions per week

plan starts with 3 runs per week, building to 4 runs per week.
two strength workouts per week (around 30 minutes each)

Weekly mileage / training volume:

First Week: 7 miles running / 20 minutes of active recovery & 2x strength sessions
Peak Week: 35 miles running / 2x strength sessions
Long runs:

Starts with a 3 mile long run
Peaks at a 20-22 mile long run (based on individual's needs
The Workouts:
Now we'll cover the details of the different runs and workout types, so you understand what to expect from this plan.
Base Building Run
Base building runs – often referred to as easy runs -should be done at an easy, aerobic pace. I tell my clients that they should run these at a "conversational pace". In other words, a pace where you could easily carry on a conversation with a running partner, without feeling as though you are gasping for breath or struggling to speak.
Keeping the majority of your runs at this lower intensity will help prevent injury and burnout as you begin to increase both your weekly mileage, and as you begin running longer distances.
The aerobic zone also encourages fat oxidization (using stored fat for fuel), capillary building, and building a solid endurance base. This is essentially where you become better at running for longer periods of time.
Active Recovery
The purpose of an active recovery workout is to help promote blood flow, encourage healing, stimulate cardiovascular endurance, but remain low impact.
Cross training workouts like:
swimming
biking
hiking
elliptical
rowing
… are all great options. But: be sure to keep the overall effort easy for an active recovery training session.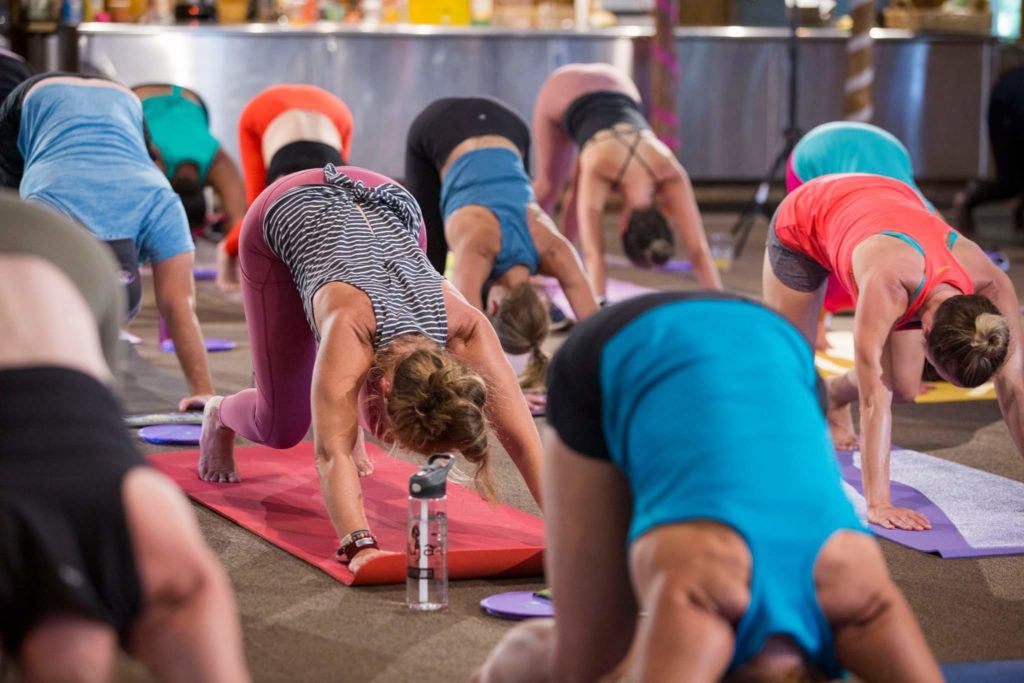 If your body is exhausted and you are in need of a rest day, you can substitute the active recovery days with a day off from training (rest day) instead.
Long Run
Long runs are truly where your body adapts to running for extended periods of time, physically and mentally, and are a cornerstone of distance training.
Further, long runs are the perfect "dress rehearsal" for your race. Long runs give you an opportunity to experiment with – and perfect – nutrition and hydration plans, anti chafing products, new shoes or shorts…you get the idea.
Long runs should be done at an easy effort pace. In fact, I encourage you to run them at an ever-so-slightly slower pace than your base building runs.
Hill Repeats
Hill repeats are an excellent way to build both aerobic capacity and muscular strength.
For hill repeats, you'll want to find a hill long enough to be able to run around 30-60 seconds before you reach the top. You also want to make sure that the hill is steep enough to make it difficult, but not so steep that you cannot sustain a run for the entire interval.
If you don't have access to a hill, a treadmill or even stadium stair repeats are a great substitution.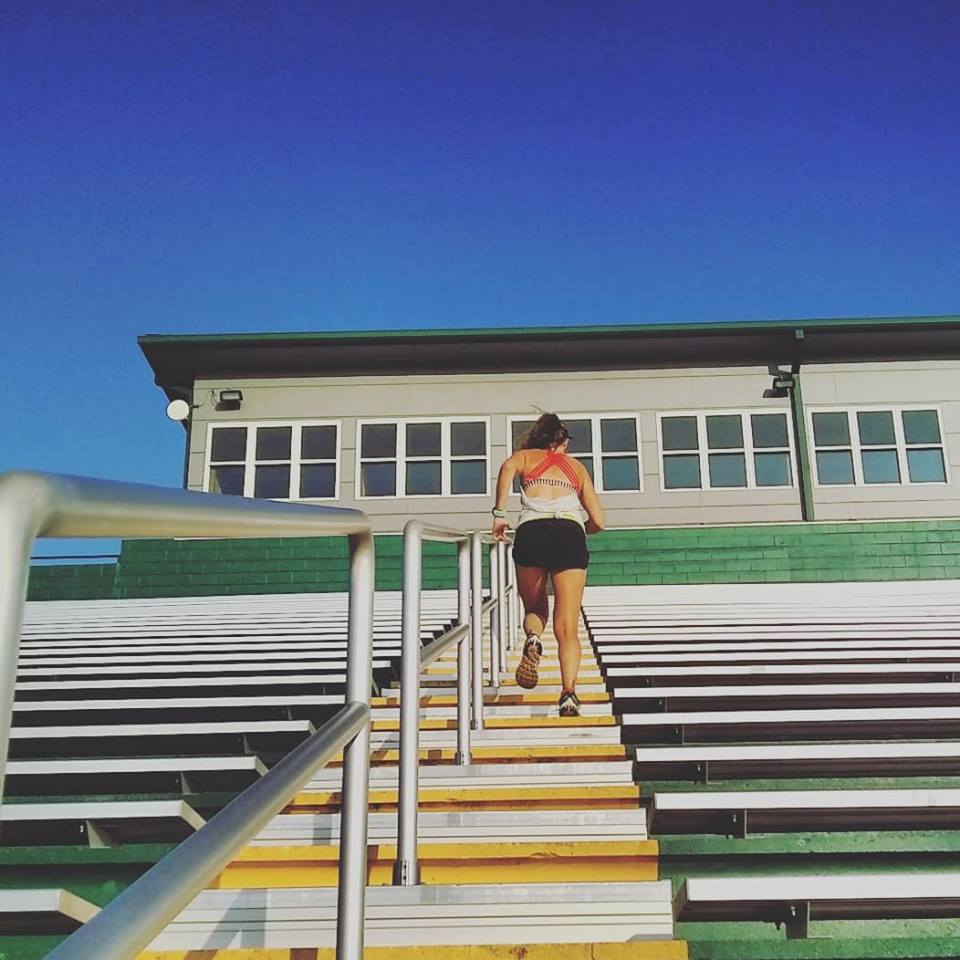 Tempo Run
Staring in week 17, you'll begin incorporating tempo runs into your training.
After a warm up, you'll run timed intervals at a tempo pace. Your tempo pace is a pace about 25 to 30 seconds per mile slower than your current 5K race pace.
If you are unsure of what that is, you can simply run by effort. Tempo effort should be sustainable for the prescribed amount of time, but moderately difficult (i.e., you shouldn't be able to easily carry on a conversation).
Tempo runs will push you out of your comfort zone. But they are a great way to increase your lactate threshold, increase your marathon race pace, and improve your overall fitness.
Related post: The Runner's Guide to Understanding Lactate
Strength Training
As mentioned already, strength training is an imperative piece of the training puzzle.
In this training plan, I have designated days specifically for strength training, and I highly encourage you to follow through with them, even though the aren't "running specific" workouts.
Any sort of full-body strength training will work. If you're not sure where to start, I recommend starting here: Complete Beginner Strength Training Workout for Runners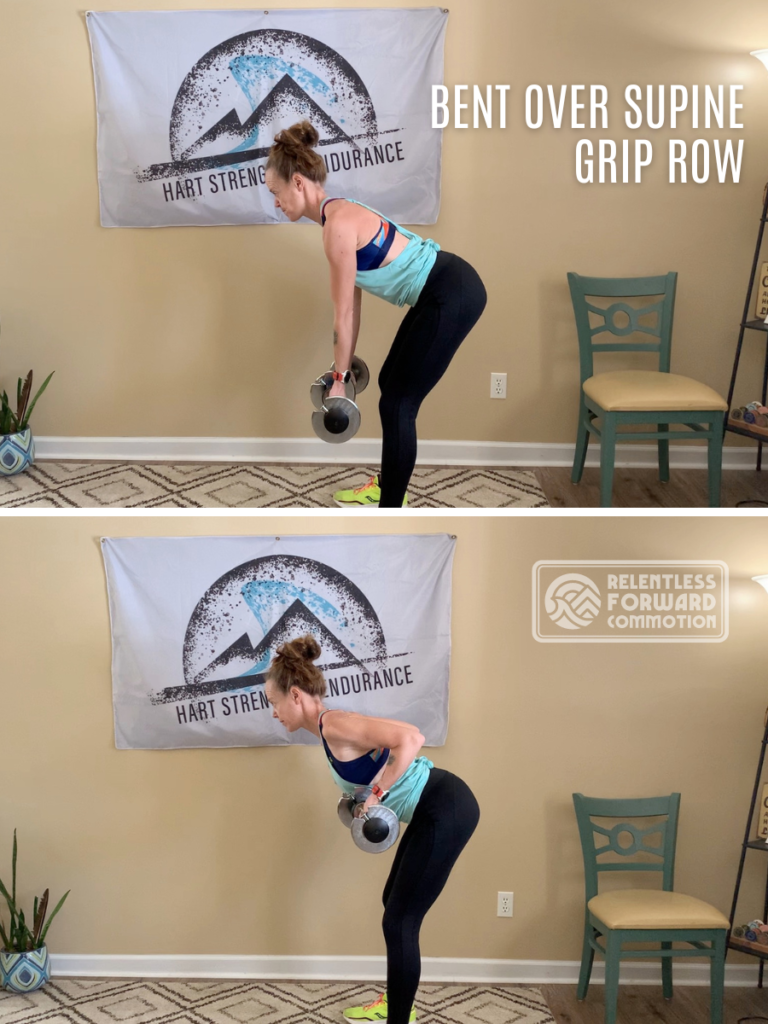 Rest Day
Fridays are for rest! Please take this day completely off from training.
Now, gentle movement is fine. A neighborhood walk with your dog, gentle yoga or stretching is fine, but this day should be about resting, not training.
As already mentioned above, rest days are an integral part of the training process. During rest days, your body recovers from the physical stress of workouts, rebuilds damaged tissue, and becomes stronger.
Do not skip rest days!
Training Phases:
The couch to marathon training plan splits the 24 weeks up into 7 different phases. They are as follows:
Move
The first three weeks of the training plan are what I call the "move" phase. The goal of this phase is to become comfortable with regular, purposeful training.
Consistency is the most important part of this phase, and matters more than exact mileage. Focus on the goal of getting out there and doing something rather than worrying about nailing the workouts exactly as prescribed.
"Some is better than none" absolutely applies to marathon training!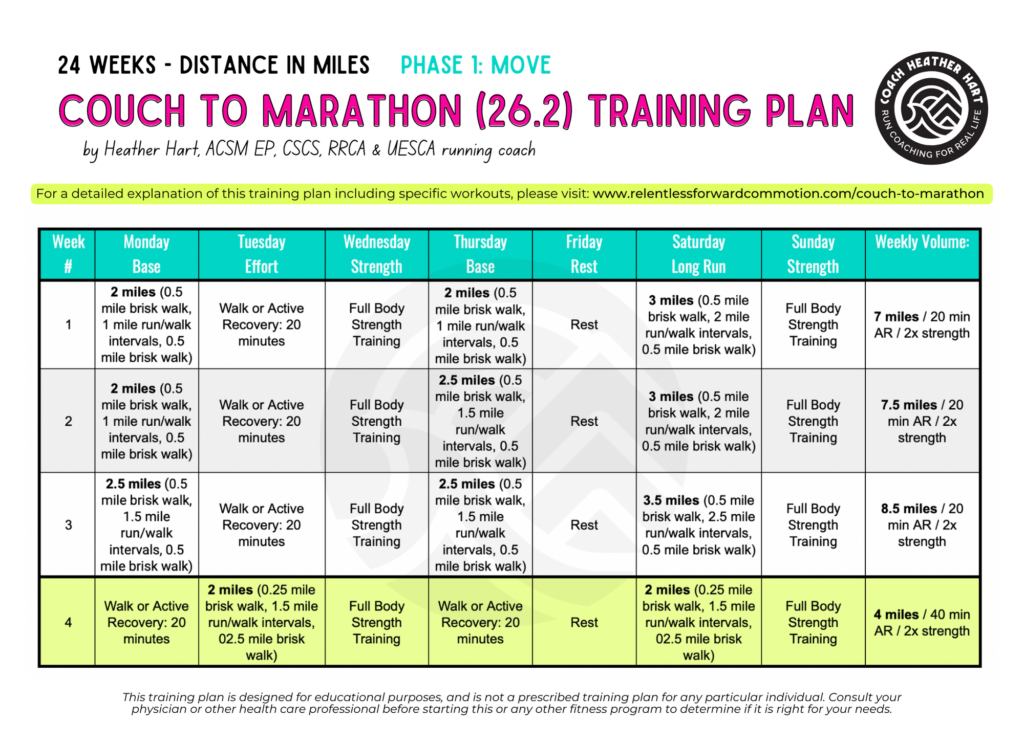 Recover
Every fourth week of the training plan will include a recover, or cutback week. The goal of this phase is to allow your body a chance to rest, recover, and make the necessary adaptations to your training.
You will still have scheduled workouts, including a weekly long run, during these cutback weeks. However, the overall training volume and intensity will be decreased.
There may be times where you welcome recovery weeks. But, there may be times when you dread them, because you want to keep pushing forward.
Remember, these weeks are an integral part of the training plan. Resist the urge to do "more".
Base 1
If you look at other marathon training plans, you may notice that most of them tend to hover around 16 -18 weeks in length. This is because they are typically designed for more experienced runners, who already have a good running base.
This couch to marathon plan assumes you do not have that base, and therefore, weeks 5 through 11 are designed to help you build a solid training base.
All workouts should be performed at your easy, conversational effort.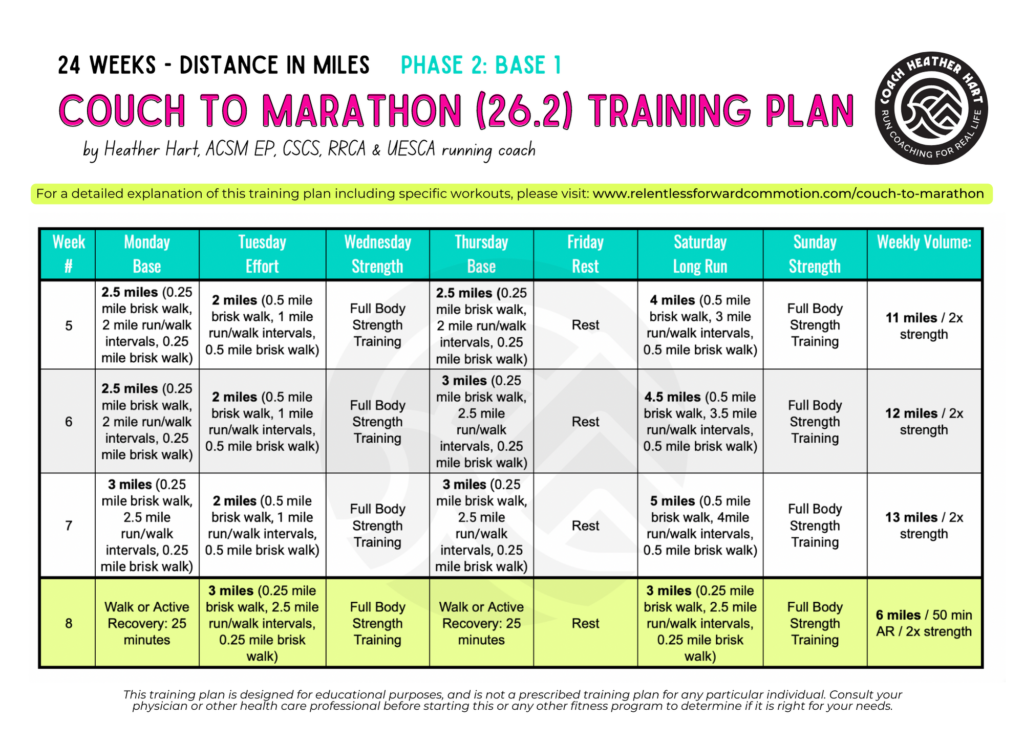 Base 2
During the Base 2 phase, you'll continue to work on building your running volume. You'll notice that now the base workouts are prescribed in miles, but do not give specifics regarding run/walk intervals.
You have two options here:
If you feel comfortable running the entire prescribed distance, and can do so while maintaining the easy, conversational, base pace effort – then go for it!
If you prefer to continue run/walking (which is a perfectly acceptable approach!) continue on with a run/walk interval that feels right to you. There is no right or wrong run/walk interval, what matters is that you cover the distance prescribed during your workout.
Just like during Base 1, all workouts should be performed at your easy, conversational effort.
Fitness
Congratulations, you are halfway through training! During the fitness phase, Monday and Thursday will remain easy base miles, but you're going to begin including harder effort workouts on Tuesdays.
These effort workouts are designed to help improve your fitness through improving both aerobic and lactate clearing capacity. These workouts, when done properly, will push you out of your comfort zone.
While these workouts should feel somewhat difficult, they should be performed at an effort where you can complete the entire workout (i.e., not burn yourself out on the first interval).
During the fitness phase, you will also run your first double-digit long run.
Endurance
The Endurance phase is the crux of marathon training. Your effort runs will now include tempo runs to help continue building your fitness. Your weekly base runs and weekend long runs continue to increase, helping to improve your endurance.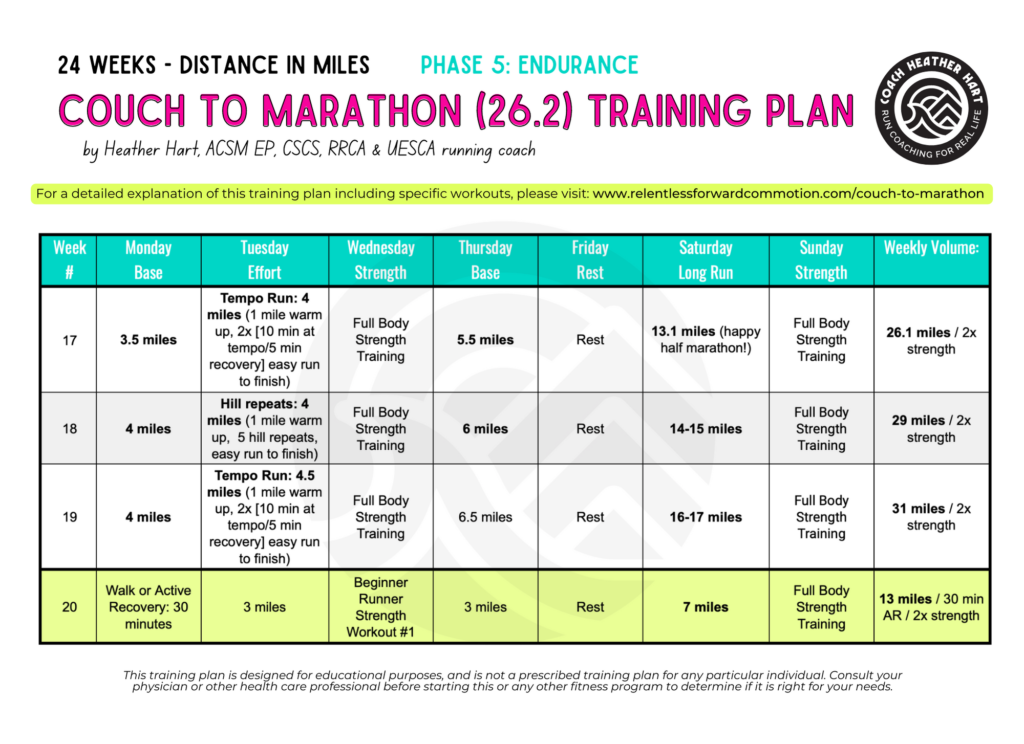 Peak to Taper
The last phase of the Couch to Marathon training program includes:
two final weeks of endurance training where you will peak in both long run distance and total weekly volume
transition into taper
your marathon race!
"Taper" is a purposeful decrease in training volume and intensity leading up to your goal race. The purpose of taper is to allow your body to rest and recover fully from your peak training cycle, so that you show up on race day refreshed and feeling strong.
It's not uncommon for newer runners to fear "losing fitness" during the taper phase. But I promise you, taper will help-not hurt-your running goals. Do not underestimate the importance of taper! Stick to the training plan.
Couch to Marathon Training Plan FAQ's
Lastly, let's cover a handful of common questions about training for a marathon in general:
How Far is a Marathon?
Just incase you weren't aware, and to make sure you're in the right place: the distance of a full marathon is 26.2 miles, or 42.195 kilometers, depending on your preferred method of measurement.
How Long Does it Take to Run a Marathon?
According to the 2019 "The State of Running Report", the average marathon finishing time world wide was 4:32:49. That's a marathon pace of 10:24 per mile.
The current official world record for a marathon time is held by Eliuid Kipchoge, who ran a 2:01:09 at the 2022 Berlin Marathon. Kipchoge also holds the record of being the first person to ever run a marathon in under 2 hours, when he recorded an unofficial time of 1:59:40 at a non-race event in 2019.
On the opposite end of the spectrum, the current world record for the slowest marathon is 54 years, eight months, six days, 5 hours, and 32 minutes.
Yes, you read that correctly. It's a crazy and entertaining story about a runner from the 1912 Japanese Olympic team who went missing during the race, only to be invited back to finish the event 54 years later. (You can read more abhttps://www.ozy.com/true-and-stories/the-slowest-marathon-in-history-took-more-than-half-a-century-to-complete/281252/out it here).
Typically, most official marathon courses will have a cutoff time of around 6-8 hours.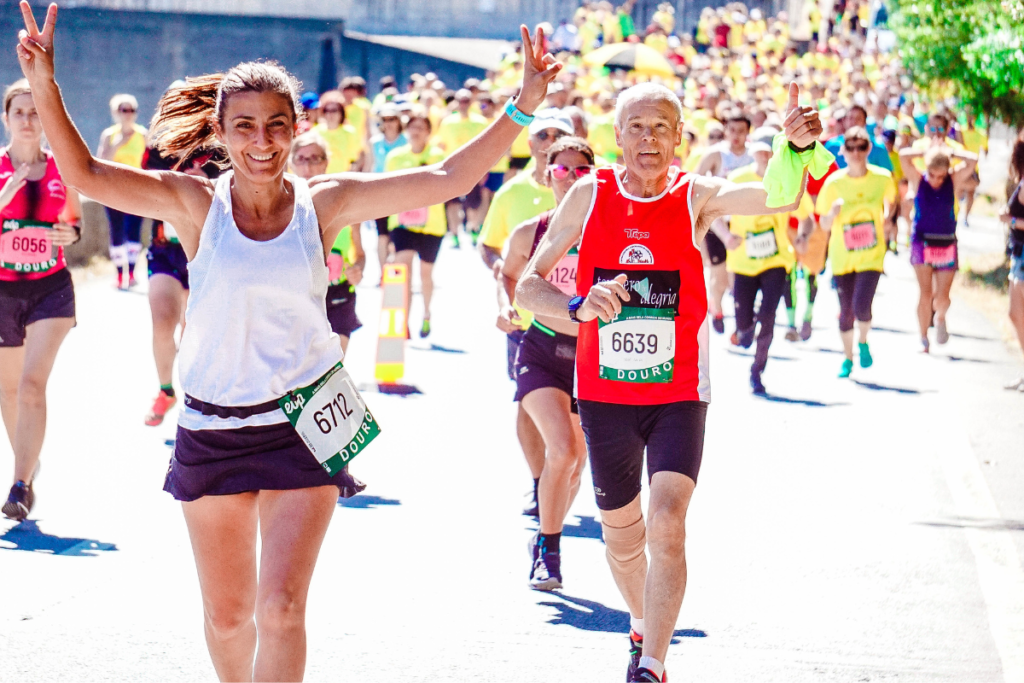 I Want to Run/Walk, What Should My Intervals Be?
Run/walk intervals are a fantastic and perfectly acceptable way to cover a marathon! It is my belief that the "best" run/walk intervals are going to be the ones that work best for YOU.
A few things to consider when choosing your run/walk intervals:
Choose a run interval where you feel you begin walking before you need to. If you're struggling to make it to the end of a run interval, that interval is too long.
Choose a walk interval that leaves you feeling refreshed enough that you don't feel exhausted the second you start the next run interval.

A good rule of thumb for a walk interval is half the time of your run interval. For example, if you run for 2 minutes, walk for 1 minute. If you run for 1 minute, walk for 30 seconds.
Always start your run/walk intervals before you feel you need them.
How Long Should My Longest Run Be Before a Marathon?
There is a common misconception that you have to run a 22, 24, or even 26 mile run before marathon race day. In reality, your longest long run should be the one that you have safely progressed to during your training.
For example, a runner who has successfully completed all of their long runs in their training program, but only made it to a maximum of a 16 mile long run before race day, is likely going to feel better and have more success than a runner who missed most of their long runs, but struggled through a single 20 miler before race day, hoping it would help.
(Not to mention, that runner is likely to get hurt themselves by jumping up to such a long run they weren't physically prepared for.)
Remember, strength and endurance is not built in a single run, but rather, the culmination of multiple days, weeks, and months of workouts.
What Should I Do If I Miss a Workout?
If you miss a single workout here and there, simply move on. You don't have to make the workout up, but rather, move on ahead to the next scheduled workout as normal.
However, if you find yourself continuously missing a harder effort workout, or your long run every week, you might want to re-evaluate your training. As mentioned above, you do not want to jump up to a distance that you have not properly progressed to through training.
If I Have to Cut a Run Short, Should I Make Up the Distance?
You do not have to make up the distance if you have to cut a run short.
There is no magic in a specific weekly mileage number. If you were supposed to log 25 miles, but only manage to get in 22, I assure you, you'll be just fine.
When Should I Start Practicing Race Day Fueling?
When training for a marathon, you should begin practicing race day fueling on any workout lasting more than an hour.
While it may seem silly to take in calories for something like a 7 or 8 mile run, the more you practice, the better your chances are for nailing down your race day fueling strategy before you toe the marathon starting line!
What if The "Effort" Workouts are Too Hard?
If you're struggling to complete the effort workouts, you have a couple of options:
Cut down on the number of intervals in the hard effort, while keeping the overall mileage the same. For example, if you have a 5 mile run with a 3×10 minute tempo intervals, still go for that 5 mile run, but maybe only do one or two of the tempo intervals.
Leave the "effort" portion out all together, and simply cover the distance prescribed.
There are a number of reasons why we include effort workouts into big picture marathon training. However, if your main goal is to simply get across that finish line, spending time on your feet training matters, regardless of pace.
What If I Need More Help?
Need more personalized help? We can do that! Our coaching team at Hart Strength & Endurance Coaching is here to help.
Working with a running coach is absolutely not only reserved for advanced or elite athletes. Even brand new runners can benefit from the personalized approach of run coaching.
If you're struggling with training, send us an email. We'd be happy to chat with you and see how we can help.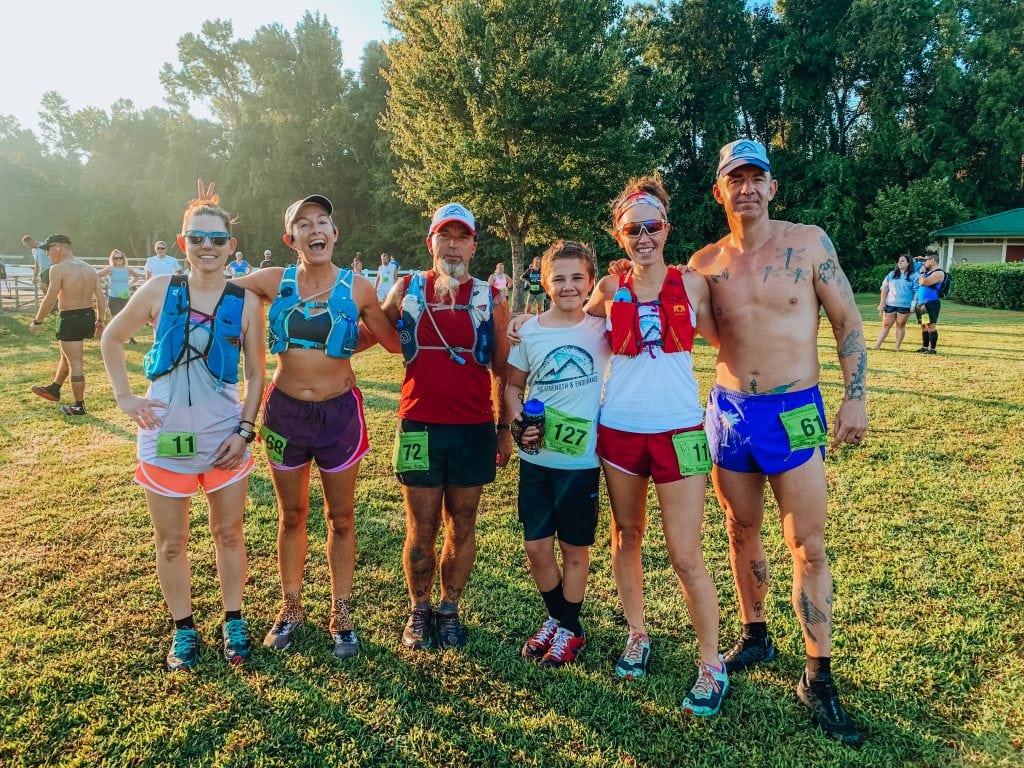 This Plan is Too Hard, What Should I Do?
If you are hoping to run the majority of your training, but currently struggle to run for more than a full minute, I highly suggest starting with the 12 week Learn to Love to Run Program. Stay in this plan for a while, until you feel more confident and comfortable with running.
Or, jump into one of our other training plans for a shorter distance.
Where Can I Find More Training Info?
I'm glad you asked! I have been writing and maintaining this site since 2009, and it is chock full of running, racing, and training advice. To start, check out the "Running Tips" page, as well as the "Beginner Running Advice" section.
If you have a question that hasn't been covered, feel free to leave a comment below, and I will get back to you ASAP!
Further, if you've used this plan and enjoyed it, I'd love to hear your success stories!
Heather Hart is an ACSM certified Exercise Physiologist, NSCA Certified Strength and Conditioning Specialist (CSCS), UESCA certified Ultrarunning Coach, RRCA certified Running Coach, co-founder of Hart Strength and Endurance Coaching, and creator of this site, Relentless Forward Commotion.   She is a mom of two teen boys, and has been running and racing distances of 5K to 100+ miles for over a decade.  Heather has been writing and encouraging others to find a love for fitness and movement since 2009.