Last Updated on December 30, 2019 by Heather Hart, ACSM EP, CSCS
Here's a bit of a reality check for new (or non) ultra runners: you're likely going to walk during your ultramarathon. The longer the distance, the more you're going to walk. But don't worry: walking during an ultramarathon is quite normal – you'll even see the elites power walking up some steep and gnarly hills.
But for whatever reason, not a lot of people seem to know that.
Mention the idea of running a 100 mile ultra marathon to a non runner, and they will likely react with a look of disbelief.  "You mean running 100 miles…all at once?  Do you you get to eat? Do you ever sleep?" they'll question, as they still can't actually comprehend the idea of traveling that far by foot (my favorite response, they'll say "I don't even drive that far!"), never mind while running.
I'm under the impression that most non runners, and even some runners unfamiliar with ultra running, assume that these longer distance races are done at the same speed as say, your average half marathon…only for an extra 86.9 miles. And for some runners, it's true.
In November of 2017, Camille Herron shattered the current women's 100 mile record, finishing in 12 hours, 42 minutes, and 39 seconds at the Tunnel Hill 100. That's an average of 7:38/mile for one hundred miles. But wait! Before you pick your jaw up off of the floor at the thought of maintaining a 7:38 mile for nearly thirteen hours, let the current overall world record for running 100 miles, set by Zach Bitter, sink in: 11:47:21. Yes, eleven hours, forty seven minutes, and twenty one seconds. 7:04/mile average for ONE HUNDRED MILES.
Yeah, You'll be Walking During Your Ultramarathon
For the rest of us non-elite-ultra-marathon runners, the reality of crossing a one hundred mile finish line often includes a good bit of walking. Hopefully a lot more running that walking, but undoubtedly, there will be walking.
In fact for most of us, there should be walking. Similar to the concept of the Galloway run/walk method, taking walk breaks before your legs become fatigued helps keep you feeling stronger, longer, by shifting effort to muscles that are underutilized while running (pro tip: the trick to this method is ensuring you take your walk breaks BEFORE you get overly tired. Start them from the beginning, even if you think you don't need to walk yet.)  And let's face it, 100 miles is a long way to go, so the longer you can feel strong, the better.  Makes sense, right?
When preparing for a big race it is important that athletes train for all elements of the event. Obviously, running is the most important thing to practice. But it's also important to practice your race day nutrition plan, race day attire, race day shoes and shoe changes, etc. How many times have you heard the saying "do nothing new on race day?". There's good reason for this: we need to make sure everything works efficiently and problem free on race day.
So it only makes sense that we also practice walking for an ultra.
Now, I know what you may be thinking: "but Heather, I've been walking since I was a baby, I've got walking figured out!". But here's the thing with walking in an ultra – if you hope to make time cutoffs and not lose your momentum, you can't simply stroll. A fast, efficient walk is absolutely necessary.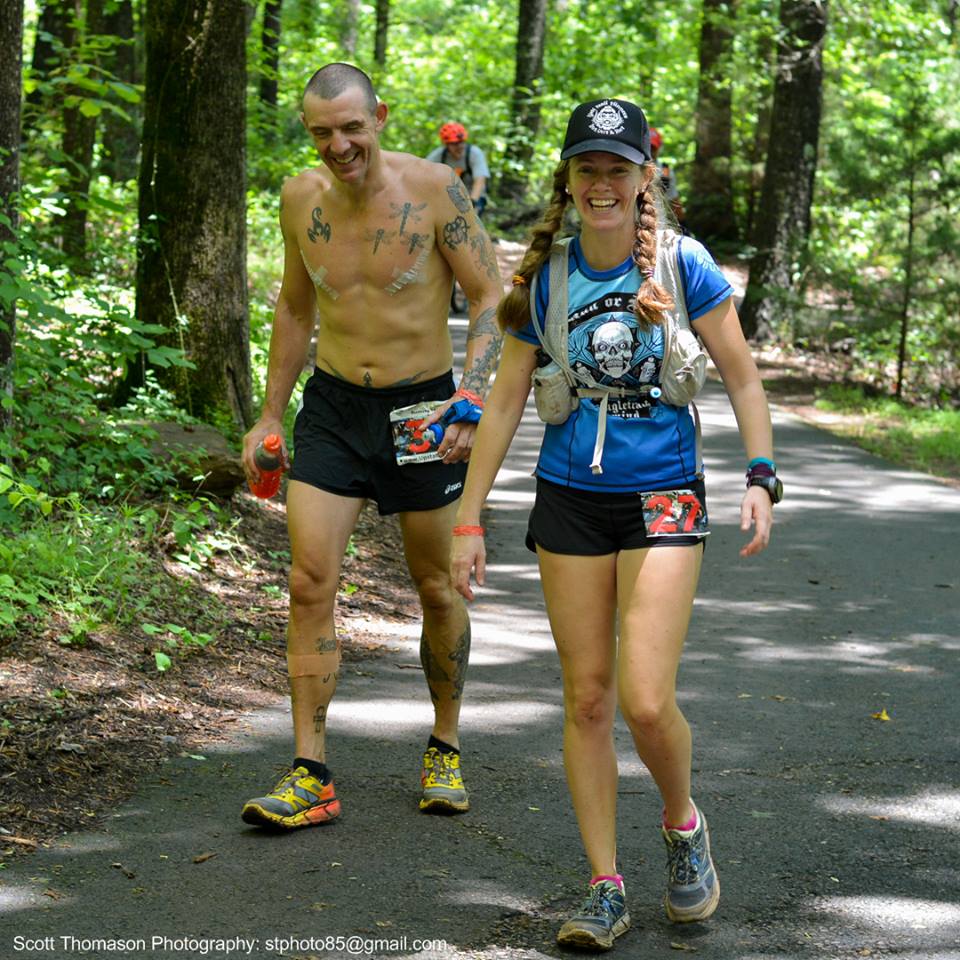 HOW to PRACTICE ULTRAMARATHON WALKING:
First,  put yourself in the proper mindset.
  I know how you runners can be, as I speak from experience: I remember a time in my life when my sole running goal was to run an entire marathon without stopping or walking once. I felt I wasn't a "real runner" until I had accomplished that.  Turns out, that's a load of crap.  If you run, you are a real runner.  And in an ultra? There's a 99.9% chance you're going to walk. So, repeat after me: walking is not a sign of weakness in the ultra world, it is a necessity.
Now that we got that part out of the way:
Focus on form. 
Just like running, you can have sloppy, inefficient walking form, or you can have strong, efficient walking form.   Keep your core tight and your torso tall, avoiding the urge to slump over from the hips or shoulders, especially while you are tired.  Avoid other unnecessary movements that can become energy wasters, such as excessive hip sway or arm swing.
Focus on speed. 
While the walk is often a time for recovery or with the purpose of keeping the heart rate down (during steep climbs, etc) you will want maintain your momentum.  Find a happy medium pace that allows you adequate recovery, but is faster than a leisurely stroll.
Change up your gait. 
I have found from personal experience that shifting your walk gait every now and then from long, powerful strides to short, quick steps will help you stretch out sore muscles while on the go  (for a quick lesson on actual "race walking" form, check out this article from an actual race walking pro.)
Practice your transition form run to walk.
 When your watch beeps "walk" (or however you are determining your walk intervals) don't simply hit the breaks and stop moving.  Gradually slow your pace down to a walk to keep your momentum going forward and form in check.
Plan on using trekking poles?
If you plan on using trekking poles during your event, you NEED to PRACTICE using them!   Race day should not be the first time you use your poles.  Get comfortable using them while walking (and holding or storing them when running).  Adjust them to your specific height and needs.  Make sure they are a tool that will help you, and not simply added weight that will hinder you.
WHEN to PRACTICE ULTRAMARATHON WALKING:
During Long Runs
If you are training for an ultramarathon in which you will utilize a run/walk method, I absolutely recommend practicing walking during some of your long runs.   Take walk breaks at the same scheduled intervals you plan during your race (either by time, mileage, or terrain features, such as steep scrambles or climbs).
Instead of Recovery Runs
If you have a short recovery run scheduled, try walking instead.  The point of shorter recovery runs is simply to get the body moving, and blood flowing to the muscles.  You can achieve recovery and time on feet by walking, while also practicing your ultramarathon walking.
When Running Errands (seriously)
If you're running errands alone (and don't have little kids or a confused spouse trying to keep up…or maybe even if you do, I'm not one to judge) try walking at race walk pace.  Park far away in the parking lot, start on the other end of the mall, etc., just be safe and don't run anyone down…and watch out for traffic yourself.  Sure you may get a few funny looks, but the more you practice race walk pace, the more second nature it becomes.
As with most things in life, practice makes perfect. While perfecting your ultramarathon walk doesn't necessarily guarantee a hundred mile finish, it can certainly increase efficiency, potentially save you time, and take away one of the many "unknown" factors that can accompany an ultra marathon. If you have an upcoming ultra, be sure to add ultramarathon walking into your training plan!
Heather Hart is an ACSM certified Exercise Physiologist, NSCA Certified Strength and Conditioning Specialist (CSCS), UESCA certified Ultrarunning Coach, RRCA certified Running Coach, co-founder of Hart Strength and Endurance Coaching, and creator of this site, Relentless Forward Commotion.   She is a mom of two teen boys, and has been running and racing distances of 5K to 100+ miles for over a decade.  Heather has been writing and encouraging others to find a love for fitness and movement since 2009.