Last Updated on April 5, 2020 by Heather Hart, ACSM EP, CSCS
The Couch to 5K program is a fantastic program…in theory.
In the off chance that you haven't heard of it, here's a brief run down: created by a web designer named Josh Clark in 1996, the Couch to 5K program is designed to take non runners from their couch to running an entire 5K in just 9 weeks.    His idea was to create a program that eases participants into training slowly, and therefore  eliminating discomfort, which Clark claims to be the reason why most people quit.
And his program, for many, has worked.  Thousands of people have used the Couch to 5K program to quite literally get off of the couch and train to run a 5K.  Many of these people have gone on to become regular runners, completing 10K's, half marathons, full marathons, and even ultras.
But for many others, the Couch to 5K program doesn't work, and that's what I want to talk (type?) about today.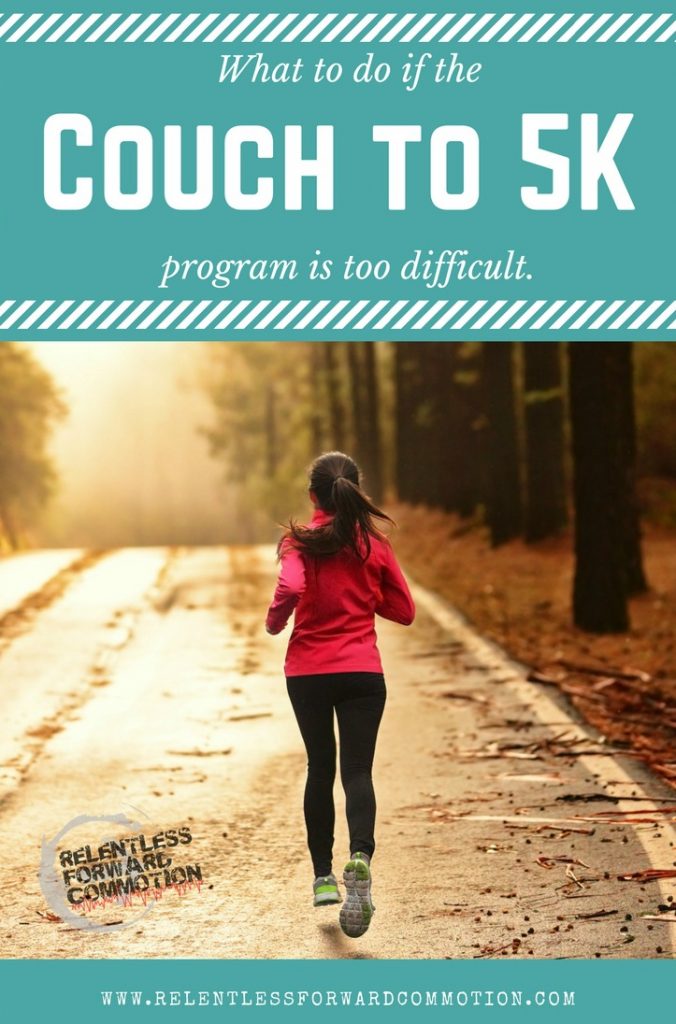 Over the last few years I've spoken with many beginners and fitness seekers who have told me that they've tried the C25K program in the past, but never completed the entire 9 week plan before giving up.  (I'm going with the abbreviation "C25K" for much of the rest of the post.  So much easier to type.)  Almost every single person has cited the same problem: they were doing fine with the program until suddenly one day, it got too hard. So they gave it another try, and another, and found they couldn't overcome that particular distance or time barrier.  They became frustrated, and quit.   With the clients who were still interested in training for a race, we took an alternative approach, creating a personalized plan that helped them reach their goals.  So I'll be the first to admit, I never really got into the nitty gritty details of the C25K program, as the running groups I've personally led and coached have had personalized plans I created myself.
Until now.
Currently, I am on week #8 of leading a group of beginners through the official Couch to 5K program, verbatim. And I'm finally experiencing with my own eyes as to why the C25K program  appears to be broken for so many.   Let's break it down:
Where the Couch to 5K Program Goes Wrong:
Week one through three isn't too complex, though it can still be overwhelming for people who truly are coming from the couch.  It is important to keep in mind that not everyone can simply get up off of the couch and "run".
The very first workout starts with alternating one full minute of running, alternating with 90 seconds of walking, for a total of twenty minutes.    Week two bumps the running interval up an added 30 seconds to 90 seconds total, but allows for two full minutes of walking to recover.   Week three gets a little more complicated, with intervals of walking and running varying between 90 seconds and three full minutes.
Week four through five is where the program slowly starts to unravel, in my opinion.   The three minute running intervals quickly jump to five minutes, and then eight.   Fifteen workouts into the plan, you are expected to run 20 minutes without stopping.   Natural progression expects that 5 weeks into these workouts, our bodies are adapting to the exercise, and our muscular and cardiovascular systems are allowing us to go further distances without significantly increased effort.  And OF COURSE there are people who are physically capable of running 20 minutes…
…but there are also countless who are not.

As with most things in life, we do not all progress at the same rate when it comes to building physical fitness. Lets keep in mind that many people who seek out the Couch to 5K program are literally coming from the couch, whether it be a lifetime of inactivity, or simply a long stint without regular exercise.  These people likely do not meet the daily suggested number of steps, never mind the daily number of recommended minutes of moderate exercise.  (30 minutes/5 times per week, or 150 minutes total per week).
Add into this equation the fact that some people in the "new runner" category are dealing with excessive weight, a common side effect of inactivity.  The extra weight may cause joint issues that make running more difficult.  And of course, we have basic rules of physics to take into account:  the heavier a person is, the more effort is required to run.
Needless to say, the ability to go from zero to a 20 minute non stop run in a mere 5 weeks, while certainly not impossible, is indeed a big undertaking for many. Cardiovascular and muscular fitness certainly improves quickly…but not always as quickly as we may expect.
But back to the C25K plan.  Next we get into weeks six through nine, where essentially the walk breaks all but disappear, and you are suddenly expected to knock out a 30 minute 5K at the end of the program.   Go ahead and ask the 4,200+ members of the "Sub 30 Club" how easy that is to do 9 weeks after you first start running.  (Please note my sarcasm.  For many, it's not an easy task at all.)
Which brings me to the title of this blog post…
What To Do if the Couch to 5K Program is Too Difficult For You.
1.  First Things First: Just Walk.  Before you start the C25K program, make sure you can walk the entire first prescribed 25 minute workout at a brisk pace.  Just walk.  I know that sounds silly, but I've encountered many people who are surprised to realize a brisk, uninterrupted 25 minute walk leaves them winded and exhausted.   So it is no wonder that adding running intervals to the already difficult workout makes the first week of C25K seem impossible.
***Check out the Learn to Love to Run Program for Beginners, a 12 week program designed to help you become comfortable with running before diving into a 5K training plan ***
Get comfortable with regular movement.  Walk 3-5 days per week, 20-30 minutes at a time.   Learn what it feels like to move quickly, to have your heart rate and breathing rate increase and learn to comfortably sustain that increase.  When the brisk walk becomes comfortable enough that you feel ready to take it to the next level, and when walking alone doesn't leave you winded or in any pain, THEN you are ready to start the C25K program.
2. Learn to Pace.  Little kids and new runners have one thing in common: their running pace is either all or nothing. And that's completely normal, learning to pace yourself and listen to your body takes practice.  Believe me, I've been running for nearly a decade and some days still struggle with it.
Keep in mind, especially in the beginning, that your running pace needs to be sustainable for the entire duration of your run, whether that be 30 seconds or 5 minutes. If you can't sustain the entire duration of the run interval, slow down your pace.  There is no magic pace or number you need to reach to be considered a "runner".   Don't let outside influences (a number goal, your running partner, etc.) dictate your pace.  Listen to your body, find your "happy" pace, and go with it.
3. Repeat Weeks if Needed.  If you struggled with a week of the Couch to 5K training program, consider doing it again.  There is absolutely no shame in repeating a workout or a week if you found it overly difficult.   Say it out loud with me, all together:  "THERE IS ABSOLUTELY NO SHAME IN REPEATING A WORKOUT."  I think this is where a lot of the feelings of failure come from, when people suddenly hit a road block and aren't able to progress forward as the training plan is written.  They aren't sure what to do, and so they end up quitting.  But here's the thing to remember: the sport of running is not going anywhere.  5K races will always be around.  If your introduction to the running world takes a few more weeks than initially expected…so what?  I promise the extra wait and work will be worth it in the long run…pun totally intended!
4.  Add More Weeks. If the jump from 5 minutes of running to 8 minutes of running is too much, add a week that splits the two intervals in half.  Try 6 or 7 minutes of running instead.  The goal is to increase your running time, and decrease your walking time.  Again, not everyone is going to progress at the same rate, so if you need more time: take it.
****OR****
5.  Change Your Intervals.  Here you are, at a Couch to 5K roadblock.  But…you've already signed up for a race, whether it be with a training group, or simply as a means of holding yourself accountable.  You are 5 weeks into the 9 week program, with a registered, paid for 5K in just 4 weeks.  Repeating a week will put you behind on training, and you do NOT want to miss your race.  What do you do?
In my opinion, in this scenario the most important thing is to make sure you can cover the prescribed workout distance, as it will help safely build you up to completing a 5K.  So instead of stressing about the prescribed intervals, change your intervals.  That's right.   Is 5 minutes of running too hard, but the subsequent 3 minutes of walking too monotonous?  Then change it up.  Try four minutes of running, followed by 2 minutes of walking.  Or three minutes of running.  Whatever YOU can do.  Cover the prescribed distance (not time) for the day in whatever intervals get you there.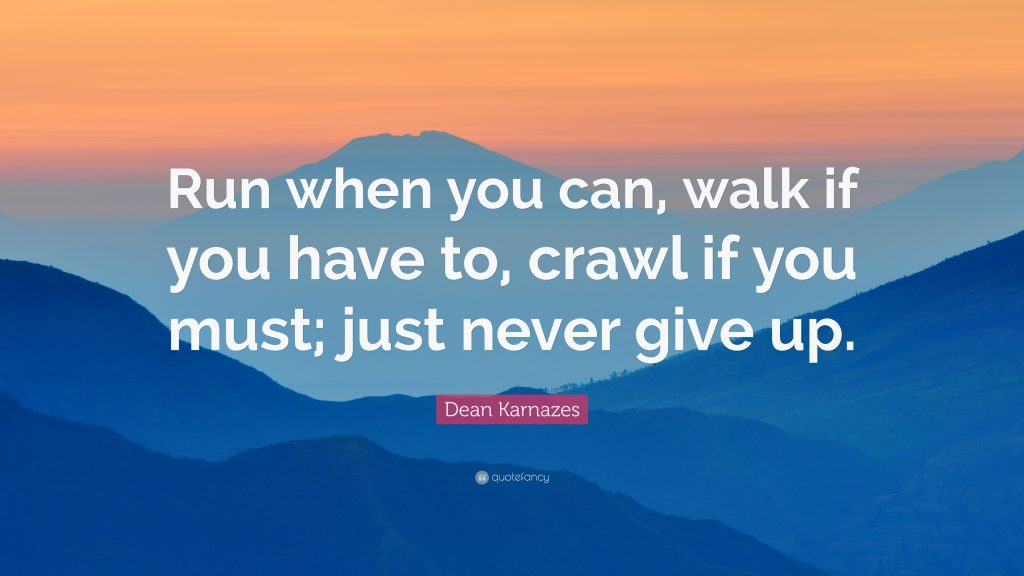 6. Walk If You Need To. Say you are at your first long run, 2.25 miles with zero walk breaks.  But when you give it a try, you find that you just can't do the whole thing without needing a walk break.  Well then…walk.   And have no fear, walking does not make you a:
cheater
loser
failure
any other insults you may feel like hurling at yourself.
There are no Couch to 5K police that deem what is "right" and what is "wrong" when it comes to YOUR journey to the 5K finish line.
For what it is worth, my clients for the most part have seemed to progress quicker when taking walk breaks, rather than forcing themselves to run the entire distance.  Why? Because the walk breaks allow their bodies to "rest" before they become overly exhausted.  Therefore, their running pace at the end of the workout is still strong, much stronger than it would be had they pushed through the entire run without a break.  As a result, they are able to cover more distance and sustain a longer workout, which ultimately helps to effectively build their endurance.
7. Find a Buddy. If motivation is your struggle, find a running partner (or many!) who are willing to tackle the C25K program with you.  Running partners provide accountability…meaning it's much harder to hit that snooze button or just head home after work when you know someone is waiting on you.
Other Important Tips:
1. Get Comfortable with Being Uncomfortable. Many of the hurdles you encounter during your first C25K training plan may be mental.  And I totally understand, believe it or not I remember a time where the thought of running for FIVE WHOLE MINUTES was terrifying.   If you physically can, push out of those comfort zones.  Walking is absolutely fine, but it is also a comfort zone.   If you are trying to push past a specific run interval but feel stuck, ask yourself if you can give 30 more seconds before dropping down to a walk.  Is it hard? Yes.  Will it get easier? Yes.
2. Learn to Listen to Your Body.   When learning to get comfortable with being uncomfortable, really try to stop and listen to the signals your body is giving you.  There is a very important difference between the feeling of stepping out of your comfort zone (increased heart rate, increased breath, etc.) and pain that signals a potential serious issue or injury.  Never ignore pain, dizziness, or other symptoms that may indicate a health issue.
3. Rest and Recover.  Your goal is to get OFF of the couch…but don't forget that rest and recovery are both integral parts of running and training.  Adequate rest will help prevent overuse injuries as well as physical and mental burnout.
In Summary…
The Couch to 5K program is a great starting point for many new runners…but not all new runners.   If you are struggling with the C25K program, know that you are not the only one who has found it difficult.  Try the above mentioned tips to help you progress past your training road block.  If you are still struggling, reach out to a running coach to see if they can help you design a program to help suit your needs.
Bottom line: don't give up.  Every runner started somewhere, and every one remembers the days when 30 seconds of running was a big deal.  Keep pushing forward, and you WILL make it to that 5K finish line…and even beyond!
_______________________________________________
*Disclaimer: I am an ACSM certified Exercise Physiologist, however, all information given in this post is to be considered  general suggestions for healthy adults, and not personalized exercise prescriptions.  Please consult with your physician before beginning a new exercise routine such as the Couch to 5K program.
Heather Hart is an ACSM certified Exercise Physiologist, NSCA Certified Strength and Conditioning Specialist (CSCS), UESCA certified Ultrarunning Coach, RRCA certified Running Coach, co-founder of Hart Strength and Endurance Coaching, and creator of this site, Relentless Forward Commotion.   She is a mom of two teen boys, and has been running and racing distances of 5K to 100+ miles for over a decade.  Heather has been writing and encouraging others to find a love for fitness and movement since 2009.