Last Updated on December 16, 2020 by Heather Hart, ACSM EP, CSCS
6,12,24, and even 48 hour timed, short looped ultramarathon courses are becoming a popular race format in the ultra world. When it comes to preferred types of race courses, there are three types of ultrarunners:
Those who love running timed ultras (usually 6, 12, or 24 hours) on a short loop course.
Those who loathe running timed ultras on a short loop course
And those who haven't yet run a short looped ultramarathon course.
Chances are, if a google search brought you to this post, you are in the third category. Welcome. Let me be the first to say that I am one of the rare runners who actually enjoys a short looped ultramarathon course, but I also don't hate long runs on the treadmill either. I've run point to point ultras, out and back ultras, and a number of timed, looped courses (though a track ultra is still on my to-do list). Like everything, there are pros and cons to running this type of course. Hopefully the tips I share with you in this post can help you have a successful – and fun – timed, looped, ultra.
How to Run Timed, Short Looped Ultramarathon Courses
1. Make Your Stops Infrequent
The premise of these races is typically to run as many loops as you can in a predetermined amount of time.  Usually in increments of 6 hours (6, 12, 24, etc.). Therefore, you want to waste as little time as possible when you are not running. 
Herein lies the problem with looped courses: the shorter the loop, the more opportunities you are given to waste time. Just because you pass the aid station (or your tent) often, doesn't mean you have to stop often.
While it may be tempting to stop every time you pass that sweet table full of snacks, or stop and chat a bit with your crew – don't.  Minutes casually taken here and there add up fast, especially when you are talking 24 hour races. 
Instead, carry enough water/fuel to get you through a handful of loops, or at least 45 minutes to an hour, before stopping to refuel.  Alternatively, lay out your hydration/fuel so you can grab it as you run by – without stopping.
2. Take advantage of not having to carry a ton of stuff.
Yeah, I just told you to not stop every loop, and I do mean that.  But on the other hand, take advantage of not having to carry hours worth of fuel, hydration, and potentially other gear like jackets, trekking poles, safety gear, etc. 
Lighten your load – instead of a hydration pack, try a handheld bottle if you absolutely need to run with water.  Or, if the temperature is cool enough, try drinking from the aid station table (without stopping) and carry nothing at all. 
Not carrying around 7 pounds of "stuff" (I call my hydration pack my "mom purse" for a reason…) will quite literally lighten your load, causing you to become slightly more efficient and expend less energy while running.
3. You don't need drop bags – but organize anyway.
One of the appeals of a looped course is that you don't need to go through the logistical challenge of packing and placing drop bags along the course.   You don't need the foresight to wonder what you might want or need at mile 50, 72, etc., because all of your stuff is right there at the start/finish line, waiting for you whenever you need it. 
That said, try to still organize your "stuff" for quick and easy access, just like you would in a drop bag.
Ultrarunner Kaci Nash explains her technique: "Organization is key for me at looped courses. A lot of time can be saved if you have food prepackaged and bottles premixed. Clothes in Ziploc bags labeled. If you anticipate needing the bags in a certain order, arrange them in that order in your tub. If there's something you plan to use every loop (for me it is usually peanut butter or Nutella on a spoon), leave it out."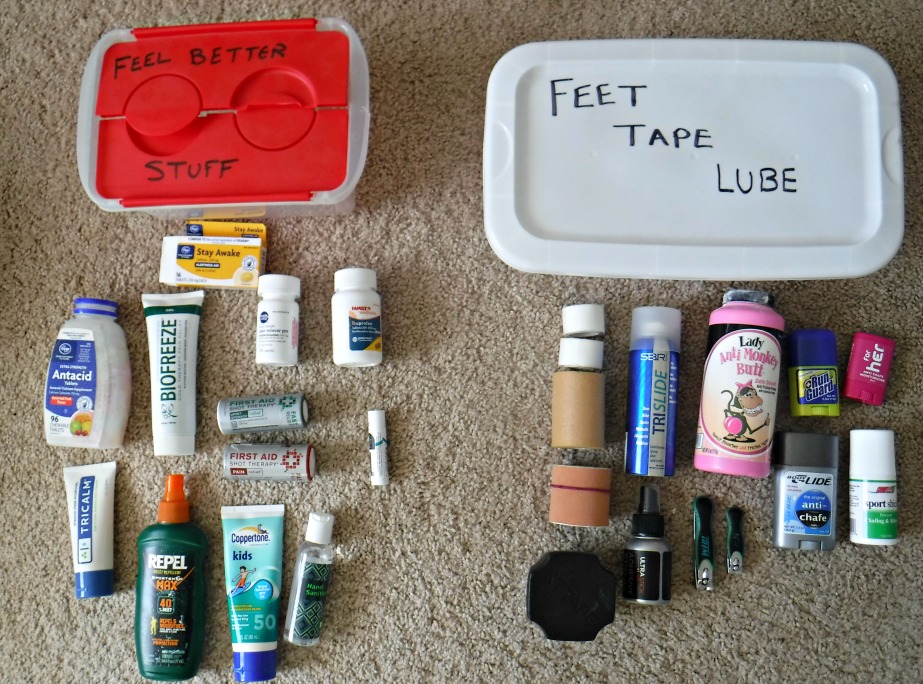 Organizing your nutrition by distance/time will not only prevent wasting time digging through your bucket of snacks, it will ensure you're getting enough calories by allowing you to track what you are eating, and when.
Organizing your clothing and other gear by general time of day or number of loops will help you know exactly where your jacket is for when the sun goes down.  Again, the idea here is to cut down on wasted time: know exactly where your "stuff" is.
4. Distract yourself from the monotony.
The main "pro" of loops: you're never alone. You see your friends/crews/race staff often.
The main "con" of loops: you see everything else just as often. Like that stretch of rocks you hated running over the first 37 times. Or that straight-away that seems to get longer each loop. The scenery doesn't change, and the monotony can be mentally debilitating.
So, find – or create – distractions.
Run with friends, or make new ones. 
Keep in mind though, running with other people can contribute to the "time wasting" that you are trying to desperately to avoid.  If you do end up running with a partner or a group, plan your stops, shoe changes, bathroom breaks, etc.   For example, if person one stops on loop 5 to change their shoes, then person two stops on loop 6 to use the bathroom, then person 3 stops on loop 7 to refill their water…you get the idea…you end up wasting a ton of time.  Plan together. Work smarter, not harder.
Listen to music or podcasts
Use music (with headphones, please), if the course and race director allows it. Better yet: a podcast or book on tape. Learn something new while you run!
Play games
One of my favorite games to play on a looped course is the "alphabet" game.  Each loop, pick a letter.  Take turns (if you are running with others) naming as many words as you can that start with that letter, without repeating a word.  It's not only a great distraction, but it's 26 loops worth of distraction. HOURS of fun!
Give yourself rewards
Another popular distraction is rewarding yourself after hitting a certain number of loops. Ultra badass Jennifer Raby says "I give myself rewards. At 10 miles I can have a stroopwafle, at 15 miles I can start listening to music, or after 12 PM I can steal a beer from Tony (her friend)." Of course, your rewards will vary based on what motivates you, but having shorter goals will help motivate you to keep moving forward.
5. Hide the chairs...and pretty much anything else of comfort.
There's a reason the popular instagram account, UltraRunningMemes , constantly refers to the lure of the chair (or, chäir, as they call it).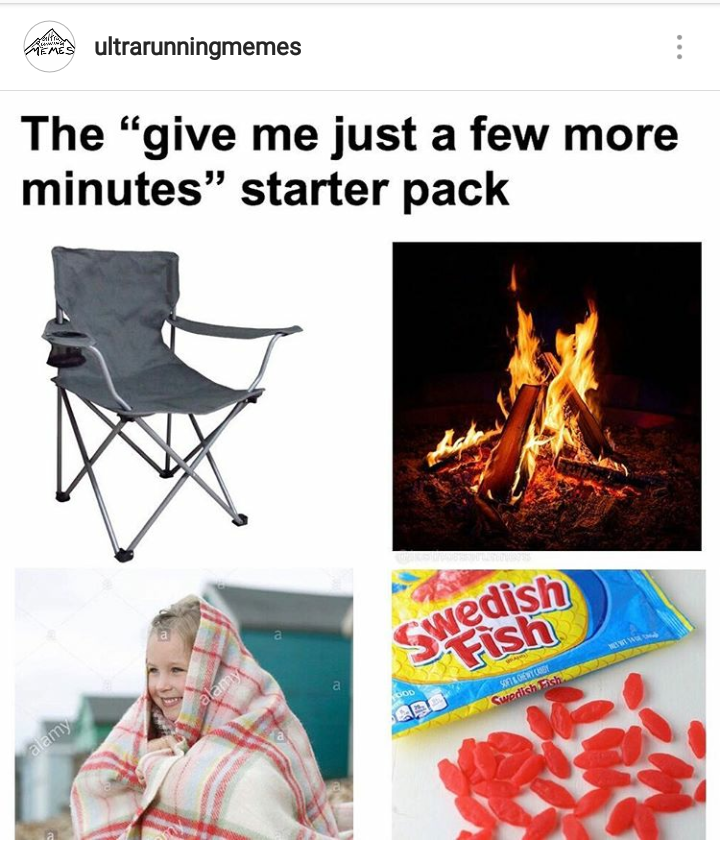 The truth is: you'll be tempted to sit, especially when you pass your home base, crew, and all of their chairs every mile or so. Don't do it, unless you absolutely have to sit for footcare. Even then, make sure the time on your butt is limited.
Or make it less comfortable: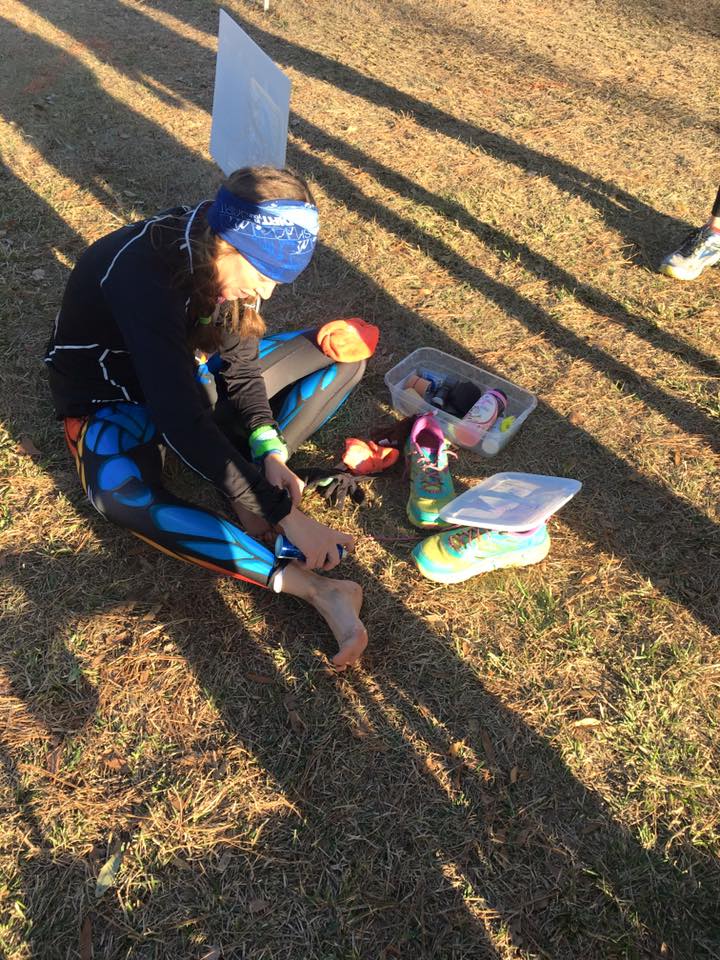 "One of my friends doesn't bring a chair for herself." says Carlene Paquette. "Because she's supposed to be running. Her support crew gets chairs, she does not."
Other distractions include: fires, warm blankets, people drinking beer…you get the idea. Don't say we didn't warn you.
6. On competition:
Trying to increase your ultrasignup ranking at a timed event? Competing in a looped, timed event requires a whole different approach. You don't just hit a certain number of loops and win – you've got to outlast everyone else. Here's a few tips from some badass, experienced ultra runners:
Utilize the entire time available.
It's a 6, 12, 24 hr event. Use it all! If you are tired, walk. You can go a long way if you keep moving. Don't stop at standard mileage (13.1, 26.2, 50k, 50 mile etc) just one lap past can jump you many places on the leader board since many hit their mileage goal and stop." -Nathan Dewey, ultra runner and RD of "Retreat Repeat", 8 hour looped course
Don't get caught up "racing" early.
Whatever your plan is for yourself, stick to it & don't worry about who else is doing what. The minute you change your plan to keep up with someone else, you're likely on a plan neither of you can keep up." – Karen Jackson, finisher of over 100 ultras and 30- 100+ milers (in other words, she knows what she's talking about!)
Mind Tricks
"Wage psychological warfare on your opponents until you have destroyed them all" – Kevin Randolph, ultra runner and RD of "The Stinger" 6/12/24 hour track ultra.
_________________________________________________
In short… (pun totally intended) shorter distance, looped ultras can be a ton of fun, and a fantastic opportunity to truly push your limits in a more controlled environment. OR they can be miserable, monotonous, and an opportunity to waste a lot of time. The choice is yours!
Reader input: Have you run a short looped ultra course? Did you like it or hate it? What's the shortest distance loop you would run? Have any tips to add? Comment below!
Heather Hart is an ACSM certified Exercise Physiologist, NSCA Certified Strength and Conditioning Specialist (CSCS), UESCA certified Ultrarunning Coach, RRCA certified Running Coach, co-founder of Hart Strength and Endurance Coaching, and creator of this site, Relentless Forward Commotion.   She is a mom of two teen boys, and has been running and racing distances of 5K to 100+ miles for over a decade.  Heather has been writing and encouraging others to find a love for fitness and movement since 2009.