Last Updated on March 19, 2018 by Heather Hart, ACSM EP
Shoe review days here on Relentless Forward Commotion feel as exciting as "show and tell" did back in Kindergarten. I will unabashadley admit that I am a nerd for running shoes. Today we're talking about the new Xero TerraFlex lightweight trail running shoe from Xero Shoes.  But first, a little background info.
The barefoot running movement is a moment in running history that still stands out in my mind. Perhaps it's because it happened during the very beginning stages of my running journey. Perhaps it's because I'm fascinated with the idea of running a ridiculous number of miles in sandals.  Either way, barefoot running has always been a hot topic in the running industry for me.
In 2011, Christopher McDougall published his book "Born to Run", telling the tale of the incredible Tarahumara Indians who effortlessly ran ultra marathons around the desert for fun, fueled by chia seeds and wearing nothing but sandals.  Around this same time (coincidentally or not) every running shoe company under the sun released their version of a "barefoot" shoe.  The trend held on for awhile, but seemingly fizzled out in favor of more traditional, higher heel-to-toe drop shoes.  The big names in the running industry phased out their zero drop shoes, and went back to what they knew best.  But a few smaller companies have stuck to the belief that zero drop shoes are the best bet, and I'm glad that they are still around.
I first heard of Xero Shoes last year when I was able to review their Z-Trail Sandal.  The idea of running in sandals fascinates me, even though I'm still not entirely convinced I won't break my toe while doing so.  Therefore, a more traditional "shoe", like the new Xero TerraFlex is more up my alley, and I was MORE than happy to review a pair.
ABOUT XERO TERRAFLEX
Simply put, the Xero TerraFlex was born out of necessity.  Many Xero Shoes fans raved about the Prio model, a lightweight road running shoe, but wanted to take the shoes on trail.  However the Prio lacks sufficient grip and traction, necessary for most trails.
Enter the Xero TerraFlex.
SPECS:
– Weight: 8.2 oz (women's size 7)/9.6 oz (men's size 9)
– Wide toe box + zero drop insole for a natural fit and feel.
– FeelTrue® rubber to allow the foot to bend and move naturally
– Vegan friendly materials — No animal products in the TerraFlex
– Embedded 3mm  Barefoam™ inside the sole, plus a removable 2mm insole (remove for a more genuine barefoot feel)
– Adjustable instep strap
– 5,000 mile sole warranty
REVIEW:
There are many factors, specifically long term durability and quality issues, that take time, miles, and patience in order to review.  But for the most part, I can tell if I'm going to like a shoe within the first half mile of a run.
FIT:
The XeroShoes website recommends sizing up 1/2 sizes from your normal shoe size, I found this recommendation to be spot on.  I sized up to an 11 (yeah, I've got lengthy feet) and they fit just like size 10.5's in a number of other brands that I wear.   Personally I do not have an overly wide forefoot, but over the years have been accustomed to having space in the forefoot of shoes to allow my toes to naturally splay.   The Xero TerraFlex does not disappoint in the roomy forefoot.    Midfoot, the shoes hugs enough to feel similar to most barefoot or minimal shoes on the market: almost like a burly sock as opposed to a traditional shoe.  The adjustable "inverted V" straps aren't sewn down, so you can use them to lock in your instep while keeping your toes free to move.  All in all, it's a very natural fit and feel.
That said, there is definitely more "heft" to the Xero TerraFlex compared to most minimal shoes. The shoe is not heavy perse, but there is enough to the shoe to make you feel like you have significant protection underfoot to protect against trail elements.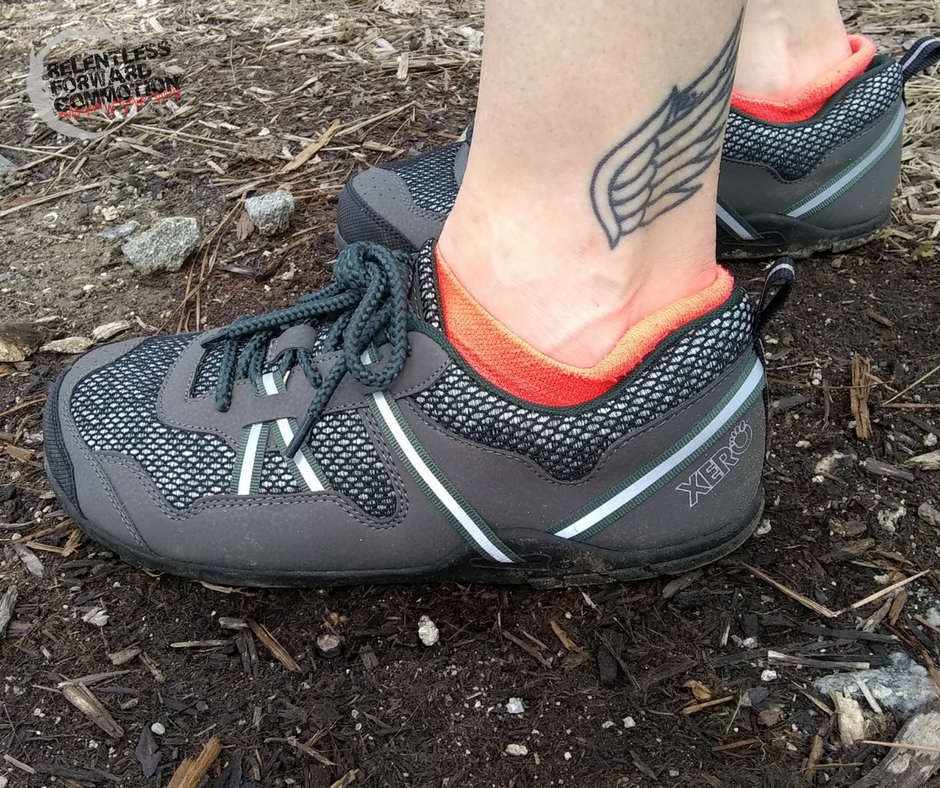 RUN:
I often joke that it's so much easier to write negative shoe reviews, because there are specific complaints to point out and discuss.  When I enjoy a shoe, it's often because I don't notice the shoe. In my opinion, a running shoe is a tool that you shouldn't notice. It should feel as though it is a natural extension of your foot.  There should be no hot spots, no slipping heels, no clunky sole, nothing that reminds you "hey, there's a shoe on my foot".
All of that said, in my opinion, the Xero TerraFlex falls into the latter category: I am struggling finding the words to share because when I run in this shoe, I don't notice it.
This, my friends, is a good thing.
Everything I expected to feel in this shoe was the complete opposite of my traditional experience with minimal/barefoot shoes.  The heel collar of the Xero TerraFlex is quite cushioned, which is something I often find lacking in minimal/barefoot shoes.   But most notable, in my opinion, was the fact that the TerraFlex maintained it's minimal feel without also feeling stiff or clunky.  The Bareform sole and FeelTrue rubber gives the same soft ride of much more cushioned shoes, without actually being overly cushioned.  I can still "feel" the trail underfoot, but there is enough cushioning to protect against rocks, roots, etc. over the course of a longer run.
The tread on the sole of the Xero TerraFlex is not wildly aggressive.  That said, it is certainly enough to handle all that we have here in Coastal South Carolina (sandy, rooty, and often pine straw or leaf covered single track).   I would definitely feel confident trying this tread out on a more technical trail.  I would rank the ruggedness of this outsole much higher than any of my Hoka's, but perhaps not quite as aggressive as Solomon.
Perhaps my one complaint would be the actual shoe laces the Xero TerraFlex comes with.  They are very thick, which is a good thing when trying to tie and untie muddy shoes.  However, they did seem to come untied quite a bit at first, until I really locked them down and double knotted.  Of course, this is a wildly easy fix: just change out the laces.  Hardly worth a complaint.
In short: if you are a minimal/barefoot shoe fan, BUT want some comfortable yet aggressive protection and tread underfoot, the Xero TerraFlex might be exactly what you are looking for.
Again, shoe reviews are wildly subjective. What works for me might not work for you, and vice versa. Therefore, if you have a specific question about my experience with the Xero TerraFlex, please do not hesitate to ask your question in the comments below, and I will do my best to try to answer them!
*Disclaimer*: The Xero TerraFlex shoes were provided to me at no cost for review purposes.  However, all opinions stated are my own.