Last Updated on April 20, 2020 by Heather Hart, ACSM EP, CSCS
People often ask how I'm able to train for ultra marathons as the mom of two little boys.  Unfortunately, just like most things in life, the answer isn't straight forward.
Sorry, no magical, simple answers here.
Since their dad and I share custody of them, there are full weeks when they are with their dad that I get to run whenever I want (well, whenever my work schedule allows).  Combine that with the fact that I work at home and/or in a gym, and these are the weeks that I put in 50+ miles plus at least 6 hours of strength/cross training.  Completely unrealistic for the average, non-divorced parent working a 9 to 5 job.
But then there are the weeks the boys are with me, and things get a little more difficult.  Especially during summer vacation, when they are home with us 24/7.   Geoff and I are admittedly selfish with our training, in the sense that if one person goes, the other one wants to go too.   I get jealous if he heads to the gym without me (jealous of the workout, not of him going somewhere without me) and he feels the same if I head to the trails without him.   But the kids aren't quite old enough to be left at home alone…so they come with us.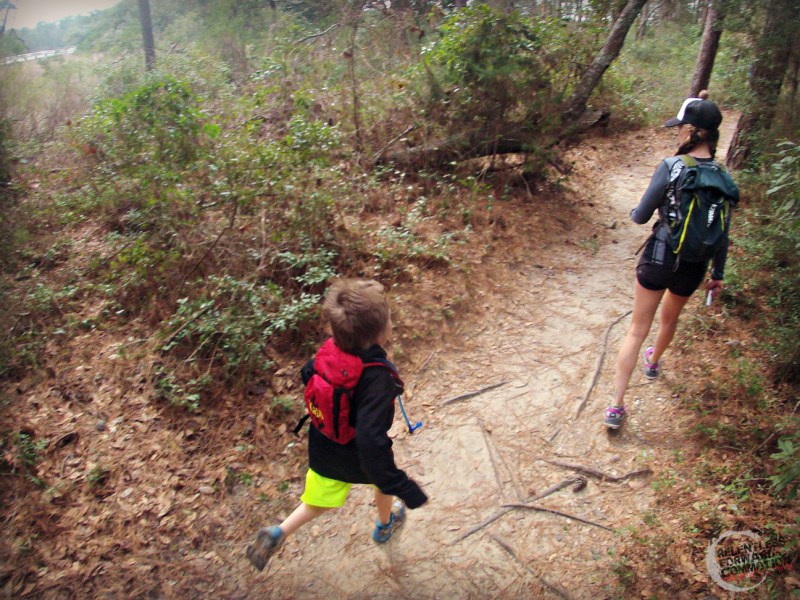 Now, don't get me wrong, while there is certainly some selfish intent here, there is as much, if not more, what I hope is considered "good parenting" motivation as well.  As a mother it is incredibly important to me to expose my kids to healthy, happy, exercise as well as hopefully help foster a love for the great outdoors.    Things that I not only love and want to share with them, but things that I feel are incredibly important to foster their growth as active and environmentally responsible adults one day.
Plus I need to pry their little eyes away from their iPads.  I have no idea why it is such a phenomenon for kids to watch OTHER people play video games on YouTube, but I'm kind of bummed I didn't think of it first.  Some of those Minecraft gamers are making a fortune in YouTube views off of our Nations elementary school crowd.
So…we head to the trails.
Now, as you might expect, my kids, like many, can't currently head out for an easy 10K.  Not yet at least.   They are little, and their running experience is still minimal.   So we've started running what we call "kidervals" – kid intervals.   It goes a little something like this:
Geoff runs a few hundred yards with kid #1, while kid #2 and I hang back and walk.   After a few hundred yards, they turn back and run towards us.  Once they reach us, there has to be an official "tag" hand slap before switching, because you know, we're all a bunch of little kids in our hearts.   Then kid #2 and Geoff run a few hundred yards, while kid #1 and I walk.  When they return again, tag, *I* run a quarter of a mile or so by myself, while Geoff and both kids walk or do an easy jog.  I'm not sure how I always luck out and get to run by myself.  They either love me or don't like running with me, I haven't figured out which is the case.
The "kidervals" give the kids a chance to run, and run fast (because kids basically have only two speeds: walk and sprint).  But it also gives them plenty of time to walk, let their little legs rest, and their heartrates come back down.  It gives me a chance to remind them to drink some water, and check in from time to time to make sure they are still having fun.   And lastly it gives Geoff and I a chance to put in some distance (because running out and back on a 3 mile trail dozens of times truly adds up.  I'd tell you how much it adds up, but I've yet to bring my GPS watch on one of these kiderval runs.)
Of course, we have our good days and we have our bad days.  There are "kiderval" runs where my kids can't get enough; they count each interval and get really excited when they exceed double digits.  We have to drag THEM back to the car, sometimes even in the dark, because they don't want to leave.
Then there are the days when they are done after one interval, and I have to play "tow truck": holding their hands and literally dragging them down the trail behind me.  (This is the case more often than not now that temperatures are soaring upwards of 100 degrees).   There are smiles and laughter, and sometimes falls and scrapes…
But in the end, whether they run 3 miles or 30 feet, they always thank us for taking them out there.  And in turn, we thank them for tagging along for training.  Sure, it's not the three hours or 20 mile runs we might have wanted to get in, but it's time on our feet, and that counts for something.  Plus, we are getting fresh air, getting the kids moving and off of screen time, and making memories as a family.
In my book? Kidervals are a huge "win".
If you'd like to learn more about how to introduce your kids to running, check out this post:
Parents, do your kids run with you? How do you manage to get your training done with little ones around?
Heather Hart is an ACSM certified Exercise Physiologist, NSCA Certified Strength and Conditioning Specialist (CSCS), UESCA certified Ultrarunning Coach, RRCA certified Running Coach, co-founder of Hart Strength and Endurance Coaching, and creator of this site, Relentless Forward Commotion.   She is a mom of two teen boys, and has been running and racing distances of 5K to 100+ miles for over a decade.  Heather has been writing and encouraging others to find a love for fitness and movement since 2009.