Last Updated on March 26, 2020 by Heather Hart, ACSM EP, CSCS
Long before I discovered ultramarathons, I went to school to study exercise science and became a certified exercise physiologist. I've been working in gyms, programming workouts for personal training clients, since 2010. So workout posts are nothing new in these parts. Most of these workouts are designed to help you become a stronger athlete, less susceptible to injury, and ideally, take some time off of your personal record times.
But let's be real: ultrarunners have bigger problems than PR's.
We face some real world, disgusting, hilarious, and pathetic scenarios on the trail over the course of 50, 100, 200 miles or more. Things that the leg press machine or planks simply don't prepare us for. (Like the time I rolled down a hill with my shorts around my ankles…more on that later). But don't worry: Coach Heather is here to help.
7 Ridiculous but Real Ultramarathon Problems – and Exercises that can Help
Every single one of these problems is written with first hand experience. Predicaments I've found myself in mid ultramarathon, thinking to myself "nothing I've done has prepared me for this!".
But, functional training is not only a catchy, trendy fitness term, it's a concept I fully believe in. Especially when it comes to ultramarathons. So here we go…
Disclaimer: these videos are pretty atrocious and I'm not even sorry. I'm also not even sure if I'm serious anymore.
Problem: What the hell is on this port-a-potty toilet seat?
This is likely to be more of a problem for the ladies over the gentlemen among our ranks. But sometimes, even the dudes need to take a seat in the port-a-potty. And nothing is worse than opening that door and seeing that the toilet seat has been violated by who the hell knows what. It doesn't matter, you hold your breath and try not to look. And you DEFINITELY aren't going to sit on that.
Solution:
For this real world ultramarathon problem, you need strong legs and a healthy dose of muscular endurance to help you squat-and-hover. Here's what you should do.
Wall Sits: Back up to a wall. Engage your core so the small of your back pushes into the wall. Now, lower yourself down until your thighs are parallel to the floor, knees at a 90 degree angle. Stay here for 30 to 60 seconds, or however long you normally require to take care of business.
Front Squats: Get into squat position. Heels about hip width apart, or slightly wider, toes pointed forward. Hold a weight in front of you. A full hydration pack works if you don't have anything else available. Now, send your butt back, keeping your weight in your heels and your torso tall (you don't want to be looking at the floor). Pretend you are sitting back onto a port-a-potty seat, but stop last second, remembering it is, in fact, a port-a potty seat. Push the weight through your heels, and return to standing.
Problem: I can't get my hydration pack on or off my shoulders without getting stuck.
Your hydration pack is full, and getting it over your shoulders AND both arms through the arm holes seems to require some sort of divine intervention. The song "fat guy in a little coat" from the movie "Tommy Boy" is running through your head. Oh shoulder mobility, why are you failing me now?
Solution:
If you rarely move your arms over your shoulders or behind your back, now's a good time to start.
Around the Worlds: Place your feet shoulder-width apart and hold your full hydration pack in both hands with arms extended in front of you. In a circular motion, orbit the weight around your head, completing a 360-degree revolution and ending up at the starting position. Complete the same motion in the reverse direction, again ending at your starting point.
Swimmer's Hovers: Squeeze your shoulder blades and raise the elbows as high as possible. Straighten arms to form a Y. Sweep back turning the arms inward and palms up. When the arms reach a 45 degree angle to the torso, bend the elbows and place as high up your back as possible. Reverse the motion, starting with pinching the shoulder blades and lifting the elbows. Straighten arms and sweep around turning the arms out and palms down. When you reach the Y position, bend the elbows and place your hands behind the head. Allow the elbows to tap to the ground and relax.
Problem: I'm stuck in this chair.
Getting up and out of a seated position is something we usually take for granted – until we're trapped in the grips of a folding camp chair 62 miles into a 100 miler. Then, it becomes one of the most physically, not to mention mentally exhausting tasks we've ever faced.
Solution:
Practice getting up and out of the seated position in the most difficult way you can imagine. Here's some suggestions…
Single Leg Sit Down / Stand ups: Sit down on a bench, stable chair, or step. Put your legs out in front of you, knees at a 90 degree angle. Now, stick one leg straight out, parallel to the ground. Then: stand up. Once fully standing, slowly and carefully lower yourself into a seated position. Repeat 10-15 times per leg.
Bonus: do these on a low couch or some other already difficult to get off of surface. Or hell, an actual camping chair. (This video is pretty pathetic…)
Overhead Squat: It's just like a front squat, but this time, hold your hydration pack over your head.
Bonus: have your spouse or workout partner start yelling crew-like encouragements at you. "GET UP AND MOVE, I'M NOT TELLING YOU AGAIN."
Problem: I need to pick my pathetic self off the ground and keep going.
Laying on the trail questioning your life choices? Know you need to get up and keep moving, but the thought of even attempting to stand leaves you exhausted? I've been there. See? Here's proof.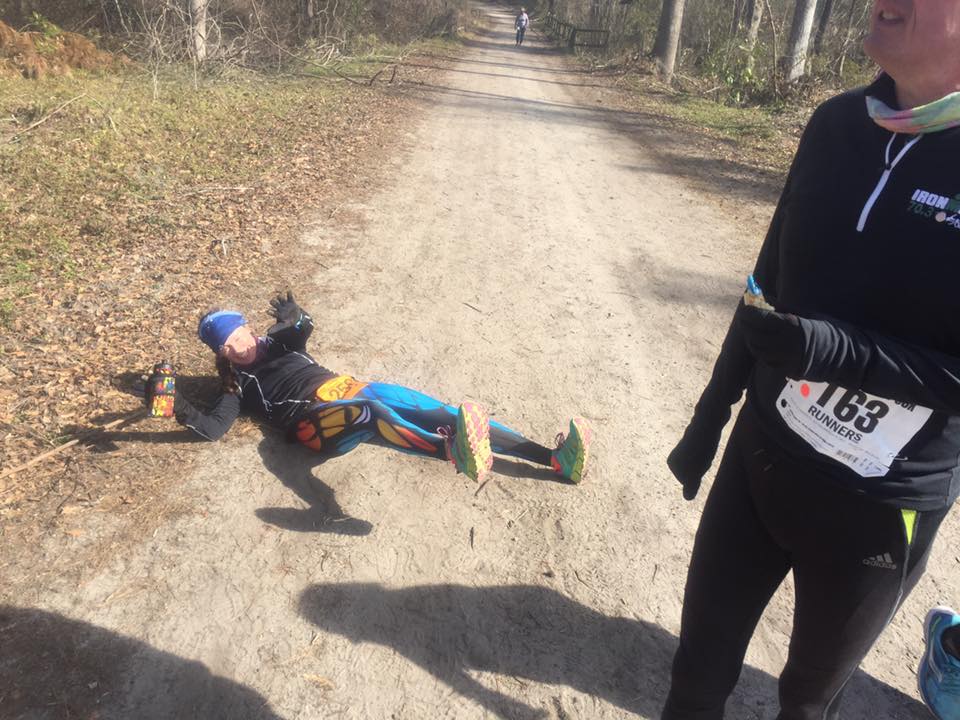 Solution:
Practice picking yourself up off the ground, while carrying the weight of your potentially questionable decisions with you. Here's how:
Prisoner Getups: Start on your feet, standing about hip width apart. The weight can be in your arms close to your body, straight out in front of you, or over your head, depending on how difficult you want to make this. Now, carefully lower yourself to your knees. Once there, windshield wipe your legs one at a time
Turkish Getups: This is actually one of the longest exercises to describe. So much so that there are entire blog posts dedicated to simply doing a proper Turkish Getup. So I will point you in their direction instead. See: How to Do a Turkish Getup (with videos).
Problem: My trekking poles are the only thing keeping me physically and emotionally stable right now.
If you had asked me, five years ago, what I thought the purpose behind trekking poles was, I would have said that they were to help you navigate a difficult climb up a mountain.
Now, I realize that trekking poles are also wildly helpful in flat ultramarathons as well, as they can hold up your very being and what's left of your dignity between miles 80-100. I think this photo was from like mile 96 …
Solution:
Strengthen those triceps to help you push through those trekking poles, when you inevitably start falling forward into them.
Tricep push-ups: Start in regular push-up position, but bring you arms in close to your body. Your upper arms and elbows should be placed close to your body. Keep your core tight and spine neutral as you push your body up and lower it back down.
Banded push-downs: In one hand, hold a resistance band straight over your head. Avoid locking your elbows. Grab the band with your opposite hand, keeping your elbow close to your body. Then, push your hand straight down towards your leg. Return to start, keeping your elbow close to your body.
Problem: I dropped my water bottle, and if I bend over to pick it up, I'm probably going to fall.
If you've run any sort of distance, you know this problem. Your legs are sore, your back aches, and with one wrong move of the hand…you drop something. You watch that item, maybe it's a water bottle, maybe it's your gel packet, fall towards the ground in what feels like slow motion. In your head you're screaming "NOOOOOOO" also in slow motion. Because now you know you're going to have to bend over and pick it up. And your entire body is like "oh hell no we aren't picking that up. Try it, we dare you!"
Solution:
Hamstring strength, mobility, AND balance, so hopefully you don't tumble over when bending down to pick up whatever you've dropped.
Single leg hamstring windmill:
Stand with your feet hip width apart, with a weight in one hand. Now, shift all of your weight to one foot, the same side of the body that you are holding the weight in. Hinge forward at the hips, keeping your core tight and back flat. As you hinge forward, allow the opposite leg to swing backwards, like a pendulum. Try to keep your leg and spin inline. Hinge forward until the weight touches the ground (if you can, while keeping the supporting leg straight). Then, push through your foot to return to starting position.
Problem: I'm taking care of business in the woods, and this tree trunk is the only thing preventing me from tumbling down this hill to a certain DNF.
Here's a fun story…during my first ever ultramarathon, I was stumbling around the woods near dusk, and nature called. The single track trail, part of the Long Trail in Vermont, had a rock wall immediately to the left, and a bit of a downhill immediately to the right. I figured, well I'll just squat on this hill and hang on to this tree to stabilize myself, and pee downhill.
Great idea right? Right. So I pull over to the side of the trail, pull down my shorts, squat down and grab on to the tree…only to discover the tree was dead, and no longer actually rooted into the ground. With my shorts around my ankles, I tumbled down the hill a ways. Fortunately, I was fine, and learned a very important lesson: check the stability of the tree before squatting.
Solution:
Now, that said, sometimes when you hover holding on to a tree long enough, your legs lock up and don't want to work. You've got to PULL yourself up using your back muscles. Want to keep them strong? Here's how.
Banded long pull: wrap a resistance band around…something. You can do this single arm or double arm, depending on the length of your band. Keeping your core tight, and with a slight bend forward, squeeze your shoulder blade to row the band backwards, bringing you hand(s) towards your chest. Return to start.
There you have it! Seven actual, real life, ridiculous but true ultramarathon problems. Next time you find yourself laying on the ground at mile 80 begging for the muscles in your leg to stop twitching, I hope you think to yourself "damn I'm glad I did those get-ups" .
Heather Hart is an ACSM certified Exercise Physiologist, NSCA Certified Strength and Conditioning Specialist (CSCS), UESCA certified Ultrarunning Coach, RRCA certified Running Coach, co-founder of Hart Strength and Endurance Coaching, and creator of this site, Relentless Forward Commotion.   She is a mom of two teen boys, and has been running and racing distances of 5K to 100+ miles for over a decade.  Heather has been writing and encouraging others to find a love for fitness and movement since 2009.