Last Updated on June 7, 2021 by Heather Hart, ACSM EP
It's 5:45 am on a Saturday morning, and I'm laying on my back, staring at the ceiling of a pop-up-tent through the mesh roof of my regular tent. I'm in a tent – inside of another tent (it's a long story)- in the middle of the Francis Marion National Forest, contemplating what the hell I'm going to do with my Saturday at the Hell Hole Hundred.
The previous night had proven to bring almost zero sleep. My husband and three friends had crammed three tents (four, if you count the tent inside a tent) and two Subarus into a tiny piece of mowed grass on the side of a dirt road in the forest, miles from civilization. It would soon enough transform into an aid station for an ultramarathon, but at the moment, was a sight so out of place, it caused a couple of local's to stop by in the middle of the night and contemplate, out loud, "who the hell would set up camp like this in the middle of the forest." The locals are notorious for either not being fans of our races, or simply being fans of vandalism, and in the past have done everything from knock over port-a-potties to stealing aid station water jugs and drop bags. While statistically, I knew I was not necessarily unsafe, my brain wouldn't shut down. And I didn't sleep.
So when my alarm finally went off Saturday morning, I wondered if I really had any business at all showing up to the start line of the 50 miler I was registered for. Save for the Wambaw Swamp Stop 50K a month prior (and that one kind of hurt), I really hadn't done a ton of running since Country Mile 100 back in April. I was toeing that very fine line where being super cognizant of recovery actually fades into "losing significant amounts of fitness".
The coach side of my brain said "scrap the 50, and join your husband for the 16.3 mile option later tonight".
The ultra-runner side of my brain said "if you don't at least show up and try, you're going to be really pissed at yourself come lunch time".
I knew the ultra-runner side of me was right. And so I crawled out of my tent, grateful I had already gotten dressed into my race clothes the night before.
Nearly an hour later, I'm headed to the start line with my friends Kristy and Dinah. Now, I know this course like I know the back of my hand. This would be my 6th Hell Hole Hundred event on the Jericho Horse Trail -three summer races and three winter Frozen H3's. I've raced and won 50K's here. I've had a solid 100 mile finish that I'm still thrilled with, two years later. And I've DNF'd a handful of races as well, quitting well over the 100K mark more than once. I've run through knee deep water, 100 degree temps, and across frozen puddles. I know every step of this trail, every road crossing, and every wooden bridge. And I also know that it's going to take a little time before I could tell if it was going to be my day or not.
So when Chad the race director says "go", I head down the trail with an open mind.
For once in my freaking life, "competitive Heather" doesn't show up to the race. If we're being completely transparent, it's because "competitive Heather" already stalked the entrants list and discovered that I was the only female registered for the 50 miler. As long as I finished, I'd win, so there was no need to rush. Besides, the humidity is already out of control (rumor floating around the trail was that it was in the high 90% range, which I totally believed, because I constantly had to wipe dew off of my watch screen) and the temps would soon be soaring in the 90's as well. The best possible game plan I could have was to be conservative from the start.
So I immediately adapt a 3 minute run / 2 minute walk approach. According to some dude who left a comment on a blog post recently, this does not equate to "ultra running", and is rather a hike through the forest. According to quickly approaching age 40 and no longer giving a shit what other people think Heather, this is a great strategy…especially when you are not necessarily in peak shape for said distance.
The one downside is that my watch keeps switching from "walk" to "run" seconds after a group of women pass me. So I pass them back, apologizing for my obnoxious strategy each time. Finally the third time this happens, one of the women starts running with me, and we begin to talk.
Her name is Rachel, and she's pretty awesome. We spend the next 8 or so miles together, talking about races we've done, races we want to do, how ridiculous this particular race has been in the past, and even the amazingly creepy baby doll lights and headless Barbie's in jars, a-la Jack Cary and Andy Weinberg's very first INFINITUS.
(If you know Jack, Andy, Infinitus, or the Death Race pre 2015…you know.)
Lately, I've been really enjoying the solace of running by myself, but I find myself grateful for Rachel's company. Those first half dozen miles fly by.
About 6 miles in, we hit the Irishtown Aid Station, and I see my friends Kevin and Anne Jones. They are already staples at Eagle Endurance events, but over the last few years, and pretty much every race that crosses this stretch of the Palmetto Trail, they've adopted THIS aid station as their own. Anne asks for my bib number to which I reply "I don't know…I left my bib in the car at Yellow Jacket."
It's true. In my laissez faire attitude about the day, I completely forgot to put my bib on before heading to the start. I figured I'd pick it up once I got back to it. Thankfully, as it goes with local races, it's not terribly hard to find my name on the list and give me credit for making it this far. Rachel and I leave Irishtown, and head out towards Turkey Creek section.
There are technically two loops for this course: an 18 mile loop that includes the entirety of the Jericho Horse Trail, and a 16 mile loop that, if you're following along with my math, cuts two miles off of the course by skipping the Turkey Creek trail section and heading out on a dirt road shortcut. I haven't been on the Turkey Creek section since Frozen Hell Hole in 2019, and I'm shocked at how dry it is. EVERYTHING is dry, we haven't had significant rain in this area in months. It's very un-Hell-Hole-like.
But don't worry, the best is yet to come.
During the Turkey Creek section, Rachel and I drift apart, and I'm mildly dreading what's ahead. You see, the day before Geoff and I took our bikes out and actually rode the entirety of the 18 mile loop on our mountain bikes.
I knew that the second half of the Turkey Creek section was a big mowed path that was clearly ONCE flooded, but now was just full of solid dirt holes. This trail is frequented by horseback riders, and horseys have a certain way of leaving trails FULL of choppy, chunky, horse hoof sized holes. It was quite uncomfortable to ride on a rigid (no suspension) bike yesterday, but I was hopeful running would be slightly easier.
I was wrong.
Because the bonus to all of these chunky holes was the knee deep grass mostly blocking the view of said holes. It was a regular ankle twisting roulette out there, for what felt like a solid mile. I ran when I could, but mostly strategically powerwalked through this section, being overly cautious about foot placement. And I was incredibly relieved when I finally came out onto a dirt road again.
The sky is still mostly overcast, and I'm incredibly grateful, as it's keeping the temperature down. One thing it's NOT doing, however, is decreasing the humidity, therefore I'm ALSO grateful I'm wearing mostly triathon gear (thank you, Coeur Sports), as I'm absolutely soaked. This gear may be tiny and TIGHT, but boy does it help prevent the dreaded chafing.
The next few miles fly by, and before I know it, I'm at Yellow Jacket aid station to resupply…and collect my race bib.
Geoff seems mildly surprised that I actually want to keep going. But at that point, I'm feeling fine and figured, why not? This aid station is somewhat chaotic with people, which is a nice change from the quietness of the trail. Someone I don't know makes a point to tell me thank you for writing my race reports. It always makes my day to hear that, so I thank them back. Another runner says "are you the person who wrote the blog post about this?" to which I replied, "yeah, there's a few of them out there…" and then he shouts "I READ IT LIKE TEN TIMES!"
(I hope it was one of the good ones).
I re-lube up my feet and change my socks – they are absolutely soaked with sweat. I grab more SIS gels and refill my water. I meet a woman named Nancy, then chat with my friend Eric. Eventually I comment that I've been hanging out for "like ten minutes" (it was probably only five) and decide to mosey back down the trail.
The last 4 to 5 ish miles of this trail are notoriously – well – shitty. They are usually either shin to knee deep in water, or ankle deep mud so thick it tries to steal your shoes. Let's take a moment to look at a picture of the trail from just this past January:
But as I mentioned earlier, this year has been incredibly dry. So save for what must be a few permanent mud pits, the "swamp" was bone dry, and pretty easy to navigate.
I finish the first 18 mile loop just shy of four hours, right where I wanted to. I don't spend too much time hanging around at the start/finish before heading back out on the trail.
About a half mile down the trail, as the excitement of seeing people wears off, I'm suddenly aware of both the heat of the day, and my lack of sleep the night before. I'm starting to feel a little off, which is disheartening, as I'm barely at the 20 mile mark. It's far too soon to start feeling like you are ready for the finish line. I give myself permission to flip flop my intervals: 3 minutes of walking and 2 minutes of running. And for once, I don't even care. I'm not upset with myself, I simply know the reality of the situation. And that is:
a) it's really friggin hot out, and I haven't had the opportunity to adapt to the heat yet, as our weather has been much cooler this spring than normal, and
b) I'm just not trained for this race. I've been enjoying biking and (dare I say) swimming a lot the last few months.
The first 6 miles of the second loop seem to stretch on much longer and slower than the first loop. Eventually, I find myself at the Irishtown aid station again…and grateful that I'm in better shape than the guy violently puking into the trees. I once again fill my hydration bladder…I've consumed more than a liter in the last 6 miles. It's friggin hot, and I'm not taking any chances at not having water, because I know what comes next:
5 miles of dirt road with zero shade.
The last time I passed through Yellowjacket aid station, I gave Geoff the sunglasses on my head. Rumor was it was going to be overcast and/or rainy all day, and they kept sliding off of the top of my head. Naturally, the sun came out on the next loop, an now I'm on this 5 mile stretch putting in some solid effort growing those squinty eye crows feet.
It's painfully hot, but I knew that it was going to be. It IS Hell Hole, after all. What I didn't anticipate was my left Achilles burning and even crackling intermittently. This was something new, an a combination of probably the following factors:
that shitty section of gnarly trail on the 18 mile loop
new movement patterns in my athletic world that I'm probably not doing efficiently (I'm looking at you swimming an cycling)
the fact that I'm just not trained for this race.
I turn the corner from Conifer road to Burned Cane road only to see this view:
Gnarly storm clouds are starting to rumble in the distance. It's a welcome sight, to be honest. As scary as it can be getting caught in the fast an ferocious storms that blow through this forest (with absolutely nowhere to take shelter) I know it will cool me off.
(And I know that statistically, chances of getting hit by lightening or a falling tree are low.)
I'm cruising – well, shuffling – down Burned Cane when I see Geoff and Brian headed towards me on bikes. I never did ask if they rode out to find me because I was moving slower, or if they rode out to find me because we got two new (to us) Surly Pugsley fat tire bikes, and those things are just really freaking fun to ride. It doesn't actually matter, I suppose, I'm just grateful for their company.
They ride along side of me and update me on how everyone else is doing, while I continue my run/walk intervals. As we're running, I suddenly notice the road we're on is absolutely soaked. We somehow managed to completely avoid the rain. In most occasions, this would be a blessing in disguise. But this is not most occasions: I'm HOT.
Eventually we roll into Yellowjacket aid station. I had already mentioned to the guys a couple of times that I didn't know what I wanted to do from here. But when we get to the aid station, I sit.
And almost immediately start shivering.
Sure, I'm soaked with sweat from the insane humidity, but it's got to be at least 85 degrees out still. I should NOT be shivering.
And in that moment I knew, that was my day right there. It was time to cut my losses: I was done.
In the next handful of minutes, people who I had met earlier but didn't really know me tried to give me a pep talk. "Nooo….you aren't quitting!" they said, trying to motivate me to get back on my feet. To which I had to enthusiastically and confidently emphasize that yes, I was quitting, and I wasn't in any way, shape or form mad about it.
You see, I had logged 29.7 miles, when earlier that morning I wasn't even sure I wanted to get out of bed. Nearly 30 miles in one of my favorite forests is never anything to be mad about, rather, that's what I would call a damn good way to spend a Saturday. Further, this wasn't an "A" race, I wasn't necessarily (OK not at all) even prepared for it, and I've learned the lesson the very, very hard way of what happens when you continuously push your body for no good reason other than to add another finish line to your resume.
(Spoiler alert: it's NEVER worth it)
Oh, and I've long since stopped giving a shit about my Ultrasignup stats. A DNF does NOT define me. It's taken me a long time to confidently get to this place.
Frankly, I just wanted to have a fun weekend in the swamp, and hell, those first 20 miles WERE fun. Now, I was fully prepared to continue the fun fest by switching from "runner" to "volunteer".
But first…we were going to have a little fun with the RD Chad.
You see, in this particular race, if you quit, you've got to give Chad your bib, and then go and ring the Chicken Bell. The Chicken Bell, for those not in the know, is exactly what it sounds like: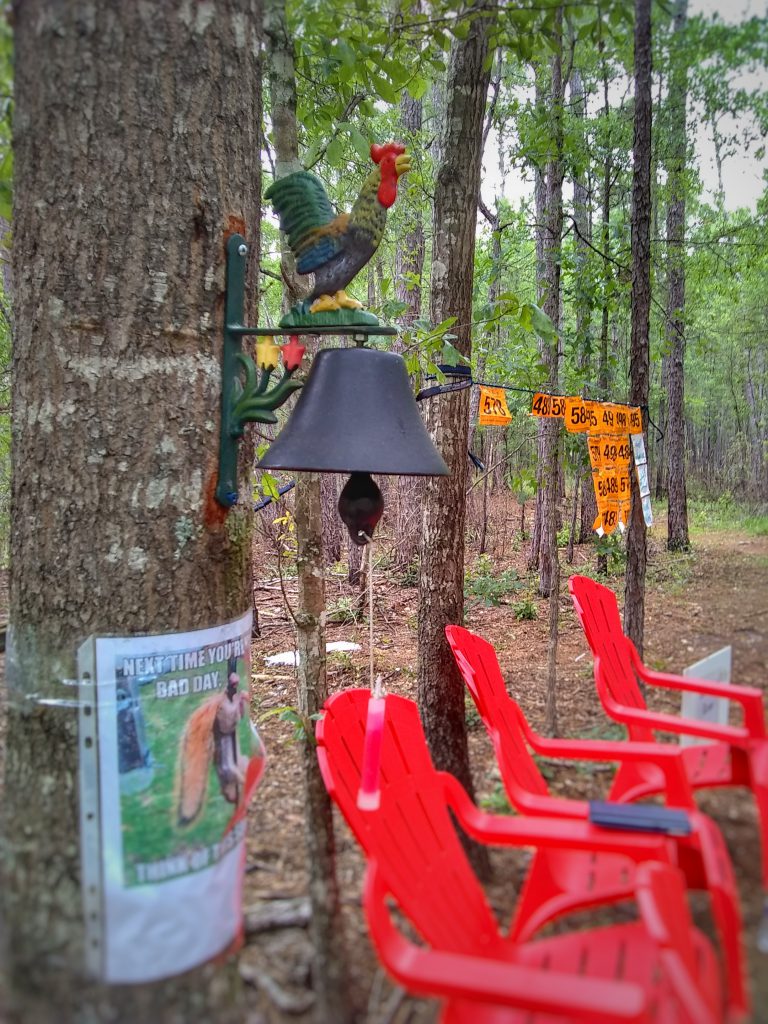 A metal chicken atop a bell. You're supposed to ring it in order to let the masses know the swamp has beaten you. But I'm not ready to head over there quite yet…so I ask my friend Brian to text Chad the following:

"Number 153 dropped. She has a ride."
"OK" Chad replied.
Nearly two full hours went by, before a second text came through…
"YOU TELL HART SHE OWES ME A CHICKEN BELL RING!"
We got a good laugh out of it. And, around 6:00 pm as I drove Geoff to the start/finish for his race (A night loop of the course), I handed over my bib and as promised, rang the chicken bell.
Highlights from the rest of my time at Hell Hole include:
Seeing our awesome clients Stacy & Ann face their fears and tackle the swamp – alone – on an overnight course.
Seeing Geoff demolish the night 16.3 miler (we aren't used to seeing him run fast) and earning 2nd place overall
Seeing this guy's enthusiasm and excitement at finishing not only his first ultra (and winning the 50 miler) but his FIRST TRAIL RUN.
Watching other friends absolutely CRUSH their own races (including a 212 miler!)
Meeting new friends, and spending time with old ones.
Helping people accomplish their goals, even if it's as simple as offering up a freeze-pop at a disco theme tent in the mile of a National Forest.
If 2020 taught me anything at all, it's that at some point, life WILL chew you up and spit you out from time to time. It's impossible to truly live a full life without having periods that are perhaps "not as easy" as you wish they were. While 2021 has been full – who can complain with a 100 mile buckle, four 50K's (give or take on distance), and a 12 hour adventure race under my belt in the first 6 months – I'd be lying if I didn't admit that I still don't quite feel like "myself", athletically. Though most have been successful on paper, none have been what I wanted, or what I know I'm capable of.
But I'd also be a fool if I didn't take a big step back, and recognize that the last 15 months have been anything but normal. Ultimately, I'm doing the best I can, and I'm learning to be OK with that for now.
So in the end, first place (out of one, ha) finisher or DNF chicken bell ringer, it doesn't really matter. I'm just so happy to be out there.
Thank you Chad, for another amazing adventure through the swamp. I only pulled one tick off of me this time.