Last Updated on March 14, 2016 by Heather Hart, ACSM EP, CSCS
Foreword: As many of my readers may have picked up by now, Geoff and I have struggled since our move to Myrtle Beach.  Vermont was the ultimate outdoor and adventure playground for us.  There was never any shortage of trails to explore or parks to visit; the outdoors was equal parts training grounds and playground.   Myrtle Beach is quite the opposite, with it's massive sea of concrete and commercialism.  Here it seems trees aren't sacred, but are instead simply a "filler" for empty lots waiting to be developed.
But in an effort to "love the one you're with" or in this case, to love the place you live, we have made it a point to look beyond all of the pavement, neon lights, and massive hotels, and to instead find hidden outdoor gems here in the Grand Strand area.  Because South Carolina truly does have its own unique beauty, and it would be a shame to not appreciate it.  So until I run out of places to share, once a week I'll be featuring another adventure on this new "Myrtle Beach Outdoor Adventures" series.  If you have any suggestions for places we should visit,  please let me know.  Thanks for reading!
__________________________________________________________________
A few weeks back, one of my wonderful clients gifted my family and I four passes to Brookgreen Gardens.  Located in Murrells Inlet, SC, Brookgreen Gardens is a massive 9,100 acre property rich in history and art.   Originally, the property housed four plantations of rice fields, but in 1929, two American artists, Archer and Anna Hyatt Huntington, purchased the land and began transforming it into what it is today.
Today, Brookgreen Gardens is essentially an outdoor sculpture museum, with over 1400 sculptures and countless gorgeous trees, plants, and flowers.  The gardens also contains numerous walking trails, a zoo, and a number of play structures and educational opportunities for kids.  And, between March 5 and September 5 of 2016, there is a display called "Nature Connects Art with Lego Bricks" by artist and children's author Sean Kenney. Of course, this was a main selling point for the two little boys that would be tagging along with us for this adventure.
ADVENTURE REPORT CARD:
(for those who don't want to read the long winded experience…)
Adrenaline Rating:  2/10.  It's essentially an outdoor museum, there is not much to induce an endorphin rush out here.  But I gave it a 2 instead of zero because simply being on this amazing piece of land is enough to get your heart pounding a little.  The 300+ year old oak trees are utterly breathtaking…
Athletic Ability: All levels.  Shuttles are provided if needed, as well as complimentary children AND adult strollers for those who need assistance.
Runability: (Because this matters to my family).  ?/10. To be honest, even though we showed up with sneakers on and our hydration packs, we didn't run at all.  The gardens, while not crowded per-se, were still full enough that I would have felt like a giant jerk running around past the other patrons.  However, I have a number of clients who are annual members of the gardens that visit simply to get in some walking for the sake of exercise.  There are endless paved trails, and I'd have to imagine you could easily get 4 or 5 miles out of them if you walked all of them.
In the Elements: 9/10. 90% of the gardens are outside, far away from main roads or any other buildings, quickly allowing you to forget you are in the busy Grand Strand area.  That said, there are a few indoor areas with various displays, allowing you to escape the sun/heat/rain/cool air if necessary.
Kid Friendly: 7/10.  If you stick to the zoo half of the gardens, there is plenty to entertain the little ones.  The sculpture half gets a little tricky, as the sculptures are often not out of reach for little hands (though Brookgreen Gardens asks you not to touch them, for obvious reasons.)  I must have answered "no" to the question "can I get on that (pig/cougar/aardvark/etc) at least a dozen times.
Cost:    Adults 13-64: $16,  Seniors 65 and over: $14,  Children 4 -12: $8, Children 3 and under are FREE when accompanied by an adult.  Though not listed on the website, the woman at the Welcome Center told us our tickets were good for a week, so that is a factor to keep in mind when looking at the cost.
OUR EXPERIENCE:
We arrived around 11:00 am, and had absolutely no problem finding parking.  Granted, it's still early March, therefore the crazy tourist season hasn't even come close to beginning.  Regardless, there seemed to be ample parking, despite the time of year.   We headed into the welcome center where a friendly staff member provided us with a map, and gave the boys "Brookgreen Detective" booklets, as well as checklists for the Lego exhibits.
I truly appreciated that they did something to get the kids involved, because let's face it, sculptures and flowers aren't typically a 7 year old boy's favorite topics.  Finding a massive Lego Garden Spider on the other hand, is totally up his alley.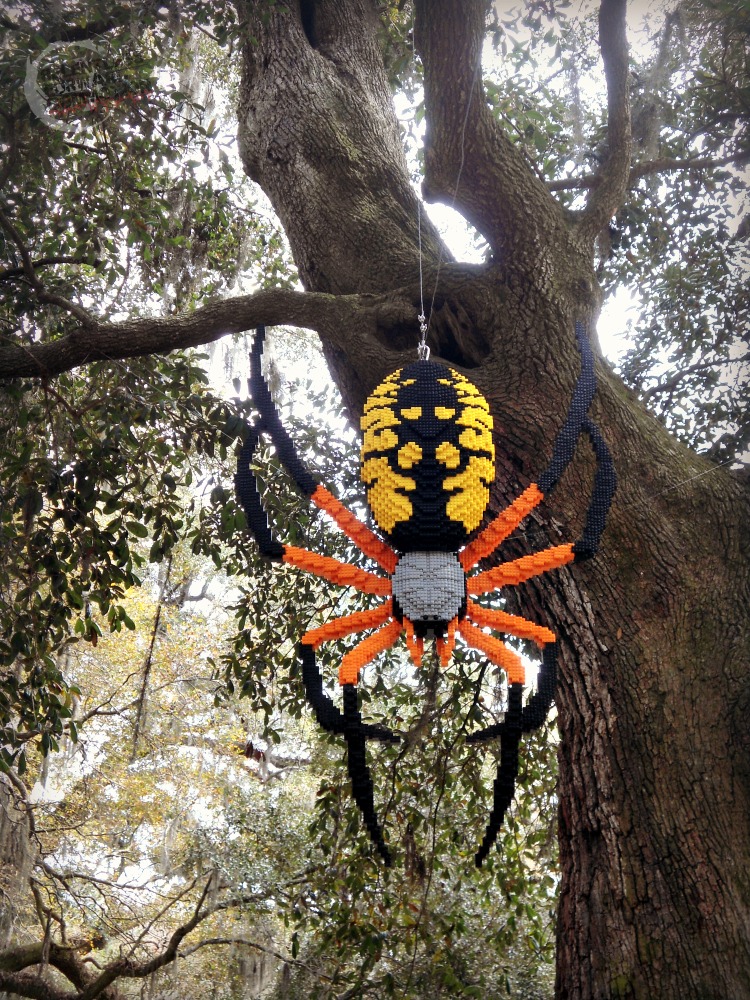 In an attempt to convince the kids that this place was totally worth the 20 minute drive, we first headed directly for the Native Wildlife Zoo and the Lego exhibit.   The clouds were thick in the morning, which was actually quite enjoyable.  The "winter to summer" switch was flipped this weekend, and we were suddenly in mid 70 temperatures.  If you recall, just last week we were shivering at the Myrtle Beach marathon.  Needless to say, we welcome the warmer weather, but we also welcomed the clouds as much of Brookgreen is wide open and unshaded.
Right out of the gate, we passed a number of sculptures that induced a bit of curiosity…as well as discomfort…from the younger crowd.  My 9 year old asked "Mom, why are so many of the sculptures naked?  It's so awkward."  To which I explained that there is beauty in the human body, and it is nothing to be ashamed of.  My 7 year old had a completely different view, as he turned and exclaimed to a group of oncoming retired folk "woah, look at the big boobs on that lady!"  A true face palm, embarrassing parent moment.
As we ventured further onto the property, we passed the remnants of some of the massive rice fields.   The Lowcountry trail had a number of viewing platforms, as well as "audio tour" stops that talked about the land during the time of the plantations.  Of course, 7 & 9 years olds don't have the attention span for long winded audio history, especially when there are acres upon acres of land to run around on, so we skipped 99% of the audio tour.
About a half a mile later, we arrived at the zoo. I'm typically not a huge fan of seeing wild animals in captivity, but all of the animals at Brookgreen were either bred and raised in captivity or have sustained a major disability due to injury. In either case, these animals could not survive in the wild.   Further, all of the animals appeared to have plenty of space to roam, and seemed very well cared for.
We saw river otters, foxes, cows, horses, goats, owls, a pair of bald eagles, and of course, alligators.
The various Lego displays were spread throughout the zoo, and each one simply outdid the next.   They contained anywhere from 9,000 to 80,000+ Legos each.  I was baffled both by the ability to construct such pieces of work (here I was thinking my kid's 500 piece Lego Star Wars sets were difficult), and the fact that it is actually someone's job to professionally assemble Legos.  What a gig.  Here are just a few of the sculptures:
Once we finished the zoo loop, we found ourselves at the Children's Nature and Sensory Trail.   This area featured a bunch of interactive displays for kids to play, touch, climb, and jump around on.  After spending nearly an hour looking at animals and sculptures that they were NOT allowed to touch, this area was a welcome relief to my two little ones.
Next to the Children's Nature and Sensory Trail was the "Enchanted Storybook Forest", a bunch of little fairytale inspired play houses and structures for the kids to burn even MORE energy off.   Thank you Brookgreen gardens.
At this point everyone's stomachs were growling for lunch, so we made the half mile hike back to the car to grab our picnic.   My little family is all about adding mileage any way possible, but if yours isn't, there are shuttles that will take you back and forth from one end of the park to the other.  There were plenty of places to sit down among the grass and trees, but if you prefer a picnic table, there are a bunch of those too.
After lunch we decided to walk around the rest of the gardens to visit more of the sculptures.   But not without a loop around the Jessamine Pond where we discovered a ton of turtles, a wild alligator, and a very up close encounter with a Gray Fox Squirrel, which is about twice the size of your average squirrel.  I absolutely LOVE the fact that I'm 34 years old, and still randomly stumble upon critters in the wild that I had no idea existed.  And we aren't talking some exotic rainforest or other rare habitat, but right here in South Carolina.
Then it was off to the sculpture gardens.  The sun had come out blazing, so we took shelter among the massive oak trees of Live Oak Allée, and the palmettos in the Palmetto Garden.
I suppose I could continue to post pictures all day, but you have to see these sculptures and the Brookgreen Gardens grounds for yourself.
I would highly recommend that anyone visiting the Myrtle Beach area add  Brookgreen Gardens to your "to do" list, with or without kids.  No, it's not any sort of "epic" adventure nor athletic training grounds for my athletic friends.  But the beauty of the grounds really encompasses everything I love about the Lowcountry, from marshlands, to herons and gators, to the gorgeous Spanish moss hanging off of century old oak trees.   Plus the art on display combined with the rich history of the gardens is a wonderful, intellectual reprieve from  the neon, commercial, overwhelming ocean boulevard area of Myrtle Beach.
For more information (including a number of activities not mentioned here, such as boat rides, the butterfly house, and various classes), or to plan your trip to Brookgreen Gardens, visit their website at www.brookgreen.org
Heather Hart is an ACSM certified Exercise Physiologist, NSCA Certified Strength and Conditioning Specialist (CSCS), UESCA certified Ultrarunning Coach, RRCA certified Running Coach, co-founder of Hart Strength and Endurance Coaching, and creator of this site, Relentless Forward Commotion.   She is a mom of two teen boys, and has been running and racing distances of 5K to 100+ miles for over a decade.  Heather has been writing and encouraging others to find a love for fitness and movement since 2009.