Last Updated on December 15, 2022 by Heather Hart, ACSM EP, CSCS
We've all been there: you've got a workout scheduled, and for whatever reason, you are absolutely dragging your feet to get it started. You're lacking motivation, and maybe even feeling too tired to muster up the energy to go run.
Wouldn't it be great if there was some magical pill or potion you could take that would not only give you the motivation and energy boost you need to start your training session, but may even positively affect your performance, helping you run faster or further?
This is the marketed promise behind pre-workout, a popular supplement that claims to help to increase energy levels, improve focus, strength, and endurance, and even reduce fatigue.
But do they really do all of these things? And is pre-workout for runners a good idea, or even safe?
If you've never read one of my articles before, let me give you a quick intro: I'm Heather Hart, exercise physiologist, CSCS, certified running & ultrarunning coach, and absolute hater of the endless misinformation that runs rampant in the fitness & sports industries.
In this post, we're going to tackle the topic of pre-workout, especially as it pertains to runners and endurance athletes. We will cover:
What pre-workout is, common pre-workout ingredients, and how they may benefit runners.
Whether or not pre-workout is safe for runnings, including common side effects and potential risks.
7 questions to ask yourself before taking a pre-workout
The 5 best pre-workouts for runners, as recommended by actual experts in field.
…and more.
It's my goal that by the end of this post, you'll understand the science, efficacy, potential risks AND possible benefits behind pre-workout supplements. Then, you'll be able to make an informed decision as to whether or not running on pre-workout is something you want to consider.
Disclaimer: In this post, I will present all of the pros and cons of taking a pre-workout supplement. None of these statements should be construed as a recommendation that you should take pre-workout, nor as medical advice.

Supplementation is never without some risk, and results – as well as side effects – will vary from person to person. In the case of pre-workouts, it is important to remember that these supplements are not FDA regulated products.

As always, talk to your medical provider and/or a registered dietician for individual advice, and to see if using pre-workout or any dietary supplements is right for you.
What is Pre-Workout?
Pre-workout is a supplement designed to be taken before exercise (hence the name "pre-workout" ) to help boost training performance, and in turn, increase adaptations to training.
While most forms of pre-workout are marketed for their possible performance enhancing benefits, there are other preworkout supplements that claim they will help enhance weight loss. These supplements will contain specific ingredients that have thermogenic effects (heat production through metabolic stimulation – basically, they make you sweat a lot).
Pre-workout supplements come in various forms, such as powders, capsules, or ready-made energy drinks, and have an almost immediate direct or indirect effect on energy levels.
If you've ever seen people in the gym carrying around water bottles full of brightly colored drinks, chances are they are consuming a pre-workout.
Most pre-workouts are considered a multi-ingredient pre-workout supplement (MIPS), as they typically contain a blend of ingredients such as caffeine, B-vitamins, and nitric oxide agents.
It is thought that the combination of ingredients will elicit a larger performance enhancing response than consuming single ingredients alone.
Possible Performance Benefits of Pre-Workout for Runners:
While there is a lot of conflicting research surrounding benefits of supplementing with pre-workout for runners and endurance athletes, some of the reported possible benefits include:
Decreased time to fatigue. A 2021 study found that a pre-workout supplement helped NCAA Division 1 cross country runners delay their time to fatigue while running at an intensity equivalent to their lactate threshold (3).
Increased motivation. Feeling lazy? Don't want to get up and put on your running shoes? Chances are good a pre-workout supplement will give you the mental boost needed to get your workout done.
Improved recovery. A number of common ingredients in pre-workouts, such as green tea extract, taurine, or BCAA's, can help reduce markers of inflammation and tissue damage, as well as promote cell damage recovery and growth (more on this below).
Increased blood flow. A number of common ingredients in pre-workouts act as vasodilators, which in theory may speed up delivery of oxygen and nutrients to working muscles, as well as speed up removal of metabolic byproducts.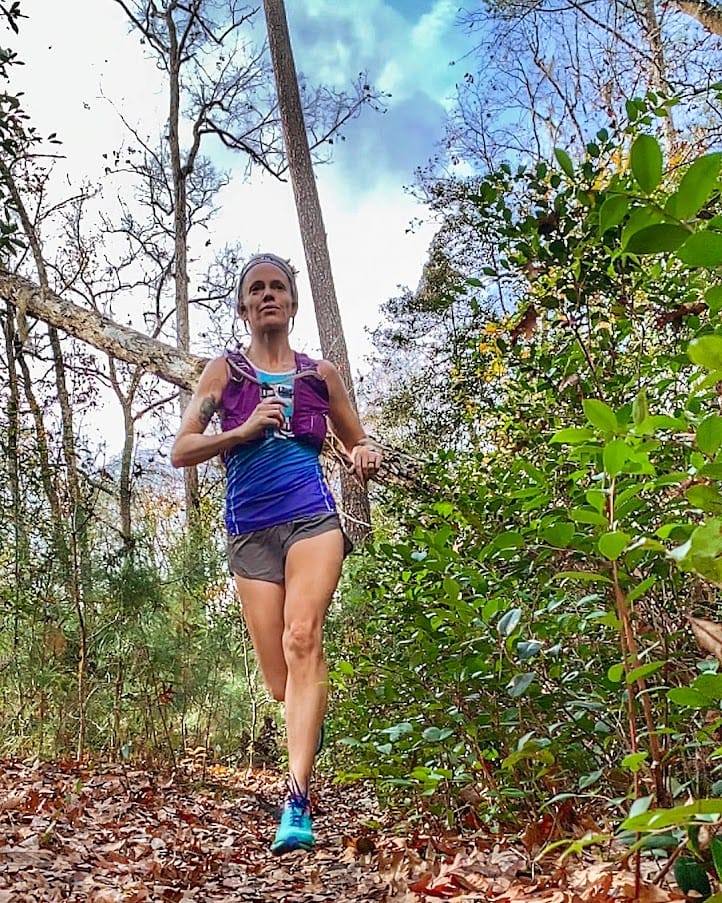 Common Ingredients Found in Pre-Workouts, and Their Benefits
Since pre-workout often includes multiple ingredients, the exact performance benefits will vary based on the product. Let's take a look at some of the most common ingredients:
Caffeine
Caffeine is a central nervous system stimulant that has a number of performance enhancing benefits for runners and athletes, and is one of the key ingredients in pre-workouts.
Caffeine does not directly create energy within your body, but blocks adenosine receptors to fool your brain into not feeling tired. So rather than thinking of it as an energy boost, it's more of an inhibitor of fatigue.
Numerous studies on runners and endurance athletes have shown that caffeine can:
Prolong aerobic endurance
Enhance power production
Prevent or slow down onset of fatigue
Decrease perception of effort
Improve cognitive (brain!) function, including attention, alertness, and mental focus.
Improve cognitive and physical performance in some individuals under conditions of sleep deprivation (I'm looking at you, ultrarunners!)
As a bonus, caffeine increases the amount of dopamine in our brain by blocking its reabsorption into our bodies. This can improve mood and feelings of happiness…and ward off woe-is-me-feelings, like the classic "why did I ever think running 100 mile was a good idea?"
Related post: Ultrarunning and Caffeine-Pre and Race Day Supplementation Strategies Explained
Taurine
Taurine is a sulfur-containing amino acid that is abundant in skeletal muscle. It is manufactured both within the body itself, and obtained by eating meat, fish, and dairy.
Taurine plays a beneficial role in a number of metabolic and physiological processes, such as glucose and lipid regulation, energy metabolism, and may serve as an anti-inflammatory, as well as an antioxidant within the body.
According to a 2021 meta-analysis of 19 studies regarding the performance enhancing benefits of taurine, there is conflicting evidence over whether or not taurine actually improves endurance, strength, or powe.t. expedites the recovery of DOMS or markers of muscle damage when taken as a supplement.
Green Tea Extract
Green tea extract is a concentrated form of the various antioxidant rich compounds found in green tea leaves. Green tea itself has been believed to have numerous health benefits for many centuries. Regarding athletic performance specifically, it's theorized that green tea extract may:
Increase endurance capacity (12).
Help prevent weight gain (12).
Stimulate the nervous system (12).
Offer a protective effect against exercise-induced oxidative stress (an imbalance between free radicals and antioxidants in your body) (10).
B-Vitamins
B-vitamins (thiamin, riboflavin, vitamin B-6) are a necessary component of the energy-producing pathways of the body. Folate (the natural form of vitamin B-9) and vitamin B-12 are required for the synthesis of new cells, and repair of damaged cells, such as red blood cells (15).
Beta-Alanine
Beta-Alanine is non-essential amino acid (meaning, your body creates it on it's own, and therefore it does not need to be obtained from food), that is commonly found in pre-workouts.
Supplementing with beta-alanine has been shown to increase muscle carnosine concentrations, thereby acting as an intracellular pH buffer. This can help increase endurance performance by buffering hydrogen ions, and therefore improving lactate clearing capacity (13).
Related post: Clearing Lactate & Lactic Acid Myths in Running
Ginko Biloba
Ginkgo Biloba is an herb containing high levels of flavonoids which promote blood circulation, especially in the brain.  There is some evidence demonstrating that supplementing with Ginkgo Biloba may improve VO2 max and time to exhaustion in healthy young athletes (16).
Vasodilators
Vasodilators, such as L-Arginine and L-Citrulline, are compounds have the potential to elevate nitric oxide production levels, which in turn can result in a widening of the blood vessels (vasodilation).
In sport, the benefits of vasodilation are thought to include:
Faster delivery of oxygen to the working muscles
Increased nutrient and glycogen delivery
Increased removal of metabolic waste products
However, research is still conflicting as to whether or not these supplements directly impact sport performance (4, 14).
Creatine
Creatine is an amino acid derived compound that has been shown to increase maximal strength, power, and muscle mass in athletes through extending energy production for short, intense duration exercise.
Creatine is not a source of long-lasting energy. However, the extra few seconds of energy it can provide may be enough to improve performance by one more rep, or sustain a sprint speed for one more second. This, in turn, helps facilitate improved power output and muscle growth.
Related post: Creatine for Runners – a Guide to Creatine Supplementation for Endurance Athletes
Branched Chain Amino Acids (BCAAs)
Branched Chain Amino Acids (BCAAs), which include isoleucine, leucine, and valine, are responsible for increasing muscle protein synthesis. BCAAs are considered essential amino acids, meaning that your body does not create them on it's, so they must be obtained through your diet.
BCAAs are often included in pre-workouts as they can aid in:
Reducing muscle damage and soreness
Promote muscle growth and repair after exercise
May reduce or delay mental and physical fatigue (11)
Improved immune system response (11)
Electrolytes
Electrolytes are essential minerals that are vital to many key functions in the body, and can be found in blood, urine, and sweat. Electrolytes assist in a number of bodily processes, like muscle function, fluid balance, and neurotransmission between the brain and the rest of your body.
All important things that help your body actually run.
Related post: Electrolyte Needs & Supplementation in Running Explained
Potential Side Effects of Pre-Workout
Because the purpose behind a pre-workout is to give you an energy and performance enhancing boost, the main active ingredients tend to have some sort of central nervous system stimulating properties.
Some athletes can tolerate these stimulants with no adverse effects. Others, who may be more sensitive to certain ingredients, report the following common side effects of pre-workout supplements:
Gastrointestinal distress such as upset stomach, diarrhea, constipation, bloating, or other gastrointestinal issues.
Feelings of restlessness, or "jitters"
Increase anxiety
Increased heart rate
Arrhythmia (irregular heart beat)
Increased or high blood pressure
Tingling sensation in your body or skin (typically related to beta-alanine and niacin)
Overheating
Dehydration
Dizziness
Sleep interference
Caffeine dependancy (if used long term)
It's important to know that some ingredients in various pre-workout products may also interfere with prescription AND over the counter medications. Please be sure to consult with a doctor if you are taking any sort of medication, and plan to also use a pre-workout supplement.
Is Pre-Workout Safe for Runners (or anyone, for that matter)?
Research shows that pre-workouts with known ingredients are generally safe and well-tolerated when consumed in appropriate doses by young, healthy individuals (5, 6, 9).
However misusing pre-workout supplements, or consuming pre-workouts with unknown or banned ingredients, has been associated with not only adverse reactions, but the risk of death.
There are a number of very important caveats to consider regarding the safety of pre-workouts, both on an individual basis and a product to product basis.
Pre-Workouts May Contain Banned or Dangerous Substances
It's imperative to remember that in the United States, supplements such as pre-workout are not required to have approval from the Food and Drug Administration (FDA), nor are they reviewed by the FDA for safety or effectiveness.
What does this mean for you, the consumer?
While approval is not necessary for supplements, the FDA does occasionally ban certain ingredients due to safety concerns. However, because production of these supplements is not regulated, the banning of a substance does not ensure it isn't still winding up in pre-workouts.
Time and time again, researchers have found banned substances in popular pre-workout supplements that were not listed as ingredients on the product.
In 2021, researchers tested the ingredients of 17 popular pre-workouts. They found nine different banned ingredients, such as DMAA (1,3-dimethylamlyamine), known to be associated with serious adverse events including cardiac arrest, and 4 experimental stimulants per product, which have never been tested in humans, meaning  their safety is unknown (2).
Further, if you are a competitive athlete, there is always a risk that your pre-workout may contain an ingredient banned by your sports governing body, such as the NCAA, USADA, WADA, or IOC.
Pre-Workouts May Contain Unsafe Amounts of Ingredients
Many pre-workouts may list "proprietary blends" on their ingredients list. This essentially means that a company is not willing to disclose how much of an ingredient is contained in a single serving.
This may be because they feel their recipe is so amazing, they want to keep it secret.
It may also be because there are only trace amounts of certain ingredients in their product, likely due to the cost or ease of sourcing that ingredient, and so instead, the product is mainly composed of fillers (i.e. a giant waste of your money).
However, the unknown poses a risk to the consumer, especially when it comes to caffeine consumption.
The U.S. Food and Drug Administration considers 400 milligrams a safe amount of caffeine for healthy adults to consume daily.
Most pre-workouts contain anywhere from 150-400 mg of caffeine per serving. Combining pre-workout with your daily coffee, tea, or other sources of caffeine could result in adverse and possibly dangerous side effects.
Especially if you aren't entirely sure how much caffeine is in a specific supplement to begin with
5 Questions to Ask Yourself Before Running on Pre-Workout:
Before taking a pre-workout supplement, I encourage you to stop and ask yourself the 7 following questions:
Could Training Alone Help You Reach Your Goals?
Listen, there is no magic pill or powder that can substitute smart training and hard work.
In most cases, supplements with ergogenic effects work best on athletes who are so well trained, they need something to help give them that 1% boost above their competitors.
For the rest of us, we're still going to make significant physical and performance gains simply by training. So don't feel like you HAVE to take a pre-workout to make the most of your training.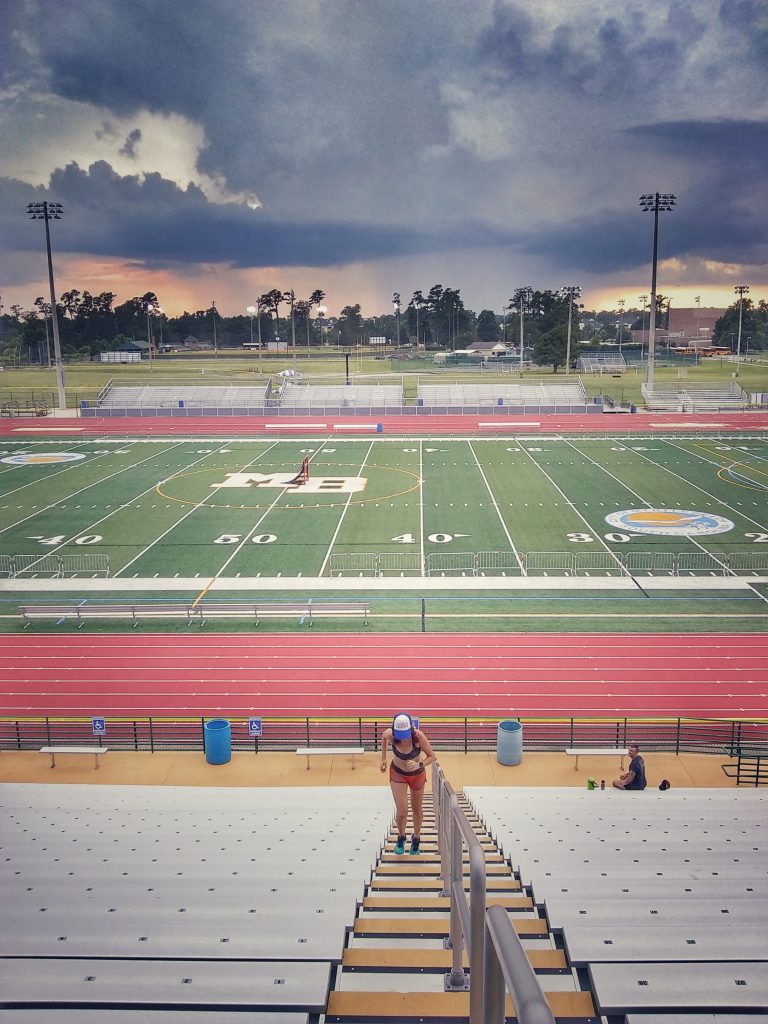 Do You Need to Eat?
If you are feeling lethargic and lacking energy before a workout, stop and think about your overall calorie consumption and timing for the day.
If there is a chance you are simply low on energy due to a lack of calories and glycogen depletion, consider a pre-workout snack instead of a supplement.
How is the Quality of your Overall Diet?
Listen, I will dive into a box of Little Debbie snack cakes with the best of them (actually, I prefer Drake's Cakes, but that is neither here nor there…), so I'm never one to expect athletes to have a perfectly healthy diet.
But, an overall balanced diet ensures you are getting all of the proper nutrients and minerals your body needs. A deficiency in any one of these, such as iron, vitamin D, or vitamin B-12, could be the culprit behind fatigue.
Are you Hydrated?
Dehydration can have a direct effect on energy levels. Research shows that even acute dehydration may increase both mental and muscle fatigue perception as well. as impair muscular strength and muscular endurance increases fatigue perception (1).
Are you Heart Rate Training?
If you're following some sort of heart rate based training approach, know that pre-workout drinks may increase your heart rate artificially before you even begin running.
Is Your Training Structure & Volume Appropriate?
Are you following a properly periodized, progressive training schedule? Are you taking appropriate rest days, or allowing for proper recovery time between hard workouts?
If the answers are "no", your body might need a rest day (or more) rather than pre-workout.
What To Look For in a Pre-Workout For Running
If you've decided you'd like to give pre-workout a try, Registered Dietician and Ultrarunner Kayla Fitzgerald recommends that competitive runners and athletes look for pre-workouts and supplements that are certified by NSF Certified for Sport or Informed Sport.
Kayla explains "this ensures that the supplements have been third party tested and do not contain any banned substances."
Other tips to consider when purchasing a pre-workout:
Read the label! Avoid anything with "proprietary blend" on the ingredient list.
Look for a brand that clearly discloses the caffeine content per serving.
If you have a sensitivity to artificial sweeteners, look for a supplement that contains natural sugars
When Should Runners Take Pre-Workout?
Most people will begin to notice the effects of pre-workout very shortly after consuming them. That said, I typically recommend drinking or taking a pre-workout supplement about 30 minutes before you start exercising.
That way if the pre-workout stimulates other things (like your bowels, which is pretty common with caffeine) you'll have time to take care of that before you start running.
If this is your first time taking a pre-workout, I suggest starting with half of the recommended serving to see how you react to the supplement.
The 5 Best Pre-Workouts for Runners, According to the Experts:
I reached out to a handful of Registered Dietitians and other professionals who work directly with runners to ask what pre-workouts they recommend for runners. Here's a list of the 5 best pre-workout supplements, based on expert opinions:
Klean Athlete Pre-workout
Klean pre-workout is Fitzgerald's recommended choice of per-workouts for runners. It is NSF Certified For Sport, free of artificial colors and flavors, uses organic ingredients, and contains 75 mg of organic caffeine, combined with nitrates from beet root extract and vitamin C.
Purchase Clean Pre-workout from RD Kayla Fitgerald's Fullscript page
Purchase Klean Pre-workout on Amazon
Ora Organic Renewable Energy
Wilfredo Benitez, MScN, M.Ed. and head nutritionist at On Pace Wellness recommends Ora Organic Renewable Energy Pre-Workout for runners.
This particular supplement contains locally sourced (in California) vegan ingredients, contains no GMOs, and is free from artificial stimulants
Will says "It's all organic, and a cleaner product than most supplement products out there. It also contains lower dose of caffeine compared to many preworkout products which is good because this helps to maintain some degree of sensitivity to the caffeine — many runners are using a pre workout in addition to some coffee and that caffeine habituation can mean lower effectiveness over time. 
The other reason I like this product is it has beets and pomegranate to naturally boost nitric oxide which means more blood flow during activity."
Purchase Ora Organic Renewable Energy Pre-Workout on Amazon
Liquid I.V. Energy Multiplier
My personal recommendation for a pre-workout drink for runners it the Energy Multiplier from Liquid I.V..
The Energy Multiplier uses natural, plant based sources of caffeine (specifically, Matcha from green tea leaves), and has 100 mg of caffeine per serving. For me, 100 mg is enough to give me the kick in the pants I need, but not so much that it makes me jittery or uncomfortable.
Purchase Liquid I.V. Energy Multiplier (note: using this affiliate link will automatically give you 20% off your purchase)
BeetElite
Jena Brown, RD, CSSD, LD; owner of Victorem Performance Nutrition recommends BeetElite as her pre-workout of choice.
Jena says "BeetElite is an Informed Sport plant-based pre-workout that promotes nitric oxide production, and can improve blood flow and extend energy in endurance athletes."
Coffee
Almost every RD that I spoke with said they personally use coffee before a morning workout instead of pre-workout.
Fitzgerald adds: "If you need that caffeine boost before your run grab a cup of coffee or espresso or use the caffeinated version of your favorite run fuel but always pair it with a carb rich snack."
Alternatives to Pre-Workouts for Runners
The best alternative to pre-workout for runners? Food.
"There's something important that a lot of people don't realize and that's that caffeine does not create energy in your body." says Fitzgerald, "It helps delay the feeling of fatigue but it doesn't give you more energy-only food can do that."
When it comes to a pre-workout snack, think about taking in some quick acting, easy to digest carbohydrates to provide a boost of energy before a workout.
Fitzgerald's favorite pre-workout snacks? "I rotate between a banana, graham cracker + applesauce pouch, pop tart"
Final Thoughts: Running on Pre-Workout – is it Worth the Risk?
Do runners NEED pre-workout? Absolutely not. Can some runners potentially benefit from occasionally supplementing with a safe, effective pre-workout? Probably!
Ultimately, when it comes to taking any sort of sports performance related nutritional supplement, it's important to truly weigh the benefits versus the potential risks. What works and/or feels right for one runner, might not be the same for another.
References:
Barley, O. R., Chapman, D. W., Blazevich, A. J., & Abbiss, C. R. (2018). Acute Dehydration Impairs Endurance Without Modulating Neuromuscular Function. Frontiers in physiology, 9, 1562. https://doi.org/10.3389/fphys.2018.01562
Cohen, P. A., Travis, J. C., Vanhee, C., Ohana, D., & Venhuis, B. J. (2021). Nine prohibited stimulants found in sports and weight loss supplements: deterenol, phenpromethamine (Vonedrine), oxilofrine, octodrine, beta-methylphenylethylamine (BMPEA), 1,3-dimethylamylamine (1,3-DMAA), 1,4-dimethylamylamine (1,4-DMAA), 1,3-dimethylbutylamine (1,3-DMBA) and higenamine. Clinical toxicology (Philadelphia, Pa.), 59(11), 975–981. https://doi.org/10.1080/15563650.2021.1894333
Fye, H., Pass, C., Dickman, K., Bredahl, E., Eckerson, J., & Siedlik, J. (2021). The Effect of a Multi-Ingredient Pre-Workout Supplement on Time to Fatigue in NCAA Division I Cross-Country Athletes. Nutrients, 13(6), 1823. https://doi.org/10.3390/nu13061823
Gonzalez, A. M., & Trexler, E. T. (2020). Effects of Citrulline Supplementation on Exercise Performance in Humans: A Review of the Current Literature. Journal of strength and conditioning research, 34(5), 1480–1495. https://doi.org/10.1519/JSC.0000000000003426
Harty, P. S., Zabriskie, H. A., Erickson, J. L., Molling, P. E., Kerksick, C. M., & Jagim, A. R. (2018). Multi-ingredient pre-workout supplements, safety implications, and performance outcomes: a brief review. Journal of the International Society of Sports Nutrition, 15(1), 41. https://doi.org/10.1186/s12970-018-0247-6
Jung, Y. P., Earnest, C. P., Koozehchian, M., Galvan, E., Dalton, R., Walker, D., Rasmussen, C., Murano, P. S., Greenwood, M., & Kreider, R. B. (2017). Effects of acute ingestion of a pre-workout dietary supplement with and without p-synephrine on resting energy expenditure, cognitive function and exercise performance. Journal of the International Society of Sports Nutrition, 14, 3. https://doi.org/10.1186/s12970-016-0159-2
Kim, D. H., Kim, S. H., Jeong, W. S., & Lee, H. Y. (2013). Effect of BCAA intake during endurance exercises on fatigue substances, muscle damage substances, and energy metabolism substances. Journal of exercise nutrition & biochemistry, 17(4), 169–180. https://doi.org/10.5717/jenb.2013.17.4.169
Kurtz, J. A., VanDusseldorp, T. A., Doyle, J. A., & Otis, J. S. (2021). Taurine in sports and exercise. Journal of the International Society of Sports Nutrition, 18(1), 39. https://doi.org/10.1186/s12970-021-00438-0
Outlaw, J. J., Wilborn, C. D., Smith-Ryan, A. E., Hayward, S. E., Urbina, S. L., Taylor, L. W., & Foster, C. A. (2014). Acute effects of a commercially-available pre-workout supplement on markers of training: a double-blind study. Journal of the International Society of Sports Nutrition, 11, 40. https://doi.org/10.1186/s12970-014-0040-0
Panza, V. S., Wazlawik, E., Ricardo Schütz, G., Comin, L., Hecht, K. C., & da Silva, E. L. (2008). Consumption of green tea favorably affects oxidative stress markers in weight-trained men. Nutrition (Burbank, Los Angeles County, Calif.), 24(5), 433–442. https://doi.org/10.1016/j.nut.2008.01.009
Salinas-García, M. E., Martínez-Sanz, J. M., Urdampilleta, A., Mielgo-Ayuso, J., Norte Navarro, A., & Ortiz-Moncada, R. (2014). Efectos de los aminoácidos ramificados en deportes de larga duración: revisión bibliográfica [Effects of branched amino acids in endurance sports: a review]. Nutricion hospitalaria, 31(2), 577–589. https://doi.org/10.3305/nh.2015.31.2.7852
Sellami, M., Slimeni, O., Pokrywka, A., Kuvačić, G., D Hayes, L., Milic, M., & Padulo, J. (2018). Herbal medicine for sports: a review. Journal of the International Society of Sports Nutrition, 15, 14. https://doi.org/10.1186/s12970-018-0218-y
Trexler, E. T., Smith-Ryan, A. E., Stout, J. R., Hoffman, J. R., Wilborn, C. D., Sale, C., Kreider, R. B., Jäger, R., Earnest, C. P., Bannock, L., Campbell, B., Kalman, D., Ziegenfuss, T. N., & Antonio, J. (2015). International society of sports nutrition position stand: Beta-Alanine. Journal of the International Society of Sports Nutrition, 12, 30. https://doi.org/10.1186/s12970-015-0090-y
Viribay, A., Burgos, J., Fernández-Landa, J., Seco-Calvo, J., & Mielgo-Ayuso, J. (2020). Effects of Arginine Supplementation on Athletic Performance Based on Energy Metabolism: A Systematic Review and Meta-Analysis. Nutrients, 12(5), 1300. https://doi.org/10.3390/nu12051300
Woolf, K., & Manore, M. M. (2006). B-vitamins and exercise: does exercise alter requirements?. International journal of sport nutrition and exercise metabolism, 16(5), 453–484. https://doi.org/10.1123/ijsnem.16.5.453
Zhang, Z. J., Tong, Y., Zou, J., Chen, P. J., & Yu, D. H. (2009). Dietary supplement with a combination of Rhodiola crenulata and Ginkgo biloba enhances the endurance performance in healthy volunteers. Chinese journal of integrative medicine, 15(3), 177–183. https://doi.org/10.1007/s11655-009-0177-x
Heather Hart is an ACSM certified Exercise Physiologist, NSCA Certified Strength and Conditioning Specialist (CSCS), UESCA certified Ultrarunning Coach, RRCA certified Running Coach, co-founder of Hart Strength and Endurance Coaching, and creator of this site, Relentless Forward Commotion.   She is a mom of two teen boys, and has been running and racing distances of 5K to 100+ miles for over a decade.  Heather has been writing and encouraging others to find a love for fitness and movement since 2009.