Last Updated on August 20, 2019 by Heather Hart, ACSM EP, CSCS
FIFTY MILES. You probably don't even like to drive that far (who does?) and here you are, about to run 50 miles on nothing but your own two feet. Running your first 50 miler can be exciting, terrifying, overwhelming all at once, after all, it's nearly twice as far as a traditional marathon. Don't worry, coach Heather has you covered: in this post, we'll cover everything you need to know bout running your first 50 mile ultramarathon.
For this post, I'm going to assume that if you've signed up for a trail 50 miler, you are already relatively familiar with the racing world, and hopefully have a 50K or other trail races under your belt. If you don't, check out the post "Running Your First 50K" for some background on things like trail etiquette, aid stations (and how to not waste time at them), drop bags, check ins, and more. THEN return to this post to learn:
Everything You Need to Know about Running Your First 50 Miler
Let's start with the obvious, shall we?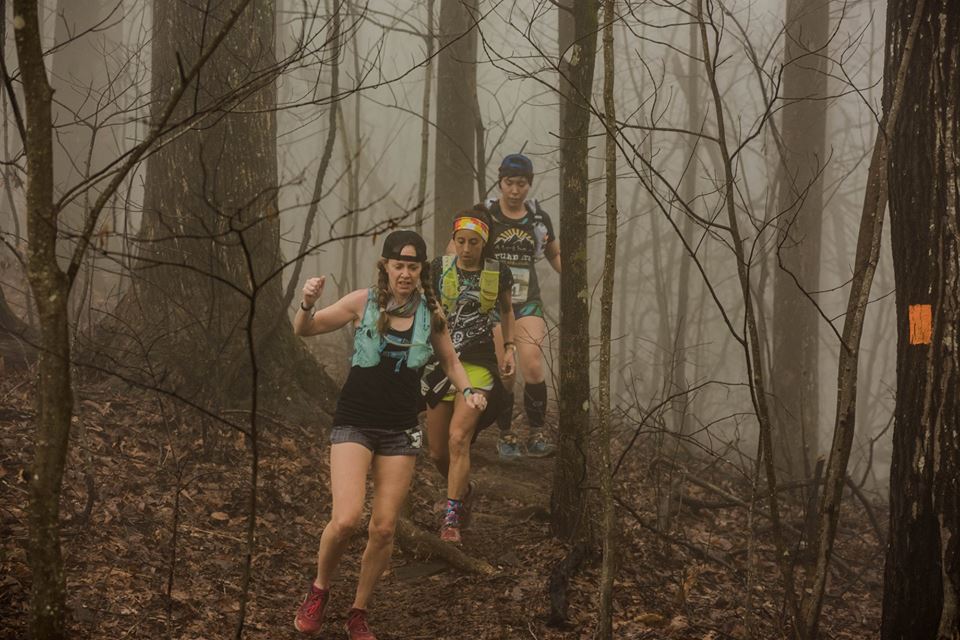 50 Miles is Really Far…So Start Slow.
Let me be blunt: 50 miles is a really freaking far distance to run. No, it's not 100 miles or 200 miles, but it's still FIFTY miles. I always tell runners that a 50K, while still technically an ultra, is "not that much further" than a marathon. Because it's not, a 50K is totally doable. 50 miles, however, is a very long day for most of us non elite runners.
Chances are, in your training you maxed out at a 50K long run, so you are about to face an extra 19 miles of the unknown. And the best way to approach that unknown, in this case, is to conserve your energy. Start your race off slow…slower than you think you should. And then slow down EVEN FURTHER. This will allow you to hopefully delay fatigue as long as possible.
Haven't started training yet? Check out this free 50 Mile Training Plan (click here)
There Will (Probably) be Some Walking.
A lot of new ultra runners might be surprised to learn that in longer distance ultras, athletes walk. Some may only walk up the steep climbs, others may utilize a run/walk strategy from the start. Either way, from beginners even to experienced athletes, there's occasionally (and sometimes often) walking during the race.
And guess what? No one is ashamed.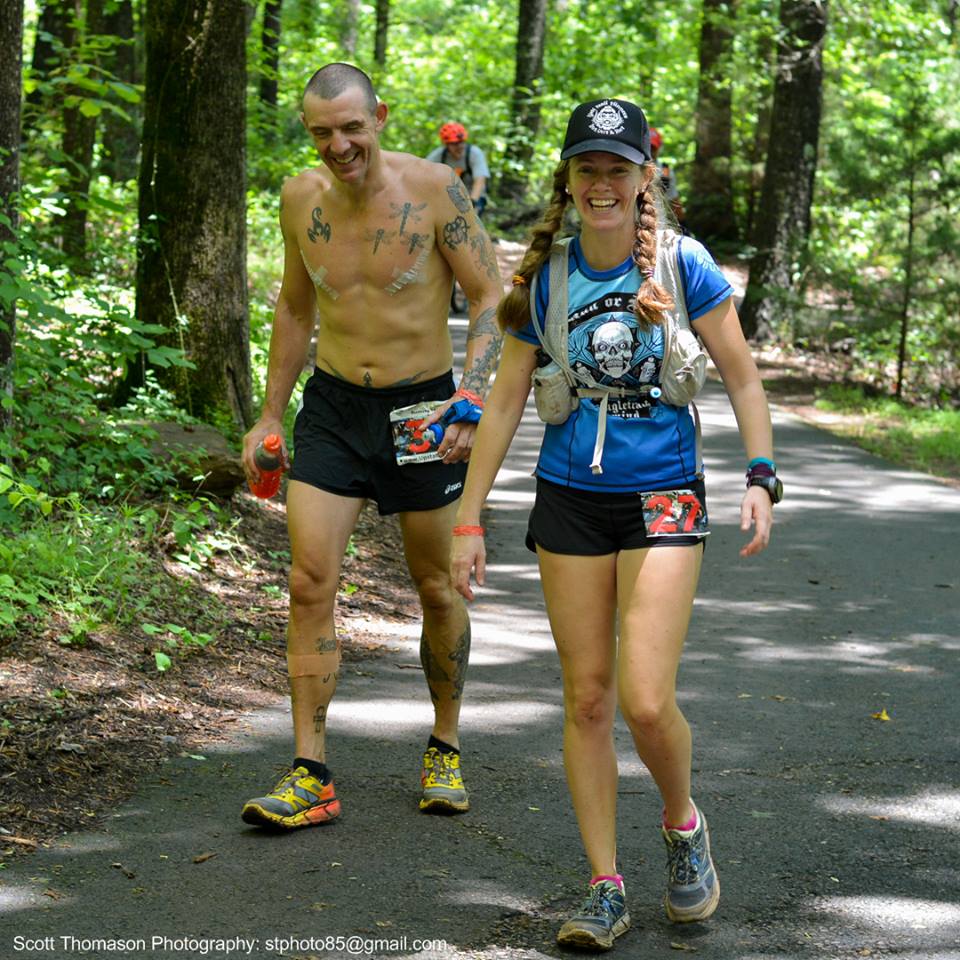 Walking up climbs, or incorporating a regular run/walk interval will help delay the fatigue on your body and legs, because as mentioned above…50 miles is a long way to run. I highly recommend that aspiring ultra runners regularly practice fast walking throughout training. This will teach your body how to become more efficient at walking, ensuring that your walk breaks don't significantly hinder your overall pace.
Related: Ultra Training 101- A Guide to Ultramarathon Walking
EAT!
We all know the importance of eating when it comes to endurance sports. When it comes to an ultra marathon like a 50 miler or beyond, eating becomes even more crucial For the average, non elite runner, you're spending the equivalent of a work day OR MORE running. When running your first 50 miler, you're going to run through lunch and maybe even dinner, burning thousands of calories as you go. This is not the kind of event where you can eat breakfast, run, and then follow up the race with a snack. You need a race day nutrition plan.
Related: Fueling for an Ultramarathon – A Complete Guide to Race Day Nutrition
"Real" Foods
Endurance specific foods, like gels, chews, or drinks are great…but you might get sick of them after 5 or 6 hours. Consider also incorporating "real" food, which may be slower digesting and more satiating than sports specific nutrition options. Of course, you're going to want to try these during training, and not make race day the first time you attempt to shovel down a piece of pizza at mile 42.
Other nutritional factors to consider during your first 50 miler:
Protein
When it comes to energy production, the body utilizes ingested and stored carbohydrates as well as stored fats as it's first fuel source. The muscles typically only break down proteins into amino acids and convert them into glycogen as a last resort. This is why the majority of endurance specific foods are essentially simple forms of carbohydrates: it's the easiest and fastest energy source for your body to utilize.
That said, evidence suggests that protein ingestion during exercise can inhibit muscle protein breakdown, and stimulate muscle protein synthesis (source). In other words, you may be able to slow down potential muscular damage caused by running a 50 miler, and even get a head start on rebuilding said damage, by ingesting protein during your race. Because a 50 miler is such a long, demanding distance, you may want to consider including some source of protein into your diet at some point during the day.
If you plan to incorporate a protein source during your 50 miler, as always, be sure to try it out during training. As protein sources are harder to digest and break down, they can potentially cause gastrointestinal distress…and no one has time for that during an ultra.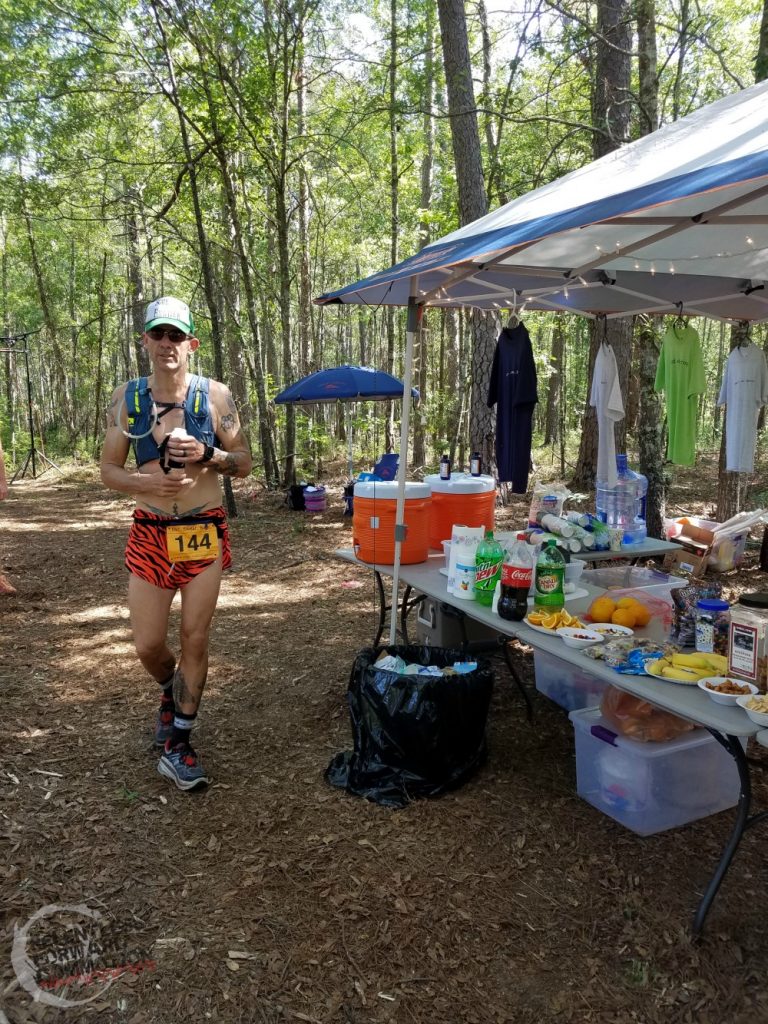 Caffeine
I'm going to tread lightly on this topic, as caffeine is a stimulant and performance enhancer, and there are risks (such as increased blood pressure or heart rate), as well as benefits to using caffeine (such as increased power output) during an ultra.
As an ultra runner myself, I will tell you this: in the later stages of a long race such as a 50 miler, a generous dose of caffeine can give you a much needed mental and physical boost. Again, if you have never used caffeine during a race, definitely give it a try during training first.
Take Care of Your Feet
All runners know that blisters and hot spots can suck. But take the pain of a blister in a half marathon, and add another 35+ miles, and you can easily see how unhappy feet will absolutely ruin your day in an ultramarathon.
Footcare, much like nutrition, varies from person to person. It's definitely something that takes practice in finding the right combination of socks, shoes, and blister prevention that works for you. But also like nutrition, footcare needs to start at the very beginning of the race, and must be maintained throughout the race. Waiting until a blister or hotspot forms is usually too late.
For more information on footcare, I highly recommend the book "Fixing Your Feet: Injury Prevention and Treatment for Athletes" by John Vonhof (affiliate link).
Drop Bags
The purpose of a drop bag is to allow runners access to items they need during a race, but do not want to (or simply may not be able to) haul around in their hydration pack for the entire race. It gives you an opportunity to refuel with your own specific nutrition, or even change attire based on varying trail or weather conditions, without having to carry it. This comes in especially handy during a 50 miler, because as mentioned above, 50 miles is a long way to run.
Things to consider with your drop bag:
Need More Food?
If you rely on a nutritional source that cannot be found at the aid stations, you'll want to have a resupply in your drop bag.
Do You Want to Change Shoes / Clothes / etc?
While taking the time to change during a shorter race like a marathon or 50K seems absurd, it might not be so far fetched 35 miles into a 50 miler. Especially when you consider things like temperature changes over the course of the day, chafing from sweat, potential muddy trails, etc. You'd be amazed at what a fresh pair of shorts can do for motivational levels!
As far as shoes go, over the course of running a 50 miler, especially on rough terrain, there is potential for your feet to swell. A sock and shoe change in the later stages of the race can be a game changer as far as alleviating sore feet , and again, giving you a mental boost.
Will You Need Lamps?
Depending on your location and time of year your 50 miler takes place, you may end up needing a light source (headlamp, handheld, etc.) towards the end of your race. Throw in a backup pair of batteries for your light, just incase.
For more information on what to bring, check out The Beginners Guide to Packing an Ultramarathon Drop Bag
Crew
While an entire dedicated crew is less common for 50 milers as is it for the 100 mile distance, having a friend or partner who isn't racing to be there to support you at your first 50 miler isn't a bad idea.   That person can be as involved as making sure you stay on top of nutrition and don't waste time at the aid stations, to simply being there as a smiling face and someone to drive you home post race (because you're probably going to want someone to drive you home post race.)
Mental Hurdles
This is one of the biggest hurdles for beginner – and sometimes even experienced – ultra runners. Your mind can do some crazy things over the course of 50 miles. If you think a marathon "wall" is tough…wait until you see what an ultramarathon can throw your way. You may experience some incredible race day highs…and some horrible race day lows. Those lows will make you question yourself: why you are out there, and if you're even capable of finishing this race in the first place .
Those lows may make you want to quit.
The best piece of ultra advice ever given to me was to remember every low is eventually followed by another high…if you gut it out. During that "gut it out" period, you take in some extra calories, you force yourself to laugh, and you take a moment of gratitude for your body and this experience.
And then you keep going.
Running your first 50 miler is an amazing and eye opening experience into the world of ultramarathons. It's incredibly tough, but absolutely do-able. And if you take nothing else from this blog post, remember these three things:
Go slow.
Eat plenty.
Smile when it gets tough.
BELIEVE that you are capable of getting to the finish line.
You'll get to the finish line.
Runners: what is something you wish you knew before running your first 50 miler? Or, what advice would you give a new ultra runner before their first 50 mile race Leave a comment below!

Heather Hart is an ACSM certified Exercise Physiologist, NSCA Certified Strength and Conditioning Specialist (CSCS), UESCA certified Ultrarunning Coach, RRCA certified Running Coach, co-founder of Hart Strength and Endurance Coaching, and creator of this site, Relentless Forward Commotion.   She is a mom of two teen boys, and has been running and racing distances of 5K to 100+ miles for over a decade.  Heather has been writing and encouraging others to find a love for fitness and movement since 2009.