Last Updated on July 4, 2019 by Heather Hart, ACSM EP, CSCS
Returning to running after an injury? Terrified that you might reinjure yourself? You aren't alone. Taking time off of running is frustrating, and the last thing you want to do when you are finally able to return is to get hurt AGAIN, forcing you back to square one. Here are 6 ways to overcome the fear of reinjury when returning to running.
So You Got Hurt…
Despite our best efforts, even with proper training and adequate rest, sometimes runners get hurt. Hopefully the injury is minor and temporary. Sometimes it isn't – sometimes it's an injury that sidelines you from running for weeks, or even months. This "time out" from running can range from mildly frustrating to downright devastating, depending on the runner.
Either way, there's no denying: injuries suck.
While we are often so anxious to get back to running, the act of returning to running can cause anxiety in and of itself. What if the injury returns? Am I truly fully healed? What if one misstep ruins the last few weeks (months) of healing, putting us right back at square one?
The fear of re-injury is real, and understandably so.
The Fear of Reinjury When Returning to Running: How to Get Over It
Look, I can't promise that you won't get re-injured. I wish I could wave a magic wand, Oprah "everyone gets a car" style, and declare: "you're injury free! And YOU'RE injury free! YOU'RE ALL INJURY FREE!!!" but I can't. However, I can share the advice I give to my clients – and let's face it, sometimes myself – when returning to running after injury.
Follow Doctors Orders
This should be an obvious first step, but runner's are sometimes known for being stubborn. Follow recommended rest periods and guidelines for returning to running, outlined by YOUR physician or physical therapist.
Yes, I know they may not be runners. Sure, they might not understand that "just one mile" feels like nothing to you.
What doctors (PT's, etc.) DO understand the severity of your injury, from a medical standpoint. They will have the best insight as to how to allow your injury to properly heal. Following doctors orders will reassure you that you are returning to running on a timeline recommended by a medical professional who has your best interest in mind. They also do not want to see you reinjure yourself.
Focus on Preventative Measures
One way to overcome the fear of reinjury is to recognize how you injured yourself in the first place, and then take every step possible to prevent reinjury. Was there a weakness or imbalance in your body that needs to be addressed ? Did you over train, or compete in a race without properly training, and the physical stress resulted in an injury?
Perhaps your injury was just a fluke, bad luck, or not related to running at all. Either way, something (muscle, bone, tendon, etc.) has been in a weakened state, and it needs to be strengthened.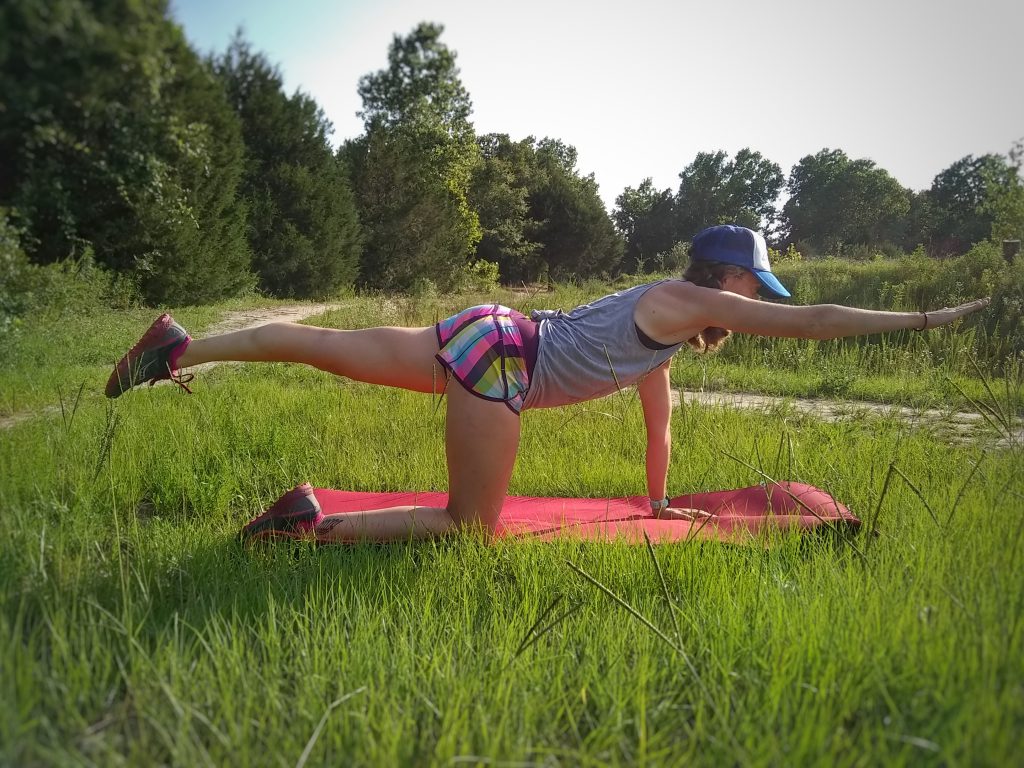 For example, after undergoing umbilical hernia surgery, I had to focus on slowly rebuilding my core strength and fixing my diastasis recti, in order to prevent recurrence of the hernia. Knowing that I was doing everything possible to help fix my weaknesses and prevent reinjury gave me confidence to get back to running.
If you are unsure as to what proper preventative measures to take, seek out the advice of a physical therapist or exercise physiologist who has experience in helping athletes return to their sport after an injury.
Positive Self Talk
Licensed psychologist (and fellow runner) Dr. Rhiannon Ducey suggests the following: "To overcome the fear of reinjury, become mindful of negative self talk. Write down all the negative thoughts that circle around in your mind related to reinjury. Once all of the negative thoughts are on paper, flip the script by rewriting these thoughts as affirmations. For example, 'I always get hurt while training' can be rewritten as 'I am working hard to keep my body healthy and injury free.' Daily practice of these new thoughts, or affirmations, can have a profound impact on the way an athlete feels and performs."
Check your Expectations
You aren't going to pick up where you left off, as far as weekly mileage, speed, or fitness levels go. Read those words again: you aren't immediately going to pick up where you left off. That's not to say that you won't be back to those levels soon enough, but a key concept in returning to running after an injury is patience. Letting go of the expectation to quickly get back fitness will (hopefully) prevent you from pushing too hard, too soon, and risking reinjury. Which leads me to the next point:
Start Slow
Unless you are an elite athlete with a paycheck on the line, there is no need to rush recovery. Start with slow, purposeful workouts to see how your body handles the physical stress of returning to running. Do not be afraid of a slower pace, shorter distances, or even incorporating walking intervals.
When cleared to run by a physician, I have my clients start off with easy, every other or every third day workouts. This helps reassure the client (and myself) that everything truly has healed. As we progress, if no signs of injury are present, we slowly increase the training volume.
Knowing that you are re-building with purposeful, safe progression, can help ease some of the fear of risking reinjury.
When in Doubt, Get it Checked Out
Phantom pains and even lingering discomfort are both very real, and can cause anxiety in healing runners. In her post "Mental Challenges When Returning to Running After Injury ", Lauren from Breathe Deeply and Smile talks about the mental hurdles she overcame when it came to lingering pain after a metatarsal stress fracture. While these pains – real or phantom -are common, it's important to understand which ones are normal and which might be a sign of doing too much, too soon. When in doubt, consult your physician or physical therapist for reassurance.
________________________________________________
As I write this post, I myself am only two short runs back from an unexpected gastrocnemius (calf muscle) tear. I went four long weeks without any sort of cardiovascular activity (my personal source of emotional and mental therapy). I understand all too well the fear of reinjury that comes with returning to running, and wondering if it's smooth sailing from here on out, or if I'm going to hurt myself again. Truly, the most important things to remember are a) listen to your body, and b) patience. Hopefully for you – and for myself – in the near future, this injury- and the subsequent recovery period – will all be a distant memory.
Hang in there, my friends!
Heather Hart is an ACSM certified Exercise Physiologist, NSCA Certified Strength and Conditioning Specialist (CSCS), UESCA certified Ultrarunning Coach, RRCA certified Running Coach, co-founder of Hart Strength and Endurance Coaching, and creator of this site, Relentless Forward Commotion.   She is a mom of two teen boys, and has been running and racing distances of 5K to 100+ miles for over a decade.  Heather has been writing and encouraging others to find a love for fitness and movement since 2009.