Last Updated on September 27, 2019 by Heather Hart, ACSM EP, CSCS
Confession: I think coconut water tastes like soap; like someone bottled the contents of the kitchen sink dishpan (clean, of course).  Athletes have touted coconut water's electrolyte sustaining and recovery capabilities for years now, but just like peanut butter, I cannot bring myself to drink it. 
But recently I discovered a new fruit flavored coconut water sports drink at my gym, when the drink supply guy decided to have us try something new to try in addition to the normal water and muscle milk line up.  Not only did BODYARMOR lack the dish soap taste…but I actually enjoyed it.   It was a refreshing post workout drink that didn't taste too sweet or at all artificial.  Coincidentally enough, a few weeks later, I was given the opportunity to review BODYARMOR here on this very blog.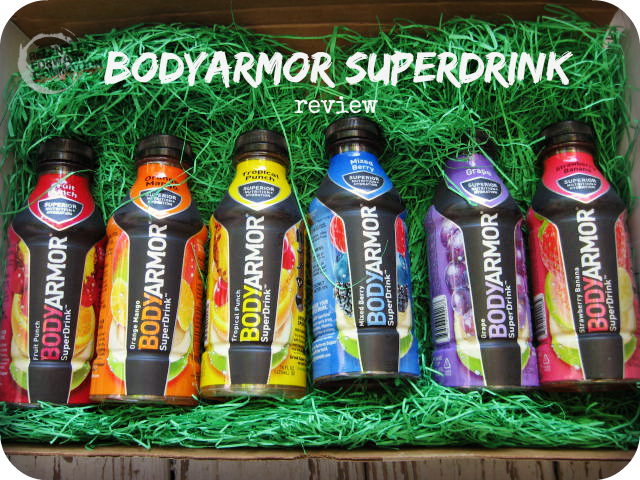 Sports drinks, however, are a difficult thing to review.  If you are drinking a sports drink simply to hydrate your thirst on a Saturday afternoon of mowing the lawn, well then you are going to have a certain set of requirements/complaints that is VASTLY different from someone who just came off of a 100 mile training bike ride.    Similarly, comparing an 8 year old who just finished soccer practice to a 32 year old who just ran a brutal 20 mile training run is like comparing apples to oranges; you can't do it.  Sure, we all have the same basic recovery needs (hydration, electrolytes, some sort of carbohydrates and proteins) but the levels of said needs will vary greatly.
That said, take this review for what it is worth and base the ingredients and nutritional facts on YOUR needs.
What they say: " BODYARMOR is an antioxidant and nutrient rich refreshment beverage formulated to support the body's immune system. Each exotic fruit & tea flavor loaded with Polyphenols, Vitamins A, B complex, C & E, Electrolytes and amino acids, available in 6 exotic fruit flavors. Coconut water and other electrolytes provide hydrating properties to all 6 flavors without the use of artificial colors, flavoring or preservatives."
Stats: Electrolytes: 2.5x the leading sports drink. Potassium: 600 mg. Total Blend: 704 mg. Vitamins: 200% RDI of B3, B5, B6, B9, B12. 100% RDI of antioxidant vitamins A, C & E. Coconut Water: 10%.
Ingredients:  (Based on Orange Mango Flavor) Filtered Water, Pure Cane Sugar, Coconut Water Concentrate, Citric Acid, Dipotassium Phosphate (Electrolyte), Ascorbic Acid (Vitamin C), Gum Arabic, Magnesium Oxide (Electrolyte), Natural Orange Mango Flavor with Other Natural Flavors, Calcium D-Pantothenate (Vitamin B5), Niacinamide (Vitamin B3), Alpha-Tocopheryl Acetate (Vitamin E), Ester Gum, Zinc Oxide (Electrolyte), Pyridoxine Hydrochloride (Vitamin B6), Vitamin A Palmitate (Vitamin A), Folic Acid (Vitamin B9), Beta-Apo-8′ Carotenal (Color), Cyanocobalamin (Vitamin B12).
What I say: 
PRO: no artificial flavors, colors, sweeteners, caffeine  (this is actually a con for me, but I digress), preservatives.   Less junk in your body = good news.  Though to be quite honest, the ingredients list still looks semi intimidating, and not as "natural" as one would hope.   For those of you who need it: gluten-free , nut free,  low in sodium,  high in potassium and certified kosher. 
TASTE: Awesome.  Something I actually enjoy sipping on.  To be quite honest, I feared the strawberry banana flavor, as banana is often hit or miss in drinks, but even that one was really good.  Also makes a great substitute for juice when combined with rum for an adult refreshment.  We found that out by accident when we ran out of juice last weekend.  Just an FYI.
NEUTRAL: Sugar content is high.  Again, base that on your needs.  Post insane workout, I'll take 30 grams of sugar in a bottle (15 per serving) no problem.  Would I give that to my kids?  Nope.
COST:  $23.95 for a 12 pack directly on the BODYARMOR website (about $1.99 per bottle) .
In the end, I'm a firm believer that sports nutrition is a wildly personal topic, and will vary greatly from person to person.  Will BODYARMOR SuperDrink be right for you and your training needs?  Only you can decide.  But I will tell you this: it doesn't contain a lot of the artificial crap that is found in other sports drinks, and it doesn't taste like dish soap… and that makes it alright in my book.
What is YOUR go – to during or post workout electrolyte drink?  What do you look for in a sports drink?
Disclaimer: Sponsored posts fuel adventures!  This post was sponsored by Sverve on behalf of BODYARMOR.  All opinions stated are my own.

Heather Hart is an ACSM certified Exercise Physiologist, NSCA Certified Strength and Conditioning Specialist (CSCS), UESCA certified Ultrarunning Coach, RRCA certified Running Coach, co-founder of Hart Strength and Endurance Coaching, and creator of this site, Relentless Forward Commotion.   She is a mom of two teen boys, and has been running and racing distances of 5K to 100+ miles for over a decade.  Heather has been writing and encouraging others to find a love for fitness and movement since 2009.