Last Updated on December 21, 2019 by Heather Hart, ACSM EP, CSCS
Wearable fitness trackers are not a new concept.  Pedometers have been dutifully worn on the waistband of fitness seekers for decades now.  However, over the last decade, wearable fitness trackers have become exceedingly more popular as the technology and data they provide users have become more in-depth. As the technology progresses, so do the claims of what these devices are capable of. But are they too good to be true?  Let's take a look at a few pros and cons of wearable fitness trackers.
Four Pros and Cons of Wearable Fitness Trackers
Wearable trackers have evolved from simple pedometer style to technology that utilizes everything from accelerometers, heart rate readings, body temperature measurements, GPS systems, and so much more.  These devices, usually worn on the wrist, can measure everything from calories burned, distance covered, varying activity levels throughout the day (such as sedentary periods versus vigorous activity), and even sleep efficiency.  Typically paired with an online dashboard or phone app that allows you to compare this data versus input of food intake, these wearable fitness trackers are touted as a key to successful weight loss and fitness. 
Pro: An Activity Reality Check
Think you move a lot during the day?  You might want to think again.  I spend the first half of my day behind the computer screen writing articles such as this very one you are reading.  Then, I spend the second half of the day at the gym, both completing my own workouts and then manning the front desk and attending to members and the facility. Naturally, I assumed I was EASILY clearing 10,000 steps a day.  It wasn't until I started regularly wearing a fitness tracker that I realized I was wrong.
Imagine my shock when I noticed that on average, I barely cleared 1,000 steps before lunch. And that includes numerous trips to the kitchen (I'm a hungry runner!) and to the bathroom.
We all know that sitting is hazardous to our health.  But new research is showing that even those of us who meet our weekly recommended activity levels can still have massively negative health effects from sitting too much.    Fitness trackers are a wonderful tool in giving you a visual reality check of how active…or inactive…you really are. Thus, the fitness watches become an accountability tool to your true activity levels.
Con: Accuracy of Caloric Burn
Are wearable fitness trackers accurate when it comes to the number of calories burned? In short: not likely.
Here's how the estimated caloric expenditure is calculated on your fitness tracker.  You enter your height, weight, and age into the computer (or app) which is then uploaded to your tracker.  These variables are then used to calculate what is known as your basal metabolic rate, or BMR.   By definition, BMR is the amount of energy expended while at rest in a neutrally temperate environment, in the post-absorptive state (meaning that the digestive system is inactive, which requires about twelve hours of fasting). 
In other words, how many calories your body burns per day just to maintain itself. That does not include added activities such as exercise, walking, or even the act of digesting food.    The BMR that your tracker calculates based on your height, weight, and age is then thrown into another equation based upon the detected activity you complete according to the tracker. The watch/app then uses all of this data to come up with an end estimate of daily caloric expenditure. 
Let's focus on the word "estimate" for a minute.
While this topic has been thoroughly researched, the BMR calculation, and the added activity equations, are still an estimate based on the average person (i.e., the average of the individuals studied).    Studies show that the BMR equation alone can have an error of up to 200 calories per day.  Keep in mind this is before activity is factored in.  Now, factors that could result in errors of the added activity prediction include (but are not limited to):
genetics
hormones (such as issues with the thyroid)
fitness levels
heart rate (though some trackers do come with an optional heart rate monitor)
and even chemicals and pharmaceuticals (both prescribed and over the counter, such as thermogenics, nicotine, etc).  
All of these factors  could affect an individuals metabolism, and thus cause an error in the equation.
Then of course there is the most obvious issue:  is the fitness tracker accurately measuring your activity levels?  (see below)  Some of these trackers contain technology that will base caloric burn on even more variables, such as body temperate, sweat levels, and heart rate. But again, there will always be room for error based on individuality.
In short, no, chances are the calorie burn is NOT accurate.  It is likely within the ballpark, sure. But I personally wouldn't plan my daily caloric consumption to a tee based upon my fitness trackers predicted output.
Con: Step Count Accuracy
In my experience, the step count of wearable fitness watches isn't very accurate either.   I've been fortunate enough to be able to test and review a number of different brands of trackers.  I've noticed that each one has its positives and negatives when it comes to tracking distance and steps taken. 
While this post was brewing in my head, I decided to wear three separate trackers to the gym for the evening.  Yes, three.  I got a few funny looks, but hey, anything for science.   I intermittently checked the trackers throughout a slew of different cardio options.    Some trackers would register on the ellipticals, while others wouldn't.  The same went for the stair stepper.   All three gave me different distance readings when running, none of which matched the treadmill. (Though in theory, the treadmill reading could have been incorrect as well.)  None of the trackers will register activity such as cycling, unless you wear the optional heart rate strap (only one of my trackers, the Polar Loop, offered that option.) At the end of a two hour workout followed by a 7 hour gym shift (where I walk a lot) each tracker varied from the other by a few thousand steps.
Now, not all hope is lost. Many of the available models allow you to set the sensitivity of the tracker to more accurately gauge footsteps. This is helpful, as some people are heavy runners/walkers, while others are very light.  Other wearable fitness tracker models will allow you to calibrate the length of your individual walking and running stride. This will also allow you to more accurately measure distance and steps covered.
Motivation.
A fantastic attribute of fitness trackers is the motivation they provide, both intrinsic and extrinsically.   Wanting to reach 10,000 steps a day (or another pre determined goal) can motivate an individual to get up and move a little or a lot) further than they might have otherwise .  Many of the trackers on the market today come with an online dashboard and often communities that can provide a world of external motivation.  For example, the Fitbit website not only awards your movement and activity with various "badges", but invites you to challenge online friends to activity competitions. Examples include who can take the most steps over the weekend, or who can climb the most floors this month.
Final thoughts:
It may seem like this post focused on the negatives and inaccuracy of fitness trackers. But, my overall opinion as a fitness professional is that these devices can be an incredibly helpful tool for those who are wanting to either lose weight or simply become more active.  While the step, distance, and calorie count aren't entirely accurate, they are still an accountability tool.  Accurate or not, there is no denying that fitness tracker readout of 15,000 steps shows you had a more active day than one that reads only 3,000 steps at the end of the day.
The key to success with these trackers is to remember that they are merely estimates. Your daily workouts and caloric intake shouldn't be based exactly on these numbers.  Further, it is very important to note that these fitness trackers are simply a tool, and not a determination of your health. More importantly, they are not a determination of your self worth.  We all have days where we knock out 15,000 and beyond steps. Just as we all have days where the step count might not register past 3,000.   Rest days are important,  my friends.  If at any point you find yourself becoming obsessed with the numbers on the tracker, consider taking a break. And extreme cases, seek professional help from a counselor or doctor if necessary.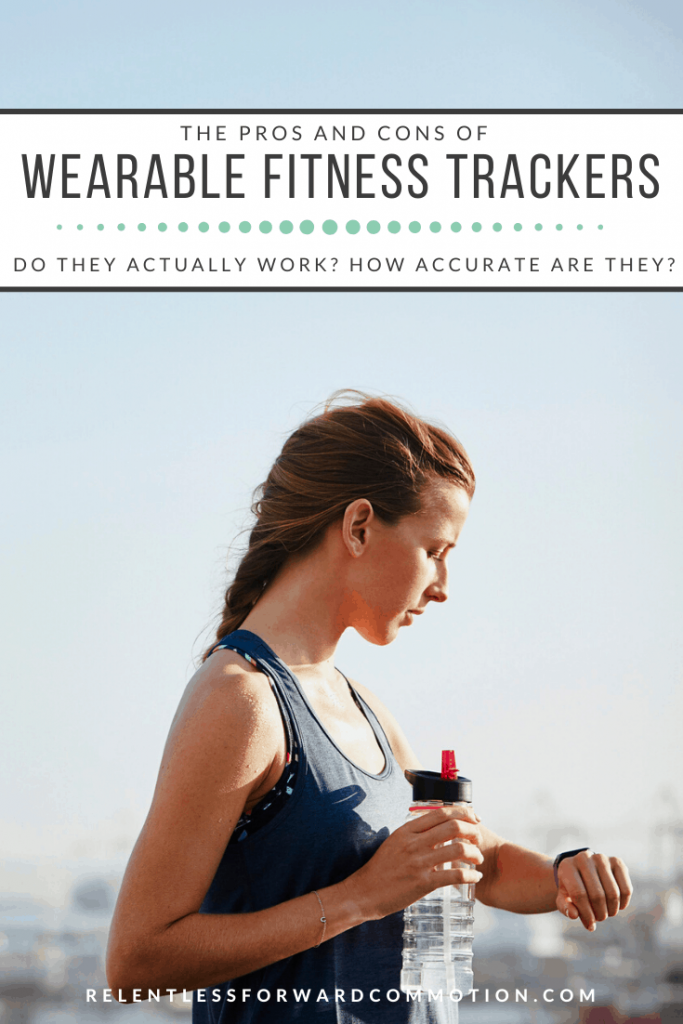 _______________________________________________________________________
Have you used a fitness or activity tracker? Were your experiences positive or negative? Would you recommend that tracker to others, and why?
Heather Hart is an ACSM certified Exercise Physiologist, NSCA Certified Strength and Conditioning Specialist (CSCS), UESCA certified Ultrarunning Coach, RRCA certified Running Coach, co-founder of Hart Strength and Endurance Coaching, and creator of this site, Relentless Forward Commotion.   She is a mom of two teen boys, and has been running and racing distances of 5K to 100+ miles for over a decade.  Heather has been writing and encouraging others to find a love for fitness and movement since 2009.