Last Updated on November 6, 2014 by Heather Hart, ACSM EP, CSCS
In hindsight I find it hilarious that at the time, I hated growing up in Vermont.   I remember loathing the field trips to the Appalachian Trail, or to the summit of Mt Moosilauke, both of which happened more times than I can count on one hand.  My best friend in high school, always the adventurer, loved to hike to the top of nearby Ascutney Mountain, and would sometimes manage to sucker me into tagging along.  I'll never forget one time when we both left the house wearing nothing but  t-shirts and shorts, only to be caught in snow at the summit, thinking to myself "this is a ridiculous past time."
So it's pretty ironic that 15+ years later, I cannot get enough of the woods.
(For what it's worth, I also hated running back then too.  Go figure.)
Recently, Ahnu, an outdoor performance and lifestyle brand, offered to send over a pair of hiking boots for me to test and review.  I chose the Sugarpine waterproof boot, as it was described as a lightweight hiker designed for all day comfort on the trails and city streets.  While we certainly don't have any "city streets" here in small town, Vermont, we do have a ton of snow.  (Well, we will, soon enough).  What I look for in a boot is one that can easily transfer from trail to everyday errand/snow shoveling /grocery shopping boot.  With our constant and often sporadic adventures, it is not completely unheard of to randomly stop the car to hop out into the woods and scout a new trail.   For my needs,  the Ahnu Sugarpine sounded like it would fit the bill.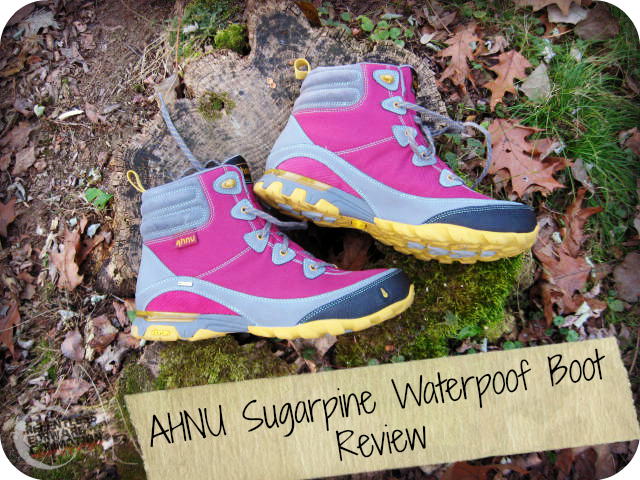 Specs:
* Ahnu's waterproof, breathable technology

* Vibram® non-marking outsole and slip-resistant lugs provide grip and traction on varied surfaces

* Numentum™ Hike technology with a lateral to medial TPU heel clip for neutral positioning and stability

* Waterproof mesh, leather and suede upper

* Gusseted tongue helps keep debris and dirt out

* Moisture wicking mesh lining

* Rubber toe protector

* Duel-density EVA, removable footbed provides extra shock absorption with heel and arch support

* Integrated nylon shank and arch support provide torsional rigidity and mid foot support

* Shock dispersal plate in forefoot for stone bruising protection

* Self-cleaning lugs

* Weight: 11.6 oz.
Review:
Out of the Box:  Obviously the first thing you notice out of the box is what the boots look like.  Anhu sent me the Sugarpine in Anemone pink.  With contrasting grey and, let's call it, "macaroni and cheese" (unofficial name) yellow, the boots really stood out in a unique, yet not obnoxious color scheme.  Of course I loved it.   For those of you not into flashy feet, the Ahnu Sugarpine comes in five other color schemes, including basic black.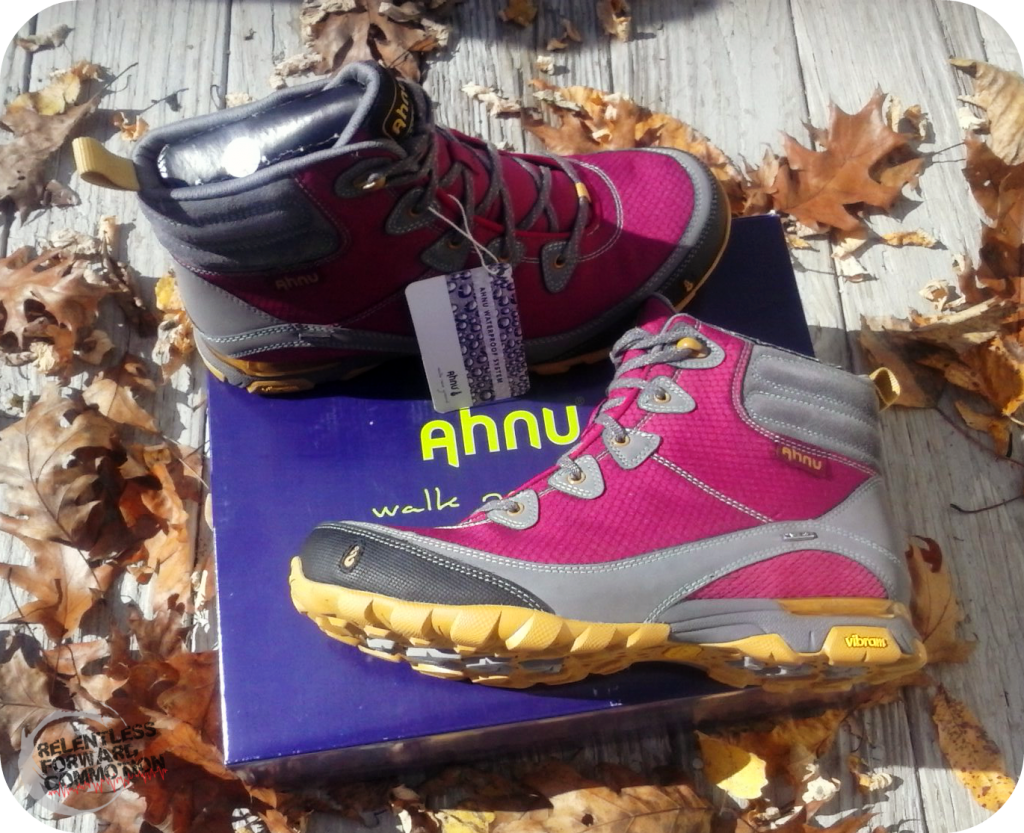 What was most shocking to me was how incredibly lightweight the Sugarpine boot is. You typically expect hiking boots, especially waterproof boots, to be heavy.  At 11.6 oz these feel more like a solid trail sneaker rather than a heavy boot. 
Fit:  The Ahnu Sugarpine Boot fit is true to size.  I typically average between a size 9.5-10.  The Size 10 Sugarpine boot fit with just enough extra room to comfortably wear bigger wool socks, which I typically reach for during long cold hikes.    The upper is ever so slightly padded, just enough to comfortably hug my ankle/lower leg without any chaffing or discomfort.
While I can't find any specifics on heel to toe drop, the boot feels relatively neutral to me; I don't have that "high heel" feeling that often accompanies an overly built up sole.  And to be honest, MOST boots do have that clunky, large heel feel to them.  As an athlete who prefers to be in a minimal shoe no matter WHAT I'm doing, this was a surprising yet much welcome aspect to the Sugarpine boot.   The forefoot is not overly wide, but is wide enough to allow comfortable and natural splay of the toes.
Performance:
I've worn these boots for exactly what has been advertised: day hiking trails to walking city streets.  Anyone who spends time hiking can tell you that comfortable feet will make or break your trail experience.  I suppose that honestly goes for most sports.   On the trail the Sugarpine boot proved to be both comfortable, durable, and most importantly:  waterproof and mudproof.  The gusseted tongue not only helps keep debris and dirt out, but allows you to step in deeper puddles without instantly ending up with wetsocks.   I didn't notice them on my feet, which is exactly the way a shoe/boot review SHOULD go.   Zero hot spots, zero chafing,  zero blistering, zero slipping in the heel, honestly, zero complaints.

Initially I had hesitations regarding the sole of the shoe.  While I've had positive experiences with Vibram soles in the past, upon first glance the tread did not appear to be very aggressive. I doubted their ability to sustain grip on slippery terrain.  Yet to my surprise, the Sugarpine provided ample grip on both loose dirt and wet leaves.  
While I wouldn't necessarily want to run long distances in the Sugarpine boot (this isn't what is designed for, afterall) they were indeed comfortable enough for some short bursts of running on open trail.  Which instantly made my mind wander towards…
snowshoes!

Sure it's a little premature, but I'm forcing myself to appreciate winter in Vermont this year, and am hoping to put in some serious miles on my snowshoes.  The boots I used last year were a bit larger and "clunkier", for lack of better terms, causing discomfort.   The fit plus waterproof feature of the Sugarpine boot, combined with the fact that they fit perfectly into my snowshoes, means these are likely going to be my go-to snowshoe boots for the winter.
Conclusion: 
If you are looking for a versatile, lightweight hiking shoe for both day hikes or just all around "keep my feet dry" use, I would highly recommend the Sugarpine boot.   If you are looking for something a bit heavier, Ahnu offers an entire line of winter and hiking boots.  While of course I haven't tried the others, if the fit, comfort, and quality of those boots is the same as the Sugarpine, I'm sure they will meet your satisfaction.
Disclaimer: I was sent the Ahnu Sugarpine Boot as part of a campaign with Ahnu & FitFluential, LLC in exchange for a review. As always, all opinions are my own.
Heather Hart is an ACSM certified Exercise Physiologist, NSCA Certified Strength and Conditioning Specialist (CSCS), UESCA certified Ultrarunning Coach, RRCA certified Running Coach, co-founder of Hart Strength and Endurance Coaching, and creator of this site, Relentless Forward Commotion.   She is a mom of two teen boys, and has been running and racing distances of 5K to 100+ miles for over a decade.  Heather has been writing and encouraging others to find a love for fitness and movement since 2009.