Last Updated on November 5, 2014 by Heather Hart, ACSM EP, CSCS
Believe it or not, I've never run a turkey trot! So being a momentous occasion, here is a great big long race report…for a 5k.
Bad Mommy Confession: the race started at 9:00 am and I left the house at 7:00 am. Not because I was worried about parking or traffic…but because I was being selfish with my pre-race mojo and didn't want any sort of possible toddler temper tantrum to mess with it, so I left the house while the boys and their Daddy were all fast asleep in their warm cozy beds. Call me selfish. Some moms leave the kids at home with Dad so they can shop in peace, I run and race.
I took my time getting to the race, stopping by the gas station for a NOS energy drink (my race day and long run total splurge, I know, I know, it's junk. Caffeine…but junk) and rocked out to some Flo-Rida and Trey Songz/Nicki Minaj (I rock out like I'm 21 and headed to the clubs pre race, what can I say, haha. A far cry from the daily "Fresh Beat Band" and "Laurie Berkner Band" that goes on in my house and car). I parked my car, wasted some time on facebook on the phone, and worked up the courage to take off my long sleeve shirt and step out into the cold. The Droid weather app claimed it was 48 degrees. Imagine my shock when I finally stepped out, tank top and arm warmers on, to find out that it was like, 60+. (It's 72 right now at noon).
Anyway, I ran around in circles (on purpose) found the start, found the bathrooms, ran back to the start, some more running, and back to the start again. Seriously, the pre-race anxiety is RIDICULOUS. My feet wouldn't stop moving. Thankfully I found Christine, and had someone to talk to/take my mind off of the race. I asked her to hold my arm warmers , since it was WAY too warm for them, and I figured she'd put them in her jog stroller. Turns out, she RAN the entire 5k (pacing her 7 year old son) holding them for me. That's a great friend right there, haha! Thanks again Christine!

Do I look nervous? Anxious? haha 🙂
So anyway, finally we start, I dip and dodge people, despite only being 3 deep from the start line. My thought process went something like this:
(Runners set,GO) " go go go go go go…and don't trip on any one's feet"

(100 m in ) holy cow, running a low 6:00 mile (Garmin says my max speed was 5:43) time to slooow down. (I try and slow down) still running a 6:33, slow dowwwwwn! Goal here is finish strong. Half of these people in front of you are totally going to crash and burn and slow down.
Then I went through that brief moment where you think "Holy crap, this is going to be HARD" and your breathing is labored, your legs start to burn. I slowed myself down to a 7:00/mile then and felt much better. I started to fall into my zone.
Around the 0.5 mile mark this girl came up behind me totally stomping, clomping, and sounding like she was having an asthma attack already. I wanted to tell her to pace herself, but didn't want to come across rude, so I held my tongue. Her loudness was totally throwing a wrench in running mojo gears, so needless to say I was glad when she fell back. Slowly, I started picking off other runners, one by one. Mile 1: 6:58
I decided Mile 2 would be a bit more conservative. Still passing people. I was glad I didn't wear my ipod, for each time my breathing would start to get a little crazy, I would take note, take a deep breath, and slow it down. Worked pretty well! Mile 2: 7:19
We separated from the 8k group, and I realized the two girls I was tailing were 8k runners. So now it was time to "chick" some more guys. We ran into the park where we passed a bunch of spectators. Over the bridge and around the pond. I was really feeling it now, so I told myself, hold back juuuust a little bit until you turn the corner, then give it all you have to the finish. Sounded like a great plan to me. Some guy I passed tried to strike up a conversation with me. "So, do you run everyday?" I think I muttered out a "yeah, well no, but close" and then passed him. Now was not the time for chit chat, haha.
I rounded the corner, looked at my Garmin and realized, ummm that finish line is coming pretty quickly….what gives? Do we run PAST it or something? I looked hard and noticed that no, that was infact the finish line, no sneaky tricks around it to get in more mileage. So I buckled down and sprinted the last few tenths of a mile in (max, 6:04/mile).
21:07 clock time. USATF certified 5k course. Garmin says: 2.93 miles. The FIRST thing I did when I caught my breath was walk to the nearest dude also sporting a Garmin and ask him what he got for a distance. 2.92 miles.
Being a little overly obsessed with numbers as of late, I can't help but feel like this one doesn't REALLY count. Not to say I'm not proud of myself…according to my pace (and I totally could have hung on for another 2/10ths of a mile at that pace, I think) I would have finished an official 3.1 in 22:23, which would be a 2 second PR. So I HAD a good race, don't get me wrong. But I don't feel like I REALLY ran a 21:07 5k.
Am I crazy? Yes, yes I am. Too bad I was wearing Coach Garmin…if not I would have neeeever known any different, haha.
BUT I did get 1st in my age group and 5th woman overall, so I am really pleased with that. Regardless of distance, I beat a ton of people (19th out of 218 5k runners), and I earned my TURKEY (and my surfing turkey ceramic tile, awesome prize!)
AND I got to spend the morning with plenty of great friends, from the running and mommy groups a like.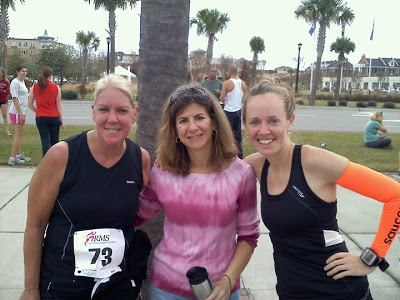 It was a fantastic, well run race, and a great course. Kerry @ RMS sports, you did a great job!! Highlight of the race? The overall winner, I mean overall men AND women: a 12 year old girl. She rocked out a 17:38 and beat the second place runner (a guy) by almost a full minute. That is AWESOME!
I then proceeded to go home and stuff my face with Thanksgiving dinner at my in-laws, and it was oh, soooo good. Ready to run long tomorrow!
I hope you all had a Happy Thanksgiving! Happy Running!
Heather Hart is an ACSM certified Exercise Physiologist, NSCA Certified Strength and Conditioning Specialist (CSCS), UESCA certified Ultrarunning Coach, RRCA certified Running Coach, co-founder of Hart Strength and Endurance Coaching, and creator of this site, Relentless Forward Commotion.   She is a mom of two teen boys, and has been running and racing distances of 5K to 100+ miles for over a decade.  Heather has been writing and encouraging others to find a love for fitness and movement since 2009.