Last Updated on June 24, 2019 by Heather Hart, ACSM EP, CSCS
I am always one of the first in line to defend the sport of running when some ill educated person wants to start spouting off the common "running is bad for you" misconceptions. I come armed with facts and peer reviewed articles that state otherwise, and proudly preserve the reputation of the pastime I love the most.
But when it comes to ultrarunning? Well the naysayers aren't necessarily wrong. The extremes of ultrarunning are not necessarily good for you, and in fact, can often be damaging. I don't need a research article to back up the fact that staying on your feet for 100 miles or more goes beyond the threshold of "healthy" diminishing returns. But if you'd like to read some abstracts, headover to pubmed.gov and type in a few keywords. My favorite result?
"Mountain ultra–marathon finishers exhibit marked immune alterations similar to those of severe trauma patients."
Eeek.
Point being, after 24-40 hours of sleep deprivation and staying on your feet, your body might potentially rebel in some interesting ways. Here's what I, and other avid ultra runners, have experienced in the past (and personally I am going through right now thanks to last weekend's 90 miles.)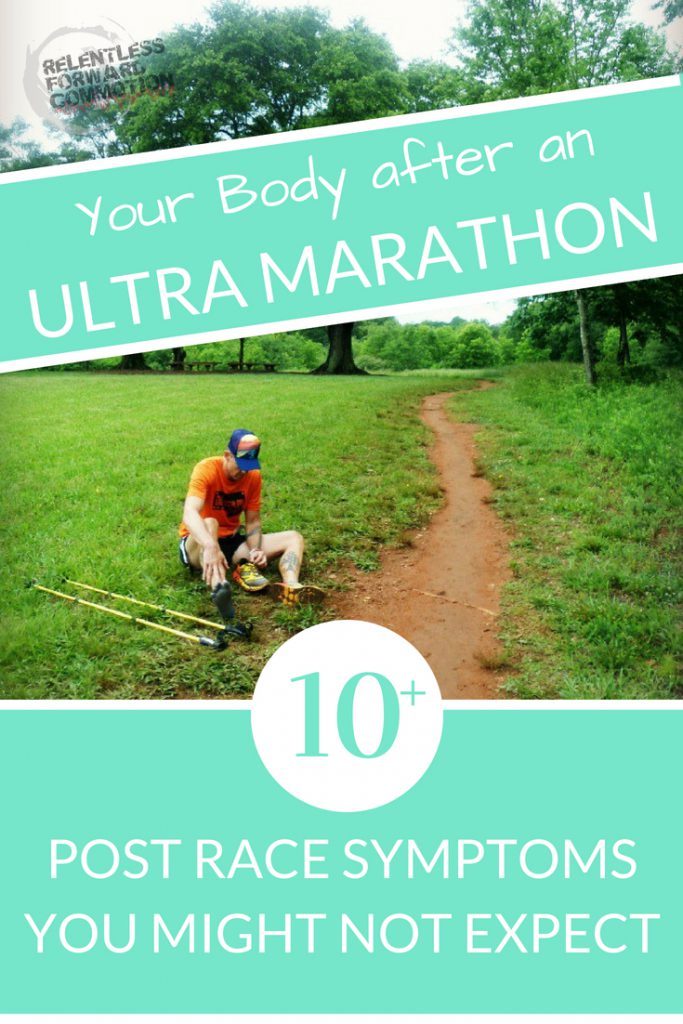 Emotions
The only thing I can compare this mess of emotions to is pregnancy. I find myself teary over happy things. I find myself teary over sad things. I, the person who previously didn't give one second of attention to the Royal Wedding, found myself crying while reading a story about a rescue dog on death row who is now living in Kensington Palace. I also picked this time, post race, to finally face the fact that my first baby is graduating from 5th grade, AND going to his first school dance all in the same week. Forget Tailwind, I might need Kleenex to sponsor me this week.
I'm sure there is some sort of hormonal imbalance going on. I'm sure it's also directly related to missing a few nights of sleep. The fortunate thing is, I recognize these out of control emotions as a side effect of running really far, and I'm able to laugh at myself when the tears start welling up.
Delayed Onset Muscle Soreness (or lack thereof)
After some races, I find myself so sore I can hardly sleep. Others? Barely a limp in my stride. This week after 90 long miles, I was hardly sore, and able to get up and down off of the floor with personal training clients (I like to count and coach at plank level) without any issues.
Despite any soreness, the important thing here is to remember that on a cellular level, there is indeed damage, and your body is still trying to recover.
"Even once I felt like my legs and body was recovered and I would try and go out and run I'd tire very quickly." says ultrarunner Chris Herath. "Heart rate would rise very fast and would just stay at a higher level. My legs and muscles would always recover quicker than my cardio system. It took me months after my 100 for my heart rate and breathing to feel normal again while running."
It's absolutely imperative to allow your body the time to recover and rebuild regardless of how "good" you feel.
Mental Exhaustion
Monday morning I walked into work only to be met with a lot of questions and comments from my boss, fellow employees, and clients that included math. I tried my best, but even I laughed when I said to my boss, "hold on, I'm going to need a calculator for this" (I believe the problem was "100 divided by 4". Where's a 3rd grader when you need one?) Fortunately I work in a gym, so all parties involved were completely accepting of my delayed delirium due to excessive physical activity.
Point being: your brain may be fuzzy, especially if you missed a significant amount of sleep during your race efforts. You may forget things, from simple words to perhaps even important appointments. (Yes, I accidentally stood up a client this morning. Fortunately, she too was at the race this weekend, and is an incredibly understanding friend.) Give yourself a little bit of a break, and really make an effort to catch up on sleep.
Swelling
I've been pretty fortunate thus far in my ultra running career in the "feet" department. Other than what I think is some sort of nerve issue or potential morton's neuroma that shows up sometimes past 60+ miles, my feet typically handle ultras like a pro. No swelling, no blistering, none of that.
However, 48 hours after the race, while making fun of my husbands now swollen feet, I look down at my own only to be bewildered by the sight of puffy toes and skin taut from fluid retention.
Hydrate, stretch, elevate your feet and legs, ice, compress…do all of the thing typically recommended to stave off swelling.
Appetite
One would think that immediately after running 50, 75, or even 100 miles, that the first thing you would want to do is shove as much food as you possibly can into your starving grocery hole. For me- and many other runners – the opposite is true. It takes me a solid 24-48 hours to work back up to a healthy appetite. Maybe my body is rebelling for all of the Tailwind and watermelon I insisted it digest while bouncing my digestive system across 27 hours of trails.
At the 48 hour mark (usually): watch out. I become absolutely ravenous, and no food is safe in the house. Hell, I might even drink some more Tailwind (kidding, but the Honey Stinger chews are definitely not off limits). Typically, I give myself a few days to eat whatever I want, making sure that most of the food choices are moderately healthy. Then, I have to purposefully slow my roll…or I'll be using the excuse "I just ran an ultra" for the rest of my life.
Disconnect from the Real World
When you spend 24-48 hours at an event where your sole purpose is to cover a ridiculous number of miles, surrounded by friends and family who are either doing the same or supporting you in your efforts, it can be really hard to adjust to life back in the the real world. A world where people cannot relate to your recent accomplishment, nor do they even want to.
"The world feels soooo insanely loud and hectic and superficial after all those woodsy hours of alone time in your own head." says ultra runner Katie Connor.
"Everyday tasks sometimes get really weird." says ultra runner and awesome race director Jason Green "I remember one day after completing what is the probably the hardest 50 miler in the south ,stopping for gas and while I was pumping gas, a strange feeling came over me- like what the fuck am I doing standing here pumping gas , I'm going to die ! Why am I doing this mundane shit , why am I not doing something that's making my soul go full? Then a couple of days later and a few beers, I adjust to the real world."
Depression
For many, post race depression is a very real concern. In fact, when I polled ultra runners, asking them to list the most unexpected post race symptom, most of them listed depression. Think about it, you spent months training for this event, and now that it's over, you feel as though there is a giant void in your life.
Runner Tasha Holland describes her experience after the multi day ultra, The Last Annual Vol-State Road Race:
"I actually began crying with 16 miles left. I was not ready for it to end. I had grown so much over those miles as a person and a runner. We went to the beach for a few days after the race to wind down and relax. I was fine then. However, when I came home, I was at a complete loss. I did not know what to do with myself. I was depressed for about a month. I had zero direction. I was shocked and did not know how to combat the feelings following the end of the journey. I had no idea of what to do with myself. How do you accomplish this amazing task, go on this amazing journey, then come home to your normal life? I really struggled to fit the new me back into what had previously been a great life."
Post race depression can be very real. For more on this topic, check out the post 5 Ways to Combat Post-Race Blues
Desire to Run – or Not Run.
After some races, I find myself almost immediately itching to get back out there and run, knowing that I should take a few days off. Other times? You couldn't pay me to run. And I'm not alone.
Do not be frustrated if you feel zero desire to run for quite awhile after an ultra. Your body and mind just went through an incredible feat. The desire will come back when the time is right. In the meantime, find other ways to occupy your free time. There is a whole world of other hobbies and fitness methods to be explored!
Decreased Immune System
The physical stress your body has undergone during your race can absolutely compromise your immune system, leaving you vulnerable to viruses or illness. Keep this in mind, being extra careful to eat immune boosting foods, avoiding places where you may be exposed to excessive germs, and getting plenty of sleep. You know, all of the things your mom would tell you to do to avoid "catching a cold".
Change in Menstruation
Ladies: the hormonal imbalance that can happen as a result of the extreme emotional and physical stress of an ultramarathon can absolutely have an effect on your menstrual cycle. Some women report missed periods in the month or two after an ultra, while others experience spotting or early bleeding.
While this is not out of the ordinary, it is certainly something that should be discussed with your doctor if it becomes a chronic issue, or is accompanied by excessive bleeding or cramping.
Other Random Physical Ailments
A long time mother-running friend and the first 100 mile finisher I ever knew, Tara Tosta, said: "Once I bruised my feet to the point of not being able to walk for a few days. Another time I peed blood, I guess you can irritate the lining of you bladder so first time I peed it was a ton of blood, totally fine after that."
Another random ailment: "I couldn't eat (after my ultra) because solid food hurt my mouth." says Steph Dannenberg, "My only conclusion is the air breathing in for longer periods at force causes epithelial cells or lining of the mouth to shrivel up and die." Surprisingly, a half dozen other runners responded to her comment and said this happened to them too.
Other symptoms runners listed included: night sweats, sore throats, swollen lymph nodes, restless legs, hemorrhoids, and inability to sleep. As always, if something appears "not quite right", do not hesitate to visit your physician.
____________________________________________________
As you can see, there is no shortage of ways an ultra marathon can beat up your body. Of course, adequate and proper training can certainly help minimize many of these symptoms…sometimes. Some recoveries are easy, while some are significantly more difficult. At the end of the day, if you ask any runner if the ultra was worth it, I'm almost certain they'd all reply with a resounding YES.
Readers: what were some unexpected post race symptoms you experienced after your ultra? Leave us a comment below!
Heather Hart is an ACSM certified Exercise Physiologist, NSCA Certified Strength and Conditioning Specialist (CSCS), UESCA certified Ultrarunning Coach, RRCA certified Running Coach, co-founder of Hart Strength and Endurance Coaching, and creator of this site, Relentless Forward Commotion.   She is a mom of two teen boys, and has been running and racing distances of 5K to 100+ miles for over a decade.  Heather has been writing and encouraging others to find a love for fitness and movement since 2009.