Last Updated on February 15, 2015 by Heather Hart, ACSM EP
You had to know I was going to document this.
I actually contemplated, for a minute or two, the fact that chronicling my umbilical hernia surgery might be what is considered "too" much information for a running and adventure blog.  But here's the thing:  human bodies malfunction all of the time.  In fact with all of the intricacies of the human body, combined with all of the abuse we put them through, it's a wonder to me that they don't fail more often.   Faced with what I was assured was a pretty common surgery, I was surprised at how few first hand experiences I found published on the web.  And I found it near impossible to find first hand experiences from those who were in a similar situation as me (active, hoping to return to being active as soon as possible).   So while no two surgeries or situations will be identical, here is my story.
(Also there are pictures.  You've been warned.)
A little back info for those new here:  I gained quite a bit of weight with pregnancy #2 (over 70 lbs to be exact) causing a diastasis between the left and right side of my abdominal wall.  At some point, nearly 6 years later, an umbilical hernia appeared between that diastasis.  I have no idea exactly how or when it happened, but it caused a great deal of discomfort, and inhibited both my own training and my career as a personal trainer, so it needed to be fixed.   The doctors agreed, and after all of the basic pre-op appointments, lab work, and paperwork, we have arrived at surgery day.
Surgery morning: I won't lie, initially I was convinced that the worst part of this whole ordeal was fasting after midnight, yet not having to be at the hospital to check in for surgery at 10:00 am the next morning.  Breakfast is my most important meal of the day (not to mention my favorite) and I had to look the other way to prevent dry heaving from hunger while pulling through the Dunkin Donuts drive through line while grabbing Geoffrey a coffee before heading to the hospital.
Checking into the hospital was easier than I had anticipated.  Any initial fears or nerves I had were instantly quelled by the amazing surgery staff.  The nurses joked that I was there for a spa treatment, but their "jokes" didn't feel too far from the truth.  After ushering me into a tiny pre-op room, they doted on me, especially one particular nurse named Lucy.  After stripping down to the standard backless hospital gown and non slip socks, I was cocooned with warmed blankets fresh out of some sort of heater, making sure I was comfortable.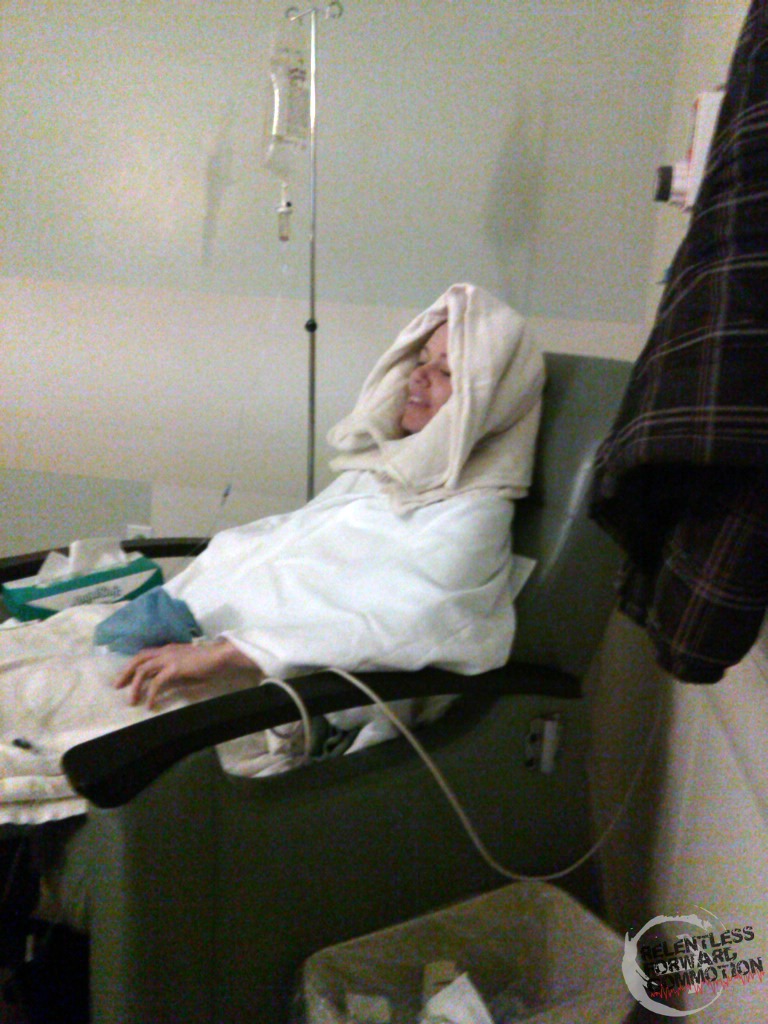 The nurses ran down the list of pre surgery questions while applauding me for stellar blood pressure, lungs, and the lack of any current medications.  Three cheers for running!  The I.V. was placed quickly and painlessly in my left wrist, and the fluids began their cold trickle into my veins.
Eventually the surgeon came in to mark me up.  While poking at my hernia and holding the standard "connect the dots" purple surgical marker, he asked me how attached I was to my belly button piercing.  "Not at all" I informed him.  In fact, the piercing has not seen jewelry in over 8 years, since my oldest son was born. "If you want to get rid of it all together, I'd be OK with that" I jokingly replied, adding "my belly button frowns".  The surgeon paused and said in all seriousness "I can do that for you.  Do you want me to do that for you?"
"Yes. Yes please, that would be fantastic."  I knew this wasn't a plastic surgeon and I wasn't here for a makeover, but hell, anything might help at this point.  I try to not concern myself with other people's thoughts on my appearance, but running in simply a sports bra is something I've been too ashamed to do; the damage to my skin from two pregnancies hasn't been pretty.   After a few marks, and some hilarious remarks regarding post surgery laxatives, the surgeon said he'd be seeing me soon, and headed out of the room.
(Incase you didn't gather by the above conversation, my surgery was NOT to be laparoscopic.  My surgeon felt that the recurrence rate of the hernia with a laparoscopic surgery was higher, specifically with the type of mesh used for the herniorrhaphy)
Next up was the anesthesiologist, who gave me another run down of similar questions, asked me if I was OK with being completely knocked out (yes please), and before I knew it, I was climbing from my warm cozy spa chair onto a stretcher in the hallway.  A quick kiss from Geoff and I was being wheeled down the hallway.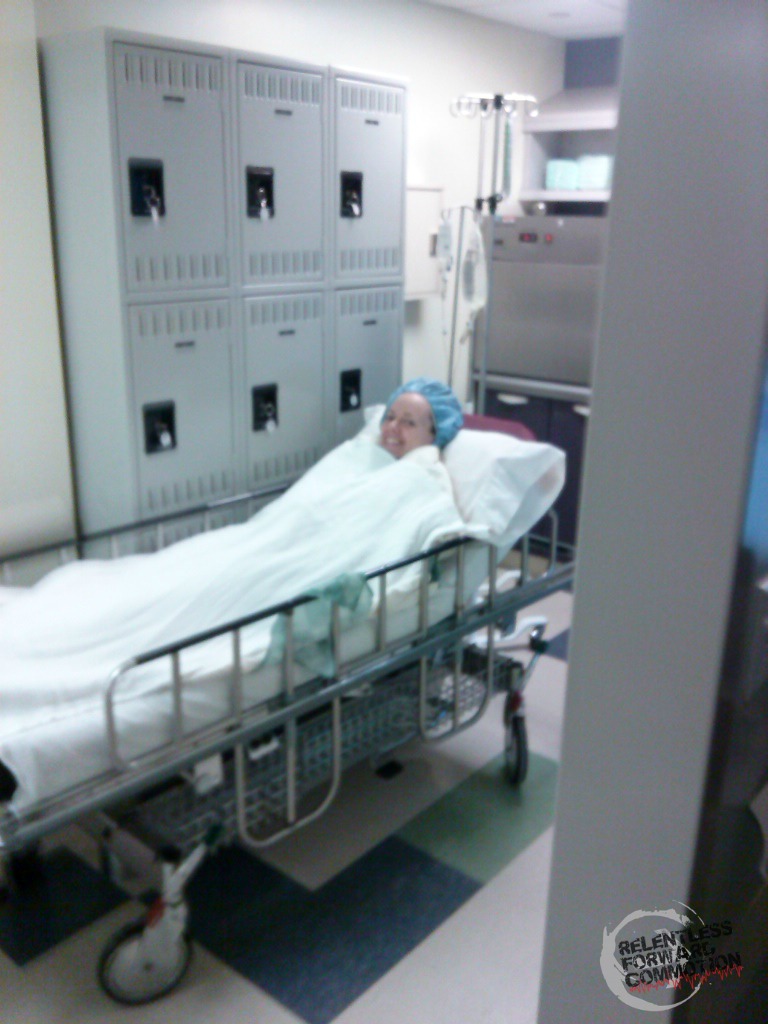 The anesthesiologist, who was behind me, was telling me that he had added the medicine to my IV that would put me to sleep, and I'd be feeling it's effects shortly.  I expected these effects to happen immediately, especially since the nurses had told me that most people don't even remember the trip on the stretcher to the operating room, but they did not.  We wheeled down a few hallways, and eventually ended up in a surgical room.
The OR  was very big and sterile looking, filled with lots of metal, and hardly resembled the Hollywood operating rooms we so often see on TV.  I'm not sure what I was expecting, but this wasn't it.   The nurse announced the time:  11:08 am.  I looked up at the ceiling and could only see two huge sets of lights, that weren't yet turned on.  The lights had a metallic rainbow hue to them. They almost looked like they were made of the inside of polished  abalone shells.  I suddenly became very convinced that they were indeed shells.  "What a ridiculous, silly hospital!" I thought to myself.  "Using ABALONE shells for medical lights? This is nonsense!"  I may have actually said that out loud.
And then I woke up in a completely different room.
Though I was alone in my curtained off area, I was instantly aware of where I was and what was going on.  The only logical explanation was that my surgery was over, and I was in some sort of recovery room.   The women on the other side of the curtain from me was clearly in a lot of pain, as she was groaning.   I on the other hand, was completely comfortable, other than the fact that I felt like I had chewed on the left side of my cheek. Was this hernia surgery or a dentist trip?  A nurse caught sight of my open eyes and came in to check on me.  I must have mumbled something about my face, because the next thing I knew she was scooping ice chips into my mouth.
Eyes open. Eyes closed.  Eyes open. Eyes closed.  As I dozed in and out I couldn't help but become aware of how the women next to me still sounded miserable. I felt really bad for her, for  I was not miserable.  Not at all.  Eyes fully open now.  Eventually a nurse reached under my gown and pulled off all of the sticky EKG nodes and even though I was still in a daze, I knew that meant I was doing all right.  Once they stop caring about your wave patterns, you must be in the clear.   Sorry lady on the other side of the curtain, I'm out of here!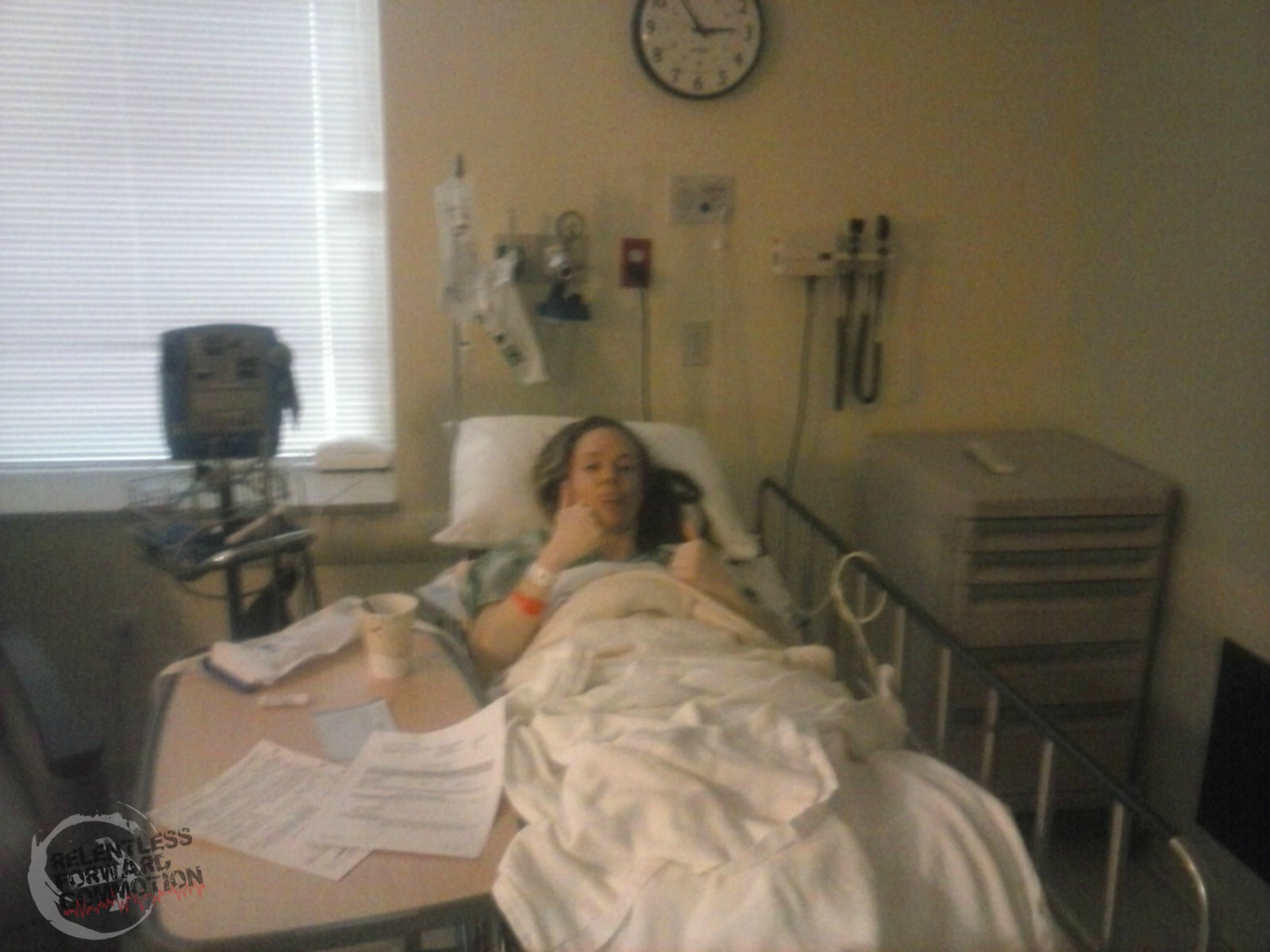 Lucy, the sweet nurse from pre-op, appeared and I was thankful to see a familiar face.  She wheeled me back into another, larger room, the "suite" she joked.  Geoff came in.  The anesthesia wore off, and discomfort quickly settled in.  The toradol placed through the IV came next, taking away the pain with it.  I felt awake, alert, and seriously lacking any pain.  The surgeon reappeared and told me everything went well.  I used the bathroom, got dressed, even called my mother (who seemed incredibly shocked to hear from a relatively coherent me, at least I think I was coherent), and was sent on my way home.  Though 6 hours had passed since the time we walked in the hospital doors, the day felt like it went by in the blink of an eye. It couldn't be that easy, could it?
It wasn't .
The next 12 hours are a blur of laying on the couch in our living room and a haze of oxycodone and ibuprofen.  And at 2:00 am when I woke up out of very fitful sleep, overdue for both meds, I felt the full ramifications of having your abdomen cut open.  It hurt.  A lot.  You really don't realize how much you use your core until suddenly the tiniest contraction of any core muscle brings shooting pain.
Lesson #1.  Do not let up on the prescribed pain medication dosing schedule.
I'm so thankful for my amazing family for stepping up to take care of me, for even shifting pillows under my head brought on shooting pain.  The adoration I feel for these people is obvious, but the oxycodone makes me want to publically and enthusiastically declare my love for everyone and everything…I feel overwhelmed with happiness.  Not a side effect I was expecting, nor one mentioned in the small novel that comes with prescription pain killers. I find it hilarious none the less.
24 hours post op: I find myself frustrated laying on the couch and already sick of feeling "loopy" from the meds.  It's one thing when you are trying to sleep at night, but feeling drugged up mid day when I feel like I could be getting work done on the computer has left me less than thrilled.   My amazing mother in law reminds me that less than 24 hours ago my body was put through a slight bit of trauma: it might be time to lay off the self imposed guilt trip, take the pain pills, and relax already.   She's right.
I don't like taking the meds, but I do, and doze most of the day.  With a pillow held tightly over my abdomen.  Trust me, it helps.
36 hours post op:  I can't get over how swollen my abdomen is.  I've gained 7 lbs since the morning of the surgery, I can conclude with 99% authority that this is all fluids, both IV introduced and swelling from the trauma of surgery.  Either way, I feel like I have a growth coming out of my stomach, and it hurts.   The simple act of adjusting my position on the couch – never mind getting up off of the couch – feels near impossible.  Ice, more pain pills, back to the couch.
48 hours post op:  I wake up after an entire 8 hours of uninterrupted sleep. After the previous night's sleep being so interrupted, I'm pleasantly surprised.  Though there is still pain, it is not overwhelming.  I feel worlds better already.  I take this opportunity to remove the bandage and take a shower (both suggested by the doctor between the 24 and 48 hour mark).  Though I'm not squeamish in the slightest, I'm shocked at how the act of pulling the bandage off makes me want to pass out.  I make Geoff hover around me, just incase I do pass out.
My belly button looks …terrifying.  But I realize that swelling and stitches are certainly not indicative of the final outcome, and regardless, the final outcome was supposed to be a fixed hernia, aesthetics a mere afterthought, end of story.
Deep breaths.
(WARNING: Graphic picture below.  Stop reading now if you are easily grossed out by the human body)
(I'm serious.)
I also take this opportunity to start chugging some mirilax and caffeine.  Everyone from seasoned hospital visitors to the doctor himself warned me about the binding properties of narcotics & anesthesia.  Combine that with a core that doesn't want to be engaged due to surgery, and let's not tiptoe around the subject: pooping does not come easy.   Or at all for that matter.
Feeling stir crazy, already, I decide to take a walk to the mailbox.  50 yards in each direction, 100 yards round trip.  Holding my core tight while simultaneously trying not to over engage it causes extreme fatigue, pretty damn fast.    Deep breaths hurt. I laugh at how hard this is, so much harder than I ever anticipated, and take my place back on the couch.
72 hours post op:  Though the incision is still painful, I can get up off of the couch much easier and without assistance.   I had hoped to go back to work today, but mother nature and ANOTHER blizzard decided that I'd stay home another day.  I suppose it's for the best; I absolutely suck at sitting still and would likely do something I would later regret.   I'm thankful for the coworker who changed his plans last minute to cover my shift, and I'm frustrated at Geoff for lecturing me on even attempting to go to work.  Even though I know he's right.
I find myself extremely tired despite the constant rest, and I find myself getting frustrated over the fact that I'm so tired.  So I lecture myself.   No Heather, you are not feeling tired because you've been lazy, you are feeling tired because your body is healing.  LET IT HEAL, DAMNIT!
I'm bored already.  I'm sure no one is surprised.  One day of rest is easy.  Two days, welcomed.  But once you hit 4 days of couch surfing, when you are used to being on the go all of the time, well it's hard.  So I write this blog post instead.  I don't mean to come across ungrateful, for I am thankful beyond words for my body AND to have the opportunity to have this issue corrected.    But writing feels more productive than another game of candy crush or episode of mindless television.   So I write prescription drug inspired blog posts instead.
There will be more coherent thoughts once we reach the 168 hour marker (that's one week post op) but now, it's simply rambles.  So if you've come here looking for advice on what to expect post hernia surgery, this is what I've got for you so far:  learn to enjoy your couch.
Rest , rest, rest, rest.   That's what I'll continue doing for the next few days.  I promise I'm behaving.