Last Updated on March 9, 2022 by Heather Hart, ACSM EP
One hundred miles.   It's a long way to drive, and an even longer way to cover by foot.   As it turns out, one hundred miles is also lot to process, mentally and emotionally, and even more arduous to attempt to write about.  It's been eight days since we crossed the finish line of the Knock on Wood 100, and I still haven't wrapped my mind around the experience.  The truth is, I'm still riddled with mixed emotions about all of it.  Sure, there is a bit of a sense of pride: I finally finished 100 miles, and even came in third place overall female (spoiler alert, if you didn't already know).
Due to circumstances beyond my control, however, the race ended up not being what I had envisioned or trained for.   And I won't lie, with all of that comes (more than) a bit of disappointment.  A few weeks prior I had written a blog post about how one hundred mile races are never run on your own terms, and this race could not have been a more perfect example.   In fact, the words "you wrote a blog post about this" were actually spoken to me more than once over the weekend.  Pretty fitting.
But let's start from the beginning.
Friday morning, my good friend Paul picked Geoff and I up in his creeper-ultra van with no back windows (but it really is the best race vehicle ever), and we drove to Greenville, SC for the 2017 Knock on Wood Running Festival.   Along the way we picked up our friends Amelia and Emily, and arrived at Lake Conestee Nature Park at nearly the exact same time that my sister, Holly, arrived.  It was probably close to 1 pm, and with the race not starting until 8 pm, we had plenty of time to set up and prep for the race.
And by "prep", I clearly mean lay out all of the junk food.
With so many people there (we had at least 25 people in our group), things were organized quickly, and before I knew it, I was lounging in a mummy sleeping bag in a chair.    I hadn't slept well the night before, which I knew did NOT bode well for a race that would require me to be awake for two nights in a row.  But I'm also a horrible napper, so I did my best to just stay comfortable and relax.
And relax I did, up until about an hour before the race start.
I was anxious, I won't lie.  At one point, a good friend of mine said to me "just relax, there is nothing to be nervous about." To which I replied "I'm pretty sure if you aren't nervous before a hundred miler, you're fucked."   A bit harsh, perhaps, but if I've learned anything over my last four 100 miler attempts, it's that you've got to respect the distance, or it'll eat you alive.  I knew that parts of this experience were going to suck, there is no point in sugar coating or ignoring that fact.  I think that being mentally prepared for those lows will somehow help you survive them…assuming that you can remember such foresight when you are in the middle of one of those lows.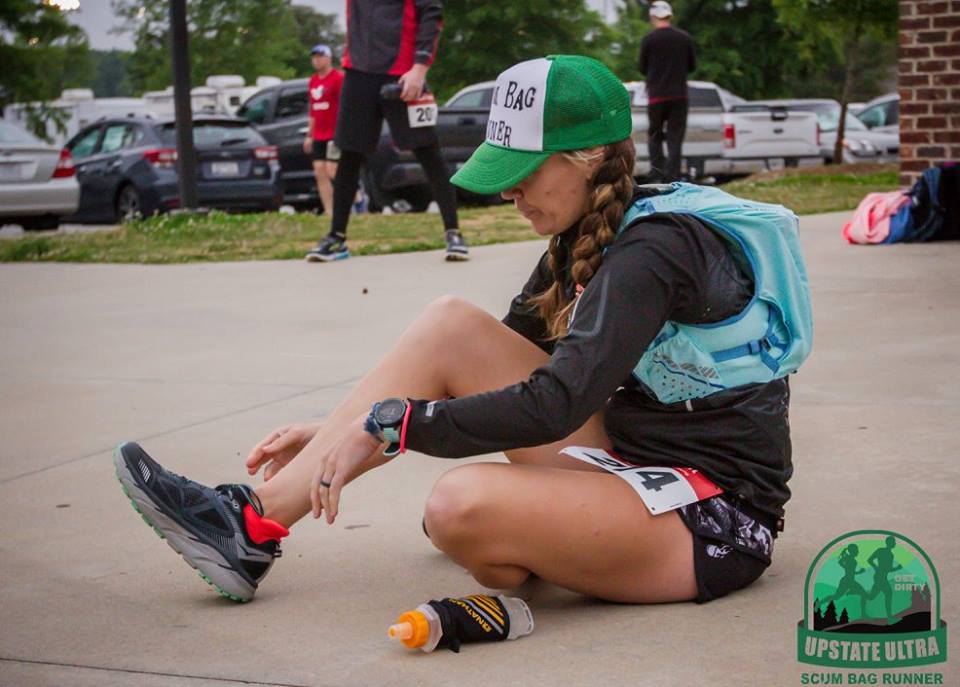 At 7:00 pm, I got dressed, loaded my hydration pack, gave my sister some last minute instructions ("don't let me NOT eat"), and headed to the pre race meeting.  To be 100% honest, I have no idea what Matthew Hammersmith, the race director, even said.  Probably something important about safety and directions, but I was a bit distracted by the overwhelming thoughts of what was to come.
8:00 pm.  The race starts.   We were warned that it was supposed to start raining  at *any minute* so I relished every footstep that was a) dry and b) still in the daylight.   The first section of trail was wildly technical, with a ton of roots, rocks, and narrow sections of trail that gave way to a steep drop into a body of water.   I appreciate this, as it forced us into a nice and slow pace, as opposed to starting out too fast.  There was a small section of rock face that immediately makes me homesick for the peaks of Vermont and New Hampshire.   Another quick drop that required the aid of a nearby tree.  These were the types of trails I missed running, but I knew their difficulty would only become increasingly difficult with each loop.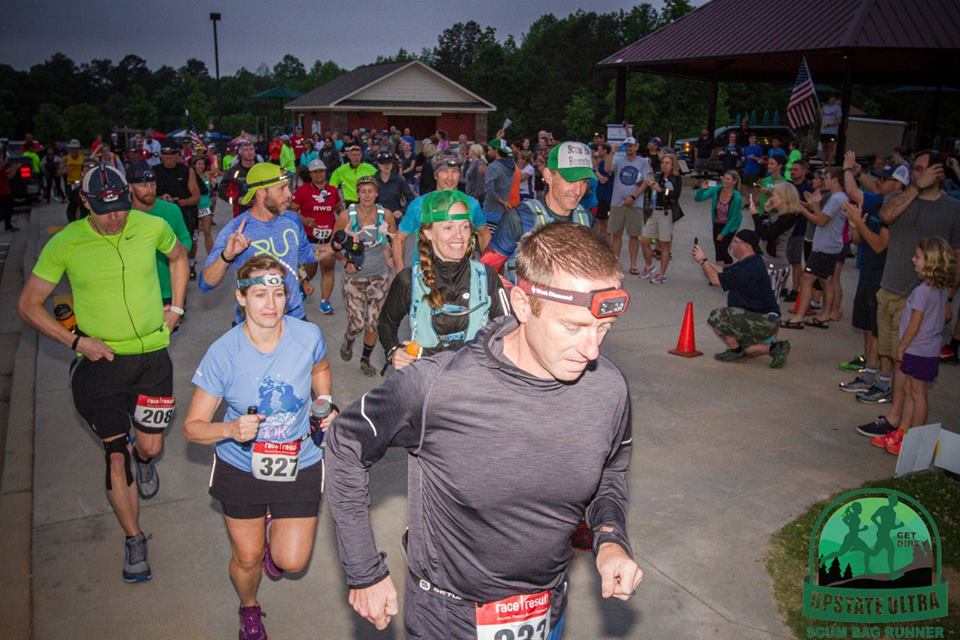 We began our 4 minute run / 1 minute walk intervals right from the start.  The first "walk" is always the hardest to do, as adrenaline is flowing and you are surrounded by a crowd of people who are running.  The last thing you want to do is slow that momentum down and walk.  But I had a plan, and I knew that sticking to it from the very start was imperative, so we walked.
One more run/walk interval behind us, and we leave the technical section of the forest and immediately hit pavement and a very long bridge.  I remember this section from last year.  The very long bridge gives way to a gentle but long downhill, still paved.   In fact, since we are mentioning it, probably about 1/3 of this race is paved.  I knew this, as I ran 100K here last year, but like most painful things in life, you somehow quickly forget the details.
Speaking of last year, much of the course is exactly the same…only in the reverse direction.   We run over numerous wooden bridges and through my favorite giant field that has nothing but a few massive trees and a winding single track trail.
This year, the course jumps from a 3 mile loop to a 5 mile loop.  The main addition being a "lollipop" out and back section in the woods that eventually loops up and around a set of baseball fields and through a parking lot.  I would come to vote the lollipop as my least favorite section of trail, even though it has some of the most spectacular views.
Loop one is pretty uneventful, and still amazingly dry.  We return to camp and I immediately notice that everything is rearranged.   I'm running with my Nathan VaporHowe full of water, and a Nathan ExoShot full of 2 scoops of Mandrin Orange Tailwind and 10 oz of water.   My nutrition goal is a minimum of 200 calories per hour, with more when I feel up to it in the form of "real" food.   I look around for my bag of Tailwind, and can't find it anywhere.  I start asking "where did my tailwind go?" to the startled faces of a number of non-crew members. No one seems to know,  and I'm probably visibly irritated.   This is not how I expected my first visit to "transition" to go, and I hope it's not a sign for what is to come.   Eventually I find my Tailwind, top off, and head back out.
Geoff and I finish the first 5 miles in just over an hour.  We're barely a mile into loop two when the skies open up and the rain begins.  What starts as a gentle mist quickly becomes semi torrential, with lightning to boot.  I'm told this storm "cell" (that never sounds good) is pretty intense but will pass quickly, so we just keep moving forward.
Sort of.
The rain brings out all sorts of amphibians, namely toads and frogs, and they are scattered all over the roads.  You cannot run three feet without seeing another one, and my husband, the one who loves animals more than people, decides it's his job to save them all.    I stop with him for maybe the first 5 toads, then decided those little guys were on their own: I had 100 miles to run.  Meanwhile, Geoff continues to stop, scoot the frogs and toads off the road, then sprint to catch up with me. I wonder if this new speed interval technique of his is a viable ultra strategy, but let him make this decision for himself.
It rains for approximately 12 miles, and I end up only having to change my socks and shoes once before the rain lets up.
Fast forward to mile 20-25.  Remember that hernia surgery I had back in 2015?  Interesting fun fact, the blog post I wrote about it continues to be the #1 visited post on my site every single day.  Who knew hernias were so fascinating?  Anyway, much to my dismay the hernia came back…with vengeance.  Most days it doesn't bother me too much, but if I am incredibly bloated (or eat a huge meal), it will start to pop out.  At some point during this loop, my intestines are pushing their way out of my abdominal wall so hard I felt…and probably looked…four months pregnant.    Truth be told, the discomfort could have been run through, but the sudden sharp pains I was feeling were constant reminders that this was not something I should push through.  "Incarcerated intestines" and "dead bowels",terms repeated to me over and over by my medical professional friends, ran incessantly through my head.
So at the end of 25 miles, I figured we had to try SOMETHING.
And that's when I tried to KT tape my intestines back in.
My sister and friend Raquel stood by, shocked and likely somewhat traumatized by the ordeal, but supportive none the less.   I laid down on the ground, sucked my intestines back in behind my abdominal wall, flexed my abs to bring the rectus abdominis back together (and shorten the diastasis recti gap) and then KT taped the hell out of it.  50% – 100% – 50% stretch.  Three layers of tape, followed by a buff around my waist to hold it all together (thank you Margaret from Dirt in your Skirt, your buff was the lucky winner).
At this point my medical friends (both long time emergency room nurses) were both asleep, so there was on one there to truly talk me out of what I was about to attempt.  Guts taped back in, we headed back out on trail.
My rudimentary hernia truss worked in the sense that it did keep my intestines where they were supposed to be.  However, the constriction around my waist left me nauseated, which is not something any runner wants to experience, ever…never mind only 30 miles into 100.
Geoffrey is by my side every single step of the way.  During the weeks prior to the race, we had discussed the possibility of me running on ahead without him if he needed a break.  I had trained my tail off for this race, and due to life and work obligations, Geoff didn't really get the chance to do so.  All along we had both agreed that no one would have hurt feelings over this arrangement.  Yet here we were, not 25 miles into the race, and he was the one waiting on me.   I told him he didn't have to wait, but he insisted.
"You're a better person than I am…" I stated.
"I know." he replied.  It was true.
I finish 30 miles in a heap of tears.  It's somewhere around 4 am, and most people are asleep.  My brain is screaming at me to go on, to push through the discomfort.  But a tiny voice, that voice of reason that I rarely listen to, is saying "this could turn out really, really bad…no finish line is worth an ER trip".  On top of all of this, I'm already exhausted because of the night start.    Holly makes me tomato soup, and I eat it.  Geoff makes me lay down in the tent, and I don't fight him.   It's about 4:30 am.
He immediately falls asleep, but I toss and turn in a sea of emotions.   Anxiety is plaguing me as I can't stop thinking about how I should be out on that course.   Eventually I hear voices outside of the tent, and notice that night is beginning to give way to daylight.  I emerge from the tent to find a few friends, completely startled to not only see me there instead of out on the course, but to see me in sweatpants, obviously not running.   I explain the hernia, and try to choke back some tears.  I can tell that they have absolutely no idea what to say to me.  To avoid awkwardness and a breakdown on my part, I go back into the tent.
Geoff is awake, and we discuss my options.  He tells me not to be stupid, and I know he is right.  But as soon as I hear Paul (good friend and ER nurse) outside of my tent, I jump out to seek an official medical opinion.
In short, he told me my race was over.   Cue overly dramatic tears.
All around me, friends of mine were running or getting ready to run their races.  In a very selfish, self centered moment, I think of how unfair it is that I sacrificed so much, and trained so much harder than so many, and *I'm* the one getting sidelined (again, self centered mid race thoughts).   My friend Mikie comes over between loops (I think she's 40+ miles into her race by now) to hug me and tell me not to cry.  This of course, only incites big wails and crocodile tears.   Geoff decides he is going to go out for a loop with Mikie and Raquel.  I'm jealous (of the running, not the girls, I love them), but of course I understand. I crawl back into my tent for a third time, feeling foolish.  Part of me realizes this is *JUST* a race.  First world problems at best.  The other part of me feels like I've just gone through an unexpected break up: my heart hurts and I don't want to accept that this is my current reality.
My sister comes in to talk me off of a ledge. I cry, she cries, I lay it all out on the proverbial table.  I explain to her that I can't quit yet.  I've come too far on this journey to not try at least one more time.   At this point, I haven't eaten in a few hours and my bloating has come down.  I've also used the bathroom more than a few times (there's no such thing as TMI for runners, and ultra runners are extra gross), and let's just say my bowels are feeling…lighter.   I tell her I'll walk, I promise not to run.  I'll walk and if anything feels painful, I'll quit.   I see mixed emotions in her face: the overprotective sister side doesn't want me to go, the endurance athlete side who totally gets it is rooting me on.  She agrees, and I tell her I'm going to sneak out the back side of the tent.  I just want to be alone, and I don't want to explain my reasoning to anyone else just yet.
I get dressed, pop my headphones in (I rarely ever run with headphones in, but I needed to be in my own headspace) and I go.  I wait until I'm around the corner, in the woods, and out of everyone's sight…and I run.  Easy jogs on the downhill sections, but mostly walking.   I feel really good.  Every few minutes in the beginning I stop to check on my hernia, and realize it's holding in place.  The bloating has gone down, and I vow to not touch anything but Tailwind until this race is over in order to try and keep it that way.
Part of me is fully aware of the fact that I have SEVENTY miles left to go, and walking all of them will mean that I'll be many hours past my original goal.  It almost seems futile.  But another part of me realizes it's going to be a beautiful day, and all of my friends will be out here running (the 50K) anyway.  If I don't walk, I'll be sitting around, so I might as well keep moving forward.
Relentless forward (com)motion.
I'm just over four miles into the loop when I run into Mikie, Raquel, and Geoff on the out and back section of the lollipop.   I see Geoff's face quickly run the gamut of emotions, from surprised to concerned to pissed off.   He asks me what the hell I'm doing, and I respond with something along the lines of "Paul said it was OK if I walked" (he didn't really say that…) and "I promise, I'M FINE!  Keep going!"  He stares me down with a disapproving look for another few seconds, then hands me the most gorgeous bouquet of wildflowers he had picked for me. "I'll meet you back at the tent, don't go back out without me." he says.  I promise, and then I'm alone once again.
I finished the loop with no concerns.  Nothing hurt, the bloating had receded, and my hernia was for the most part, back where it belonged in the confines of my abdomen.  Convincing others that I truly was OK would be my next challenge.   Geoff assured my sister and other concerned parties that he wouldn't be leaving my side for the rest of the race, and of course, he never did.
More and more loops pass by.  The sun is shining, and I'm feeling incredibly positive that my body is cooperating, even if I'm "only" walking.  I notice how incredibly exhausted I am (we are now well past the 24 hours of being awake mark) but the daylight makes it easier to keep moving.  I'm sticking to my 200 calories of tailwind per hour, and I can feel the bloat in my stomach continuing to recede.
More than anything, I'm happy to be on the course, and not sidelined.
The 50K runners, which had begun at 8 am, continue to pass us on their loops.  At one point, our little buddy Caden catches up to us on his third loop, and decides to walk with us.  Caden, for those of you who don't know him personally, is 9 years old.  NINE.  He has a 1:34 half marathon under his belt, and missed the half marathon world record for nine year olds by just a few seconds.  The kid has running cred, no doubt about it, but was out there attempting his first 50K.  I think the distance and lack of pacing himself for the first 12 miles got to him, and so we gladly let him hang out with us.  We spent the next 2 loops discussing running, the forest, and other nine year old topics.   It was a great distraction…for all of us.
I have no idea what mile Geoff and I are at, but I know Caden is ready to start his last loop, mile 25-30.  I'm KT taping his ankle in transition (he turned it on a root) when all of a sudden Caden's dad, Chris, runs up and says a guy went down on the trail.  Chaos ensues, people start running back and forth, an AED goes flying down the trail in the arms of the race director, and next thing you know, my friend Paul (the ER nurse) sprints away.   Caden, being a kid, is completely curious as to what is going on.  I, being a mom, realize this is not a good situation (rumor is the guy isn't breathing) and feel compelled to get Caden AWAY from the chaos.  Despite the fact that this kid runs and often acts like an adult, he is still only nine, and these sort of tragedies can be devastating for everyone.  So we finish getting ready, and I drag him out on his last loop, away from the medial emergency.
Long story short, a man had gone down on the trail, and his heart stopped.  Thankfully, he went down less than a half mile from transition/the finish line.  Paul was able to use the AED paired with his medical skills to bring this guy back to life.  Last I heard, the guy was released from the hospital and everything is looking positive.  And now that he is most definitely alive, we can joke that Paul had to upstage everyone by adding "save a life" to the middle of his 50K ….
(please note the sarcasm, that's what we do.  We're actually so incredibly grateful that everything turned out the way it did!)
We keep going.   I'm still fueling on Tailwind, with the occasional soft snack like applesauce or a clementine to supplement my calories.  My stomach feels good, my energy levels feel good.   At one point we finish up loop #12 (60 miles), and I see all of my friends relaxing under a tent, drinking beer, enjoying the spoils of their first 50K finish.  I jokingly march right up to them and say something like "Hey, we have eight loops left, and there are more than seven of you.  Figure out who gets to pace which loop by the time we get back." and walked away.  I was kidding, of course, but also secretly hoping some of them would take us up on the request.  Daylight was slowly starting to dwindle, and I knew as soon as the sun set, things were about to get infinitely harder.  Plus, there were a few "seedy" characters out on the trails (the park was public property), and as Geoff and I became more and more tired, having an extra set of eyes and hands with us didn't seem like a bad idea.
This was also around the point that I noticed 100 mile participants were dropping like flies.  Not that I could blame them, we were all likely running on 36 hours or more without sleep by that point.  I had initially thought, post hernia debacle, that I'd just keep walking throughout the day for something to do (crazy runner talk); a 100 mile finish was still up in the air.  But at this point,  so many people who had looked so much stronger than us were out…and we still felt good.  I also noticed that I had somehow creeped up to third place female.  I won't lie, that was certainly added motivation to keep me moving forward.   Now we were definitely going to try and finish.
We hit 65 miles and I'm stoked to see our friend Michael C. up and ready to pace us.  He's a LOUD and entertaining friend, exactly what I needed to keep my spirits high.  We walk the loop together, the three of us talking about everything from pets, to kids, to training.   We make it through this loop relatively effortlessly.  I arrive back to the tents, and everyone is asking how we are feeling.  I'm in high spirits still, even though I'm tired and sore.  I make some sort of statement like:
"You know that saying 'It hurts up until a point, and then it doesn't get any worse'? It's totally true!"
Famous last words that I would come to eat very soon.
Chris hops up to take the next loop.  Darkness is settling in around us, and all of the 24 hour and 50K racers are off of the course.  The winner of the 100 miler is also already off the course. I have no idea how people run that fast for that long, but I digress.  Future goals.  Most people have already dropped from the 100 miler at this point, and the trails are becoming exceedingly quiet.
Much to my displeasure, as the sun sets, the MILLEPEDES come out.  Those who know me best know that this is the only creature on earth that makes my skin crawl, and for whatever reason, they came out in hoards on the Conestee trails that night.  I also start noticing what feels like a tiny pebble under the ball of my left foot.  I  stop to empty my sock twice, and both times find nothing.  It wasn't until the next shoe change that I realized there was absolutely nothing in my shoe, sock, or stuck to my foot…it was just my foot starting to protest.
Shortly after, the right foot joined in.  The stretches of pavement have started to take their toll on my feet.  Thankfully, nothing is blistered and my feet are not swollen, but they ache with every step.
Michael V.  selflessly joins us for the next ten miles.  I can tell that he really doesn't want to, he's understandably tired from his own race.  He's also unsure of what to do, having never paced an ultra before.  "Don't let me fall off of the cliff in the beginning" is the only instruction I give him.   We talk, laugh, joke, and keep moving forward until about 3:30 am.
Michael C. and my amazing friend Jen from TransRockies hop up to pace us on lap #18.   They've been enjoying a little red wine while waiting for us to show up, and their giggles entertain me.  To say that I'm tired is an understatement, and my feet are becoming more and more uncomfortable with each step.  But all things considered, I'm still fine.
Until suddenly, I'm not.
We're not a half mile into lap #18 when suddenly I'm overcome with exhaustion.  I literally can not keep my eyes open, and I find myself stumbling from side to side.  Part of me is overwhelmed by the sudden loss of control, the other part of me is giggling inside, picturing the youtube videos I've seen of equally as exhausted endurance athletes stumbling around.   Having raised and breastfed two sleep-protesting-must-eat-every-hour-infants in my day, I am no stranger to sheer exhaustion.  But this is the first time in my life I've been that tired AND have asked my body to continue moving…through the woods in the dark no less.
We get to the 2 mile mark, near the "secret port-a-potty" that not many people seemed to know about (total win, in my book) and also an inviting bench.  I tell my pacers and Geoff that I need to close my eyes.  Jen asks me for how long, and I answer very matter-of-factly "three minutes". I'm not sure where that number came from, but it felt right.  Geoff sits down next to me, I lean my head on his shoulder, and I'm immediately in that twilight space between awake and fully asleep.  I feel Jen and Mike step away so their voices won't distract me. I also remember Geoff trying to shove some StroopWafel in my mouth.   The chewing wakes me up a bit, and I hope that the boost of sugar will give me SOME sort of energy to keep my damn eyes open.
Before I know it, Michael is saying something hilarious along the lines of "we love you guys, but it's time for tough love, get your ass moving, you aren't stopping again until you get back to the tent."  I oblige.
Geoff and I decide that we are going to take a 20 minute nap, no more, no less, when we arrive at the tents.  It is somewhere around 5:30 am, and we figure that by the time we open our eyes, the sun should be coming up, making the last two loops slightly easier.  I'm now officially at the 48 hour mark of not sleeping, and my body feels it.
Someone asks how I am feeling, and I reply "You know that saying 'It hurts up until a point, and then it doesn't get any worse'? It's bullshit.  90 miles hurts more than 80."
I sit down and try to close my eyes, but I'm shivering.  It's cold and damp, and I can't get comfortable in my chair. I don't dare go in my tent, as I know that will be far too comfortable and I'll likely never wake up.  Geoff, on the other hand, has no problem dozing off.  Between the dimming glow of a battery operated lantern, and my crazy brain that is already starting to see things, I swear Geoff's face is twitching in an uncontrollable manner, and I am suddenly fearful he is having a seizure.   However, words at this point, and forming coherent sentences, are really tough.  So all that comes out of my mouth is something like "Geoff, what are you doing?"  To which he angrily snarls at me "I'M NAPPING LIKE YOU SAID WE WOULD, WHAT, ARE YOU THE ONLY ONE ALLOWED TO NAP?"
I actually laugh.  Typically I'm the one who gets endurance growly, never Geoff.  But I'm somehow coherent enough to realize that this isn't really "him" talking, it's 90 miles and 48 hours without sleep talking.
I can't sleep, so Holly makes me the most amazing grilled cheese I've ever eaten.  Twenty minutes is up, so I get up and reluctantly get ready to head back out.  I want nothing more than for this race to be over, but when you've come this far, 10 more miles isn't worth quitting over.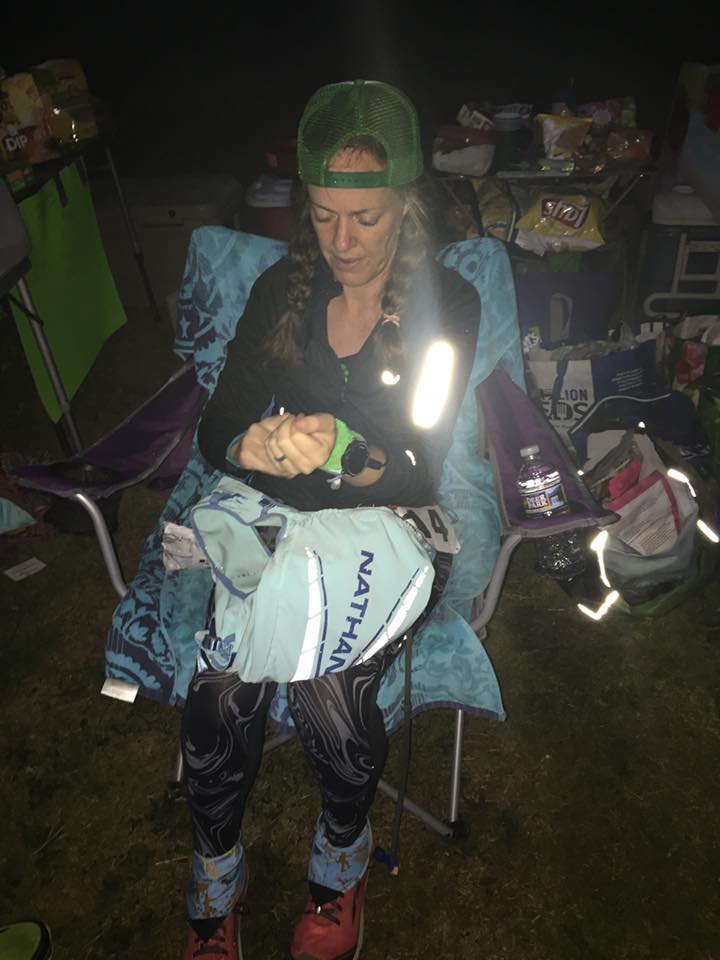 Loop 19.  Miles 90-95. Holly walks me to the timing mat and then the bathroom.  I curse out loud as the timing mat is now gone, they had begun packing up for the day already.  It didn't really matter, we were told our times would still be counted, but I find myself wildly disappointed that I'm not finished.  I snap at my sister, I'm sure, and deep down wish that I wasn't feeling so mean.  I'm too tired to control my emotions.
Geoff and I head out solo as the sun is starting to rise.  I'm so incredibly grateful for daylight, but find as the light grows brighter, I'm hallucinating like I've never done before.  I see a tub of margarine in the middle of the trail (it was the trunk of a small tree that had been cut down).  I see a really cool teardrop camper with amazing glass windows.  I see my car poking out of the woods.  A pig with wings.  People sleeping in tee-pees made out of branches.  A big brown horse laying on the side of the trail, that both Geoff and I saw at the same time.
Of course, none of these things were real, but they were mildly amusing none the less.  Geoff and I don't talk much, but when we do, it's about how stupidly far 100 miles actually is.  Each footstep feels as labored as a 6 minute mile, but we're walking along at 24 minute miles. I have no idea how such a slow pace can feel so hard.
We come out of the woods eventually, and pass our tent full of screaming friends.   They are so excited for us, we are about to start our LAST loop.  I, on the other hand, am emotionless. I'm too tired.   Michael says with a giant smile "you've done it!" to which I reply "no, not even close. I still have a lap left to run".  At this point, those last 5 miles felt comparable to first 80 miles: so freaking far.
A few friends tell us they have to leave, and I find myself downright pissed.  I know this has taken us longer than expected, but who leaves cheering at 95 miles of a 100 miler?  In my mind, everyone was leaving before I finished the biggest race of my life, and so I suddenly disowned all of my friends.  Every last one.  I picture myself leaving our group chat, I picture myself becoming a friendless hobbit who doesn't need companions anyway.   I say something out loud like "whatever, I'm not doing this for them anyway" but I'm hurt none the less.
Fortunately, that only lasted a few minutes before I realized it was just 3 of many friends who had to go, and the rest were staying put.   Silly, sleepless, delirious ultra runner.
Caden and Chris accompany us for our last lap.  Geoff thanks them a few times, and also apologizes more than once for how quiet we are.   Each step takes every ounce of energy I have left.  Somehow, I manage to muster up just a little bit more before the next step.  Caden steps on the back of my heels once or twice.  I hear his dad silently scolding him behind me and telling him to be more careful.  I laugh inside.  It seems only appropriate that "run faster mommy" is getting "flat tired" by a 9 year old boy 97 miles into a race, even if it's not my own kid.
I've broken down the five mile loop by sections, and as we complete each section, I find myself thrilled that I don't have to cover it again.  We're almost done.   We head out onto the Lollipop section where Geoff finally starts cracking jokes.  He thinks I'm pissed at him, because I don't reply.  Finally, I managed to squeeze out the words "no energy for responses."
We finish the lollipop.  We climb the hill.  We hit the paved track.  About 200 yards is all that separates us from the finish line.
Friends run up to us, tears in their eyes.  They are screaming, clapping, cheering us on.  And me?  I've got nothing.
Nothing.
Earlier in the race we had discussed how finish lines and emotions are always a crapshoot.  I've cried at finish lines that I NEVER expected to become emotional at.  Here I was, at the finish line of a race that I've dreamt about for months, that I've gotten teary over just imagining it…and I was utterly emotionless.  A zombie.
Geoff grabs my hand and holds is as we cross the finish line, with tears in HIS eyes.  I've never been so happy to be done with a race, not that you would have known it by looking at me.
Matt, the race director, is there to congratulate us.  He lets us pick our finishers buckles, as they are all custom made and very different from each other.  He also hands my 3rd place overall female award.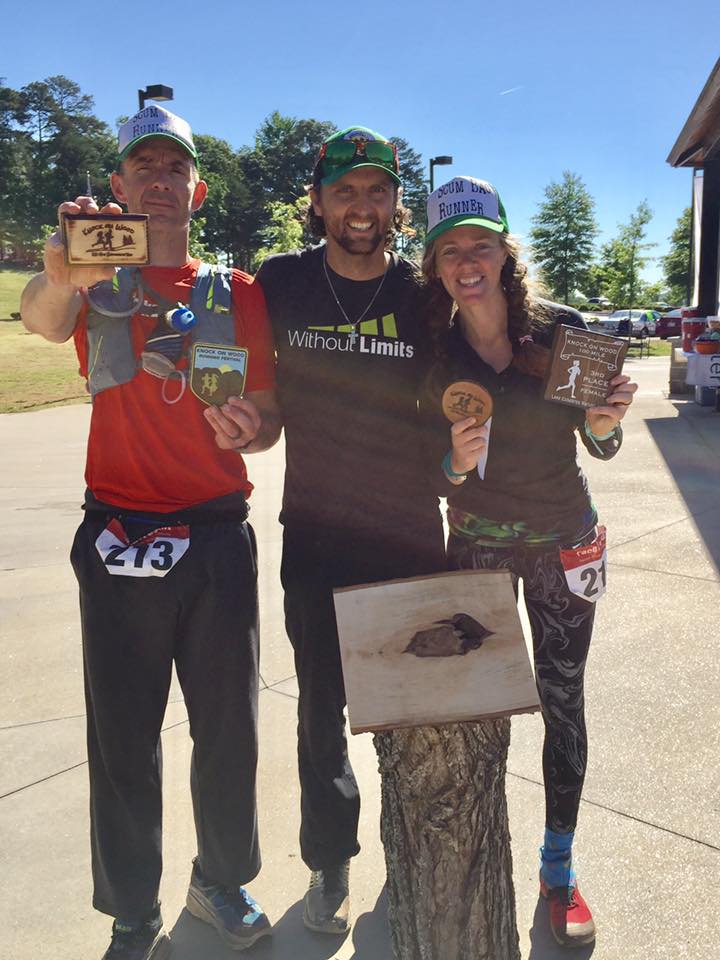 And finally…I sit down.
Karen pours mimosas for all of us,  Paul gives an awesome toast.  I hug lots of friends and finally feel myself starting to emotionally relax.
But still, 8 days later, the excitement never hit.
37 hours, 47 minutes, and 12 seconds.
Of course my first goal was to just finish 100 miles, and I did that.  But I had trained, and hoped for a 30 hour or less finish, so the equivalent of an extra WORK day was a bit disappointing to me.  Overall time aside, what was really a bummer is essentially the fact that I walked 70 of my 100 miles.  For once in my entire life, I *actually* trained appropriately, I put in the very calculated and perfectly executed work. I was READY for this race.  The works "I should have trained better/differently/etc." would not be uttered from my mouth.   Instead, I did what I was forced to do due to a situation out of my control, I recognize this.
But it doesn't stop the sting of disappointment.
And I don't write that for sympathy…if anything I realize how ungrateful and foolish it sounds.   I write it out of pure, unfiltered honesty: I feel unsettled.
I don't mean for this post to sound so negative.  I am indeed grateful for what my body did achieve.  The positive: I finished.  I've got more ultra experience under my belt (and a kickass buckle to put on said belt).  I learned A LOT about myself during this race, and can use all of this for races in the future.
But, head up, intestines in, life goes on. The next stop for me is surgery.  All running and running goals have been put on the back burner until I get the hernia fixed (again), and then I'll look forward to a rematch with the fickle, unrelenting beast that is 100 miles.
I've already posted a long winded "thank you" on Facebook, so I'll keep this one short: my trail weenies, you are the greatest group of friends a girl could ever ask for.  Thank you for everything, including crying for me when I couldn't do it myself.  Holly: I couldn't have done this without you. I bet you never guessed 12 years ago at the Myrtle Beach half marathon when you fed me my first GU, that one day you'd be feeding me grilled cheese sandwiches as I tackled ONE HUNDRED MILES.   And Geoffrey Hart?  You are my everything. There is no finish line I can't cross with you by my side.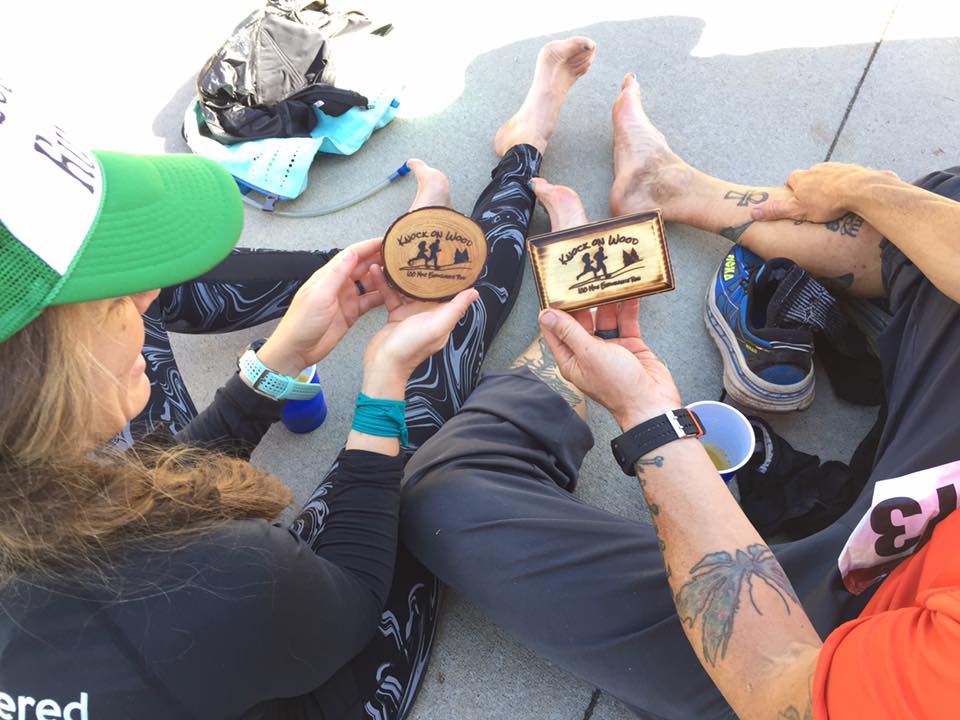 Though I don't know where it will pick up, this story is not over.   Consider this a "to be continued…"
(If you came here for a review of Knock on Wood as a whole, let me sum it up for you: register for this race.  Any distance will do.  The course is beautiful, the runners friendly, and the race director is awesome.  You won't regret this experience.  And I'll see you there next year…with my guts sewn back in. )