Last Updated on January 22, 2022 by Heather Hart, ACSM EP, CSCS
If you've found this post, chances are you are looking for some "real" food endurance fuel alternatives. Perhaps the sticky gels or sugary drinks just aren't for you. Or maybe then send your stomach into a rebellious state, taking the focus away from your actual running.
I can relate.
I'll never forget the first time I tried an endurance gel.  I was about 5 miles into my very first half marathon, when my older sister handed me a packet of berry flavored GU.  The truth is, I had completely neglected to train or prepare for this race. So needless to say, the fact that I might need mid-race nutrition never crossed my mind.  I had never seen one of these gels before, and asked her what I was supposed to do with it. She replied "you eat it".  I imagined it would be something of the consistency of a delicious fruity jam, or maybe even frosting. So I eagerly put the packet up to my lips and squirted the substance into my mouth.  
And then I immediately started to gag. 
My sister couldn't contain her laughter, as I stopped dead in my tracks, berry GU clinging to my face in a sticky mess, yelling "what the hell did you just give me?!!?"  It was a moment we both look back and laugh about.
Since that fateful day nearly 10 years ago (ack!) I've tried nearly every sort of manufactured endurance fuel out there.  Unfortunately, I've also suffered through countless races and training runs where I was battling more than just tired legs. The gels and other endurance fuels caused an angry gastrointestinal tract. 
Endurance Fuel & Gastrointestinal Distress
 Many of the artificial ingredients and sweeteners added to these products simply do not sit well in runner's stomachs. The concentrated sources of sugar in these products can cause rapid shifts in water out of the digestive tract. This aids the absorption of the sugars ingested in the gels and drinks. But, that fluctuation may lead to a disruption in normal digestive processes, inflammation,  pain…and frequent trips to the port-a-potty.
But fueling the body during a long distance run, such as a marathon, is necessary for the majority of athletes.  Consuming carbohydrates during a long run will help sustain blood glucose and muscle glycogen levels, delaying fatigue and exhaustion.  So what are those of us who have a hard time stomaching these endurance fuel products supposed to do?
Eat real food while racing & training.
And by real, I don't necessarily mean "whole" or unprocessed. Rather, traditional foods that are not marketed as an endurance specific fuel.  While many of these products may boast performance enhancing claims, they are certainly not necessary for success as a runner.  If the gels DO work for you, then by all means continue to use them. But…real foods can be equally as effective in fueling your long run. 
7 Real Food Endurance Fuel Alternatives
Now, it is important to note that my background is in exercise science and not nutrition. However, these are all real food endurance fuel alternatives that have helped me stay fueled over endless miles, without reaching for the gels or sport drinks.
Baked/Boiled Potatoes
Potatoes are the candy of the ultra running world!  While perhaps not the easiest source of fuel to carry while running, potatoes pack a healthy fuel punch for endurance athletes. White potatoes are rich in fast release carbohydrates, and sweet potatoes contain 34 grams of energy enhancing carbohydrate per 4 ounces. Add salt to the potatoes to help replenish lost electrolytes.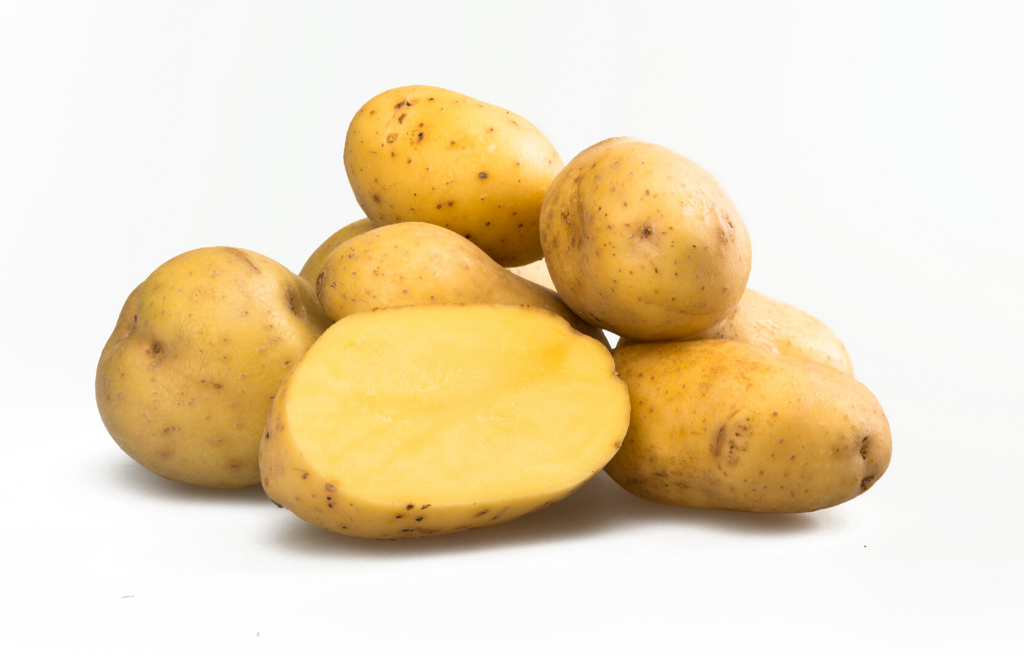 I know a can of cold, boiled potatoes might look disgusting most of the time, but mid ultramarathon? They are so incredible. Plus, the "bland" taste of the potatoes are a great alternative when you are sick of all of the "sweet" stuff.
Pretzels
Pretzels are made from refined carbohydrates, so they are simple to digest. A serving of pretzels contains typically contains around 200 calories, 2 grams of fat, 48 grams of carbohydrates, and 814 milligrams of sodium, which will aid in replenishing lost electrolytes.  I don't know about you, but I often crave salt when I'm running, especially on hot days.  Further the bland taste may be palatable to athletes with sensitive stomachs while running.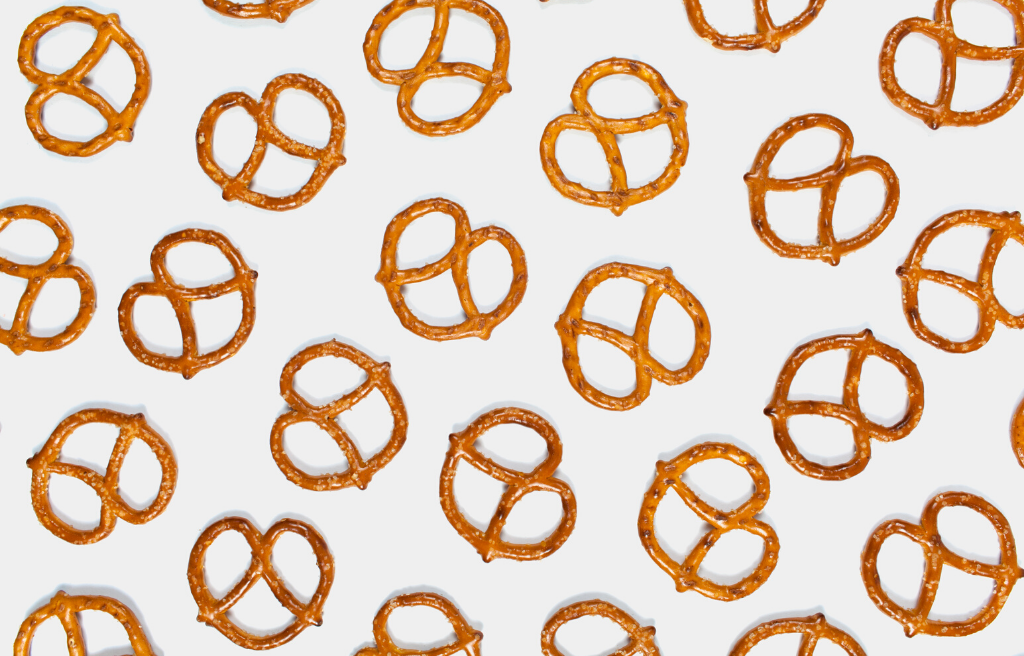 Dried Fruit
High in natural sugar and a concentrated source of carbohydrates, dried fruit is an easy to pack, convenient choice for fueling on the run. For example, dried dates contain 31 grams of carbohydrates in a serving of five, and raisins contain 31 grams per quarter cup. Stay away from dried fruits that are higher in fiber, such as dried apples, as they are harder to digest while running.  Or worse…may send you sprinting for the port-a-potty or the woods
Baby Food / Fruit Purees
Initially marketed to the discerning palate of a toddler, you can now find these fruit purees in a variety of flavors, sizes, and yes…even made specifically for adults. As a runner, I've found the easy to carry pouches pack PERFECTLY in my hydration pack.   Further, they are typically re-sealable, making it easy to take a few sips from the pouch, and save the rest for later.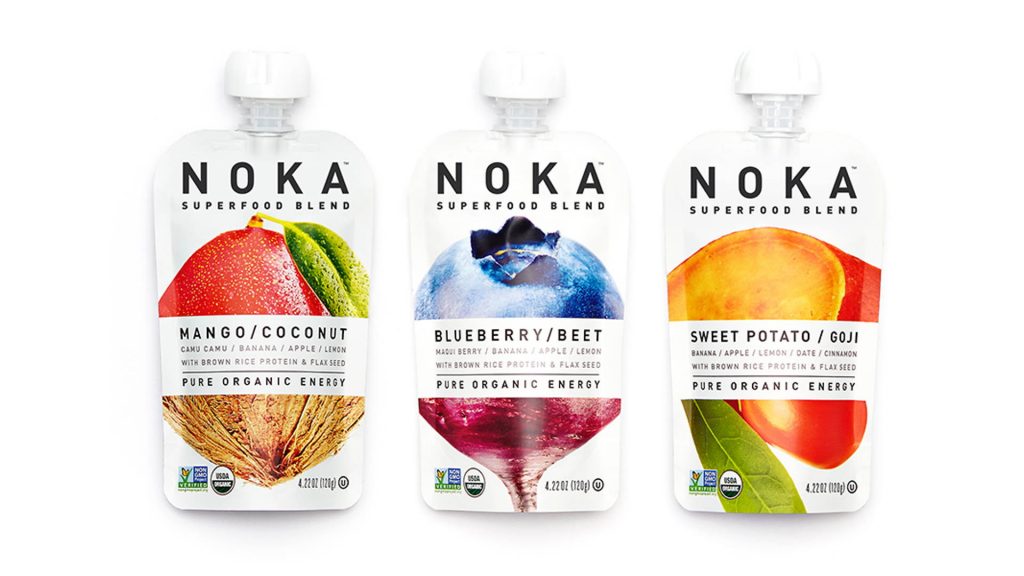 Averaging from 60-120 calories per pouch and around 25+ grams of carbohydrates, these pouches are typically all natural and made of very few ingredients.   Be sure to check the nutritional information though:  some pouches pack far more of a nutritional punch, while others have far less calories per pouch.
Gummy Candies or Fruit Snacks
Though certainly not an all-natural, real food source such as many of the options listed above, gummy candies such as Swedish fish, jelly beans, or gummy bears are composed of fast digesting, simple sugars which will quickly reach the blood stream. Further, the sweet taste may be more appealing to some athletes while running compared to the bland taste of other real food alternatives.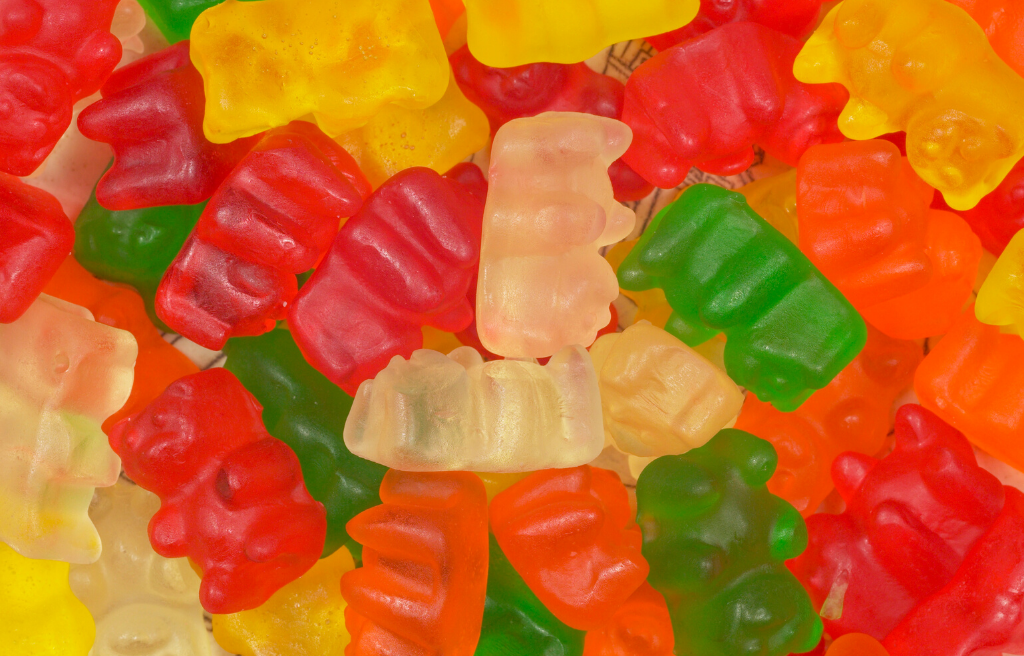 Honey or Maple Syrup
Looking for something with similar consistancy to gels, but more natural? Look no further than honey and/or maple syrup!
Honey may just be nature's version of a sports gel. According to one study, blood glucose and heart rate were increased by honey and sports gels with no significant differences observed in insulin levels. Additionally, studies have revealed that as a sporting fuel, honey performs on a par with glucose, which is the sugar used in most commercial energy gels. Many companies now sell natural honey in small, easy to carry sticks or packets, that are convenient for runners to carry.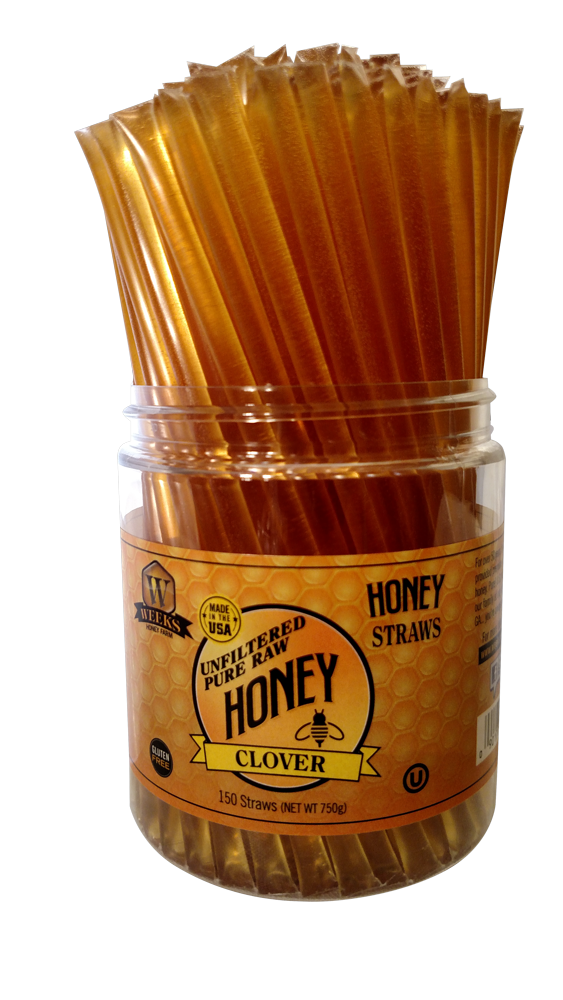 Prefer a vegan fuel source? How about pure maple syrup! Maple syrup is low glycemic. Containing all natural sugars, maple syrup provides prolonged, sustained energy rather than offering a quick burst and subsequent crash like many other endurance fuels. Maple syrup is water soluble making it easy to digest, quick to absorb. And lastly, maple syrup contains amino acids, calcium, riboflavin, manganese, zinc, and potassium. These inherent components of maple syrup promote energy production, muscle recovery, and help prevent cramping.

Bananas
Runners and bananas simply belong together.  Why else would they be handed out more readily than finisher's medals at the end of every race?  Full of natural sugars, a banana on average contains 140 calories, 36 grams of carbohydrates and three grams of fiber. It comes in its very own convenient packaging, making it easier to carry. Further, bananas are often found at aide stations along race courses (so you don't always have to bring your own!)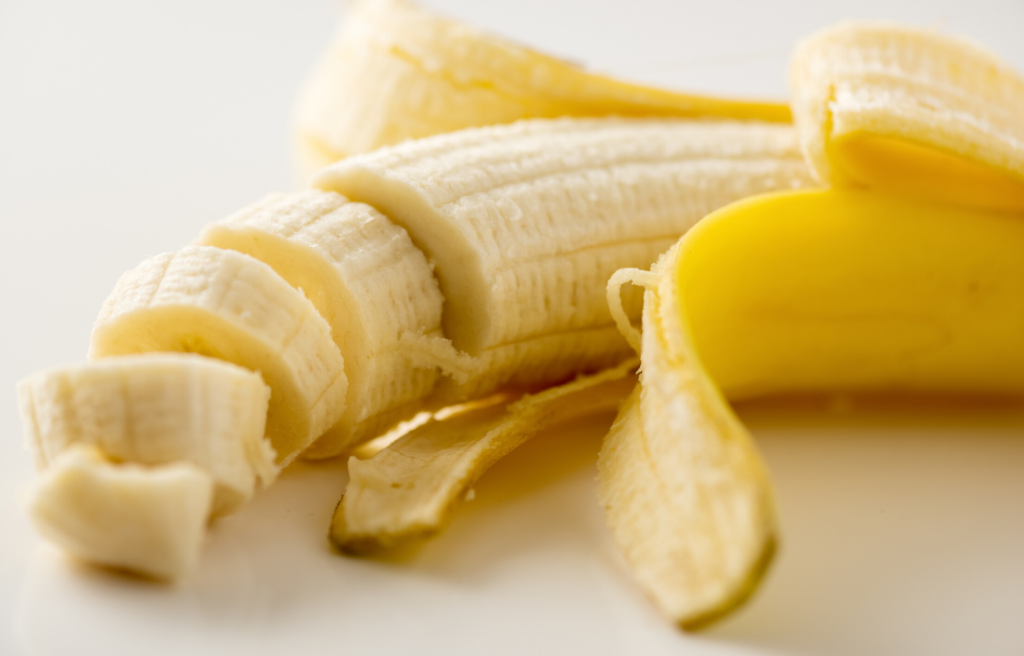 Added bonus to all of the above Real Food Endurance Fuel Alternatives? 
 They are typically more cost effective than the sports specific products.   As always, BE SURE to test these new foods out on training runs instead of during a race, just incase your digestive system doesn't react well to any of the foods.  Also keep in mind that just because your stomach agrees with these foods on a day to day basis, doesn't mean it will react the same while your body is exercising.  Better to be safe than sorry…and in the port-a-potty.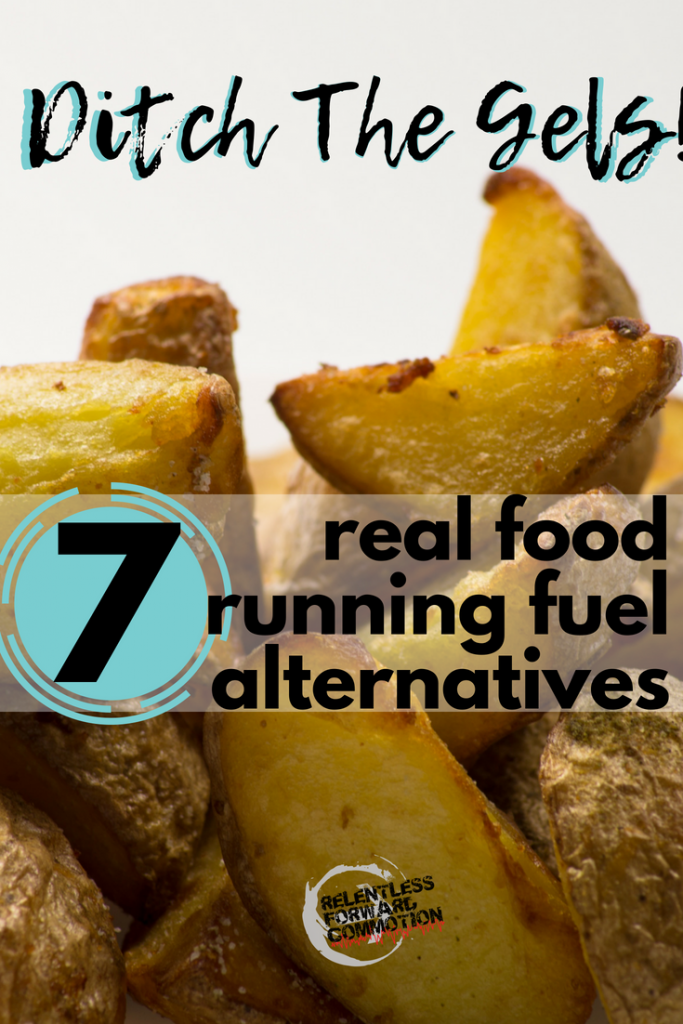 Readers, do you have any tried and true real food endurance fuel alternatives to gels and drinks? Share them in a comment below!
Heather Hart is an ACSM certified Exercise Physiologist, NSCA Certified Strength and Conditioning Specialist (CSCS), UESCA certified Ultrarunning Coach, RRCA certified Running Coach, co-founder of Hart Strength and Endurance Coaching, and creator of this site, Relentless Forward Commotion.   She is a mom of two teen boys, and has been running and racing distances of 5K to 100+ miles for over a decade.  Heather has been writing and encouraging others to find a love for fitness and movement since 2009.