Last Updated on April 2, 2022 by Heather Hart, ACSM EP, CSCS
Before I became obsessed with running (way back in 2006), my passion was surfing. If I wasn't working, I was at the beach, either paddling in the waves, or sitting on the shore watching the waves. Pretty much everything I owned had sand in it, and I constantly craved the scent of the salty air.
That all shifted when I became a mom, and shortly thereafter, a runner, and traded in my boardshorts and bar of wax for running shoes and a GPS watch.
But one of the perks of living in a coastal town is the fact that beach running allows me to combine my love for running with my love for the beach whenever I want. To this day, the ocean still captivates me, the shoreline brings me peace.
I think the beach does that for many people, which is why the idea of running on the beach is so idyllic.
But the reality is that running on the sand and seashore presents a number of unique concerns that are not present in everyday running on the paved road or groomed trails.
So, if you're headed on vacation soon, and want to log your regular training miles on the sand while listening to the waves crash, keep these tips in mind:
1. Wear Shoes When Running on the Sand: Don't Run on the Beach Barefoot
When running on the beach, you're going to want your normal running shoes in order to protect your feet.
Believe me, I get it: the sand between your toes feels amazing, and truly is the novelty of running on the beach. But save that "feet in the sand" feeling for your beach lounging later. Here's why:
Protection from Shells, Debris, Hot Surfaces, etc.
First and foremost, wearing sneakers will help keep your feet safe from the wide variety of debris you may encounter on the shore, such as sharp seashells, rocks protruding from the sand, broken glass, or other man made objects.
Have you ever stepped on a broken clam shell? You'd be amazed at how quickly they can create a gaping wound in your foot. Or how about encounters with sand spurs? Those things are pure evil, probably the beach version of a cactus needle. Not fun at all.
Second, that beautiful, soft, sandy beach might not be as long as you thought. And in order to get in substantial mileage, you may have to cross rocks, jetties, or even hot pavement that might be uncomfortable if you are barefoot.
Running Barefoot on Sand will Blister Your Feet
The continued friction of sand on bare skin – especially skin not conditioned to the roughness of sand – can cause uncomfortable chafing and even painful blisters.
Once, many years ago, I ran 3 miles barefoot on the sand, and blistered and chafed my feet in a way that can only be described as it felt like I scrubbed my soles with sandpaper. The pain I experienced the next day wasn't worth the barefoot novelty, I assure you.
Running Barefoot May Cause Injury
If you are used to running in sneakers, putting in significant mileage barefoot may cause serious discomfort or even result in issues like plantar fasciitis, shin splints, or Achilles injuries.
When barefoot, your running form naturally changes, and you engage more muscles. If you choose to run barefoot, start with very short distances, and slowly ease into longer runs as your body adjusts to the change in foot strike that occurs when running barefoot. Running barefoot on the beach is absolutely no exception.
What are the Best Shoes For Running on the Beach?
The best shoes for running on the beach are shoes that you are comfortable in, and don't mind possibly getting wet and sandy! You don't need specific shoes for running on the beach, whatever you wear on a normal run will suffice.
However, if you have weak ankles or foot muscles, you may consider wearing more supportive shoes, as the soft surface of the sand forces your lower leg, ankle, and foot musculature to work much harder than if you were running on a harder surface.
If the beach you are running on is covered in rocks and seashells, you may find that the more firm and durable outer sole of a trail running shoe feels more comfortable and protective. Plus, the grippy traction of a trail shoe may help you on slippery, seaweed covered rocks.
2. Wear Tall Socks or Gaiters to Keep Out the Sand
Avoid miserable chafing not only wearing socks, but wearing tall socks (crew length or higher). Sure they aren't as cute or trendy as the no-show socks, but neither are blisters.
It's the same concept as wearing gaiters on the trails to prevent debris from entering your shoes. The higher the sock comes up on your ankle, the less likely you are to get sand in your socks.
3. Manage Pace Expectations – Running in the Sand is Hard
Running on the sand is harder than running on a firm surface, and will result in slower running paces. That's not simply the running coach side of me trying to make you feel better, it's an actual proven and documented scientific fact (source)
According to a study in the Journal of Experimental Biology, running on the sand results in 1.6 times as much energy expenditure, and 1.15 times more mechanical work than running on a hard surface like pavement.
This is because the sand provides an unstable surface to land on, therefore requiring your body to work harder to move through the running gait while staying balanced. So don't be frustrated when you notice that your pace during a beach run might be much slower than it would be on a road run, all while taking extra effort.
Benefits of Running in the Sand:
Instead of letting the harder effort and slower pace frustrate you, focus on the benefits of beach running. The uneven surface forces the ligaments, tendons, and smaller muscles of your lower legs and ankles to work harder to help stabilize your entire body and prevent you from falling over. If you've never run in the sand before, you can expect to feel this extra work the next day in the form of soreness in muscle groups you've never felt before, trust me on that one.
The act of running is always a "high impact" activity. However, studies show that running in softer sand results in lower impact forces, which may limit muscle damage, muscle soreness, decrements in performance, and may put less stress on weight-bearing joints (hips, knees, ankles). All of this may help decrease the risk of injury, such as stress fractures and other overuse injuries, which are associated with high impact activity. (source)
Lastly, frequent beach running may even strengthen foot and ankle muscles, improve function, and reduce overpronation in feet (source)
4. Run Closer to the Edge of the Water
If at all possible, try to run on the flattest areas of the beach, which is typically closest to the water's edge. Running on a shoreline that is significantly sloped may cause unnecessary strain on your lower body.
If you cannot find level ground, be sure to do an out and back run, which may even out the wear on your body.
Further, the wet, packed sand closer to the water is significantly easier to run in than the deep, loose sand higher up on the shoreline.
Pro tip: If you DO want an insane leg and ankle workout, run in the dry, softer sand. That soft sand will challenge your ankle stability and mobility in ways that rival the gnarliest of technical trails. I would only recommend this if you are a stronger runner, who is not prone to injuries like ankle sprains.
5. Check the Tides
Checking the tide charts before planning a beach run will allow you to plan your run around low tide, when the beach typically has more surface area available for running, much of which is the packed, firm sand.
Plus, certain beaches may become fully submerged during the peak of high tide. You definitely don't want to get stranded mid run!
6. Check the Weather
Check the weather to see if any inclement weather is anticipated in the near future. In most locations, weather can change in an instant, but on the coast it often happens more quickly. When on the beach, you most likely won't have any protection from the elements, such as if a thunderstorm unexpectedly blows in.
Further, be sure to check the heat index when you go out. As mentioned above, there is typically little to zero shade available, and that sun beating down on you can not only feel miserable, but may be quite dangerous.
7. Run Early (If You Can)
Purely from a beach local's point of view: run early in the morning in order to avoid crowds. I've been on more beach runs than I can count where I've spent more time dodging things like:
Little kids sprinting in and out of the water without looking to see if anyone is coming
Umbrellas, chairs, sand toys, etc. spread out anywhere and everywhere
Fisherman with their near invisible fishing line cast out at face level right on the shoreline (you do NOT want to get caught up in that)
Holes, sandcastles, etc. dug into the sand
General vacation chaos.
Trust me when I tell you that your beach run will be much more peaceful and relaxing if you go before the crowds arrive for the day! Plus, catching the sunrise during your morning miles? Absolutely breathtaking, and worth the early morning alarm.
8. Run Into the Wind First
When you head out of your hotel or beach rental house for your run, and you're not sure which direction to go, I always suggest running into the wind FIRST.
There is nothing as demoralizing as spending the first half of your out-and-back beach run feeling like you're flying, only to realize at the turnaround that it was because the wind has been helping push you along. And now, you've got to fight the wind to get back.
Get the hard part over with first!
9. Stay Hydrated
In addition to the lack of shade available on the beach, lack of freshwater sources may also be a concern. Be sure to properly hydrate prior to your run, as well as carry a water source with you if at all possible.
10. Don't forget Sunscreen & Sunglasses!
Sun safety is no joke: research shows that runners are more susceptible to skin cancer, including deadly forms such as melanoma, due to their often excessive outdoor exposure. So while sun safety is a concern for all runners who exercise outdoors, it is even more important while running on the beach.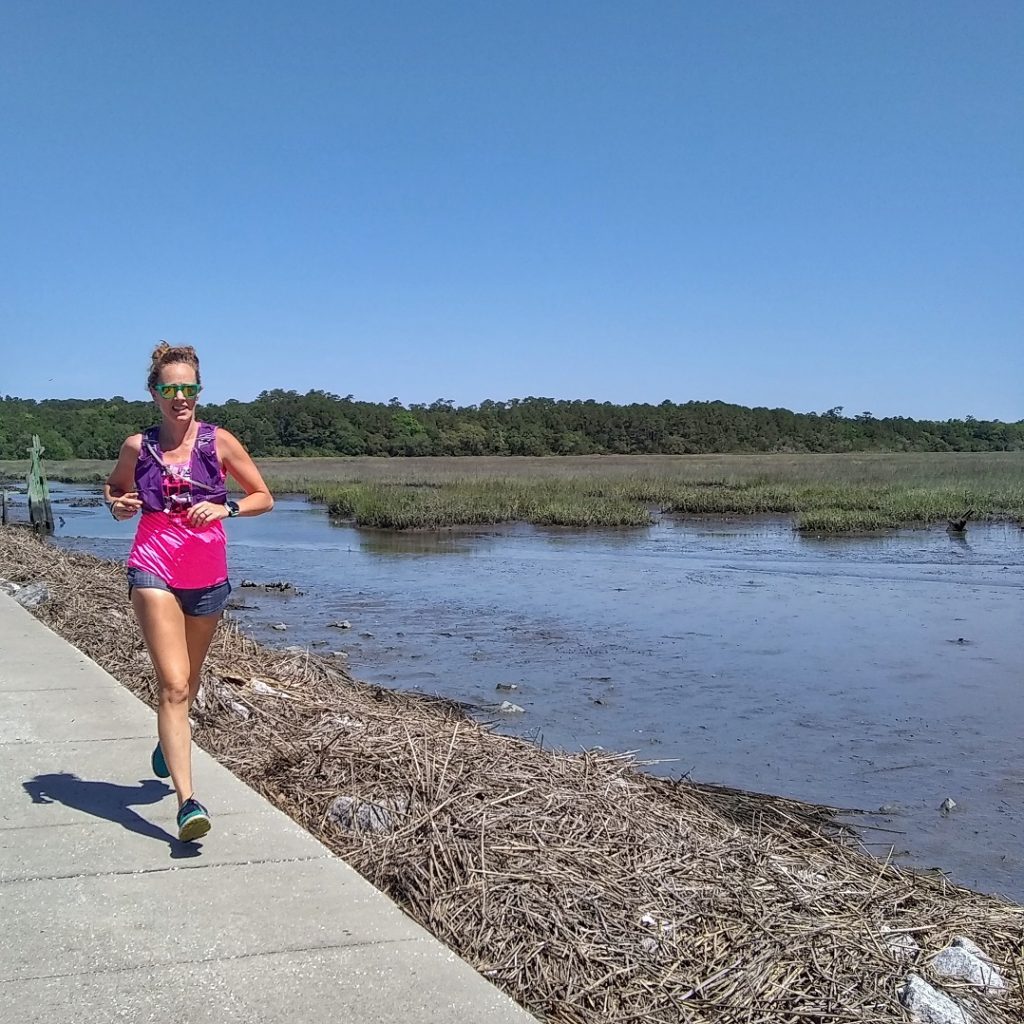 The dangerous UV rays of the sun are often reflected off of the water, magnifying possible effects. Further, as mentioned a bunch of times already, there is typically little to zero shade available on the beach, so it is important to protect yourself from the harmful rays of the sun.
Be sure to wear sunscreen, as well as protective clothing, and sunglasses if necessary. Further, avoid peak sun hours; run early in the morning or later in the afternoon if possible (but trust me, the earlier the better – see point #6 below).
11. Stay off the Dunes
When beach running, please stay off of the sand dunes, unless otherwise marked with pre-established, public access paths.
Sand dunes are typically very delicate habitats, and prone to destruction from human feet. They also house endless animal nests, as well as threatened plant species. And they are an important natural protection barrier between the ocean and the land.
Stay on the path!
Final Thoughts:
Running on the beach can be incredibly relaxing, and amazing experience. But, it can also be pretty uncomfortable if you're not prepared. I hope these beach running tips help you make the most out of your next beach run!
Readers: what beaches have you had the pleasure of running on? Which has been your favorite? Leave a comment below!