Living here in Myrtle Beach, I've definitely put in my share of miles running on the beach. Therefore, a common question I've been asked over the years, mainly by runners planning on putting in some miles on vacation,  is "how do I run ON the beach?" It may seem obvious at first…you put on your shoes and run! But believe it or not,  running on the sand and seashore presents a number of unique concerns that are not present in everyday running on the paved road or groomed trails.  Here are seven tips for running on the beach, that will hopefully help keep you safe and comfortable on your vacation runs.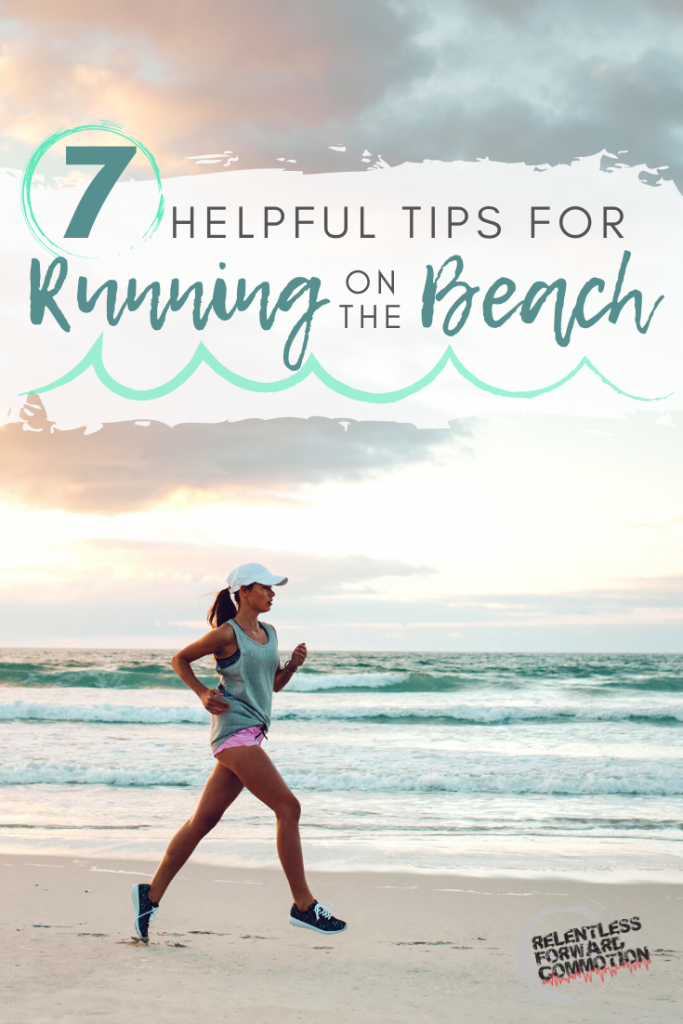 Running on the Beach: What You Need to Know
1. Wear Shoes
Trust me, I get it: the sand between your toes feels amazing, and truly is the novelty of running on the beach. But save that "feet in the sand" feeling for your beach lounging later. When running – you're going to want your normal running shoes. Here's why:
Prevent cuts from shells & debris
First and foremost, wearing sneakers will help keep your feet safe from the wide variety of debris you may encounter on the shore, such as sharp seashells, rocks protruding from the sand, broken glass, or other man made debris.  Have you ever stepped on a broken clam shell? You'd be amazed at how quickly they can create a gaping wound in your foot. Or how about encounters with sand spurs? Those things are pure evil, probably the beach version of a cactus needle. Not fun at all.
The sand will blister bare feet
The continued friction of sand on bare skin – especially skin not conditioned to the roughness of sand – can cause uncomfortable chafing and even painful blisters. Once, many years ago, I ran 3 miles barefoot on the sand, and blistered and chafed my feet in a way that can only be described as it felt like I scrubbed my soles with sandpaper.  That pain wasn't worth the barefoot novelty, I assure you.
Your feet are likely used to shoes
If you are used to running in sneakers, putting in significant mileage barefoot may cause serious discomfort or even injury to your feet and legs. When barefoot, your running form naturally changes, and you engage more muscles.  If you choose to run barefoot, start with very short distances, and slowly ease into longer runs as your body adjusts to the change in foot strike that occurs when running barefoot. Running barefoot on the beach is absolutely no exceptions.
Hot pavement, jetties, etc.
Lastly, that beautiful, soft, sandy beach might not be as long as you thought..and in order to get in substantial mileage, you may have to cross rocks, jetties, or even hot pavement that might be uncomfortable if you are barefoot.
2. Wear High Socks
Avoid miserable chafing by not only wearing socks, but wearing high socks (crew length or higher). Sure they aren't as cute or trendy as the no-show socks, but neither are blisters.   It's the same concept as wearing gaiters on the trails to prevent debris from entering your shoes. The higher the sock comes up on your ankle, the less likely you are to get sand in your socks.
3. Don't forget Sunscreen!
Sun safety is no joke: research shows that runners are more susceptible to skin cancer, including deadly forms such as melanoma, due to their often excessive outdoor exposure.  So while sun safety is a concern for all runners who exercise outdoors, it is even more important while running on the beach.
Why is that?
Well – the dangerous UV rays of the sun are often reflected off of the water, magnifying possible effects. Further, there is typically little to zero shade available on the beach, so it is important to protect yourself from the harmful rays of the sun. Be sure to wear sunscreen, as well as protective clothing, and sunglasses if necessary. Further, avoid peak sun hours; run early in the morning or later in the afternoon if possible (but trust me, the earlier the better – see point #6 below).
4. Check the Tides
Before you head out the door to run, do you know if it's currently high tide, low tide, or somewhere in between? You might want to check first. This is an obvious one to people who spend a lot of time on the coast, but maybe not so much to vacationers. Checking the tide charts before planning a beach run will allow you to plan your run around low tide, when the beach typically has more surface area available for running, much of which is the hard packed, wet sand.
Running in the deep, dry sand is significantly more difficult than running on the wet, hard packed sand closer to the shore. If you are new to running on the beach, you will want to start out in the wet sand. If you want an insane leg and ankle workout, run in the deep, dry sand. That soft sand will challenge your ankle stability and mobility in ways that rival the gnarliest of technical trails.
Also, if at all possible, try to run on the flattest areas of the beach. Running on shoreline that is significantly sloped may cause unnecessary strain on your lower body. If you cannot find level ground, be sure to do an out and back run, which may even out the wear on your body.
5. Check the Weather
In most locations, weather can change in an instant, but on the coast it often happens more quickly.   When on the beach, you most likely won't have any protection from the elements, such as if a thunderstorm unexpectedly blows in.  Further, be sure to check the heat index when you go out.  As mentioned above, there is typically little to zero shade available, and that sun beating down on you can not only feel miserable, but may be quite dangerous.
6. Go Early (If You Can)
Purely from a beach local's point of view: run early if you can to avoid crowds. I've been on more beach runs than I can count where I've spent more time dodging things like:
Little kids sprinting in and out of the water without looking to see if anyone is coming
Umbrellas, chairs, sand toys, etc. spread out anywhere and everywhere
Fisherman with their near invisible fishing line cast out at face level right on the shoreline (you do NOT want to get caught up in that)
Holes, sandcastles, etc. dug into the sand
General vacation chaos.
Trust me when I tell you that your beach run will be much more peaceful and relaxing if you go before the crowds arrive for the day! Plus, catching the sunrise during your morning miles? Absolutely breathtaking, and worth the early morning alarm.
7. Stay Hydrated
Dehydration is so common among athletes, and yet so easily preventable.   In addition to the lack of shade available on the beach, lack of freshwater sources may also be a concern. Be sure to properly hydrate prior to your run, as well as carry a water source with you if at all possible.
Bonus tip! And an incredibly important point…
8. Stay off the dunes
Sand dunes are typically very delicate habitats, and prone to destruction from human feet. They also house endless animal nests, as well as threatened plant species. And they are an important natural protection barrier between the ocean and the land. Stay off of the sand dunes, unless otherwise marked with pre-established, public access paths.
So there you have it, 6 simple tips that will hopefully make your beach running adventures more safe and enjoyable.   Have any tips to add?  Please comment below!