Last Updated on April 19, 2018 by Heather Hart, ACSM EP
Recently while perusing the internet (most likely while I should have been writing), I saw a comment from someone that said they'd love to find a blog that truly detailed what it's like to train for an ultra marathon.  My first thought was "come on, it's the internet, there's got to be tons of those types of blogs out there!".  But the more I thought about it, the more I realized that the detailed accounts of things like standard marathon training, "Whole 30" diet attempts, and Ragnar Relay recaps compared to detailed ultra training posts, truly are somewhere in the range of one thousand to one.
Don't quote me on those statistics, because I just made them up.
But you get the idea, ultra training blog posts aren't common in the run-blog world.   Probably because ultra running isn't as common as marathon running…though it seems to be trending that way.
(And of course, I've unabashedly become one of those lemmings. )
Last night, while running through the woods in the dark for the billionth time, covering whatever number mile we are at for this month (I've stopped counting) I realized that the reason not very many people post about ultra training is because a) they don't have the time, b) they are too tired, and c) it's pretty boring.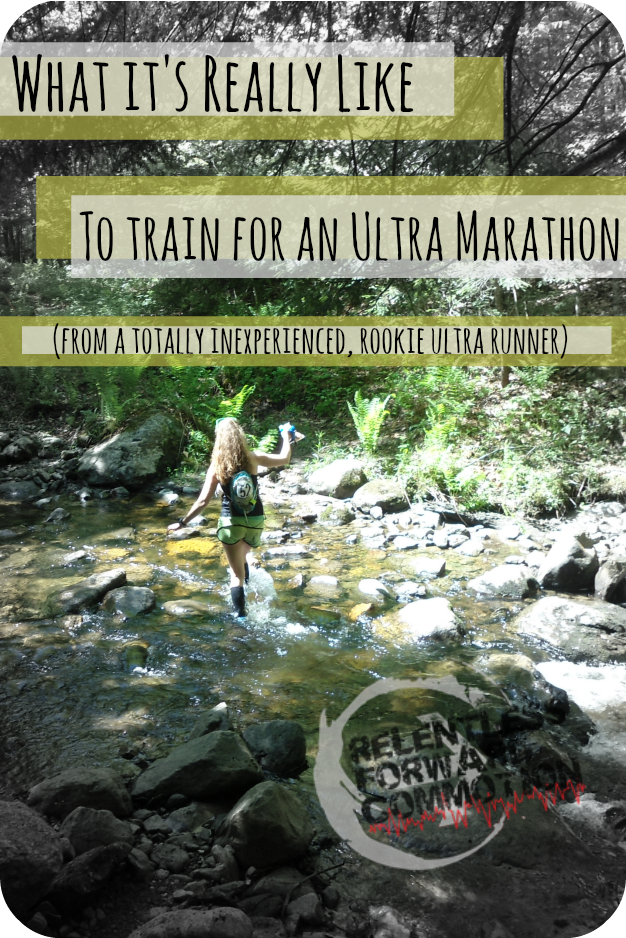 But, because blogging is what I do, here is my version of what it has really been like to train for my first ultra (because I didn't actually train for that last one), as we are now 18 days away from our first real 24 hour race attempt.  No emotion, all fact, from a totally inexperienced, rookie ultra runner:
1) You run.  A lot.
2) You eat.  Often.
3) You smell.   Pretty much everything you own smells like a musty high school locker room, because you run A LOT.  Your car. Your hydration bladder. Your shoes.   Your work back pack because you are constantly changing in and out of sweaty clothes (it probably doesn't help if you work in a gym, and squeeze in cross training whenever possible.) Against all of our inner-Vermont-hippy practices, you buy some Tide Plus Febreze Sport
* laundry detergent, which certainly helps the smelly cause.  So does the glittery pink Bath and Body works spray and lotion that you got for Christmas, and thankfully held on to for a particularly smelly portion of your life, just like this one.  Regardless of all proactive anti smell hygienic attempts,  you feel like you should just wear a sign that says "excuse the smell, I'm training for an ultra."
4) You shower frequently. Between laundry, showering, and constantly washing and filling your hydration packs & water bottles, your water utility bill is going to sky rocket.
Oh, and your shower sometimes starts to look like this:
5) Did I mention you run a lot? So much so that there really isn't anything to write about.  The life changing and cathartic moments worth blogging  about are old news when you are spending 12 hours or more a week running.   The beginning of your training plan feels so exciting and amazing. You cannot believe you are actually going to attempt to do the seemingly impossible!  You post pictures from every workout. You record your miles and share them on social media.
As the mileage increases, the running becomes more of a chore.
And as it increases even more, it becomes something you have to do, like breathing, eating, and sleeping.  You stop questioning it, you stop sharing it,  you just run.  A lot.
6) Something always hurts.  Yeah, yeah, I'm a fitness professional, I KNOW that with proper training, in theory, you can and should run injury free.  It is entirely possible.  But with this volume running and cross training, something is always sore.  Not injured, just sore.  It just is.   And I'm sure there are plenty of experienced ultra runners out there who will refute this.  But they are probably genetically part mountain goat, so I don't really trust them.
7) You are always hungry. ( See #2. )  The healthy mindset of "food is fuel" both disappears and becomes a painful reality, as your body screams for nourishment, and your mind doesn't even skip a beat when the first thing you reach for is a birthday cake that was on the "day old & 75% off" shelf at the grocery store, something you would typically never consider purchasing.  The desire to eat is hardly ever emotional, and instead is incredibly instinctive and primal…even if it's not the best decision. "Rungry" doesn't even begin to cover it.
8) You run so much you stop talking about it all of the time.  How many times can you write about it before your family and friends slowly start ignoring you? It's like posting about every time you open the refrigerator.  We get it, you eat everyday.  Shocker.  You start to bore yourself with all of the running talk because you run out of things to say.  "Guess what guys? I ran today. And you'll never guess what I'm going to do tomorrow! Run!"
9) You feel equal parts badass and insane.   People tell you that you are crazy, and you don't argue with their logic, because you've come to the point where any run under 10 miles feels pretty pointless (even though you know that's not true).  People ask you why on earth you would want to do such a crazy thing like attempt to run 100 miles at once, and you don't have an answer as to why…but more importantly, you don't have an answer as to why you SHOULDN'T.  You wonder what you'd do with all of that free time you'd have if you weren't training, and strangely (and sadistically) the first thing that comes to mind is "I'd probably go for a run."  Eventually, you don't really contemplate any of these questions, because running is just what you do.
10)  You'll learn to find balance in your life.
Just kidding, you'll actually just spend all of your free time running.
Now, all of that said, I somehow kind of actually enjoy this chaos…even though my life has pretty much become a monotonous cycle of run, eat, shower, sleep, repeat. But I'll be sure to let you know how I really feel on December 7th, after the race is over and I've had time to process what the hell I just did to my body.   In the meantime, over the next three weeks I'll share posts on the last minute planning, packing, nutrition, and probably a "can I actually do this?" freak out post or two.  Hopefully that will give those who are curious a little more insight into this ridiculous process.
Thanks for tagging along for the ride run.
*denotes Amazon affiliate link