Last Updated on September 6, 2021 by Heather Hart, ACSM EP
Camping before a trail race or ultramarathon has never been a foreign concept to me. I took my first camping trip somewhere around the age of 7 or 8, and I've been an avid tent camper ever since. So to be completely transparent: I forget that this is not always the norm for my fellow runners. I forget that there are people who have never spent the night in the great outdoors, eating dinner around a campfire, sleeping on the ground, using earplugs to drown out the sound of a very noisy owl parked in the tree next to your tent.
But at a race weekend recently, a friend said to me "Heather, you know what you should write about? How to camp the night before a race. Because that was a HUGE deal for us to try and figure out the first time."
And it dawned on me that figuring out the camping process, while already nervous for a big race, can be an overwhelming or intimidating experience for those who aren't familiar with the whole process. But don't worry – Camping/Coach Heather is here to help!
Everything You Need to Know About Camping Before a Trail Race
Picture this: you've signed up for a trail race or ultramarathon. Included in the registration is night-before-the-race-camping at the event site. Logistically, it makes perfect sense to stay on site, so you borrow a tent and a camp stove from a friend and hope for the best. But arguably, the number one rule of running success is to "never try something new on race day". So does that include camping before a trail race? You bet it does.
Here are 8 tips for camping before a trail race that I hope will help you have a good nights sleep, great race morning, and an overall positive experience.
Test Out Your Gear BEFORE You Get There
Make sure you know how to use your camping gear before you get to the campsite. This is especially important if you are borrowing gear. Nothing is worse than being miles from home, and realizing you are missing an entire tent pole. Or that your self-inflating air mattress doesn't self-inflate nearly as easily as you had assumed. Or that your sleeping bag's zipper is busted, and now you've got to spend the night shivering in the cold.
Giving a trial run of setting up your camping gear – even if it's in your living room or backyard – can help eliminate unnecessary stress the day before your big race.
Set Up Early
Arrive at your campsite as early as you possibly can. Setting up a tent in the dark is not impossible, but it's definitely not without difficulty, especially if you are new to camping or the gear you are using is new to you.
Plus, the earlier you arrive, the better chance you have at securing an ideal place to set up your tent (van, etc.). This especially matters if you plan to group together with your friends or a team.
It's important to remember that camping before a trail race might not look like what you expect. While you may envision setting up in traditional campsites, the reality is, often whatever plot of land is available is where the race director will tell you to set up. I've set tents up on the gravel sides of a dead end road, on the side of ski slopes, and everything you can imagine in between.
When looking for a good place to set up, take a peek at your surroundings – especially if you aren't in a traditional campground. Look for overhead lights, loud generators, or anything else that might seem innocent enough during the daylight – but will become sleep's worst enemy at night. Being close to the port-a-potty might seem ideal, until all you hear all night is the slamming of the door as other runners go in and out. Another similar sleep-stealer will be headlights of other cars pointing right into your tent if you've set up near a road.
Or, if it's an overnight/24 hour/100 mile/etc. race, camping right ON the race course can certainly add some middle of the night commotion.
Nutrition
When you thinking of camping meals, you'll probably picture hotdogs and s'mores cooked over the fire, or a steaming cup of ramen noodles cooked on the camp stove . It makes sense, these things are easy to prepare and cook while camping.
But are they the best pre-race food choices?
I'll admit, my camping nutrition and my night-before-a-big-race nutrition did not always match. I would opt for convenience and "camping comfort food" over choices that would better fuel my body for the race that was ahead of me. It took me more than a few "less than stellar" race performances to realize that my nutrition was definitely a contributing factor.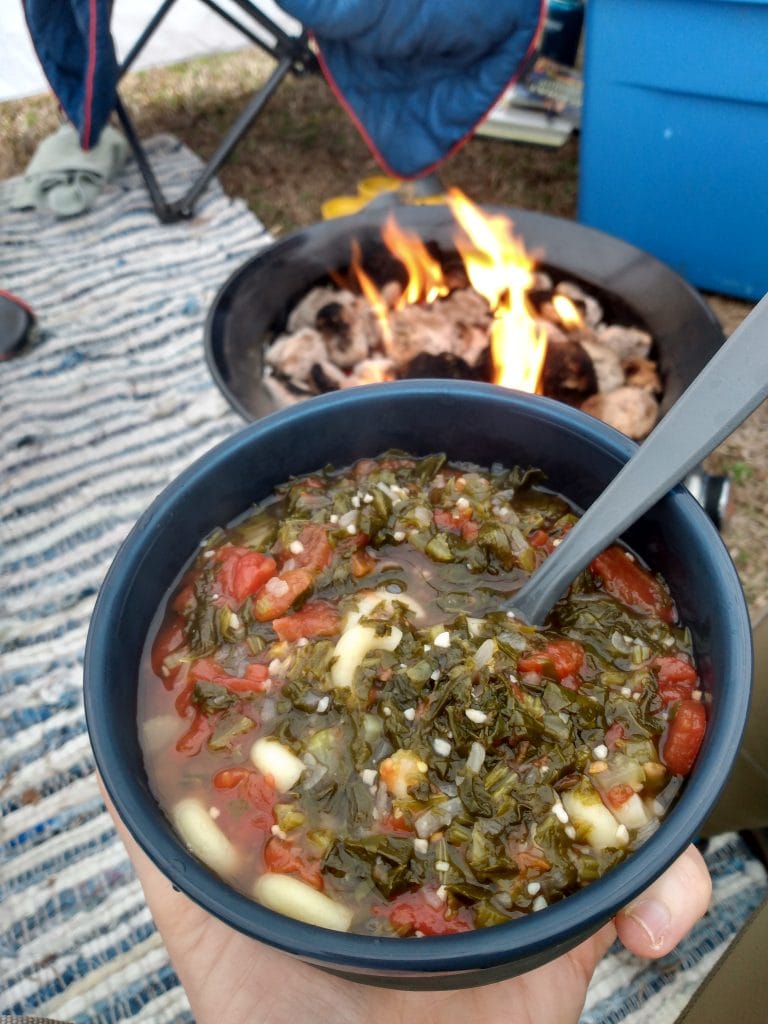 Preparing, packing, and figuring out how to re-heat or eat healthy, pre race meals while camping can take a little more effort. But it's absolutely worth it.
Plan for the Weather
When camping, you are most definitely at the mercy of the Mother Nature. Just because the weather channel didn't mention rain, doesn't mean it couldn't happen anyway. Just because it's a beautiful, balmy 75 degrees during the day, doesn't mean the temperatures might not drop into the low 50's overnight. Alternatively, just because it's 90 degrees during the day, doesn't mean that temperature is going to drop overnight.
I'll never forget Frozen Hell Hole 100 in . While daytime temperatures were in the high 50's to low 60's (Fahrenheit) – perfect for running – overnight temperatures the night before the race were in the 20's. Here in South Carolina, that's really, really cold for us, and can (and did) make for a miserable night of sleeping if you aren't prepared.
Being too cold, too hot, or soaking wet overnight can absolutely inhibit sleep. You certainly don't need to pack your entire closet, but be sure to bring appropriate clothing and gear (such as an emergency tarp for over your tent if it starts to leak, etc.) to account for possible weather changes and ensure a good nights sleep.
Night Routine
Camping the night before a race – especially with plenty of running friends – can be a ton of fun. In fact, it can sometimes be too much fun.
I will be the first to admit that I am entirely guilty of finding myself sitting around a campfire the night before a big race, staying up way past my normal bedtime, laughing with friends, and indulging in way too many craft beers (they always taste better by a campfire, I don't know why). I wake up the next morning groggy and perhaps a bit dehydrated, thinking "that was probably not the smartest decision…"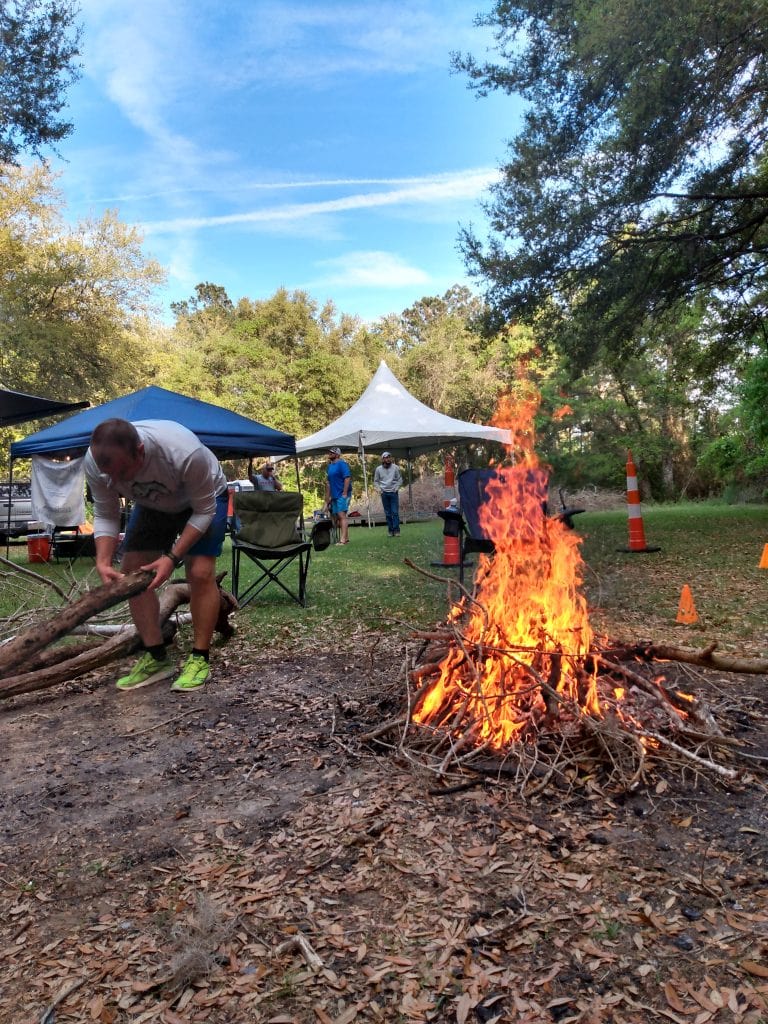 Now, I'm not here to tell you to be antisocial or skip out on the full race/camping experience. GO to the campfire. Catch up with friends. Indulge in an adult beverage IF that is a normal part of your pre-race strategy. But remind yourself why you are here in the first place – to run your race. Try to save the late night stories by the campfire and celebratory beers for after the race.
Sleep
Let's be honest: so many runners struggle with sleep the night before a big race anyway. But if you aren't used to camping, and suddenly find yourself in a sleeping bag on the floor of a tent, you might find yourself in store for an extra sleepless night.
Now, I could write a short novel about all of the ways to ensure you get a good night's sleep while camping (in fact, I have, on my other blog: 13 Tips for Getting a Good Night's Sleep While Tent Camping). But my biggest takeaway is to try to keep your routine as normal as possible.
If you normally go to bed around, say, 10 or 11 pm…heading to bed the second the sun sets while you are camping might set you up for sleeping disaster. Just because it's dark doesn't mean it's bedtime. Take the time to wind down as you normally would. Listen to some music, read a book, or just enjoy time by the campfire. Follow similar patterns as closely as you would at home with your night time routine. Let your brain and body relax before forcing the issue of sleep.
And once you lay down: don't panic. It's easy to get yourself completely worked up when you can't fall asleep, and subsequently panic about tomorrow's race. Remember that the quality sleep you (hopefully) received the entire week before your race matters just as much – if not more – than the sleep you do (or do not) get the night before the race.
BONUS TIP: Bring earplugs.
Trust me. Camping seems like such a peaceful experience, but camping with others – especially before a race -can actually be a super noisy event. Snoring neighbors, the sound of tent zippers, or rustling air mattresses, are all seemingly amplified in the still of the night. Ear plugs will help drown out the sounds and help you get some sleep. Just be sure your alarm is loud enough to wake you up through your earplugs in the morning.
Better yet – use the vibrating alarm on your GPS watch to wake you up. You'll feel it, and it won't disturb neighbors who might want to sleep in a little later!
Morning Routine
I hope by now you've begun to notice a pattern: routine.
The more you can keep your camping experience as close to your normal pre-race routine, the better.
Give yourself ample time in the morning to do all of the things you would normally do before a race – while remembering that you are doing them outdoors, and potentially sharing space with a lot of other people.
Give yourself ample time to crawl out of bed – sometimes this can be a struggle on a cold morning.

Need coffee? Make sure you know how to use your stove, and plan for the extra time it may take to make coffee tent side coffee versus relying on your automatic brew at home.

Bathroom time – remember that you are likely sharing restrooms or port-a-potties with dozens (if not hundreds) of other runners. Plan ample time for this.

Know where all of your race day gear is ahead of time. This prevents you from tearing your bags apart, throwing clothes all over the tent, and yelling to your partner or friends "I CAN'T FIND MY BODY GLIDE ANYWHERE"
By trying to keep your morning routine as close to your normal pre-race or pre-long run routine – despite being outdoors – the more confident you'll feel at the start line.
Practice, Learn, Adapt, and Relax
With everything in life, practice makes perfect, and camping before a trail race is no exception. Your first camping experience before a race might not go exactly as planned, but that's OK! With each new experience you'll learn what worked – and what most definitely didn't work – and you'll be able to apply that lesson to your next pre-race camping trip.
As a trail runner (and especially as an ultrarunner) we grow stronger by learning to adapt to our surroundings and circumstances during a race. Unexpected stream crossing because of recent rain? You go through it. Missed a trail marker and finding yourself on the wrong trail? Back track until you're back on course. The same goes for camping before a race.
Make the best of the situation, and try to stay relaxed. Besides, spending time in the outdoors, with perhaps a tiny bit of suffering, is what we do best.
With practice, you'll become an expert at camping before races, and you may even find – like me – that you sleep BETTER in the great outdoors.
Happy trails, my friends!