Last Updated on January 22, 2022 by Heather Hart, ACSM EP, CSCS
It's hard for me to sit down and start writing the numerous (I think there are going to be four or five, so hold tight. I have no idea who the rest of my fellow bloggers are able to keep their recaps so short and sweet; I ramble too much.) recaps from the time I spent in Bethlehem, PA this weekend at the Runner's World Half  & Festival.  It's hard because that means I have to face the realization that this amazing weekend is indeed over.  In the words of Deena Kastor (though originally said in reference to something completely unrelated):
Womp womp.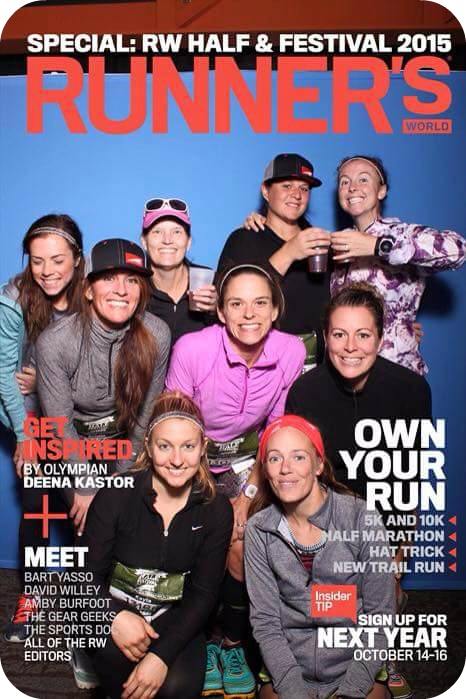 Alas, recapping the weekend in a blog post means I can relive it one last time, so here goes nothing.
Thursday morning I boarded a plane in the newly (well, at least since the last time I was there) remodeled Myrtle Beach airport.   Though I tried to write on the plane, I'm pretty sure I spent the majority of the flight with my face pressed against the window.  Everyone else must have thought that it was my first time flying, as I was oogling and craning my neck fiercely to see out the tiny window.  The sky was perfectly clear and the pilot flew us directly up the coast, over the Outer Banks and what I think was Virginia Beach/Norfolk area, though when you are thousands of feet in the air it's pretty hard to tell.  Regardless, it was simply breathtaking, and my crappy camera phone couldn't even begin to take pictures that would do the views justice.
I landed in Philly, immediately got myself lost at the wrong baggage claim, but eventually found who I was looking for:  Dani, Jen, and Nancy .  A round of hugs and a few laughs that we coincidentally had on matching backpacks and sneakers (this happens often in the blogging world) and we hopped in a car to make the hour and a half drive to Bethlehem, PA.
Once we reached the hotel and checked in, we were handed a huge goody bag full of swag from some of the race day sponsors.   I always feel a little bit like I'm bragging when I post these pictures, but let me tell you, this NEVER gets old.  I'm so grateful for all of the gear I'm given, and for the opportunities to try new things.
Almost immediately after checking in, we met up with a handful of other influencers (apparently this is the new term for bloggers, since so many of us have become more active in other forms of social media than blogging, such as instagram, Facebook, etc.) and we headed to a bar right next to the hotel  (The Broadway Social, to be exact).  This would become a recurring theme for the weekend, as Bethlehem, PA, had numerous local (and delicious!) restaurants and pubs.  We drank a quick pint (for me, an IPA ) while I discussed my upcoming ultra with Doug (Rock Creek Runner) and Matt (No Meat Athlete).  Doug had just recently won a 24 hour race, so I wanted to pick his brain about things like blisters and nutrition.
Next we boarded a bus and headed to the Rodale/Runner's World headquarters in Emmaus, PA.  I've been incredibly fortunate to have visited RW HQ before, so I knew what sort of fun we were in for: good food, s'mores by the fire, and a grand tour from our buddy Bart Yasso.  Bart, incase you've never heard of him (which likely includes Geoff and anyone else living under a rock…and non runners) *IS* the "Mayor of Running".  More officially, his title over at Runner's World is CRO – Chief Running Officer.  And they honestly could not have picked a better person for the job (other than me, of course, I'm waiting patiently behind the scenes for the moment Bart decides to retire).
First stop was straight to the food table.  Super hungry from traveling (and that beer), I polished off an amazing veggie burger while sitting between Bart and race announcer Whit Raymond, as Bart made us all guess Whit's REAL name.  (Sadly, I forget it already.  But Bart was highly amused by the whole story).
Then came the highlight of my night…NEW SHOES!  About a month prior we were sent a questionnaire from Altra running regarding our running shoe preferences.  Using our answers, Golden Harper, founder of Altra, would pick out and recommend a specific Altra model for us.  One of the questions was "do you prefer a road or trail shoe?"  I responded something along the lines of "please don't make me make such a difficult decision."  I mean, we all know I prefer trails, but I've been running a lot more pavement than I care to admit lately, so it truly was a tossup.
I opened the Altra box with my name on it and found a beautiful pair of Torin 2.0's.   I wasted no time putting them on my feet, then grilling Altra co-founder Jeremy Howlett about exactly why that shoe was chosen for me.  His answer? Neutral shoe (what I always run in) with moderate cushion to handle the mileage I've been putting in lately.
Works for me!
We headed outside to cook s'mores (just chocolate and graham crackers for this vegetarian), where I thanked Bart for inspiring me to run a naked 5K.  He told us a great story about how the police once called him because they caught a man who was perpetually running through the woods naked, and upon being caught told the officers "Bart Yasso told me to do it".  I assured him I wouldn't let my shenanigans reach that level of crazy, or at least I wouldn't blame him if they did.
Next came a few words from some of the Runner's World staff.  Having had the opportunity to attend Runner's World events three times now, I have to say, they are genuinely the most gracious hosts I have ever met.  What's more, they always treat *us* like the celebrities, when really, all of us are kind of mind blown to be in their presence.  I mean, I'm sitting in a room full of people like Amby Burfoot, Deanna Kastor, Editor in Cheif David Willey, Altra founders Golden Harper and Jeremy Howlett, just to name a few, and they are thanking *us* for our time.  I have to pinch myself sometimes to see if this truly is my life. It's crazy.
And then we went on the tour of the offices.
Having been here before, I knew the highlight of the tour is Bart's office.  By this point in the blog, I probably sound like a total Bart fan girl, but I assure you the guy is just really cool. And his office is like a combination of a running history museum combined with a National Geographic issue on running around the world.
Around 15 or so of us were crammed into that tiny office. When it was time to turn back around and leave, I had flashbacks to the scene in the original Willy Wonka and the Chocolate Factory when Mr. Wonka (Gene Wilder) takes everyone into a tiny room with only one door, walks to the back of the room, walks back to the front (while pushing everyone out of the way), exits through the same door he came in, but is now magically somewhere completely different.
We, however, were still at the Rodale offices, which is pretty magical in and of itself.
We made some rounds to see the actual editing floor, the offices where all of the Runner's World social media magic happens, the bike room, and even the smokers jacket room (it was empty.) Finally, our tour was over, and we boarded our bus to head back to the hotel.
But not before leaving a little love on the wall (don't worry, they provided the markers and encouraged the vandalism.)
Day #2 would prove to be significantly more busy with plenty of running AND racing, and this old girl needed some sleep.
Stay tuned for day #2….
Disclaimer: Runner's World invited me on this amazing trip as their guest. However, all opinions expressed are always my own.
Heather Hart is an ACSM certified Exercise Physiologist, NSCA Certified Strength and Conditioning Specialist (CSCS), UESCA certified Ultrarunning Coach, RRCA certified Running Coach, co-founder of Hart Strength and Endurance Coaching, and creator of this site, Relentless Forward Commotion.   She is a mom of two teen boys, and has been running and racing distances of 5K to 100+ miles for over a decade.  Heather has been writing and encouraging others to find a love for fitness and movement since 2009.