Last Updated on January 27, 2019 by Heather Hart, ACSM EP, CSCS
Runners are some of my favorite people on earth – but we tend to sometimes be assholes when it comes to deciding who is "welcome" among our ranks.  (Note, not all of us.  Just some…and they tend to be the loudest.)  Log into any online forum and you'll see people discussing if run/walking has its place, what finishing time constitutes a "real" marathon, or whether or not a 50K is actually considered an ultra.
And at least once a week, I have to talk a client off of a ledge because they've succumbed to this ridiculous chatter, and have started questioning their own abilities or doubting their own accomplishments.
Listen: if you run, you are a runner.  Full stop.  A 5 minute mile and a 15 minute mile are both still a mile.  If you've covered 26.2 miles, no matter how long it took you, you've finished a marathon.  Yes, a 50K is by definition, an ultra.   You get the idea.  And I fully believe this with all of my heart …when it comes to other people.
I'm not always so gentle on myself.
Last Sunday morning, as my pacer/friend Felicia and I were less than a mile from the finish line of my second 100 mile race finish (and like, 100th attempt, or at least that's what it felt like) Felicia said to me: "Has the excitement set in yet? You did it!" Much to my surprise, I started blurting out feelings I had only shared with a few others, and forgot that I had been holding in for a long time…nearly two years now.   I told her that yes, the excitement was setting in, because this time I actually felt like I earned the buckle.
Finally.
You see, my first 100 mile finish did NOT go as planned.  You can read the entire recap HERE, but to sum it up: my guts protruded out of my abdominal cavity (yeah, for real) around mile 25.  I taped them back in (again, yes, for real) and continued until mile 30, where I unofficially quit, cried, and took a nap.  Got back up, decided to un-quit (since I hadn't officially handed in my bib to the timing crew yet), and WALKED 70 MORE MILES (because I couldn't run, due to my guts).
I finished within the time limit, earned my buckle, but it took me nearly 38 hours.  And I walked. A lot.  So while yes, I officially finished the distance, for some reason I felt unsettled with my accomplishment.
I wanted to RUN 100 miles.
I realize that some of you are reading this now thinking "SERIOUSLY, HEATHER?  You finished freaking 100 miles.  Shut up."  I also realize that this may sound like I'm diminishing the accomplishments of other people who may have proudly finished 100 miles in 38 or more hours, therefore  putting me among the ranks of those assholes mentioned in the first paragraph of this post.  Please note: it is genuinely not my intention to diminish anyone else's accomplishments.   I just knew that personally, I was capable of more, and I wanted to prove it to myself.  This was my story – and it felt unfinished.
So, back to Frozen Hell Hole 100: I'm coming in to the finish line just over 28 hours, and all things considered, I still feel GOOD.  Sure, I'm tired.  Yeah, my feet hate me due to endless mucking through literal swamps.   But I'm still moving ahead at a pace much faster than I expected, I'm still coherent and eating, and most importantly, my guts are in place.  I'm ecstatic.  Not only have I set a 9 hour (and 33 minutes and 29 seconds, if we're being exact) PR on my 100 mile distance (on a much more difficult course might I add) after nearly two years of failed attempts,  but I executed my plan almost flawlessly.
Which of course only leaves me craving more, knowing I have the potential to do even better.
WHAT WORKED.
Alright, I get it: chances are you're not here for the previous rambling about my feelings, but rather to simply see what worked for me this time around, in hopes that it might work for you too.  Enough blathering about my feelings, here's the good stuff.   I can't promise it will work for you, or that it will even work for me on a completely different day, different course, and different weather conditions.  But it worked this time, and so I consider it a success.
Training:
One thing I've learned for sure over the last 10+ years working in the fitness industry, is that at the end of the day, we are all an experiment of one.  There are a number of tried and true training techniques that are backed by scientific evidence, and these techniques can't be ignored.  For example, the principle of specificity: training for a running race? YOU NEED TO RUN.   We have periodization, overload, peaking, tapering…it's all a science.  But within that scientific outline – there is wiggle room.
My body responds better to a variety of training techniques.  I know people who put in as many miles per week training for a marathon as I do training for a 100 miler  (I maxed out at about 80 miles per week following a specific plan I built for myself).   But for me, balancing quality (over quantity) running with cross training – like spinning, plyometrics, hiking/climbing – and 4 – 5 days per week of strength training, keeps my body happy and healthy.  Overuse injuries are unfortunately a common occurrence in the running world, from constant, repetitive movement in the same direction/fashion all of the time.  I'm trying like hell to avoid that by incorporating many different forms of movement into my training weeks.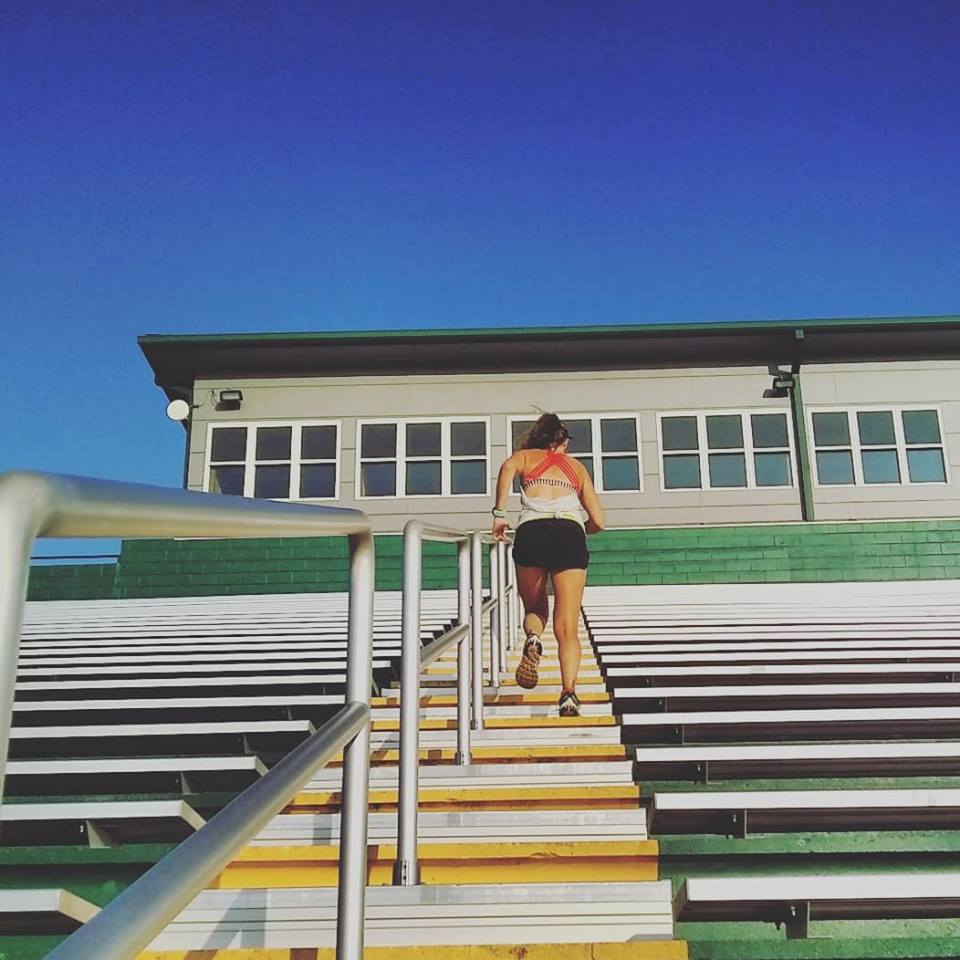 Speaking of variety: I try to vary what sort of terrain I run on.  Trails, dirt road, paved road, and treadmill.  All in the same week, if possible, and at different paces, based on the prescription of that day's run.
Race Pacing:
A common method I had inadvertently used in my last half dozen 100 attempts was going out too fast, convincing myself that it actually wasn't too fast.  Without fail, I'd make it somewhere around the halfway mark and just bonk, hard.
Sound familiar?
This time, I set myself very specific pace goals that were slower than they could have been…and I forced myself to stick with them.   I won't lie: it wasn't easy.  It wasn't easy to shut off the competitive side of my brain as everyone else in the race field went flying down the trail, when all my legs wanted to do was take off down the trail with them.  It wasn't easy to show up to the aid stations and see how many names had been checked off before me.  It wasn't easy to come around a corner, see someone ahead of me on trail, and NOT chase after them to try and catch them.
In short: it wasn't easy to run my own race.
The trade off, of course, was that my body continued to feel good, and 2/3rds of the way through the race…I caught up to – and even passed – almost all of the people who went flying down the trail before me.   Patience is not a virtue I possess readily, but this time, patience paid off.
Nutrition: 
In the past I've been a huge fan of Tailwind, and if we're being honest, I'm still a huge fan of Tailwind.  It sits really well in my stomach, and works well from a fueling point of view…when I can get enough of it into my body.
Which, as it turns out, is the number one problem I have with Tailwind.
You see, I would give myself a timeline and a certain number of calories to drink in that timeline.  For a few hours, this would work.  Eventually, I would fall behind a little, and just add more Tailwind on top of what was left in my bottles, thinking I'd "make it up" in the next hour.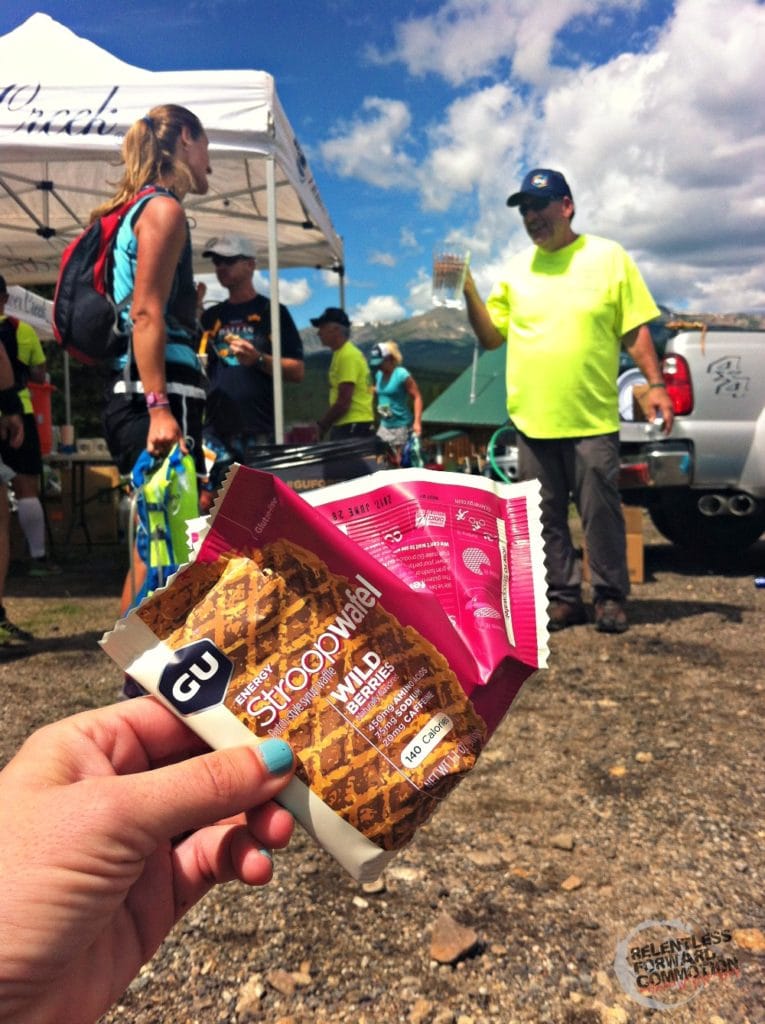 Here's the thing in ultra running: you can't really "make up" your nutrition when you fall behind.  You have to stay ahead of the game, always.
So this time around I decided to go with a plan I haven't attempted in years.  Which – for the record – is not a good idea to try on race day.  Desperate times call for desperate measures, eh? Every hour, on the hour, I ate something.  All of something, not just a few calories of something.  Examples include:
GU Stroopwafels (Gingerade is my favorite) : 140 calories
Clif Shot Bloks : 90-100 calories per half package
Huma Gel (Chocolate, Mango, Apple Pie = good;  lemonade = very very bad): 100 calories
Smokehouse Almonds (portioned into ziplock bags) : 180 calories
Then, at every aid station, no matter where that aid station fell on the "top of the hour" plan, I ate something.  Highlights include: pickles, mandarin oranges, Goldfish crackers, Swedish fish, fruit snacks, and potato chips.  Twice I had a grilled cheese and once I added tomato soup to that, when I was back at our camp after finishing a loop.
Anyone else ever notice that ultra aid station food looks just like snack time at a daycare?  No? Just me?
As for the Tailwind: I did keep some in a soft flask in my hydration pack, to sip on along the way for added calories.  I'd say I went through about 4 bottles of 200 calorie scoops over the course of the race. I didn't use it as a sole source of nutrition, just bonus.
Organizing My Sh*t:
A few days before the race I decided to organize all of my gear, clothing, and nutrition in separate 20 gallon Ziploc bags based on # of loops.  This small step took the guesswork out of pretty much everything – nutrition, foot care, ensuring I was warm enough based on the weather.   Instead of having to go digging through my bag for a fresh pair of socks, there was a pair of socks waiting for me.  Instead of having to count to make sure I grabbed enough fuel, the exact number of calories I needed were right there in that bag waiting for me. People don't often think of "drop bags" for a looped course, but this worked wonders. I will absolutely do it again.
WHAT I WILL DO DIFFERENT NEXT TIME.
Obviously, there will be a next time.  If I ever told you that I've "found what I've been searching for" or have "nothing left to prove" just nod your head and smile, because I'm lying to you and to myself.  Ultrarunning is a part of who I am.  It's more than just a hobby, it brings me life and joy in ways I cannot even begin to describe.   So yeah, there will be a next time, no question about it.
Things I'll do differently…remember when I busted up my ankle a few weeks before Christmas?  Yeah…that wasn't ideal. But I suppose unavoidable.  That said, I DO wonder what those last few weeks of big miles would have done for me. Would they have helped? Would they have hindered? I guess we'll never know.
But back to the race:  somewhere past the 70 mile mark I started walking…and stayed there.   The good thing was that my walking pace was still around a 15:30, and I was still passing people.  I stopped running and started walking because I bonked – but I did come out of that bonk.  However, when I came out of it, we continued walking…and if I'm being honest, it was probably out of fear.   I was happy maintaining the energy level and speed I was at in that moment, and I knew I could hold that speed/energy level for another 30 miles.  I secretly feared that continuing to run would take me to another level of exhaustion, and compromise my finish.
In retrospect – I think I could have kept running.  But the goal of this race was to play it safe in order to get that buckle and a finishing time, so I can't be mad at myself for following the plan.  If anything, I'm THRILLED with myself for following the plan…because I rarely do what I'm supposed to.   Which is why I'm constantly reminding my clients "do as I say, not as I do."  Hey, at least I'm the first to admit it, right?
SUMMARY:
I'm happy.  I'm content.  And I'm ready for more.  Finishing this race took a huge mental burden off of my shoulders and my heart, and now I'm ready to focus on smart training to become a better athlete.
The first half of my year (and to be honest, as far out as I've planned) looks a little something like this:
2/2 – Hallucination 12 hour – just going out to have fun with friends.  No distance goal.
3/2 – Conquer the Rock 50K
3/29 – Georgia Death Race
5/4 – Wambaw Swamp Stomp 50 miler
6/1 – Hell Hole 100K
7/20 – Vermont 100 (A – race)
So, there you have it.  Thanks for joining me on this journey, I appreciate you all more than I can even begin to express.
Heather Hart is an ACSM certified Exercise Physiologist, NSCA Certified Strength and Conditioning Specialist (CSCS), UESCA certified Ultrarunning Coach, RRCA certified Running Coach, co-founder of Hart Strength and Endurance Coaching, and creator of this site, Relentless Forward Commotion.   She is a mom of two teen boys, and has been running and racing distances of 5K to 100+ miles for over a decade.  Heather has been writing and encouraging others to find a love for fitness and movement since 2009.