Last Updated on by Heather Hart, ACSM EP-C
Imagine this: a machine that touts fat loss. Cellulite reduction. Wrinkle removal. And all you have to do is stand still.  Sound too good to be true? Nearly two months ago I wrote a post about the Total Body Enhancement machine at Planet Fitness.  I won't lie, the post kind of started out as a joke, but as I dug deeper into researching the idea behind red light therapy, a somewhat legitimate post came together.  I thought maybe a few people might enjoy the post…
…but I didn't expect it to become my #1 visited and searched post of 2018 thus far.  That's right, it's even surpassed the umbilical hernia surgery posts.
(Doesn't anyone care about running?)
Many of you have been asking for an update, so I thought I'd provide one.  To give a little bit of current background information, I'd say, on average, I've been using the Total Body Enhancement machine two to three times per week.  I prefer setting "4", because the vibrating plate feels awesome on my perpetually sore legs.   It's like a massage, only significantly cheaper.  Here are some changes I've noticed about my body over the last two months, with some important notes* to go along.
(*so please, read the notes.  There's a catch.  THERE'S ALWAYS A CATCH.)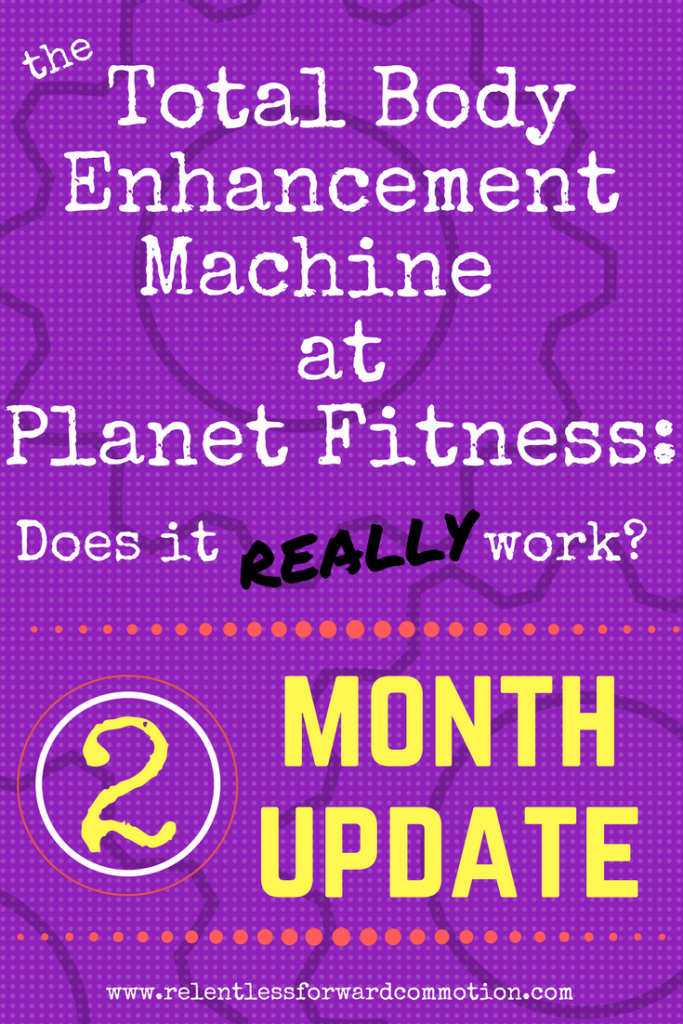 Since I wrote the first post exactly 45 days ago:
My skin feels better.
Smoother, perhaps a little tighter, and I feel less like an old hag when I accidentally catch sight of myself in the mirror. Nothing in my normal skin care regimen (which I'll be the first to admit, is practically nothing) has changed in the last 45 days. But I also stopped drinking alcohol, started drinking more water, and started making healthier food choices 51 days ago.   Remember when you were little and your grandma told you to drink more water, it's good for your skin? SHE WAS RIGHT.
I've lost a few pounds.
But in addition to the healthy nutrition habits (see above) I've taken some time off from long distance running.  Instead, I dove head first back into heavy, and consistent, strength training.  I've also (awkwardly) taken up yoga.  Personally, anytime I switch my athletic focus, I always tend to drop a few pounds.  My body needed a break from the disgusting mileage I had demanded of it as of late, and is responding positively to the decrease in stress.  Further, heavy lifting also tends to burn far more calories (three cheers for excess post-exercise oxygen consumption).  Combine that with healthier eating choices?  Weight loss.
I've dropped body fat and increased muscle mass. 
3% body fat, in fact. But…please see above.  Healthy nutrition choices, lots of water, a focus on building lean muscle mass.  Ladies (and gentlemen), let me tell you once again: if you want to drop body fat and increase muscle mass, for the love of all things, LIFT HEAVY WEIGHTS. Ladies, you won't "bulk up".  I promise you won't bulk up.  You need testosterone to do that, and our bodies do not create enough of it.
The Red Light Therapy makes me happy. 
I've got no other explanation for this one.   Back when I was younger and dumber, I used to visit tanning beds.  Not very frequently, but we all now know how dangerous those UV rays can be.  I would always leave the tanning bed glowing…not just my skin, but my attitude.  The warmth and the light felt so good, it genuinely made me happy.  I have similar side effects from the Total Body Enhancement, but without the dangerous UV rays.   It's been a welcome 12 minutes of bliss during this cold, dreary winter.
Things that have not changed, or I have not yet noticed a change in:
– A decrease in those awful crows feet around my eyes
– A decrease in stretchmarks
– A decrease in inflammation in joints and muscles
– An increase in my squat PR
– A decrease in my mile time
(do you see where I'm going with this?)
IN CONCLUSION:
Do I think the Total Body Enhancement machine helped change the composition of my body?
No.  A resounding no.  I guarantee you that was, and will continue to be, the result of behavioral changes (nutrition) and busting my ass in the gym (hard work).  I know, that's never the answer anyone wants to hear.  As a fitness professional, I spend my days informing people that they only true path to lasting weight loss is healthy eating and exercise.
I will, however, gladly share the fact that I truly enjoy my time in the Total Body Enhancement machine.  It's a happy 12 minute mood booster that I tack on to the front or back end of my workout (depending on the day, and honestly, there is no rhyme or reason as to what time I choose).  I firmly believe that health encompases more than just our physical body, it includes our mental and emotional wellbeing.  And damnit, for whatever reason, it puts a smile on my face.
So, if you came to this post hoping to hear that the Total Body Enhancement machine helped me shed pounds, inches, and cellulite I'm sorry to be the bearer of bad news.  It did not. You are honestly better off spending more time on the weight machines and cardio equipment in order to achieve those goals at the gym.
If you came to this post hoping to hear that the Total Body Enhancement machine helped me get rid of stretchmarks, wrinkles, and other skin blemishes…hold tight.  The results aren't in yet, haha.
I hope that update helped.  Any questions? Leave a comment below!